Everyone knows that half the fun of traveling is all the new international cuisine and recipes you get to try along the way. However, when you can't travel it's a comfort to know that all you need are a few special tools and ingredients to transport yourself to wherever in the world you'd rather be. There are tons of great videos, cookbooks, and online recipes from home cooks and chefs all around the world that can guide you through the process of cooking their native cuisine in your very own home.
We've already done a bit of the work for you by breaking down everything you'll need to know and have to cook a beloved dish from eight popular destinations according to travelers. Our list is by no means comprehensive, and if you're not seeing a country you were hoping to find, know it's not hard to find a resource from a local for whatever you may be craving.
In most cases, reading up on the food of the place you're dreaming of going will give you insights beyond the culinary. The more you read the more you'll find out about the culture, language, and habits of people you someday hope to meet. And when you finally do, you'll have way more to talk about than just food.
Related: here's Talia's post all about the food she ate while solo traveling in Japan, specifically Tokyo!
General Tips For Recreating International Recipes At Home
Depending on where you live, it may be hard to access some of the ingredients needed to recreate your favorite international recipes.
My suggestion would be to learn as much as you can from food bloggers and culinary experts that come from the country you're hoping to "travel" to in your kitchen, then seek out solid substitution ideas for ingredients that may be tough for you to find.
If you really want to commit, you can order a wide variety of specialty ingredients online from Amazon or even smaller grocers that specialize in specific cuisines.
Let's get to it!
Korean
Building the most basic Korean pantry is easy to do in so many places because Korean staples are no longer as hard to find in the West. Gochujang, a spicy soy and chili paste, is widely available in mainstream supermarkets (look in the international foods section), and the less commonplace ingredients can usually be found at your local Asian food store.
According to Maangchi, internationally beloved food blogger and Korean food expert, this all you really need to make a lot of iconic recipes:
short-grain rice
soy sauce
fermented soybean paste (doenjang)
gochujang
hot pepper flakes (gochugaru)
sesame oil
fish sauce
toasted sesame seeds
Odds are, you already have a lot of that! Use some of these ingredients to make her recipe for Korean-style BBQ (Soegogi-gui). And when you do, know that while it's not necessary to have a tabletop grill (you can just as easily cook everything in the kitchen) it will create a more similar experience to what you'd find at the dinner table in Korea.
Vietnamese
If you're going to cook Vietnamese food at home, make it something that you can't simply order at your neighborhood Pho restaurant. Instead, consider báhn xèo, a crispy Vietnamese-style crepe made from rice flour, turmeric, and coconut cream that's occasionally filled with meat or seafood, and always served alongside beds on beds of leafy greens.
To make báhn xèo and a lot of other Vietnamese recipes, here's some of what you'll need according to blogger Uyen Luu:
fish sauce
oyster sauce
rice noodles
fermented shrimp paste
jasmine rice
sambal oelek
rice flour
rice paper
spices (star anise, cinnamon, black cardamom, dried orange peel, coriander seeds, cloves)
And when you are eating this báhn xèo recipe from Hungry Huy, the best way is with your hands. That way, you can break it up into smaller bites, dip it into sauce, and even wrap the whole thing in rice paper like they do in some parts of Vietnam.
Peruvian
Ceviche can be found over many parts of Latin America, but it's perhaps best where it originated. In Peru, where it's known as cebiche, the dish is usually composed of one or more types of raw fish (only the highest quality), lots of citrus, and red onions, and served with boiled corn, sweet potatoes, and plantain chips, among other things. There's no actual cooking involved at all—the abundance of citrus juice "cooks" the raw fish to the point that it's safe to eat. It's sour, refreshing, and exactly what you want when you're sitting by the sea. But if you're stuck at home, making it in your own kitchen can recreate the feeling of enjoying it right in Peru.
Here's a recap of the most basic ingredients you'll need to make ceviche:
lemons
limes
red onions
corn
cancha (corn nuts)
sweet potato
white fish (corvina, halibut, escolar, hamachi, or mahi-mahi)
This recipe from Laylita breaks down the entire process of making ceviche, from exactly what types of fish you should choose to how it needs to be prepared with step-by-step photos. Round out the experience by pairing your meal with an ice-cold pisco sour, the iconic Peruvian cocktail. You kind of need pisco (the type of liquor used in the drink) to make it, but white tequila is a suitable substitute if you don't have any.
Spanish
There are multiple ways to have an epic Spanish dinner right in your own home. It just depends on how much work you want to put in. Looking for something easy? Tapas are never a bad idea. Make croquettes and patatas bravas, put out jarred olives, peppers, and the best canned fish you can get your hands on (these options are a good place to start your search). Drink it all with a glass of fine vermouth or a carafe of sangria and, if you close your eyes, you might really think you're in Spain.
If you are looking for something more challenging than setting out glorified snacks (sorry, tapas), look no further than paella. Packed with many quintessential Spanish ingredients, shopping for and cooking paella are great ways to expand both your pantry and knowledge of Spanish cooking. This recipe from Spanish Recipes by Nuria will guide you through the entire process. Here are some of the ingredients you'll need to get started:
saffron
bomba rice
muscles
shrimp
clams
squid
yellow food coloring*
You'll also need the right kind of pan to make paella, though it doesn't necessarily have to be a paella (that's the name of the pan that's traditionally used!). Use a large non-stick pan like this one to get the job done.
Ethiopian
The next time you're getting ready to meal prep, consider doing it Ethiopian-style. While there are meat-focused Ethiopian dishes, this international cuisine puts a lot of focus on vegan and vegetarian recipes. This is because much of the population avoids meat (or "fasts") for most of the year. Introducing a few of these recipes into your routine can help you eat less meat in general—if that's something you're trying to do—and give you a chance to try something new-to-you.
To start, most meals are centered around injera, a type of flat, spongey, sourdough bread that you use as a vessel to pick up all the rest of the food—no forks or spoons involved. While not exclusive to Ethiopia—it can also be found in Eritrea, Somalia, Yemen, and Djibouti, among other countries across the African continent—it's considered the country's national dish because it's made from teff, an itty bitty grain that's indigenous to the area.
From there, here are some of the ingredients you'll need to replicate an Ethiopian dinner in your own home:
teff flour (for injera)
beso bela (known as sacred basil)
korerima (can be substituted with cardamom)
mimita (hot chili-cardamom powder)
shiro (chickpea flour)
lentils
spices: garlic, ginger, turmeric, fenugreek, black peppercorns, ajwain (carom), cloves
If you live in a city, you'll be able to find a lot of these ingredients at the African food store nearest to you. Otherwise, you can order everything you need online through Brundo Market, an Ethiopian woman-owned corporation in East Africa.
Once you've stocked up, use what you have to make lentil stew, collard greens, and plenty of injera with these recipes from Immaculate Bites.
Mozambican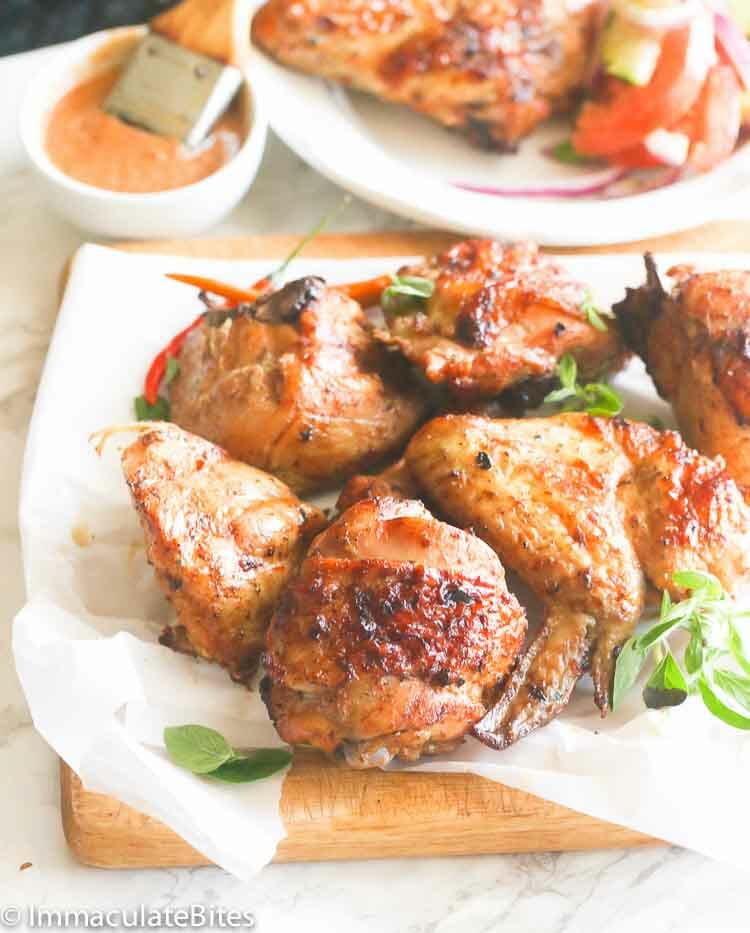 The white sand beaches of Mozambique may feel lightyears away. However, peri-peri chicken (one of the country's most iconic dishes) is easy to make at home. Better yet, break it out for grilling season. Then, take a look through your pantry for what you need, because odds are you might already have it.
Here's a quick overview of what you'll need:
dried peri-peri chilis (substitute African birds eye or other hot chilis)
oregano
coconut milk
basil
That the chilis you use are dried is essential to creating a peri-peri sauce that tastes like the real thing. You'll need to soak them in warm water for a couple of hours beforehand for best results. Additionally, you could save yourself the effort and let them soak overnight. Then heat up the oven or grill (you can make this meal in either!) and start cooking this recipe from Immaculate Bites.
Moroccan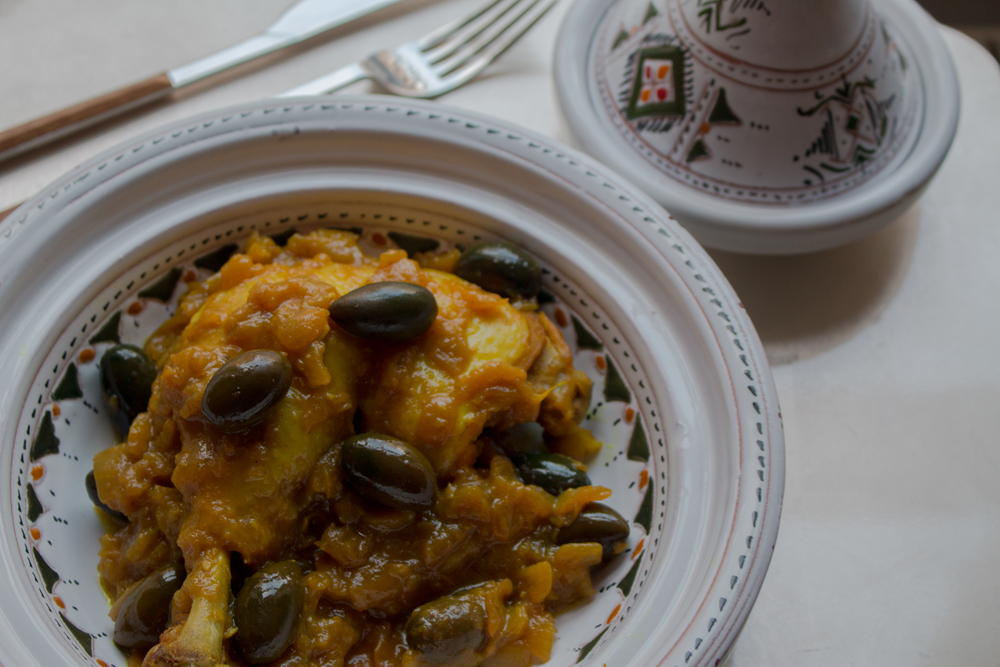 Give your food a Moroccan flare if you have just one spice mix in your pantry: ras el-hanout. If you've tried to make your own tagine at home you may have found that it's never quite right. Most likely, it's because you weren't using this spice mix. Although it's ubiquitous in Morocco, everyone's recipe is slightly different. For example, you can get the tagine effect by including cumin, cardamom, cinnamon, ginger, nutmeg, aniseed, cloves, and turmeric. Or, save yourself the effort and buy it online or at your local African food store.
Along with that, these are some other ingredients that will help you bring the flavors of Morocco to your home according to Maroc Mama:
harissa
preserved lemons
dates
black olives
couscous
All of these ingredients can be used to make a multitude of different tagines. Similar to paella, the dish tagine is named for the pot it's cooked in, and there's no one right way to make it. It can contain anything from chicken with olives and preserved lemons (like the one pictured above from My Moroccan Food) to lamb with prunes. Serve whatever you make over a bed of fluffy, steamed couscous. Finally, finish off the meal with strong mint tea for a truly Moroccan experience.
Cuban
When it comes to Cuban food, there's no better dish for a home cook to make than picadillo. Picadillo is the gift that keeps on giving. Made with potatoes, ground beef, raisins, olives, capers, it's great eaten over rice when fresh or as the filling for papa rellenas.
According to Laylita, here's some of what you'll need for this and other Cuban recipes:
whole green olives, stuffed with pimientos
raisins
capers
plantains
white rice
To create the atmosphere of being at someone's home in Cuba, end the meal with a large helping of flan. Unlike other flan recipes, this one from Hungry Sofia directs you to make the caramel directly into the pan by holding it over a flame until the sugar at the bottom darkens.
Are you looking to spice up your meals but don't want to commit to making a full internationally inspired dish? Try switching up the flavor profiles. A flavor profile is a set of basic and common spices, seasonings, and aromatics that emulate a specific international cuisine. Check out my top ten here.
If you like the sound of these – gain access to the full WWL recipe collection here.