Have you had bibimbap bowls before? My first experience was in Japan at a Korean restaurant, and it was one of the most memorable meals of my trip. Bibimbap bowls are a Korean dish with assorted toppings all mixed together, which traditionally include gochujang (spicy bean paste), kimchi (fermented cabbage), veggies, an egg, and more, making it extremely customizable!
Our meal prep take on bibimbap bowls features quick pickled cucumbers, carrots, sauteed spinach, tofu, and rice. An egg is optional – just make sure to make it right before you eat!
Get hundreds of recipes like this in the Workweek Lunch Meal Prep Program with access to our meal planning tools, grocery list generator and more. Start a free trial today!
Our version is not meant to be an authentic bibimbap bowl – it's our interpretation of this dish for meal prep! I highly recommend checking out Hyosun of Korean Bapsang's version (photo and link below) for the authentic Korean version!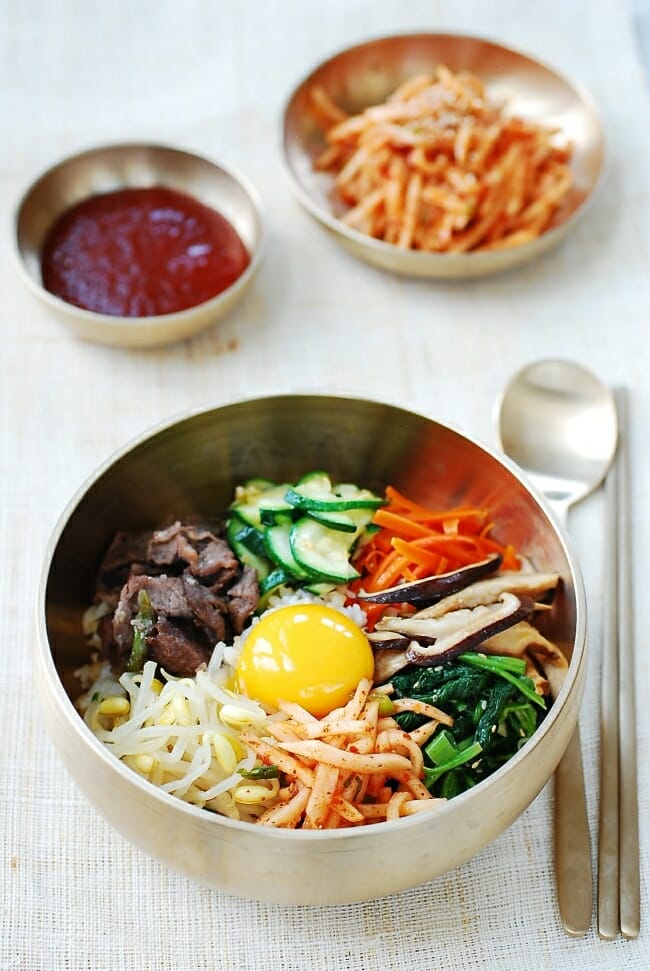 Bibimbap (비빔밥) is a large bowl of rice topped with an array of individually prepared vegetables and meat and served with a gochujang(고추장) sauce. Bibim means mixing, and bap means rice.

Hyosun, Korean Bapsang, Check out her traditional bibimbap bowl here
Here's how to make these bibimbap bowls your own:
Change up the protein: Any ground plant-based protein would work in this! I used tofu but you can swap it for tempeh, seitan, or "meat" crumbles. If you eat meat, ground beef is the typical protein, but you could use ground chicken or pork as well!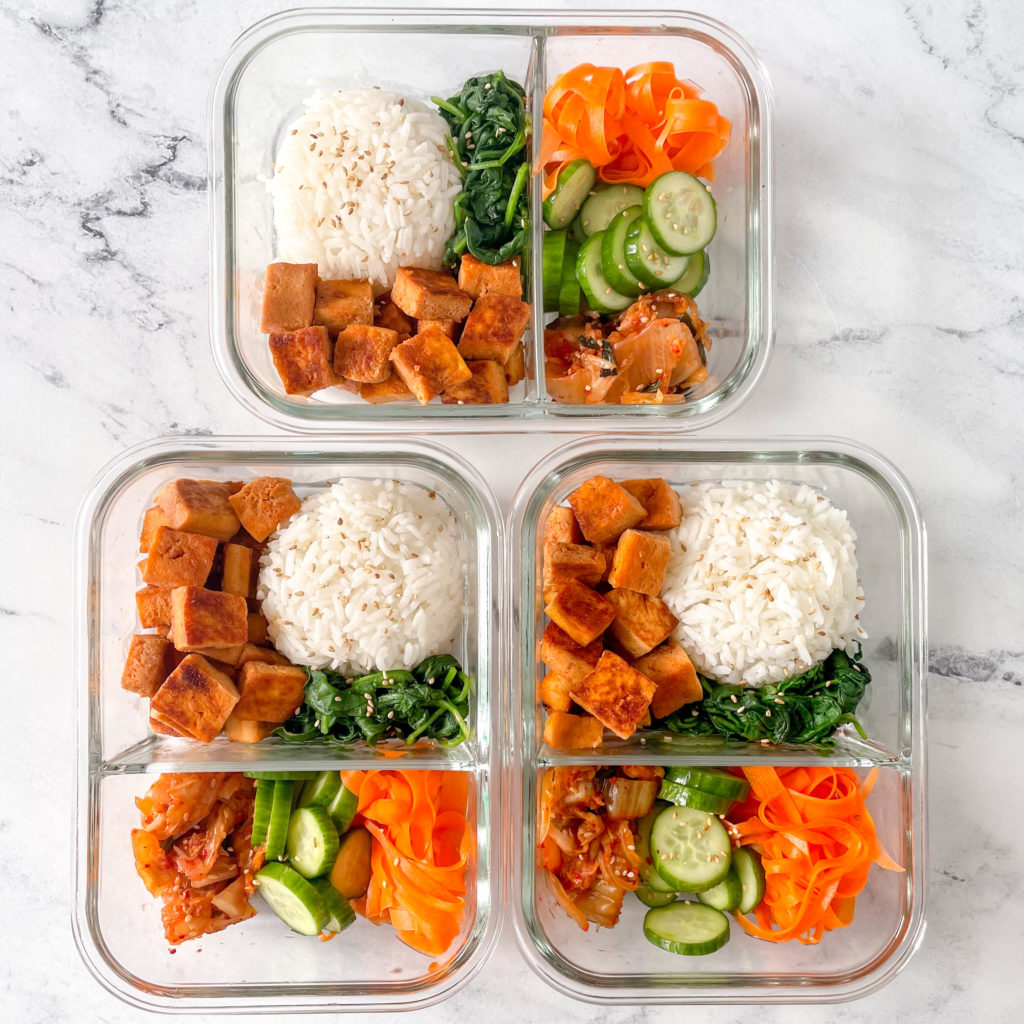 Change the base: Rice is definitely my first choice here, but noodles, quinoa, farro, or other short grains would work too. Or go another route and use a wrap or bread to actually make a sandwich!
Change the veggies: If you're not a fan of pickled veggies, feel free to leave them raw! You can also add in additional veggies like scallions, edamame, shitake mushrooms, ginger, avocado, red cabbage, bell pepper, jalapeño, and zucchini noodles.
Related: 8 International Recipes to Try at Home (When You Can't Travel)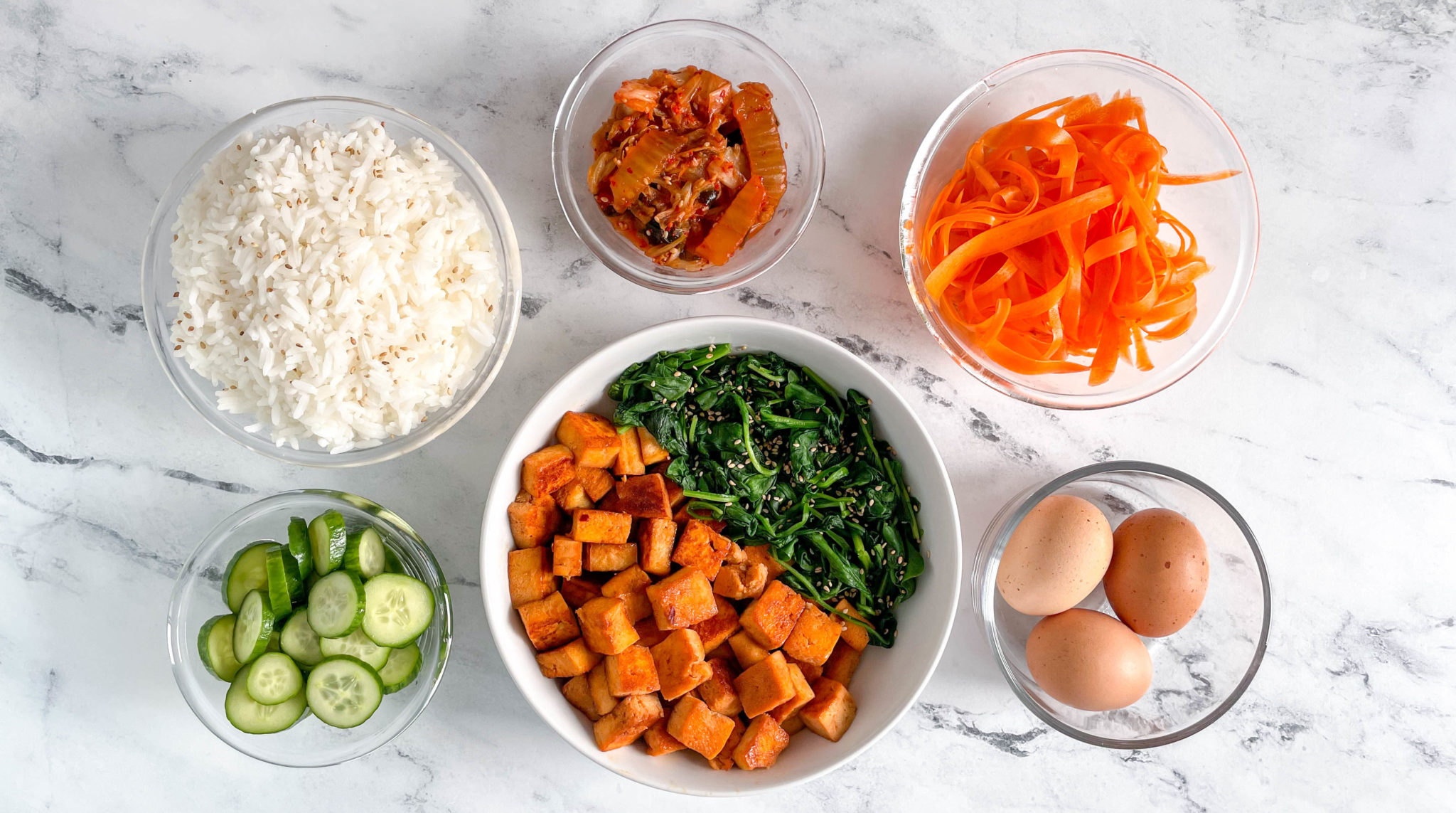 For the Egg (Optional)
Cook the eggs fresh when you are ready to eat the bowl! Sunnyside up is ideal for this, but you can boil them as well!
If you want tips on boiling eggs, check out this video where I test out a few different methods!
A note on kimchi
Not all kimchi is vegan or vegetarian! Make sure to check the ingredients – if it's made with oyster sauce or fish sauce, it's unfortunately not vegan/vegetarian.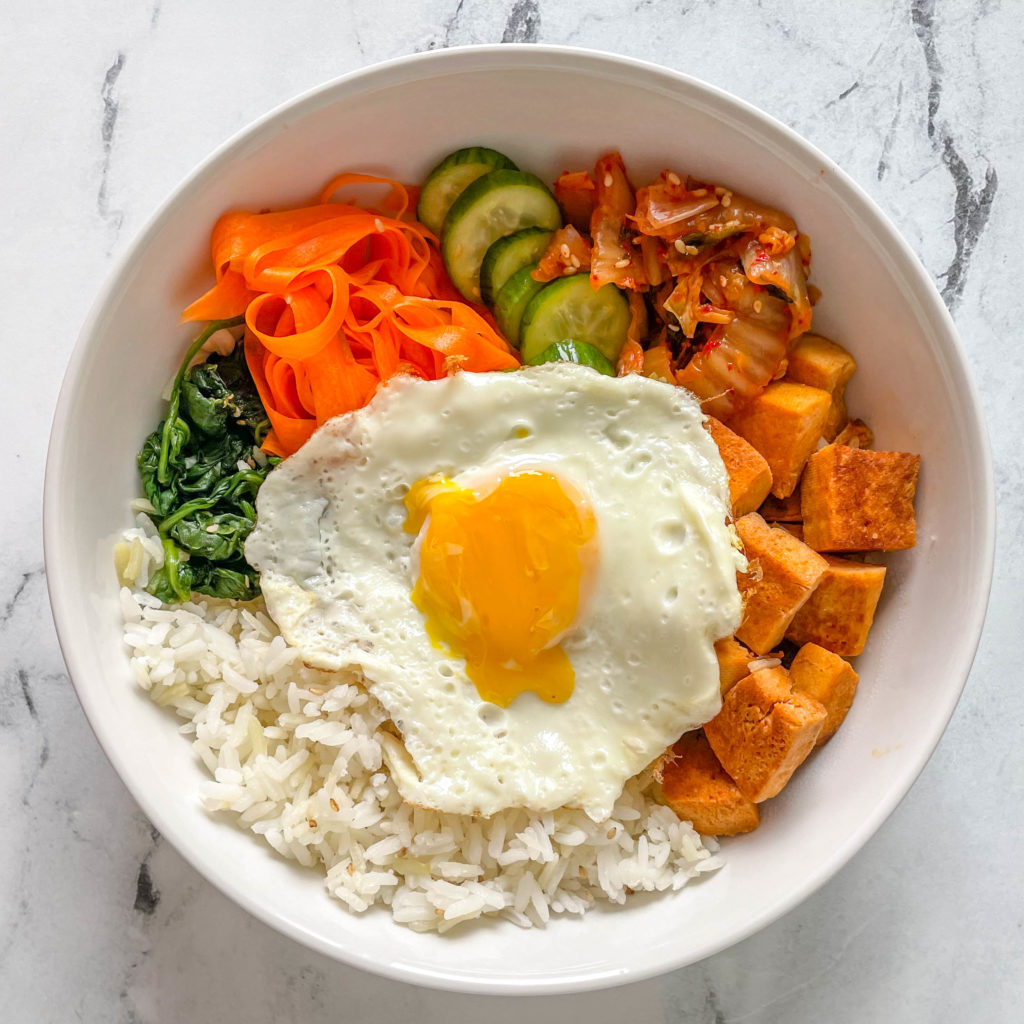 What is a stone bowl and do you need one for bibimbap?
Bibimbap is traditionally served in a stone bowl (dolsot). The heat gives the bottom layer of rice a bit of a crisp and warms the rest of the bowl when it is mixed!
If you are interested, you can buy one here, or you can use your cast iron skillet for a similar outcome!
How to store and reheat these bibimbap bowls:
Make sure to only reheat the beef, rice and cooked spinach! The carrots, kimchi and cucumbers should be kept on the side, cold or room temp up until you eat the meal. Cook an egg to add on top when you plan to eat this bibimbap.
This meal can last in the fridge for up to 4 days! It's not freezer-friendly.
Happy prepping!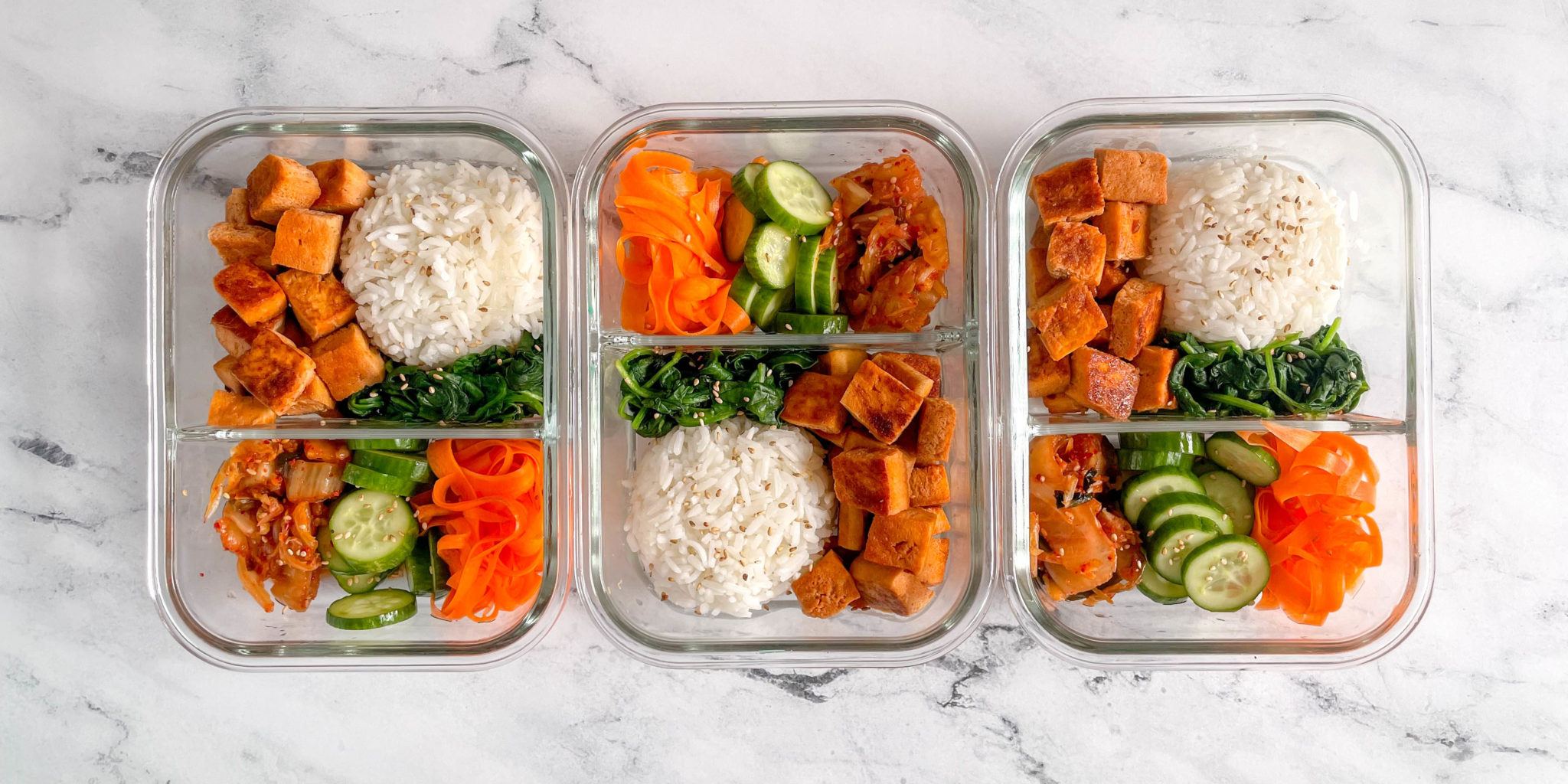 Check out these other delicious Korean recipes!
And don't forget to try our other delicious vegetarian/vegan meal prep recipes!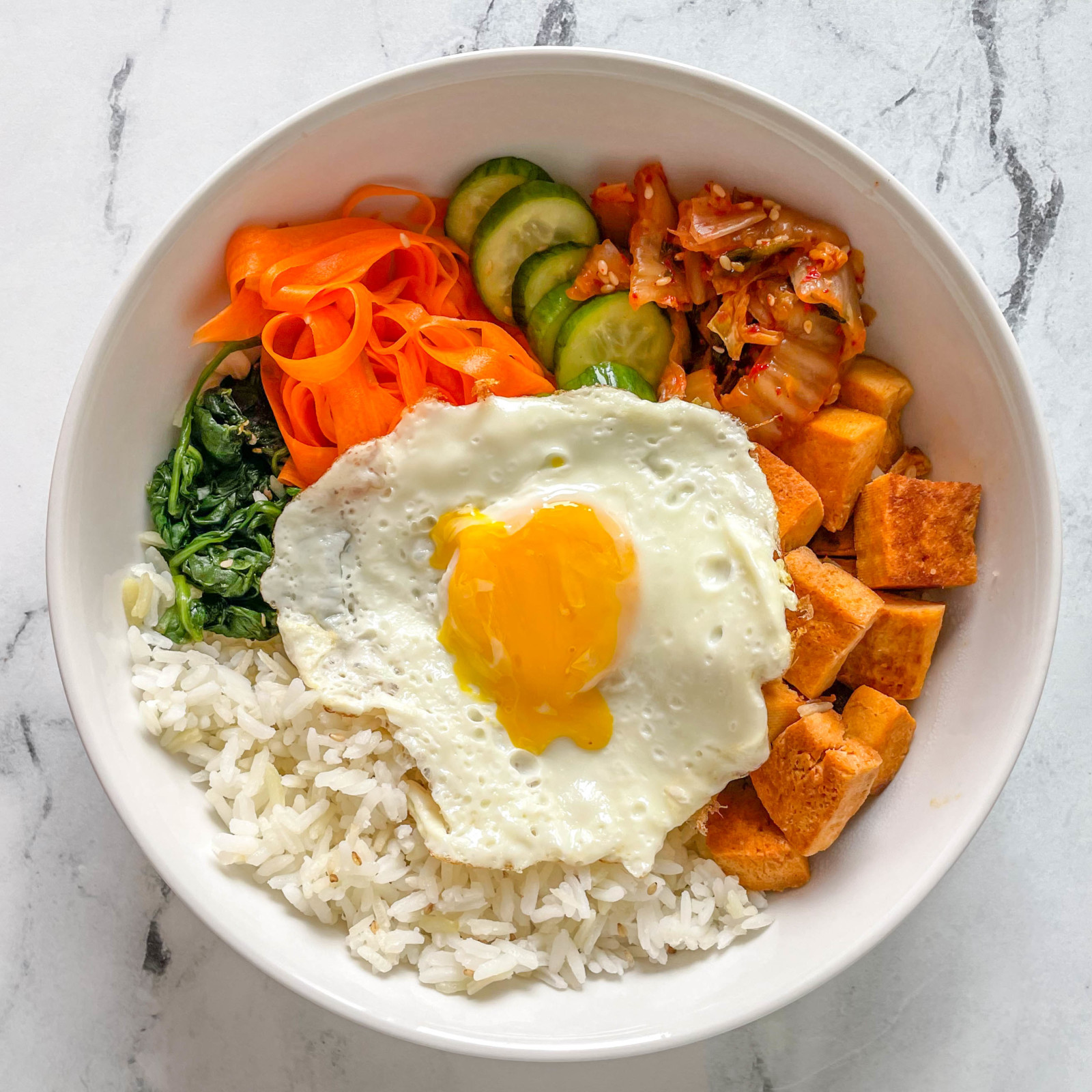 Tofu Bibimbap Bowls With All The Toppings
Ingredients
For the base
2

TBSP

sriracha

1/4

cup

soy sauce

use liquid aminos if gluten-free

2

TBSP

agave

sub maple syrup

1

tsp

lime juice

1

tsp

hoisin sauce

leave out if gluten-free

14

oz

package of firm tofu

drained, chopped into cubes

1

TBSP

olive oil

3/4

cup

rice

any rice works

1/4

tsp

salt

1.5

cup

water
For the toppings
2

carrot

chopped into matchsticks or peeled into ribbons

1

cucumber

sliced

1

TBSP

rice vinegar

2

tsp

granulated sugar

1/4

tsp

crushed red pepper

skip if you don't like heat

1

TBSP

olive oil

6

cup

spinach

sub kale or chard

1/2

tsp

sesame oil

2

tsp

sesame seeds

optional for garnish, add more as needed

3

eggs

optional, to be cooked fresh with the meal

1

cup

kimchi

optional, note not all kimchi is plant based
Instructions
Prepare the tofu: combine the sriracha, soy sauce, agave, lime juice and hoisin in a measuring glass. Add the tofu to a big bowl and pour the sauce over it. Toss gently to coat and set aside.

Cook the rice: Add the rice and water to a pot over high heat with a pinch of salt and bring it to a boil. Then cover and reduce heat and let it simmer for 10 minutes, then turn off the heat and let the rice steam. No peeking or stirring!

Cook the tofu: Heat up a non-stick skillet for 2-3 minutes. Add the olive oil and let it warm up for a minute or two. Add the seasoned tofu to the pan and cook for 10-15 minutes, turning the tofu pieces occasionally, until it's crispy and darker in color. Optional step: Put tofu on a greased baking sheet and bake at 400 F for 15-20 minutes to make tofu even crispier.

Prepare the cucumber: toss the sliced cucumber with rice vinegar, sugar and red pepper flakes with a pinch of salt. Set aside.

Prepare the spinach: heat up the same pan you used to cook the tofu. Add the olive oil and spinach with a pinch of salt. Saute over medium-low heat until it has completely wilted, about 6-8 minutes. Covering the pan helps steam spinach nicely. Turn the heat off and add the sesame oil. Gently toss to coat the spinach. Set aside.

Assemble! Divide the rice and tofu between three meal prep containers. Garnish with sesame seeds if using. In another container or in a few small containers, store the carrots, cucumber, spinach and kimchi. I stored the spinach with the meat and rice because it was cooked and would taste good warm. When ready to eat, cook the egg to your preference (sunny side up is ideal! boiled works too) and add the other prepared toppings to your bowl.
DID YOU MAKE THIS RECIPE?
Please leave a comment below on the blog or share a photo with us and tag @workweeklunch! Can't wait to see what you made!