I get asked, "why are you vegan" frequently because I post a ton of plant-based meals on Instagram and on my site.
But I'm not vegan. I'm a flexitarian, which means I eat pretty much everything.
If I want to do a plant-based week, cool.
If I want to do a pescatarian or vegetarian week, great.
Most weekends I enjoy a big ol' hamburger.
In this post, I'm going to talk about how I came to the decision to not eat fully plant-based (despite all of its benefits) but still eat a lot of vegan food.
But the most important reason? I don't like labels that much.
I find them to be restrictive. I'd rather have zero rules to break and all the freedom to eat what I want.
I'm also fortunate to have very few sensitivities (and zero allergies) to foods which allows me all of this food freedom.
Environmental reasons to vegan aside, why put a restriction on myself when I don't physically need to?
1. I ate plant-based for a period of time and it wasn't pretty
Before eating fully plant-based, I was vegetarian for about four months. I just wanted to try it!
Then, after my Instagram started to grow and the demand for vegan meals increased, I decided to try the vegan thing.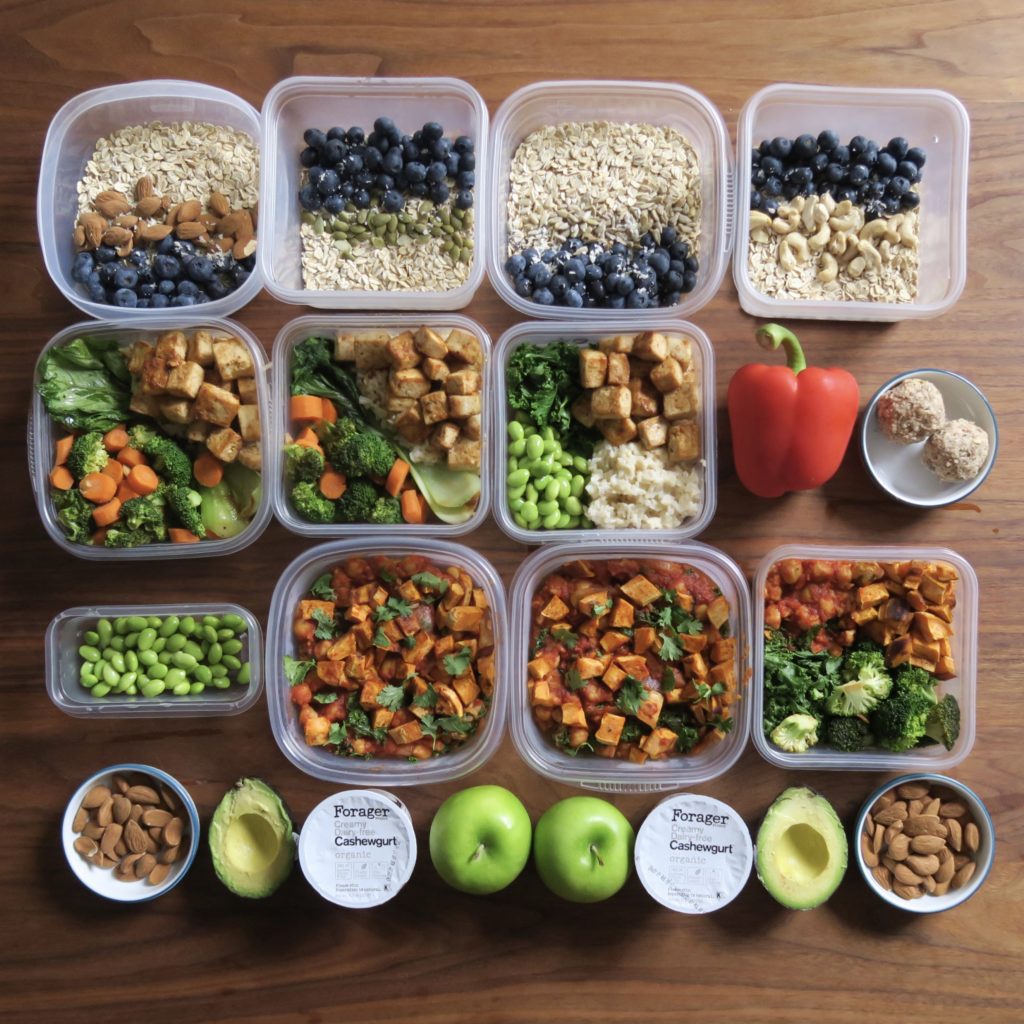 The food tasted amazing, but that was expected.
And after being a vegetarian for four months, ditching eggs and cheese was hard, but not impossible.
I enjoyed my stint as a vegetarian because it forced me out of my comfort zone in restaurants. I wish I could say the same for eating vegan, but that wasn't the case.
After 10 days, I felt so fatigued.
I wasn't able to give my all to workouts. My brain felt foggy. And holy shit, I was going to the bathroom at least 3x a day. And that makes sense! When you eat vegan, you're eating a lot of fiber. But that wasn't normal for me.
These were all signs that my body wasn't into it. Eating strictly plant-based wasn't going to work for me physically.
2. It's easier to add meat to a meal than it is to take it out
Even though going fully vegan didn't work out for me, that doesn't mean I can't pump out a ton of delicious vegan recipes!
And the reason I create so many vegan recipes is simple: it's easier for someone who eats meat to replace or add an animal protein than it is for a vegan/vegetarian person to look at a recipe and replace the animal protein with a plant-based one.
This is a conclusion I've come to after talking to THOUSANDS of people on Instagram, asking for advice and asking for more plant-based recipes. Animal proteins are just more obvious than vegan ones in the beginning.
My recipes are easy enough to add almost any protein you want and I make a point of accommodating every mainstream diet in each one I produce.
Also, to lead healthy lives, I think more of us just need to eat more plants whether we eat meat or not. That's another reason behind my emphasis on vegan recipes. Just because someone is a meat eater doesn't mean they can't enjoy heaps of veggies too!
3. Plant-based cooking forces me to be creative
Good vegan cooking isn't about using fake "chicken" or fake "bacon" to make up for the lack of meat.
It's about making vegetables the star of the dish.
For example, here's a vegan Hawaiian "meat" ball bowl with coconut rice and pineapple stir-fried veggies.
Learning how to cook vegetables so they actually taste good is a creative challenge I thoroughly enjoy.
I look forward to whipping up vegan meals for my audience and members of the Workweek Lunch Meal Prep Program most.
Sometimes, people are impressed (and even surprised) with how good a vegan meal tastes and I enjoy bringing that experience to my readers' kitchens!
4. Plant-based food is simply cheaper
Saving money is another reason I'm motivated to eat more plant-based.
I can't speak for everywhere in the world, but in the places I've lived, produce and plant-based ingredients are always cheaper than animal products.
It probably helps that I don't generally buy organic (I just don't care about that so much) and I buy what's in season whenever I can.
How is vegan eating cheaper?
One package of tofu or tempeh is usually $3. One pound of quality chicken is usually around $6 or $7. Quality fresh fish? Quality beef? At least $7 per pound.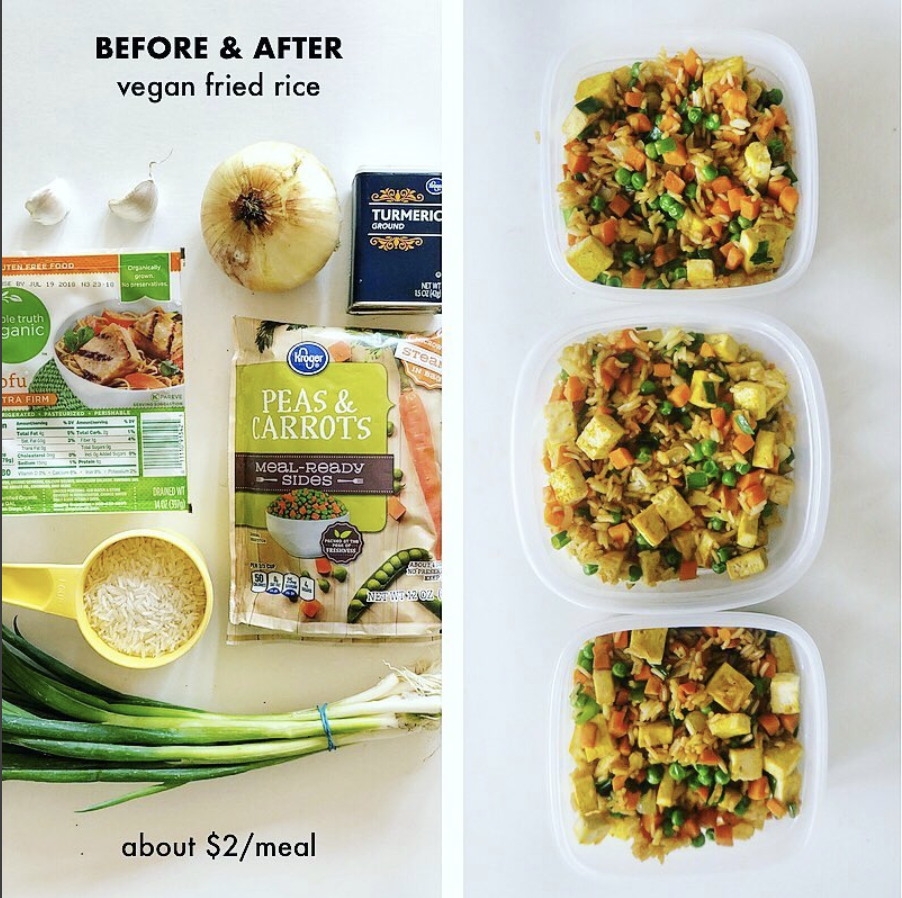 The only animal protein that I've found to be as cheap as plant-based protein is ground turkey and eggs.
When you're cooking vegan meals, most of the ingredients are vegetables, legumes and grains. Legumes and grains are easy to buy in bulk and if you shop smart, you can save a lot on veggies.
Frequent questions I get asked about veganism and eating a plant-based diet:
Q: How do you get started eating more plant-based meals?
A: I'd start with the proteins. What plant-based proteins do you enjoy and feel most comfortable with? Build meals around them. Tofu was my entry into plant-based protein. Below is my video tutorial on how to cook it.
Q: Will eating vegan food help me lose weight?
A: I don't like to talk about weight loss, but this question comes up a lot. The answer is… it depends! French fries, bread, and lots of foods that are usually restricted when you're on a diet are vegan. So I'm going to say no. But I will say that eating more plant-based meals means eating more vegetables and that is a healthy move for sure.
Q: How do I know I'm getting enough protein when I eat plant-based meals?
A: There is plenty of protein in vegetables and other vegan-friendly ingredients (beans, grains). If you're worried about feeling full, I suggest making sure you stick to the protein + veggie + carb formula in plant-based meals. My favorite easy combination is tofu + broccoli + rice. So easy and so filling!
Q: How do I know if going vegan is for me?
A: Just because it didn't work out for my body doesn't mean it won't work out for yours. My advice is to always give something a try before you decide. It's not like you have to be vegan for a year to figure it out. Give it two weeks and see what happens. Your body will give you plenty of signals so you can easily tell if it's working or not. Listen, adjust and go from there.
Q: What are your favorite vegan food blogs for recipes?
A: From My Bowl, Minimalist Baker, Sweet Simple Vegan and Thug Kitchen are great places to start!
Q: What about the animals? Don't you care about the environment?
A: Of course I do! I help the environment in other ways, like reducing my food waste and plastic usage, recycling and stuff like that. Earlier I talked about how eating 100% vegan all the time made me feel awful. I can't be a productive member of society if I'm too tired to function, you know? I respect those that choose a vegan lifestyle for environmental reasons, it's just not for me.
If you have any other vegan cooking questions, please hit me up in the comments or on Instagram @workweeklunch.