Jackfruit tacos and corn are two perfect summer foods in my opinion. Here we are making some super simple, tasty vegetarian tacos with Mexican street corn as a side or topping, yum!
This recipe has deliciously seasoned jackfruit, creamy avocado, cotija cheese, and cilantro. Feel free to customize and add more of your favorite veggies on top.
Get more recipes like this in the Workweek Lunch Meal Prep Program with access to our meal planning tools, grocery list generator, and more. Start a free trial today!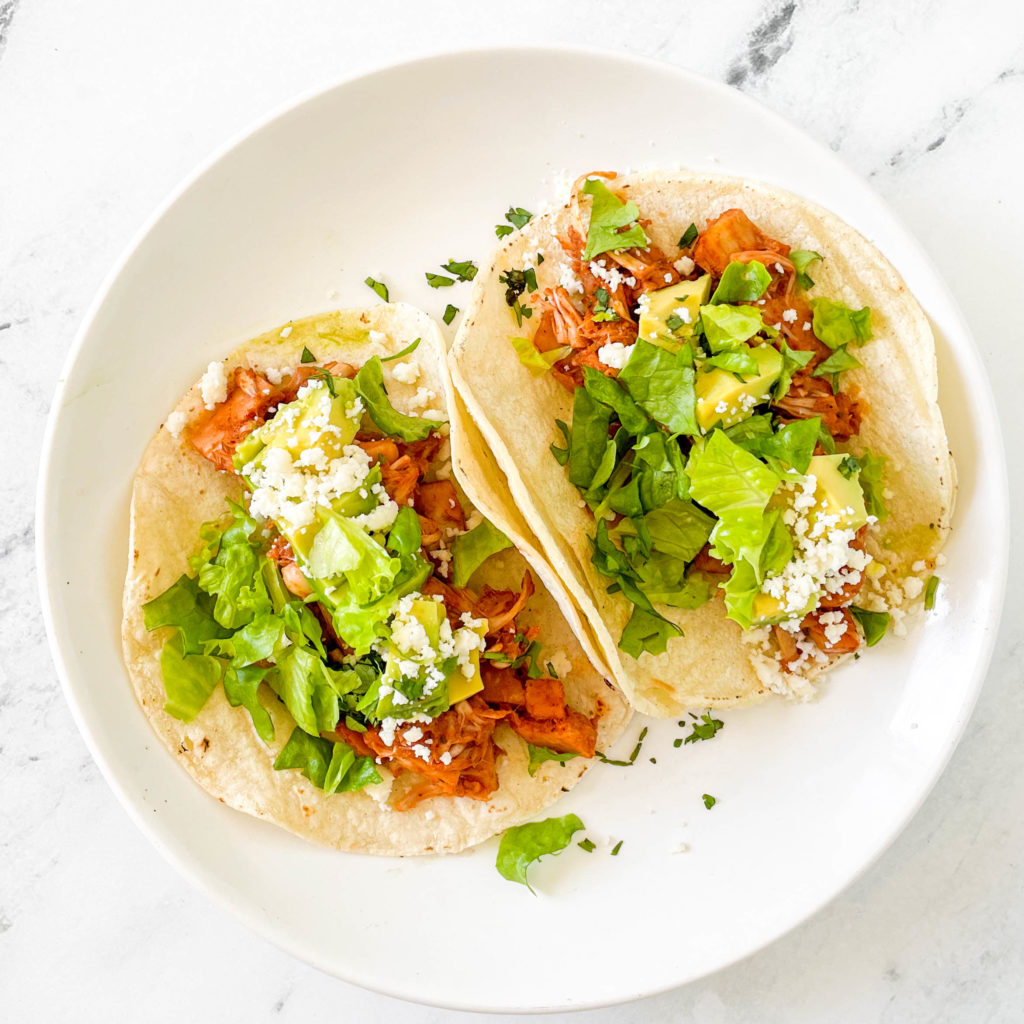 How to make the best jackfruit tacos:
I have only ever worked with canned jackfruit, but if you find a fresh one in your store and want to take on the challenge, go for it! Canned jackfruit is definitely the best option to keep this recipe nice and easy.
Once you drain your jackfruit, slice the chunks into smaller pieces cutting from the core, almost like cutting pizza slices. This will help it break down into shreds easier and closely resemble the texture of shredded chicken or pork.
Jackfruit takes on the flavor of the seasonings and sauces you add, so make sure to use your favorite broth and a taco seasoning blend you love.
What is Mexican street corn?
Mexican street corn is my absolute favorite way to enjoy corn. Vendors will sell elote (on the cob) and esquites (in a cup), which is fresh corn topped with mayo or crema, cotija cheese, chili powder, lime, and cilantro. What's not to love? If you have a vendor in your city or see elote on a menu, definitely give it a try! And of course, try out our take on it as well.
Customize the corn:
I wanted to keep the flavors of this as authentic as I could, but you can customize this based on what's available to you in your stores and your flavor preferences.
Instead of mayo, you can use a crema, sour cream, or even plain yogurt.
Use queso fresco in place of cotija for a more mild, less salty flavor, or use your favorite hard cheese like parmesan or feta cheese.
The lime gives this such a good flavor, but use some lemon juice in a pinch!
You can swap the cilantro for your favorite herbs or skip it altogether.
I chose a super simple method on the stove to cook the corn, but if you would like to roast it or grill it, you can certainly cook it your favorite way! Here are some other methods to cook your corn on the cob.
If you opt for frozen or canned corn, drain it well and heat it in a skillet with butter. Cook until most of the liquid is gone, then stir in all of your esquites toppings.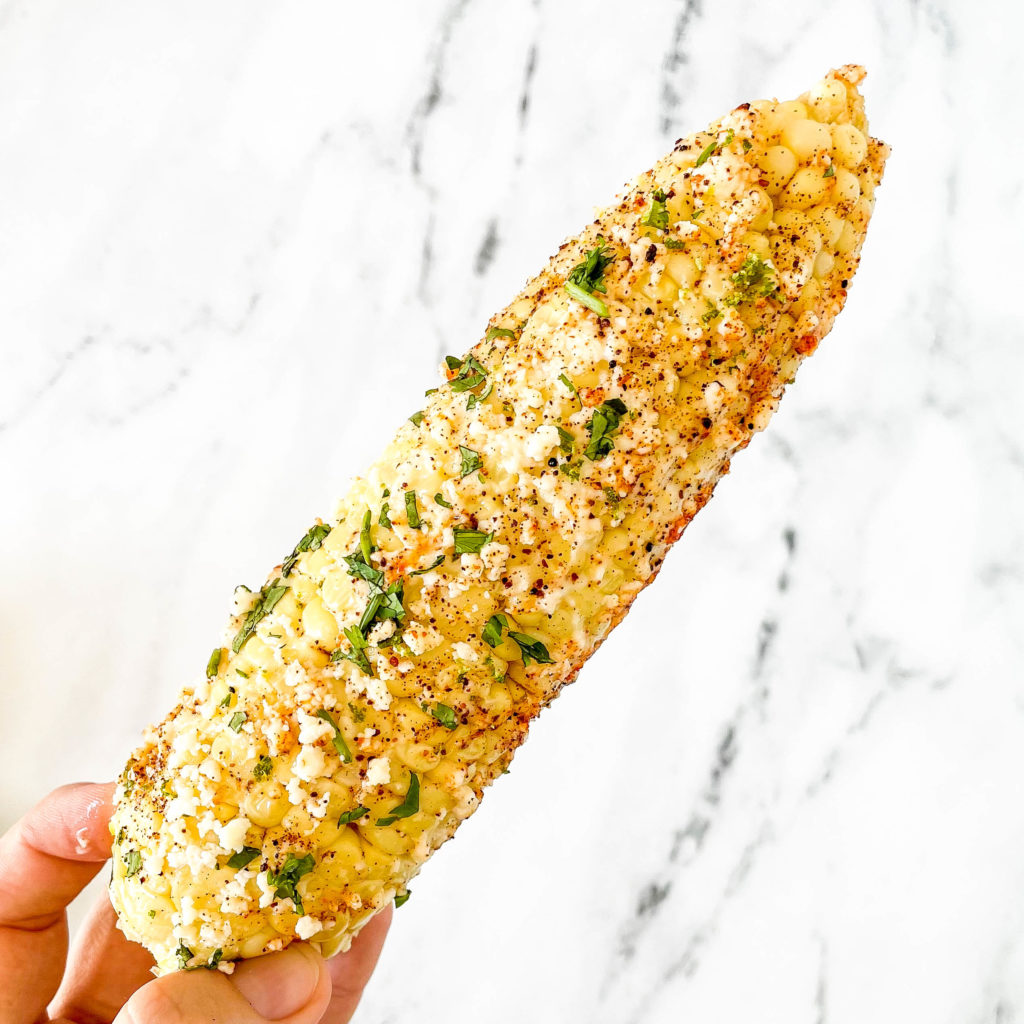 Homemade taco seasoning for your jackfruit tacos:
Storebought taco seasoning blend is a great option to save a little bit of time, but it's easy to make at home as well. You can use the following blend to make 1 tbsp of taco seasoning, the amount needed for this recipe!
1 tsp chili powder
1 tsp ground cumin
1/4 tsp onion or garlic powder
1/4 tsp dried oregano
1/4 tsp paprika
1/4 tsp salt
Storage & Reheating Notes
The different components of this meal are best eaten when assembled right before eating. If you want to prepare the Mexican street corn to be good for up to 3 days, you can follow the instructions in the recipe to store it in individual containers.
The jackfruit, cooked corn, and toppings will be good in the fridge for up to 5 days. The jackfruit is freezer-friendly for up to 3 months. The corn is freezer friendly for up to 3 months as well, just make sure to cut it off the cob for ease when you are ready to use it. Freeze the corn without the toppings! Those will taste the best fresh.
Happy prepping!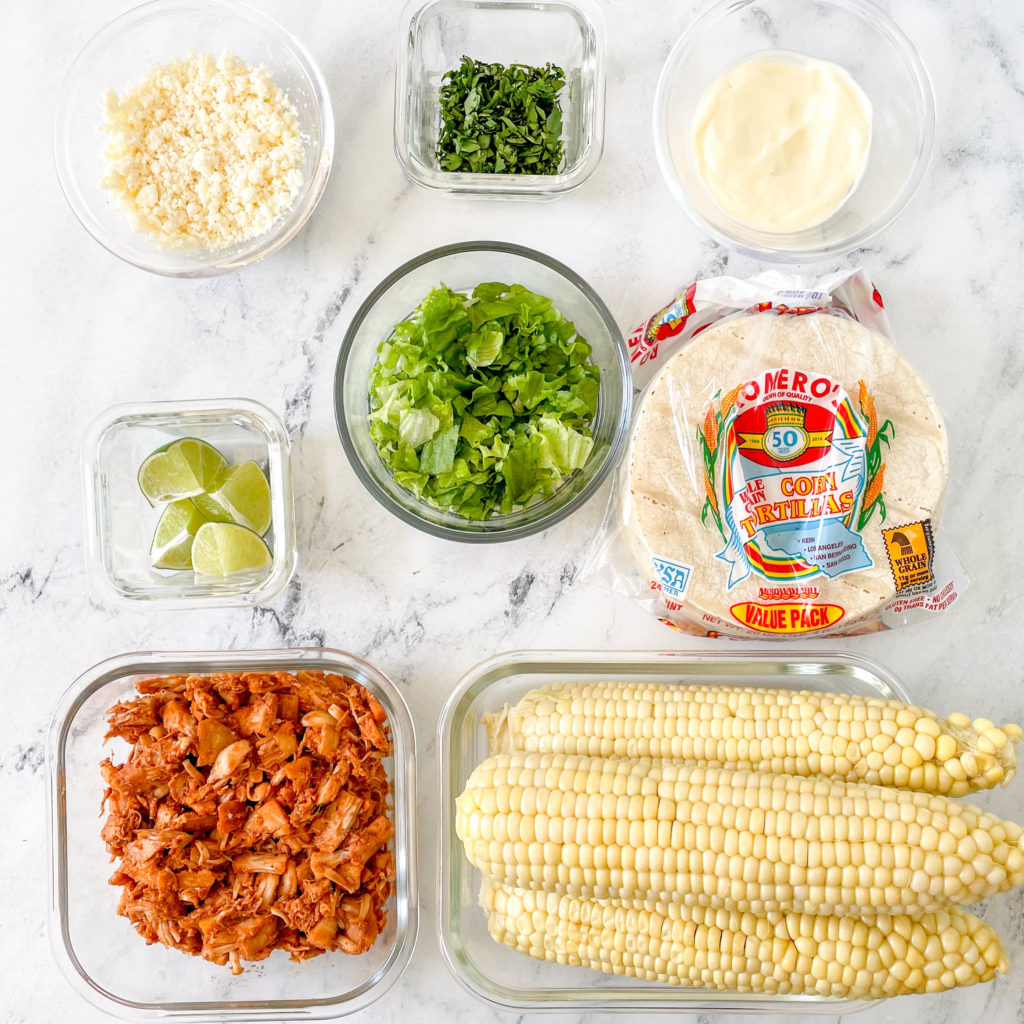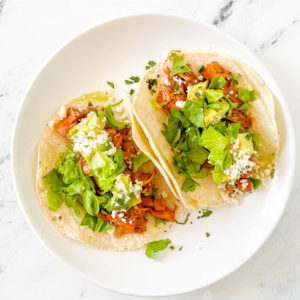 Meal Prep-Friendly Jackfruit Tacos With Elote
Ingredients
1

TBSP

olive oil

20

oz

canned jackfruit

drained, rinsed, chopped small

salt and pepper

to taste

1/2

cup

vegetable broth

1

TBSP

tomato paste

1

TBSP

taco seasoning

see note for homemade blend

1

lime for juice

plus one for garnish

4

ears corn

shucked, sub 4 cups canned or frozen corn

salt and pepper

to taste

1/4

cup

mayo

sub crema or sour cream

1/2

cup

cotija cheese

crumbled, sub queso fresco or hard cheese of choice

1

tsp

chili powder sub paprika

1/2

cup

cilantro

chopped, garnish, optional

1

cup

lettuce chopped

optional

2

avocado

for serving, optional

8

small tortillas
Instructions
Heat a large skillet over medium/high heat. Add the olive oil and let the pan get hot. Once the oil has heated, add the jackfruit and top with salt and pepper. Let it cook for 3-5 minutes, stirring occasionally with a wooden spatula.

Meanwhile, bring a large pot of water to boil.

Add the broth, tomato paste, taco seasoning to the skillet and stir everything together well, making sure to scrape the pan with the spatula to pull up all the jackfruit. Cook for 5-7 minutes, stirring occasionally, until the sauce has cooked down and most of the liquid has gone. While you are stirring, use the spatula to break the jackfruit into smaller pieces. Add half the lime juice and taste, adding extra salt and pepper as needed. Turn off the heat and set aside.

Once the water is boiling, add a tablespoon of salt to the water followed by the ears of corn. Cover and boil for 5 minutes. After the 5 minutes, the corn should be brighter in color and slightly tender. Carefully drain the water and remove the corn from the pot and set aside.

Assemble the Mexican street corn: If you want to enjoy your corn on the cob, brush or spread 1 tbsp of mayo across the corn, followed by the crumbled cheese, slightly pressing it into the corn. Finally, top with the chili powder, cilantro, and a little lime juice. This is best eaten right after assembly. If you want to prep the corn in a container instead, carefully carve the corn off the cob and add to your desired container. Follow with 1 tbsp mayo, about 2 tbsps crumbled cheese, 1 tsp lime juice, and 1/4 tsp chili powder. Stir everything together and top with cilantro and more crumbled cheese if desired. In air-tight containers this will be good in the fridge for up to 3 days.

Assemble the tacos: The tacos will be best when assembled right before eating. Reheat the jackfruit on the stove or in a microwave. Carefully heat your tortillas on the stove directly over the flame for about 30 seconds on each side and flip using tongs for a nice char. You could also heat them in the microwave for 15-30 seconds instead! Top each tortilla with about 2 tablespoons of the jackfruit, chopped lettuce, some of the avocado, a squeeze of lime, and 1 tbsp of the cotija cheese. You could also enjoy the prepared corn as a topping on your tacos, up to you! Enjoy!
DID YOU MAKE THIS RECIPE?
Please leave a comment below on the blog or share a photo with us and tag @workweeklunch! Can't wait to see what you made!