From preparing too much or too little food to having trouble finding meals both people enjoy, I've experienced most of the common struggles one has with meal prep for two.
In this post, I'm going to address what those struggles are and common questions people have surrounding meal prepping for two. By the time you're done reading, you'll know exactly how to get through numerous roadblocks, whether you or your partner is a picky eater, allergic to something, or trying to eat within dietary restrictions.
By the way, I'm using the words "partner" and "SO" (for significant other) instead of boyfriend/girlfriend or husband/wife here to keep it gender-neutral.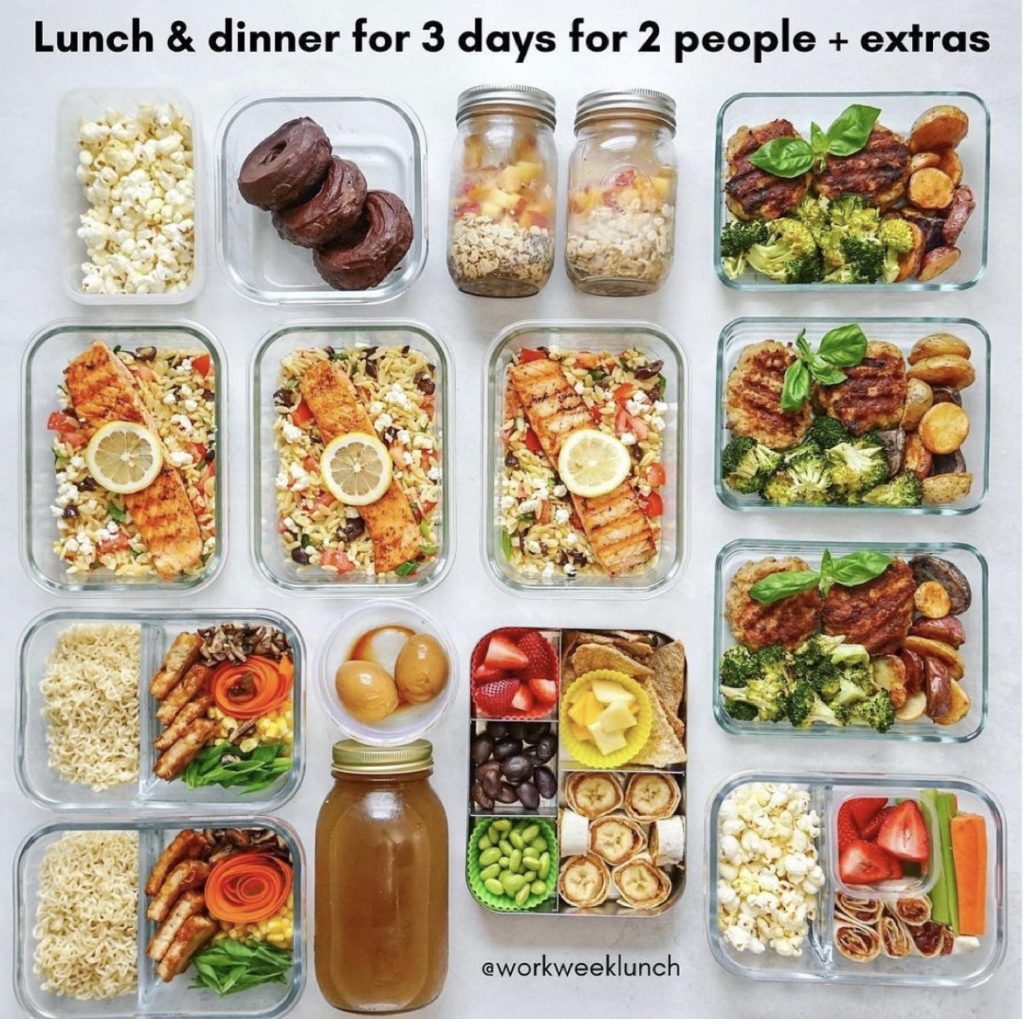 "How can I make meals that both of us want to eat?"
Most of the time, we're challenged with the fact that we have different tastes and preferences than our partners. It can make cooking or even deciding where to eat at a restaurant really difficult!
If you and your partner have varying tastes, it's best to focus on what you have in common instead of what you don't, especially when it comes to food.
For example, let's say you both LOVE potatoes in all shapes and forms. Mashed potato, baked potato, potato soup… the list goes on. It would be easier to prepare meals that incorporate ingredients you both like (in this case potatoes) than cooking two completely different recipes to please both of you all the time.
Discuss ingredients and cuisines you're both open to and enjoy. Then, use that list to plan meal preps and single meals with elements you both enjoy.
Will you still have to cook separate meals or ingredients sometimes? Yes. But it's so much easier to do when you have a foundation of what you BOTH like first.
What to do: Find out what you both like and construct meals based on those ingredients.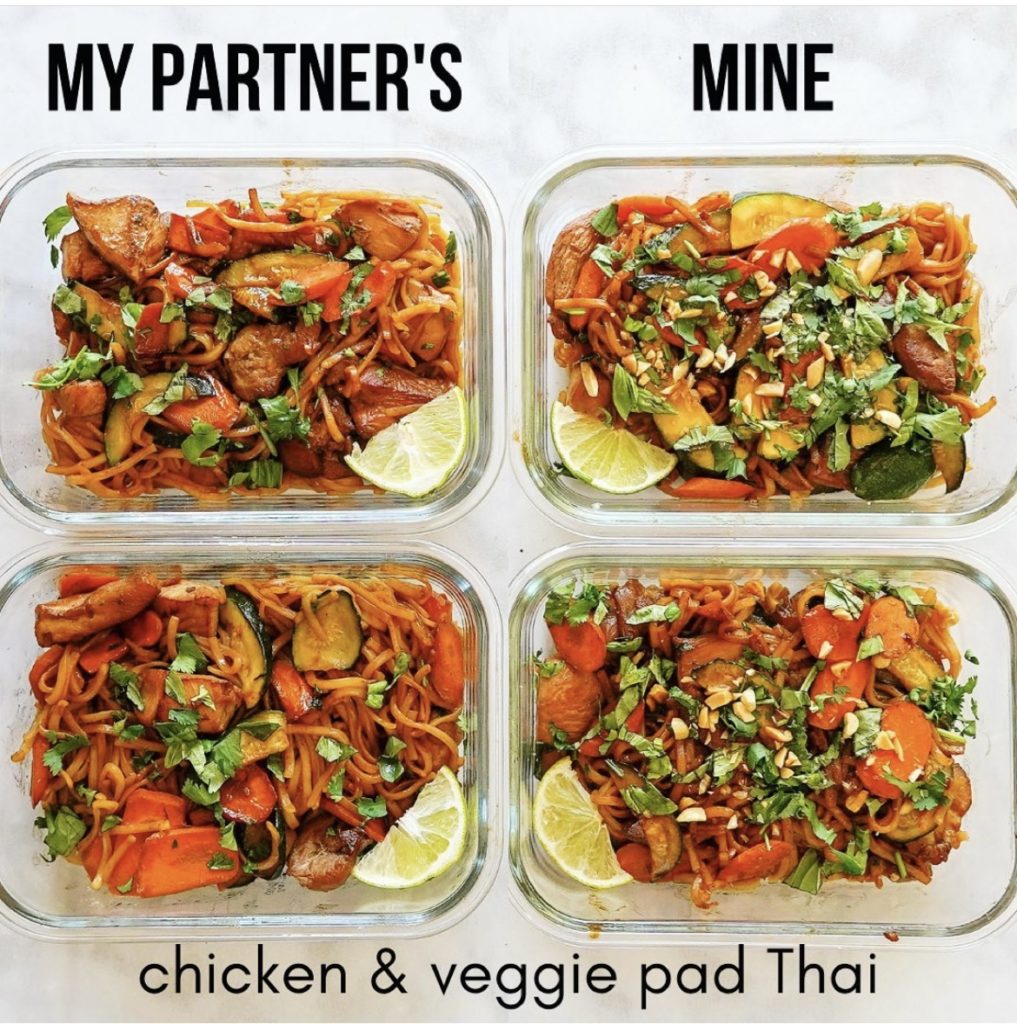 "My partner gets bored easily and I can eat the same thing for days."
Not everyone loves the somewhat repetitive nature of meal prep. I get that! Variety in food is fun, but when your partner needs it more than you (or vice versa) meal prep can be really tough.
I encourage my community to prep twice a week (Sunday and Wednesday) instead of just once (or to prep only for a few days and leave the rest open for spontaneity), because it prevents your meals from becoming too repetitive. Prepping this way will keep your meals varied and you interested!
It's a balance that you can only learn to master through trial and error, and every couple is different!
Another idea worth trying is a buffet-style meal prep. Buffet meal preps involve cooking ingredients separately (a big batch of grilled chicken, a big batch of rice, a big batch of roasted veggies, etc.) so that you're able to build meals as you go. It's ideal for anyone who craves variety in meals more than anything else but doesn't want to cook every day either.
This strategy is an especially great option for couples that need a larger variety in meal prep. Check our master list of protein, veggies and carbs for ideas of what to make for a buffet prep.
What to do: Leave a little room for spontaneity in your meal plan, or try a buffet-style meal prep to mix things up.
"I'm a vegetarian and my partner is a carnivore."
I grew up in a house that was just like this: my mom is vegetarian, my dad is a carnivore, and my mom would cook several different meals to please everyone all the time. I hope with these tips, you'll avoid that headache.
As I mentioned in the first tip, finding common ground here is essential. If you both like similar carbs and veggies, changing the protein is a breeze. I often prep the same meal with both plant-based protein and animal protein just for the sake of variety.
Many plant-based proteins used in meal prep require similar cooking methods as animal proteins. For example, you can cook chicken AND tofu on a sheet pan and produce roughly the same flavor. You can add soyrizo and veggie sausage or meat sausage and chorizo to the same meal to make one vegetarian and one carnivore.
If you need help cooking meals that satisfy vegans, vegetarians, AND carnivores, I recommend looking into the WWL Meal Prep Program. Every recipe (we have over 400) comes with vegan, vegetarian, and carnivore options.
What to do: Choose recipes that can easily be altered to suit your dietary needs.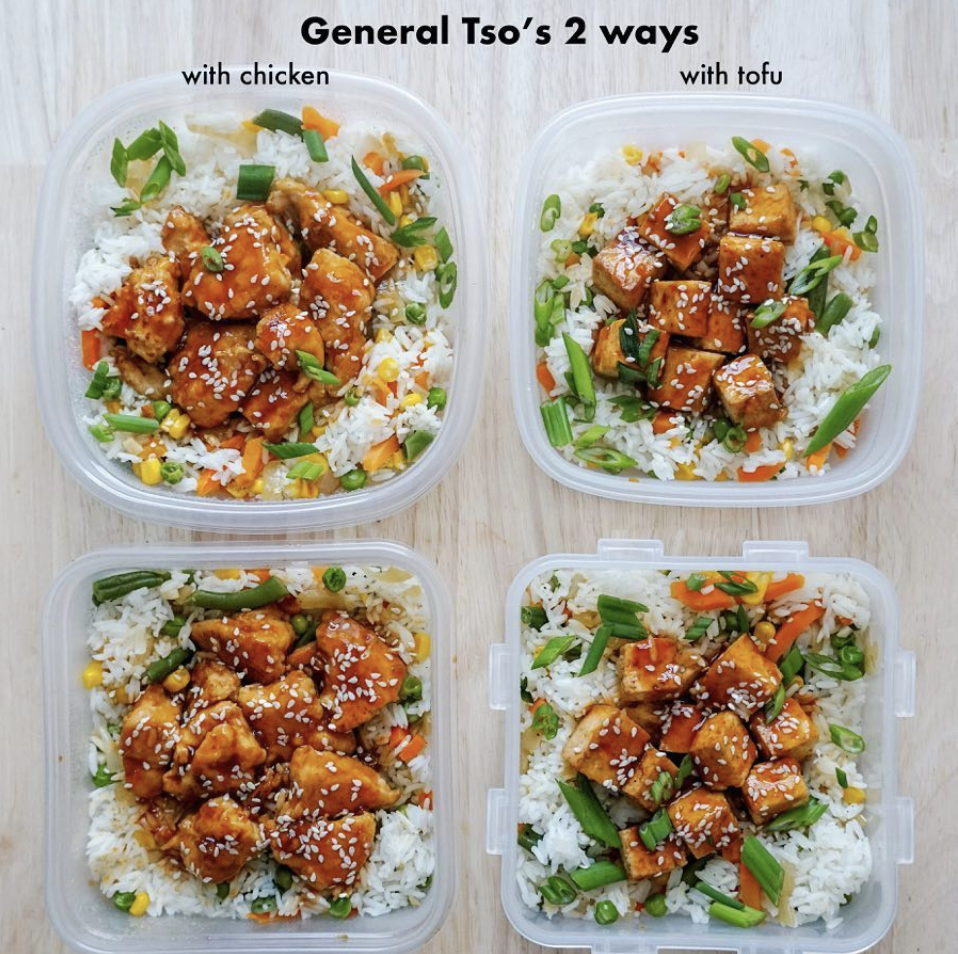 "My partner needs much larger serving sizes than me! How can I get this right?"
No one ever expected meal prep would involve so much math, amirite? Figuring out serving sizes when you're cooking for two people who eat different amounts can be a headache in and of itself.
A good rule of thumb here would be to cook meals that serve six or more. However, only expect to get 4 total servings—2 normal-sized servings for you, and 2 larger ones for your partner, or vice versa. That way, both you and your partner get the amount of food you need from a recipe without having to make many adjustments.
That's how I'd tackle this one. Another option is to figure out ways to add more volume to meals. That could be adding more veggies, more carbs, wrapping it up in a tortilla or pita for your partner, or adding another protein source.
What to do: Divide serving sizes so that you're both getting what you need.
"I love (insert food here) but my SO is allergic."
It's a bummer when your partner can't enjoy the same foods you can due to a food allergy. Of course, depending on the type of allergy, that doesn't mean YOU can't enjoy a certain ingredient.
Again, the best thing to do is here is to focus on what you do have in common. If you have overlapping tastes and preferences for certain ingredients, start there and then customize based on individual needs.
For example, if your partner is lactose intolerant and you love cheese, you can make a pasta dish or mac and cheese and divide the recipe in half. Then use a dairy-free cheese alternative for one half and regular cheese for the other.
Of course, if your partner has severe allergies where they can't even be around a certain food, this tip won't work as well. I encourage you to focus on ways you can be creative instead of focusing on what you CAN'T eat in this situation. After all, it's not your partner's fault they're allergic.
What to do: Build recipes off of ingredients you both like and customize them at the end.
"My partner is so picky."
This is such a common issue! As I said earlier, you want to avoid using force, guilt, or shame to get your partner to broaden their horizons. Even though you're well-intentioned (you just want your partner to try new foods!) forcing someone to try something they're not into isn't a good look, and can in many cases make them less inclined to try whatever you're pushing on them. Not to mention, this could have long-term negative effects on their relationship with food and your relationship with each other.
You can gently encourage your partner to try new foods by asking them to sample foods you've cooked (tasting from the pot) or even help you with the cooking process. Sometimes when people SEE how the food is prepared or have that experience, it helps them have a more open mind when it comes to trying it.
What to do: Offer to let them sample new things and don't complain or get on their back too much about being picky.
We compiled our picky prepping tips and incredible tips from the Workweek Lunch community into this handy guide.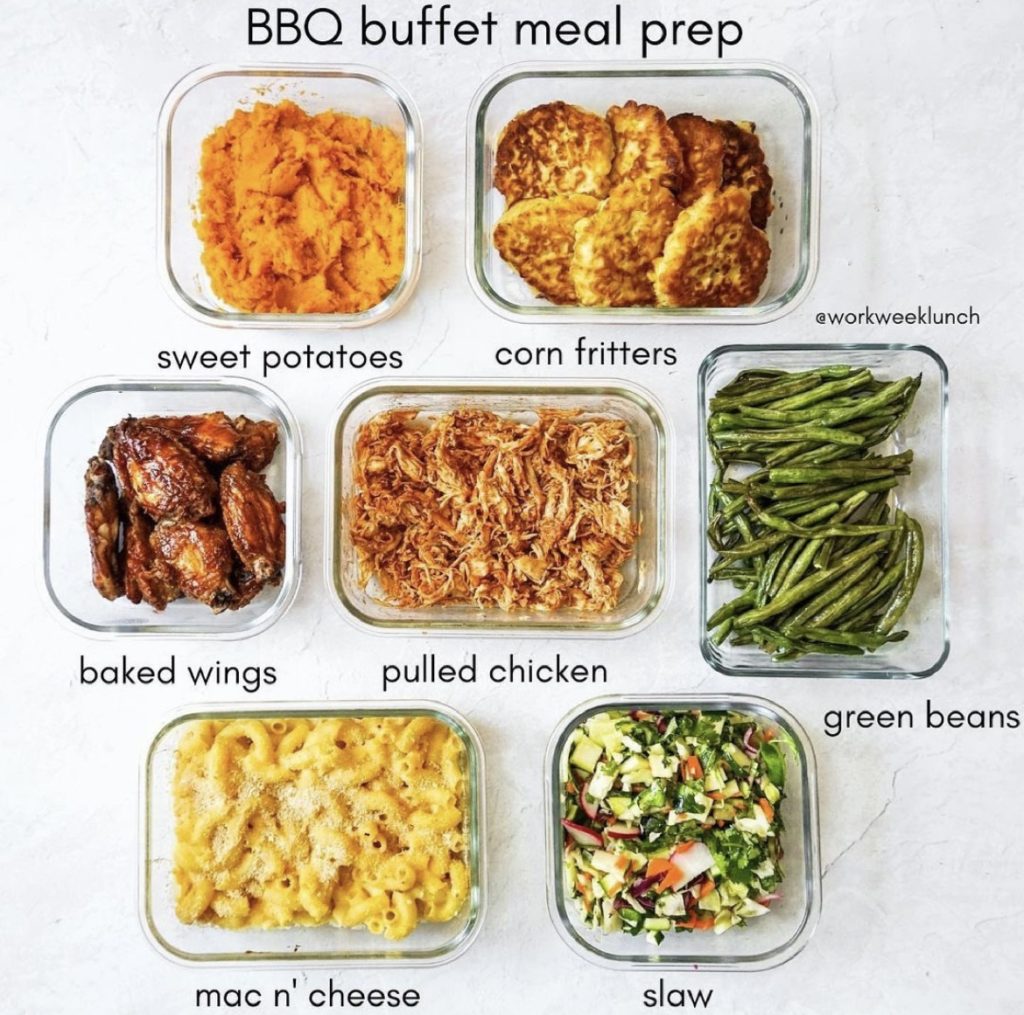 "My partner only eats junk food and refuses to eat vegetables. What do I do?"
First off, what NOT to do: try to force your partner to eat what you think they should be eating. It can be so hard to watch the people we love treating their bodies not as well as they could be, but they have to realize this on their own. All we can really do is lead by example and be quietly supportive in order to help them come to this realization in their own time.
One thing I would suggest is encouraging your partner to try what you're cooking instead of having a whole bowl or plate of it. It's more casual and less of a commitment. Maybe over time, they'll realize veggie-packed meals aren't so bad after all.
I'm not condoning sneaking vegetables into their food the way you might with a kid, but it's also worth trying to prepare healthy ingredients in ways you know they like.
Other things to AVOID this situation: bribing your partner, "sneaking" in vegetables without telling them, and shaming/guilting your partner into eating healthier.
What to do: Don't force your partner to eat healthily. Lead by example, and try to cook healthy ingredients in ways that they will like.
"Our food budget is out of control. How can we keep costs down while cooking for two?"
I hope that if you're cooking for two, you and your partner are splitting the bill somehow! I recommend checking out some of my grocery budgeting tips here. They all apply to grocery shopping for two people.
The transition from feeding only yourself to cooking and buying food for two can feel like a huge jump, but it's normal to see costs go up.
But there are also ways to save when you're cooking for two that aren't as easy when you're on your own. For example, you can't exactly buy in bulk when you're cooking for one (who has the freezer space or time to eat all of that before it goes bad?!). If you can, a membership at BJ's, Sam's Clubs, will enable you to spend less on more products and save more money every week as a result.
When I meal prepped for two, we probably spent $300 every 3-4 months at Costco on meat, cleaning items, paper goods (toilet paper, paper towels), frozen veggies, pantry items, and some snacks. Even though it's an investment up front, it helps us keep our weekly grocery hauls between $60 and $80 which isn't bad at all!
What to do: Combine your grocery budget and shop in bulk when possible.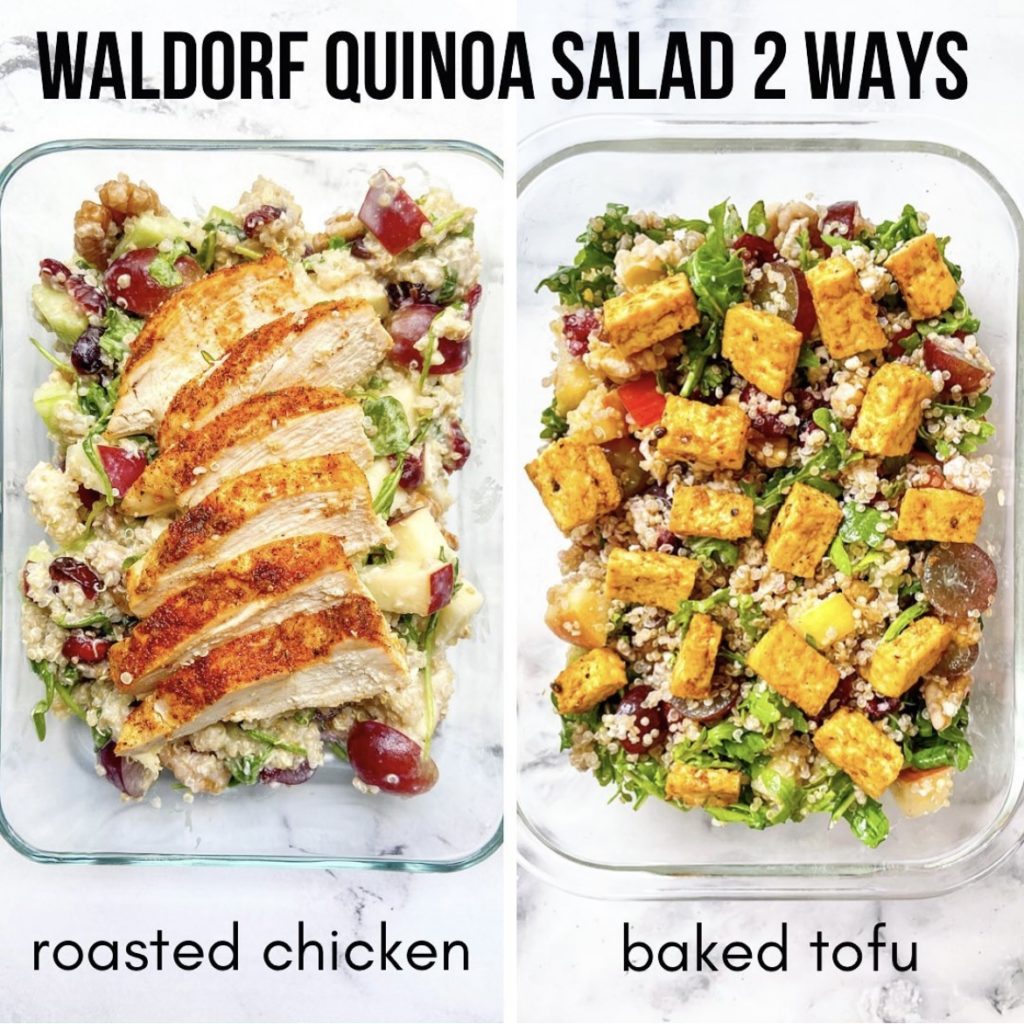 "My SO doesn't like leftovers or microwaved food. They need it freshly cooked."
If you're into meal prep but your partner can't get on board, this would be a good time to have the "you cook your own meals" conversation. It's one thing to offer to meal prep for your partner when you're already doing it for yourself, but if they ask that you cook separate meals as well just for them? Then it's time to either teach them how to cook, get them to help you in the kitchen, or have them take care of their own food.
Alternatively, you could skip meal prepping and eat freshly cooked dinner with your partner if you're willing to or have the time.
Whatever you end up doing, it's on you and your partner to discuss the balance and make compromises as needed.
What to do: Adjust your plans as necessary so that the work is evenly divided and everyone is well fed.
I hope this advice helps you prep and cook for yourself and your partner (or anyone else in your life!). If you want to make meal prepping for two even easier, join the WWL Program and we will send you new meal plans and recipes each week!