When I moved into my first apartment after college, my mom and I made one epic trip to Ikea to pick up life essentials.
I'm talking about a bed frame, a night stand, some shelves and of course, kitchen equipment.
Kitchen stuff is something you don't start to accumulate until you've graduated college. Up until then, you're using what's already at home or maybe your college roommate's pots and pans.
But you have to start somewhere!
Even the basic list of kitchen essentials seems overwhelmingly long.
Here's a quick rundown of what you absolutely should have in your kitchen for the most basic cooking (but more on this later):
Forks, knives and spoons
Cups
Plates
At least one quality knife
A pot and pan
Spatula
A big spoon for stirring
Oven mitts
A glass baking dish
A metal baking sheet
Strainer
Can opener
You can do a lot with just those items, but most people tend to accumulate more than the bare minimum of equipment over time. It's hard not to when there's a plethora of random kitchen tools one click away — and they're all pretty tempting.
I mean, have you been inside a Williams-Sonoma? If you go in one, you'll see the pasta machines and waffle makers and think about becoming that person who makes waffles and pasta from scratch.
But let's be honest. You won't.
I know from experience.
I bought a waffle maker on Amazon and have used it a total of two times over two years.
That's why I want to make sure you don't make the same kitchen equipment mistakes that so many others have made. Some kitchen tools are a waste of space and money and nothing more.
Here's the kitchen equipment you definitely don't need.
---
Waffle Maker
OK, I already talked about this one.
But unless you're a big waffle person and don't mind cleaning up this awkward kitchen tool, just get frozen waffles to pop in the toaster or oven.
---
Bread maker
When I asked some of my blogging buddies about what kitchen tools they never use, bread makers were at the top of the list.
Look how bulky they are.
I couldn't find a good bread maker for under $50 on Amazon, so if you do get one, it's more of a financial commitment than most of the kitchen essentials below. What's wrong with store-bought bread or picking up fresh bread at a local bakery anyway?
If you want to make your own bread, all you need is an oven, baking stone and pizza peel (giant spatula) and you're set.
Here's the basic method I use to bake homemade bread without any machines.
---
Spiralizer
Spiralizers are a Pinterest favorite, but I'm not buying it. Literally.
Yes, making zucchini pasta is cool. It's a nice alternative to carbs. It's Insta-worthy.
But after talking to a few people, many told me that their spiralizer sits unused collecting dust.
You can get a spiralizer that attaches to a KitchenAid stand mixer, but that only makes sense if you already own one.
Or you can get one like this:
They usually go for around $25, but again, unless you're a zucchini noodle addict, leave this one in your cart.
---
Food dehydrator
My friend had a food dehydrator in college and I remember it took up so much space, she just set it on the floor. Yeah.
She was able to make her own dried mango, banana and apple slices, but is that something you HAVE to be able to do in your kitchen?
No. Absolutely not, especially when food dehydrators cost $40 and you'd probably only use it once.
Like this person who totally admitted she could make apple chips in the oven:
---
Electric can opener
Why not just use a normal one?
---
Special slicers for apples, avocado, etc
This is another perfect example of an unnecessary tool where a knife could do the trick.
Instead of getting specialized peelers, invest in quality knives.
---
Ice cream maker
My blogging friends brought up ice cream makers a lot and told me they never use them.
I'm not surprised.
Making your own ice cream seems cool (like making your own bread) but it's just not worth the time when you can easily pick up a pint of Ben and Jerry's any time of the day.
Also! You can make ice cream in a blender or food processor, which are both more useful tools that serve many purposes.
You can't exactly whip up a smoothie in an ice cream maker.
---
Kitchen Aid (unless you love baking)
While I own a gorgeous red Kitchen Aid stand mixer, it lives at my dad's place.
What? He has a big house with plenty of space. My kitchen is puny.
Instead, I keep a small hand mixer at my place for baking which is rare. It's perfect because it doesn't take up a ton of space. It's also easy to clean and much cheaper than a big Kitchen Aid.
Obviously, if baking is your thing, invest in one. They last forever.
---
Panini/Grilled Cheese/Quesadilla maker
You can make all of these things in a normal pan! No need for a bulky novelty item.
---
Popcorn maker
These are totally useless unless you're a popcorn snob that doesn't screw with microwave popped or pre-popped popcorn.
---
Mortar and pestle
I used a mortar and pestle once, and that was in Thailand during a cooking class. We were making our own curry.
Even though the dish tasted great, crushing up all the spices to make a paste was time-consuming and labor intensive.
If you don't like complicated recipes with lots of ingredients and steps, skip the mortar and pestle and just go for premixed spices and pastes.
---
A Juicer
I don't know one person that has a juicer and uses it.
They're expensive, noisy, heavy and difficult to clean.
Save your hundreds of dollars and just buy overpriced juice from Whole Foods instead. Trust me.
When it comes to novelty kitchen equipment, do your best to resist the temptation.
And if someone gifts you an appliance you'll never use, sell it or re-gift it. Otherwise, it's just going to take up space!
Aside from the bare minimum, here's the kitchen equipment you should definitely invest in.
---
Quality knives
You only need three to five quality knives, depending on who you ask. You definitely don't need a 16-blade knife set that comes with a giant wooden block.
Don't buy them from Ikea. Get them from an actual kitchen goods store or Amazon.
The most useful knives to have in your kitchen are:
a chef's knife (for most slicing and chopping)
a serrated knife (for cutting up tomatoes and bread)
a paring knife (for slicing smaller soft produce like strawberries and garlic)
a boning knife (for cutting up meat)
Here's a set of three essential knives
on Amazon for $22 from Cuisinart.
I keep my knives in a small wooden block that fits in a kitchen drawer like this one.
You can also use a magnetic strip on a wall.
3 pots and 3 pans
I made the mistake of picking up my first set of pans from Ikea. Since I cook a lot, they only lasted six months.
Invest in quality pots and pans. Three of each, as long as they're different sizes, should be enough.
Think small, medium, large in terms of sizes.
Here are the main pots and pans that I use.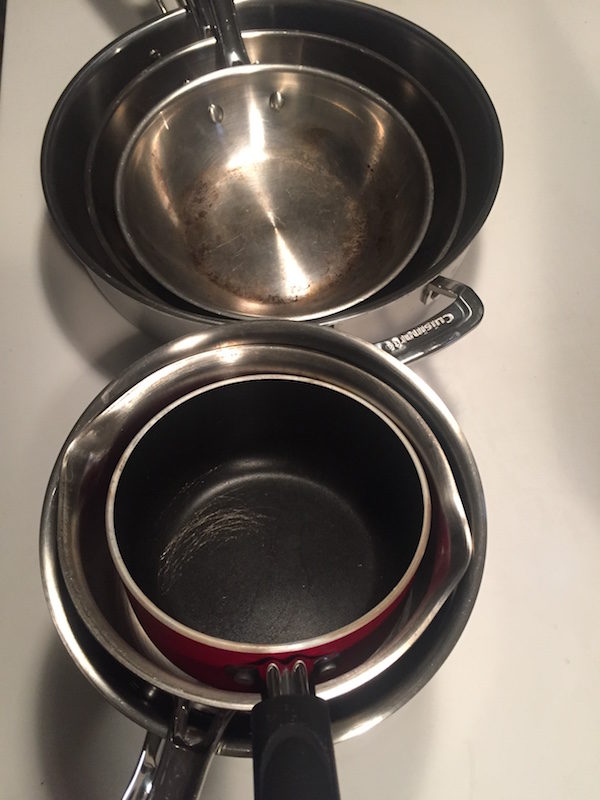 I have one more of each, but they just sit at the bottom of my kitchen drawers.
My go-to brand will always be Cuisinart for this type of equipment.
---
Garlic crusher
I use garlic in everything, so this little tool saves me so much time. It's easy to wash too.
Here's one similiar to what I have.
It was given to me as a gift, but they're pretty cheap!
---
Food processor
Food processors are very versatile. They're great for making pesto, hummus, cauliflower rice and even ice cream! (Forget the ice cream maker, seriously.)
You don't need a big one either!
I have an adorable one like this that holds three cups.
It's under $40 and worth every penny because it's Cuisinart (duh).
---
Blender
People are crazy loyal to their favorite blender brands, but as long as you have one, you're set. I use a magic bullet to make milkshakes and smoothies. Some swear by the Vitamix. Others love the Nutribullet.
At the end of the day, they all have the same amazing function: blending stuff.
Like a food processor, blenders open the door to different types of food like soup, sauce, pancake batter, dressing, frozen cocktails and way more.
My Magic Bullet costs $30
on Amazon and I've had it for two years with no problems!
---
Measuring cups and spoons
Personally, I only use measuring cups and spoons when following a recipe — a rare occurrence.
I eyeball everything when I cook. They come in handy when I'm making bread, baking and trying new dishes.
Measuring tools are inexpensive and good to have, just in case you randomly need exactly 1/3 Cup of an ingredient or something.
Here's a set
that costs only $7.
---
Quality cutting boards
I made the mistake of buying two cutting boards at Ikea that only lasted a year. No joke — they broke in half.
It's good to have two to three cutting boards. I like to use a plastic or wood cutting board for veggies and anything that isn't meat.
Use a glass cutting board for meat because it's more sanitary, but not great for your knives.
Make sure they're not too small! Small cutting boards are literally useless.
Here's the main cutting board I use
It's under $15 and very sturdy.
---
Tupperware (or your containers of choice)
If you do any cooking or prepping, you're going to need storage containers.
While you can get cheap ones in the supermarket for $5, I would invest in higher quality ones, like all of the containers listed in my post here.
Some stick to glass containers instead of plastic. But there are so many options out there, just make sure to invest in quality ones.
I've barely scratched the surface of kitchen equipment here, but there are a few more items that could be essential or useless depending on your lifestyle and cooking needs.
Here are some kitchen tools you might need, depending on what you like cooking.
---
Salad spinner
If you're a salad addict, this will probably come in handy. However! I hear they break pretty easily and that there are many other ways to prepare salad without this bulky tool.
---
Cast iron skillet
Some swear by cast iron skillets. While you can certainly make some badass meals with them, they're a high maintenance tool in terms of cleaning. Plus they're incredibly heavy.
I don't own one and so far haven't hit any culinary rroadblocks without it. It's your call.
---
Slow cooker
The people I talked to were 50/50 on this one.
Some love to use a slow cooker to prep meals in bulk because they can just turn it on and let it do its thing.
And some let their slow cookers sit in their kitchen unused and lonely.
I didn't grow up with one, so I'm not as keen on using them. But they definitely seem convenient.
---
Food scale
Food scales are a great purchase if you're a bread baker (hello) or if you're really trying to watch your weight.
Many meal preppers use them to weigh out portions. For example, the proper portion of protein is around four ounces. You wouldn't know that unless you can weigh your food.
---
Microwave and toaster
I have 'em both, I use 'em both.
The toaster takes up counter space and my microwave hangs under my cabinet aginst the wall so it's never in the way.
But I lived many years without a microwave and survived, so I'm not sure how necessary they are.
If you're someone like me who loves leftovers, microwaves are more convenient than reheating food in an oven.
---
What do you think? Did I miss any of the essential kitchen equipment? Comment below!
Thanks for reading 🙂
All set with equipment and want to start cooking ASAP? Subscribe to the blog and immediately get a FREE meal plan tool to help organize your weekly meals and food budget.