I'm not a huge turkey fan, but when it comes to turkey burgers I'm all about it.
In general, turkey (especially ground turkey) is a lean protein that we can't ignore in our meal preps!
Turkey is high protein, low fat and it's cheap. A win in my book!
If you're someone that worries about protein, note that one pound of turkey has 122 grams of protein in it.
So if you made four burgers like I did, that's 30g of protein per patty — plenty! And if you put two burgers in each meal, that's 60g. Probably too much, but whatever it worked.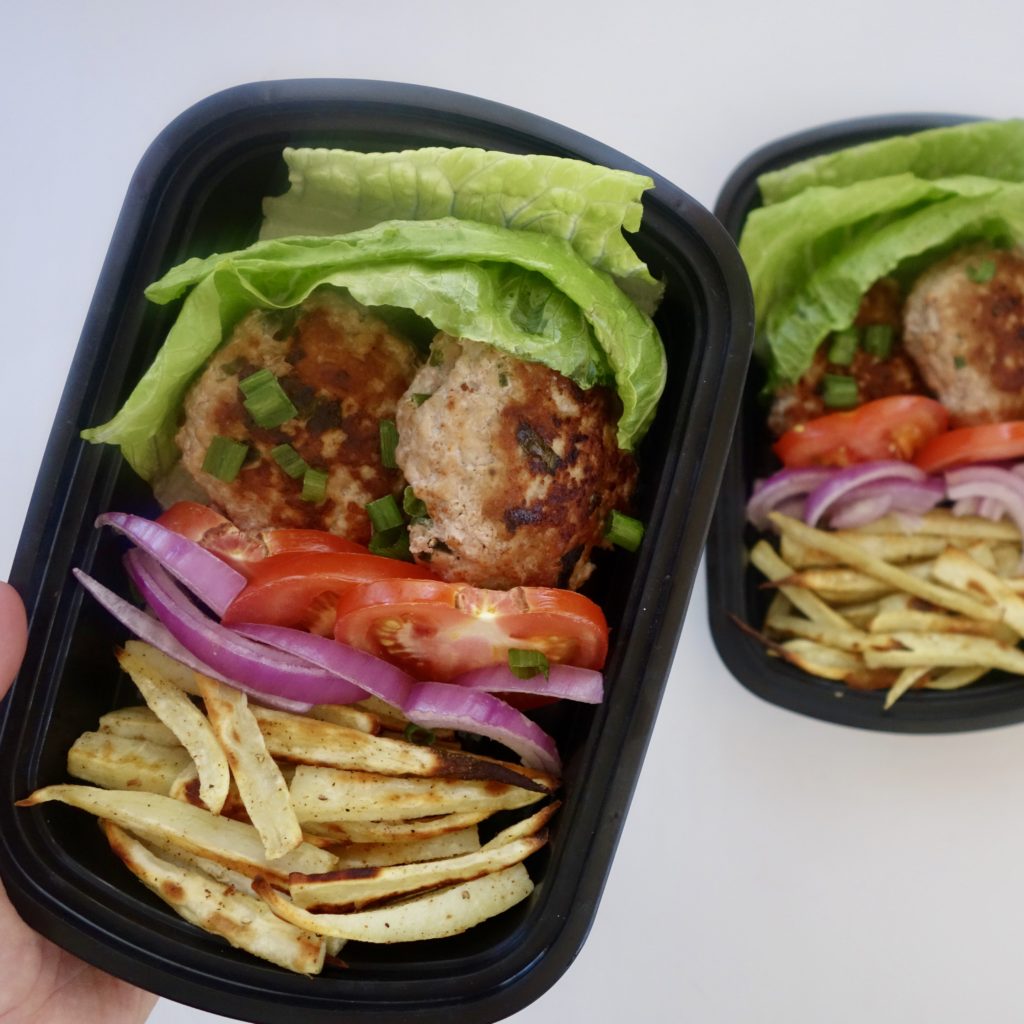 I had never made turkey burgers before, but these came out perfect. Because apparently making turkey burgers isn't that hard!
As always this recipe is VERY easy to change up based on your preferences and what's in your spice cabinet.
If you hate onions, don't use 'em! It will still be tasty
You can pair this with a salad or really anything you want on the side
You can throw in other ingredients to make them your own
If you don't have some of these spices, I bet they'd still taste good
You can use a real bun instead or lettuce (but then skip the fries to avoid doubling up on healthy carbs)
Use whatever sauce or toppings you want — as long as they have healthy ingredients!
You can turn these into meatballs instead of patties!
A question I got about this meal is: How did you make the fries like that??
The secret is using the right amount of oil (not too little or too much), flipping them halfway and also making sure that they aren't touching in the pan. I spent a good three minutes arranging them on the pan.
Also note for this recipe I happened to pick up a WHITE sweet potato. Still a sweet potato, just a different color. You can use whatever potato you want. This would be awesome with russet, Yukon gold or red potatoes too. If you want to get real fancy, you could pair this with zucchini or carrot fries too!
Here's a video to show you how I assembled these turkey burgers:
Note that these meals will last for up to four days in the fridge.
You can freeze extra turkey burger patties to make in the future for up to three months. Make sure to thaw them out in the fridge the day before cooking!
This meal reheats well in the microwave or you can reheat turkey burgers on the stove for a few minutes.
To reheat this meal, I simply took the veggies out and reheated the burgers and fries for a minute or two, then added the veggies back. Yes, the fries got soft because of the raw veggies next to them. If that's something you don't want to happen, don't add the veggies until right before you eat (just pre-chop them and put them in a container in the fridge).
If you end up making these turkey burgers, please show me on Instagram via DM or send me pics at talia@workweeklunch.com!
Want to meal prep but don't know where to start? Sign up below and immediately get a meal planning template and more easy meal ideas.
| | |
| --- | --- |
| | |
Preheat the oven to 400 F

Toss the potato wedges in a bowl with the olive oil and salt and pepper to taste. Add cayenne or crushed red pepper to taste if you like them spicy!

Transfer to a baking sheet prepped with foil or cooking spray (up to you) and bake for 30 mins, flipping halfway.

In a big bowl, combine the ground turkey, green onion, salt and pepper, cumin and cayenne. (add any other spices you like here to mix it up!). Mix until combined, then form patties with your hands. I made 4 kinda big ones.

Add the coconut oil to a skillet over medium high heat. Warm the pan for 3 minutes, then add the patties. Let them cook about 7-9 minutes on each side. I had to flip mine a few times and it took longer than I thought.

Assemble: place the patties on the lettuce, stack the red onion and tomato next to them, then add the fries. Let cool for 30 mins before placing in the fridge. Eat within 4 days and top with your garnishes before eating!