Snickerdoodles are a classic holiday cookie. Pancakes and waffles are classic breakfasts. It only makes sense that the two are put together!
This recipe would be perfect for holiday mornings or lazy weekends, but of course, it's meal-prep friendly too.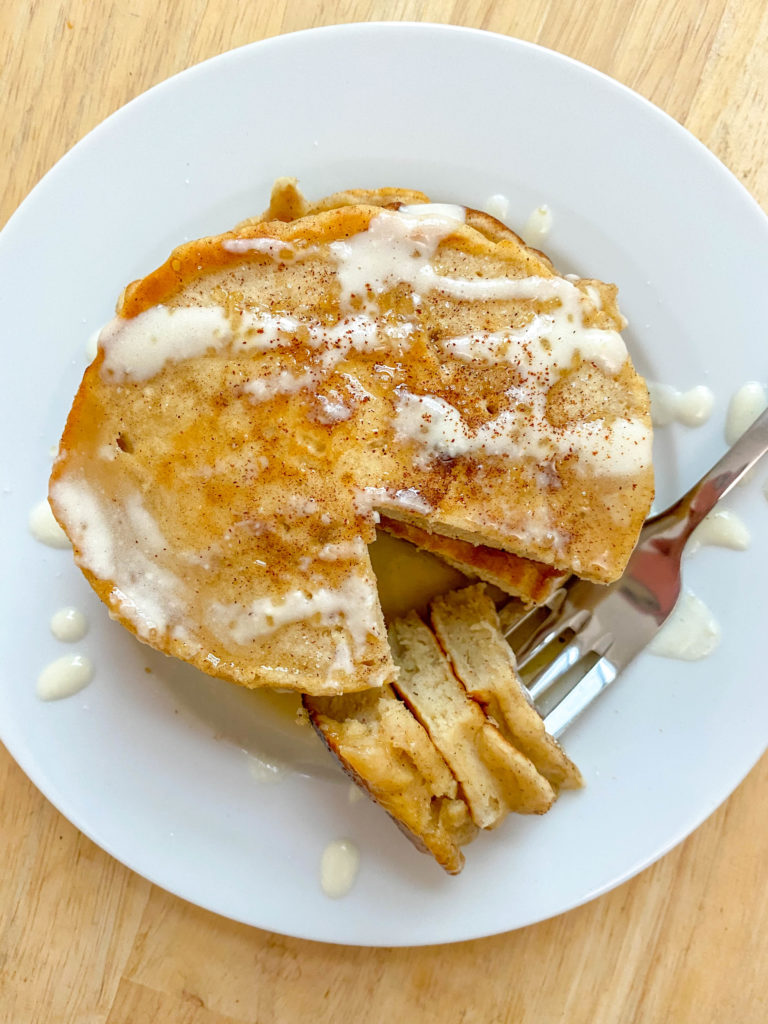 The components of this recipe are pancakes (I took your classic pancake and added some ingredients to make it taste more like a snickerdoodle), a cinnamon-sugar coating (which snickerdoodles have) and cream cheese icing, just for fun.
DAIRY-FREE EATERS AND VEGANS: Note that the cream cheese icing would be really tough to make vegan/dairy-free. If you want to make a vegan version of the glaze, I recommend using the cream cheese glaze ingredients in this recipe or buying vegan cream cheese and vegan butter to make it.
To make the pancakes vegan, you'll need to make 2 flax eggs. The recipe for flax eggs are in the notes below the recipe!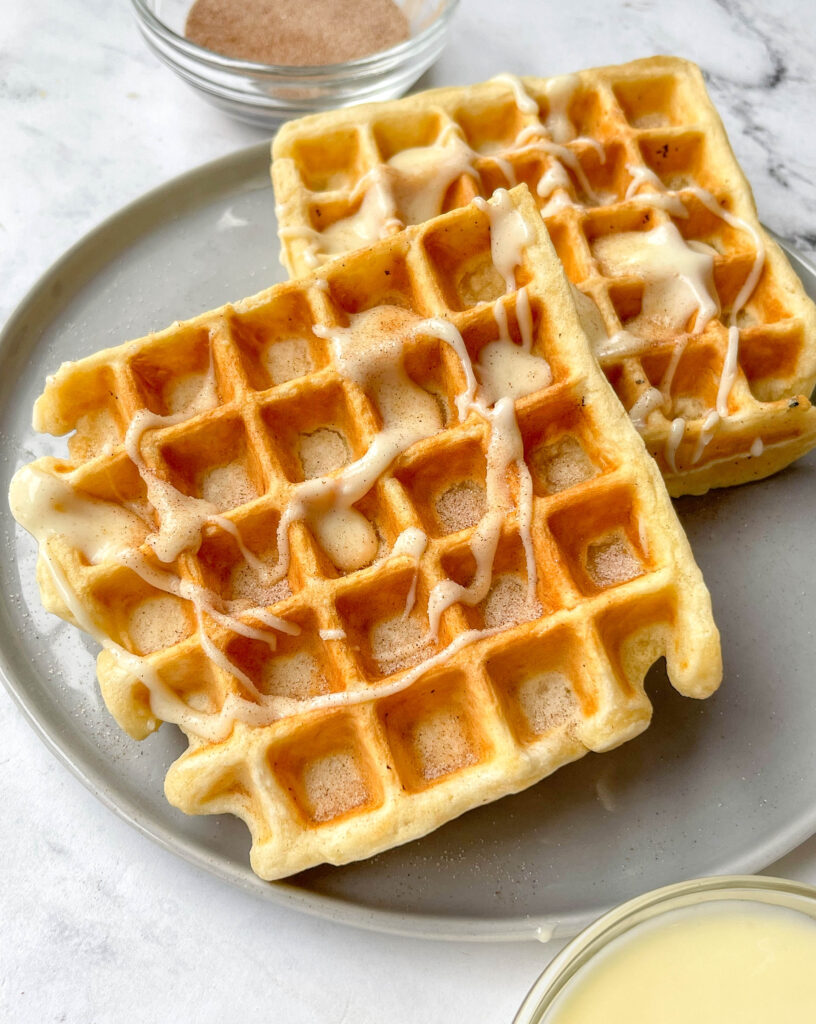 5 Perfect Pancake Tips
Don't overmix the batter! This causes rubbery, dense pancakes. It's ok if your batter looks lumpy. I find mixing with a spoon or spatula is way better than a fork or whisk, and do it gently!
If your batter looks thin, add flour 1/4 cup at a time.
If your batter looks thick, add milk 1/4 cup at a time.
Nonstick skillets are the easiest for cooking pancakes, but a castiron is great too! Stainless steel can work, but it's tricky. You want something that heats evenly.
Cook pancakes in butter if you can! You'll get that nice crispy ring around the edges and it tastes amazing.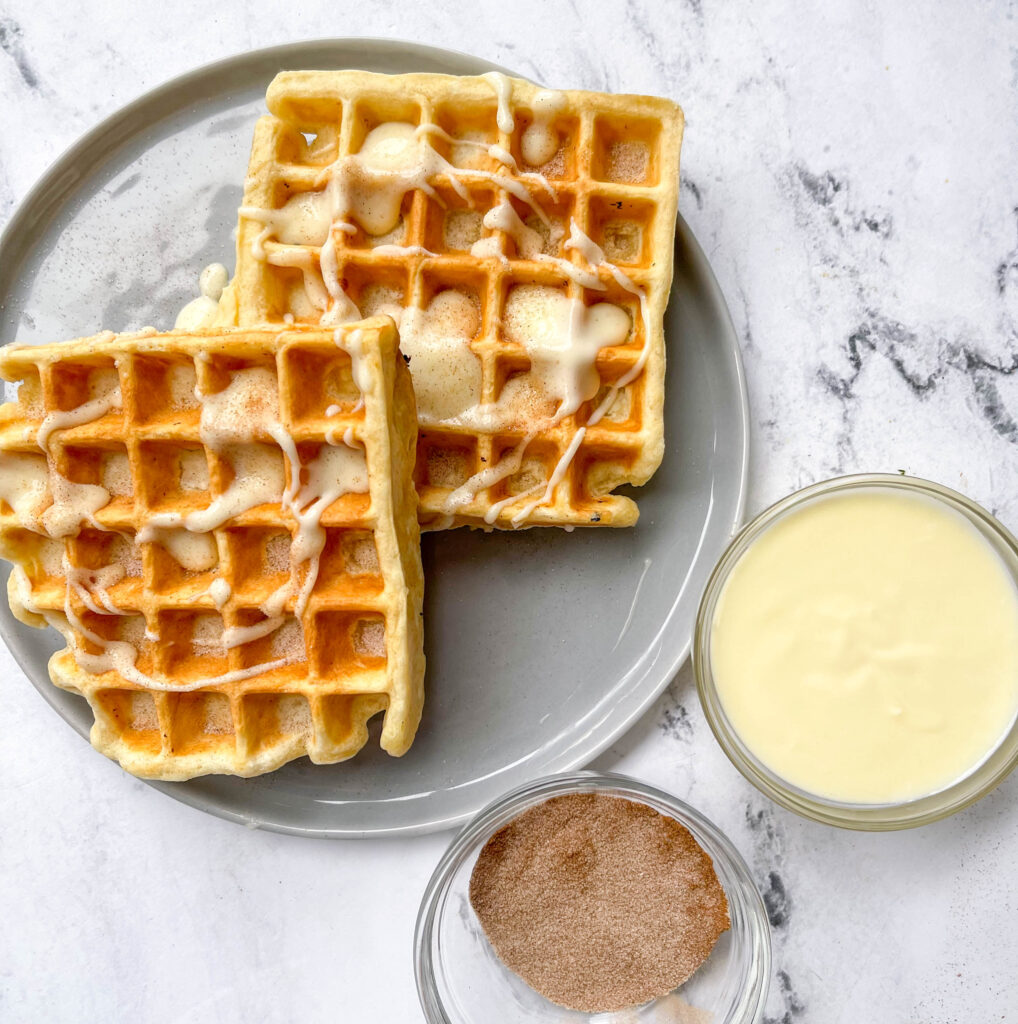 Storage & reheating notes
These pancakes can last in the fridge for up to 4 days and they're freezer-friendly for up to 6 months. I didn't test how the icing freezes, but I have a good feeling that it would reheat just fine after being frozen and thawed in the fridge. I recommend reheating refrigerated pancakes and icing in the microwave or on the stove. (Reheat the icing in a separate pot if using the stove).
Happy prepping!
Don't forget to try our other delicious recipes
Find our full list of baked goods here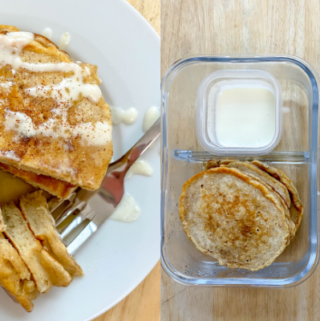 Snickerdoodle Pancakes and Cream Cheese Drizzle
Ingredients
3

TBSP

butter

melted, cooled. Sub coconut oil, plus more for cooking

2

cups

all-purpose flour

sub all purpose gluten free

1/4

tsp

salt

2

TBSP

granulated sugar

sub sweetener of your choice

2

tsp

baking powder

3

tsp

cinnamon

1/2

tsp

cream of tartar

optional

2

eggs

sub flax eggs

1-1/2

cups

milk of your choice

+ more if you like the batter thinner

1

TBSP

brown sugar

1

tsp

vanilla extract
For the icing
1/4

cup

cream cheese

1/4

cup

butter

1/4

cup

milk of your choice

1/2

cup

confectioners sugar

sub regular sugar, but icing will be grainy

1

tsp

vanilla extract
For cinnamon sugar coating
2

TBSP

granulated sugar

4

tsp

cinnamon
Instructions
First melt the butter so it has time to cool.

In a big bowl, mix the flour, granulated sugar, baking powder, salt, cinnamon and cream of tartar, if using. In another bowl, mix the eggs, cooled melted butter, milk, brown sugar and vanilla.

Add the wet ingredients into the dry and with a spatula or spoon, gently combining until there are no more flour pockets. Don't over mix! This causes dense, rubbery pancakes.

Heat a nonstick skillet or castiron over a medium flame for 5 minutes. Add a pat of butter (about 1/2 a tablespoon) and let it melt for about a minute. Add the batter to the pan. I used a 1/4 cup measuring cup for the pancakes and got 9 of them, but the size is up to you! Cook over medium heat until small bubbles appear on the outer edges, then flip, about 3-4 minutes. Cook on the other side for another 3-4 minutes. Repeat until you're out of batter. Add more butter between batches.

While the pancakes cook, prepare the cinnamon sugar coating by mixing the sugar and cinnamon on a plate. When the pancakes come out of the pan, gently press each side into the coating (like a cookie!)

IF MAKING THE ICING: Add all the icing ingredients to a small pot on the stove over medium low heat and whisk together to combine – about 5 minute. Taste and adjust: add more cream cheese if you want more of those flavors/want it to be thicker. Add more milk if you want it to be a thinner consistency. Note that this icing will firm up when it's in the fridge, but heating it on the stove or in the microwave will bring it back to this consistency.

Assemble, if not serving immediately: Divide the pancakes between meal prep containers (I did 3 small pancakes per container). Reserve the icing on the side in smaller containers (pictured) or all in one to use as needed.
DID YOU MAKE THIS RECIPE?
Please leave a comment below on the blog or share a photo with us and tag @workweeklunch! Can't wait to see what you made!