Looking for an easy scone recipe? Do you like cinnamon rolls? You're in luck! You can get both in this recipe… without all the waiting for the dough to rise or dealing with yeast! I seriously love this recipe. Making the filling and frosting is a bit of extra work, but it's so worth it!
Get more recipes like this in the Workweek Lunch Meal Prep Program with access to our meal planning tools, grocery list generator, and more. Start a free trial today!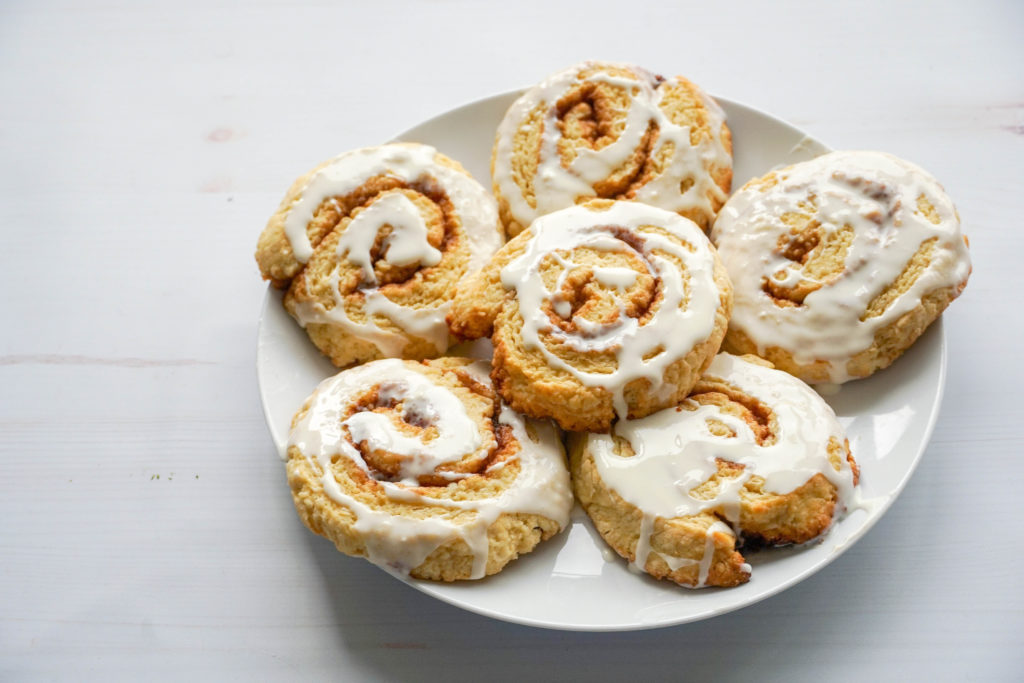 Cinnamon Bun Scone Recipe Overview
We've got our super basic scone recipe with butter, brown sugar, and cinnamon mixture, and a cream cheese icing. Basically, butter everywhere!
If you're looking for other holiday recipes, check out our full collection here!
And if you would rather make classic cinnamon buns instead of scones, this one has great reviews!
The Method for This Easy Scone Recipe
Normally, when you make scones, you're working with a big chunk of dough and flattening it into a disc. For this recipe, we're working in rectangles. First, we make a rectangle to fold in such a way that creates more layers. Then we're smushing it back down and spreading our filling on top. Finally, we roll it up to create a log of dough to slice into – like a cinnamon roll!
The Icing for these Scones
This recipe calls for a classic cream cheese icing, but if you have a go-to way to ice cinnamon rolls, go for it. I highly recommend storing the icing on the side until eating these scones… unless you plan on making them for a crowd or eating them all in one day. Icing can last in the fridge for 7 days in a jar or airtight container. I haven't tested freezing it, but I have a feeling it could work. To make this icing vegan, you'll need to use vegan cream cheese!
A note on my icing photographed below: I accidentally added too much liquid (I made mine with milk) to my icing. So it's kind of drippy. Yours will be less drippy, but if you want it to be thinner, simply blend milk (1 tablespoon at a time) into the icing.
Related: Best Tips For Intuitive Eating During The Holidays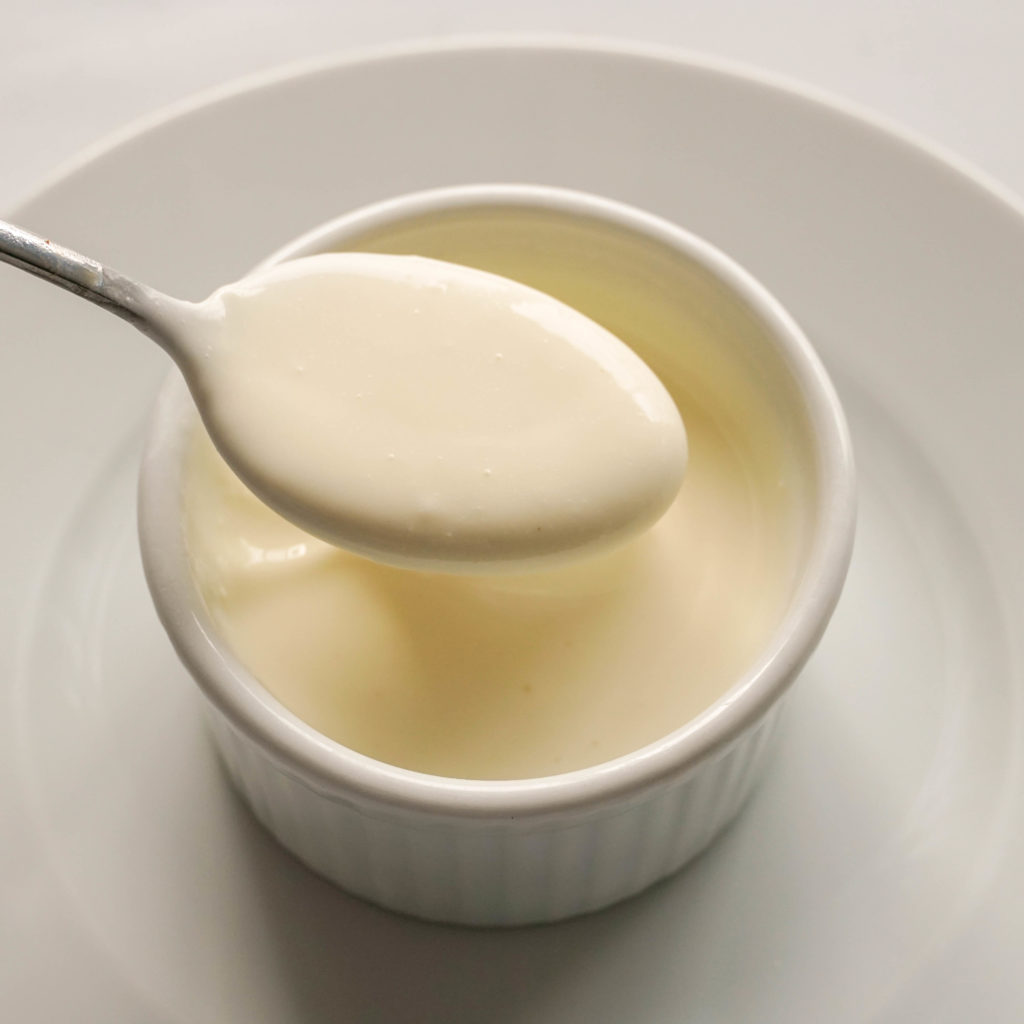 Changes you can make to these scones:
If you're GF, use a blend you trust. All-purpose GF flour works well for me! If your GF flour doesn't have xantham gum, you'll need to add 1/2 a teaspoon for 2 cups of flour.
If you're vegan, throw in a flax egg. (1 TBSP flax or chia seed combined with 3 TBSP water.)
If you're dairy-free, use oil and non-dairy milk to sub for heavy cream. (2/3 cup rice or soy milk combined with 1/3 cup olive oil or melted dairy-free margarine).
Related: Breakfast Ideas: Our Master List of Go-To Meals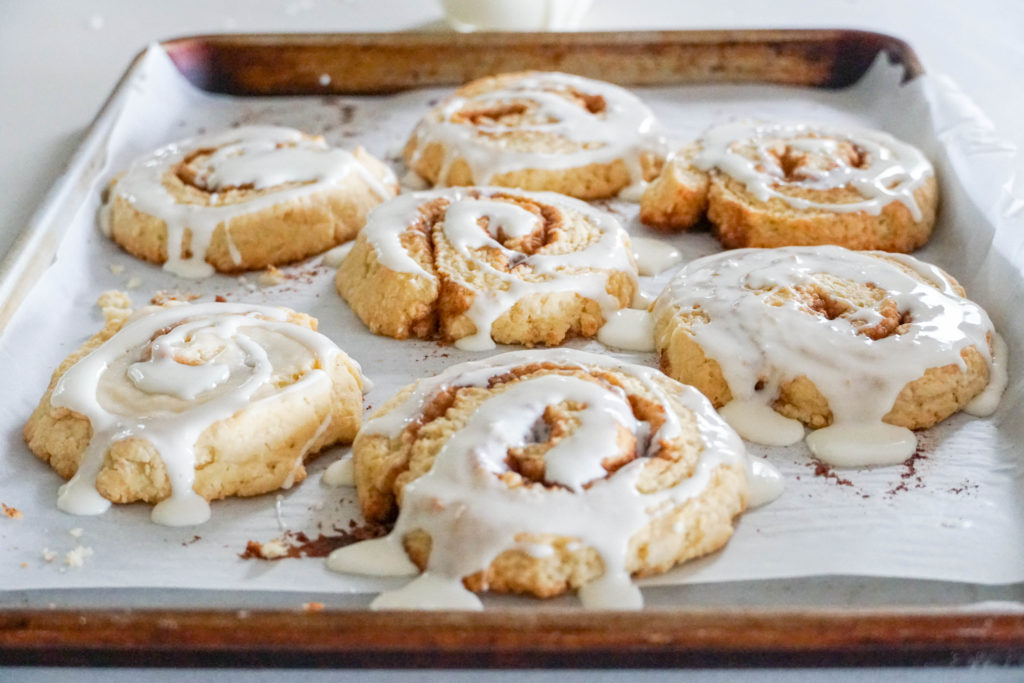 Storing the cinnamon bun scones:
I recommend storing these in an airtight container on the counter for up to 3 days, then transferring them to the fridge (again, if there are any left!). Store icing in the fridge. You can toast the scones before icing them (toaster oven or in the oven) or warm them for a few seconds in the microwave! These scones won't really keep their crunch, especially if you don't have a toaster oven/stick them in the oven for a minute, but they're still good!
Happy prepping!
Related: How Long Are Leftovers Good For? (And What to Do With Them)
Don't forget to try our other delicious breakfast recipes!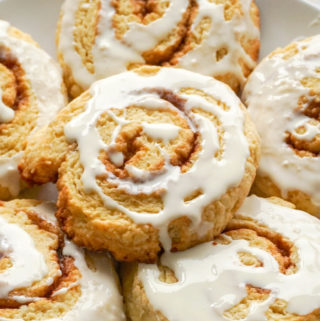 Cinnamon Bun Scones
Ingredients
For the filling
3

TBSP

butter

1/3

cup

brown sugar

2

tsp

cinnamon
For the dough
1/2

cup

butter

frozen

2

cups

all-purpose flour

see notes for GF swaps

1/2

cup

granulated sugar

1/4

tsp

salt

2-1/2

tsp

baking powder

1/2

cup

heavy cream

plus extra for brushing, sub buttermilk, see notes for dairy-free swaps

1

egg

see notes for flax egg

1

tsp

vanilla extract
For the icing
4

oz

cream cheese

2

TBSP

butter

softened

1

cup

confectioners sugar

1/2

tsp

vanilla extract
Instructions
Make the filling: Melt the butter in the microwave or on the stove. Stir in the brown sugar and cinnamon. Place in the fridge until ready to use.

Prep the butter: grate the frozen butter onto a plate (I recommend cutting the stick in half first, then grate one half at a time). If you forgot to freeze the butter, cut it with a sharp knife into small cubes. Stick it back in the fridge or freezer for now.

To a big bowl: Add the all purpose flour, sugar, salt and baking powder. Whisk together. Then add in the grated/cut butter and use a pastry cutter, two forks or your fingers to incorporate the butter with the dough so it comes together in pea-sized crumbs. Place in the fridge.

To another bowl: Add the heavy cream, egg and vanilla and mix to combine. Add the wet ingredients to the dry and mix with a spatula or wooden spoon. The dough will be thick and sticky.

Sprinkle a handful of flour on a clean surface or cutting board. Turn the dough onto the surface. Add flour to your hands and knead the dough gently until it forms a more cohesive ball. Form the dough into a rectangle. Fold the right side into the center, then the left side on top (this is how we create more flaky layers!). Press it all down together and turn the rectangle to the right so it's horizontal again. The rectangle should be 5 inches wide and 14 inches long (13 x 35 cm).

Get the butter/brown sugar filling from the fridge and use a spoon or spatula to spread it on the dough. Try to get all the way to the edges! Turn the dough rectangle so it's now vertical (short side closest to you) and roll away from yourself as tightly as you can. You should now have a log of scone dough. Cut it into eight pieces. It's okay if the dough squishes a bit, you can re-shape it into circles after it's cut. Place the uncooked cinnamon scones on a plate and in the freezer for 15 minutes. If you only have room in the fridge, refrigerate for 20-30 minutes.

Meanwhile, preheat your oven to 375 F (190 C). Line a baking sheet with parchment paper. After the dough has been in the freezer/fridge, place the uncooked scones on the baking sheet and bake for 20-25 minutes. The scones will expand quite a bit in the oven.

Make the icing: whisk together cream cheese, softened butter, confectioners sugar and vanilla. It's easy to do in a processor, blender or with a hand mixer or stand mixer. I used my immersion blender and set aside. Note that you should only ice your scones before you eat them! Icing can be refrigerated, but may need to be warmed up a bit to be spreadable.

Let the scones cool completely before icing them. If you plan to make them last a few days, I recommend icing them right before you eat!
DID YOU MAKE THIS RECIPE?
Please leave a comment below on the blog or share a photo with us and tag @workweeklunch! Can't wait to see what you made!