These cranberry orange muffins are perfect for breakfast, snacks, or even dessert! They are fluffy, sweet, tangy, and incredibly easy to whip up. In about thirty minutes you could be enjoying fresh, homemade muffins that you can savor the entire week.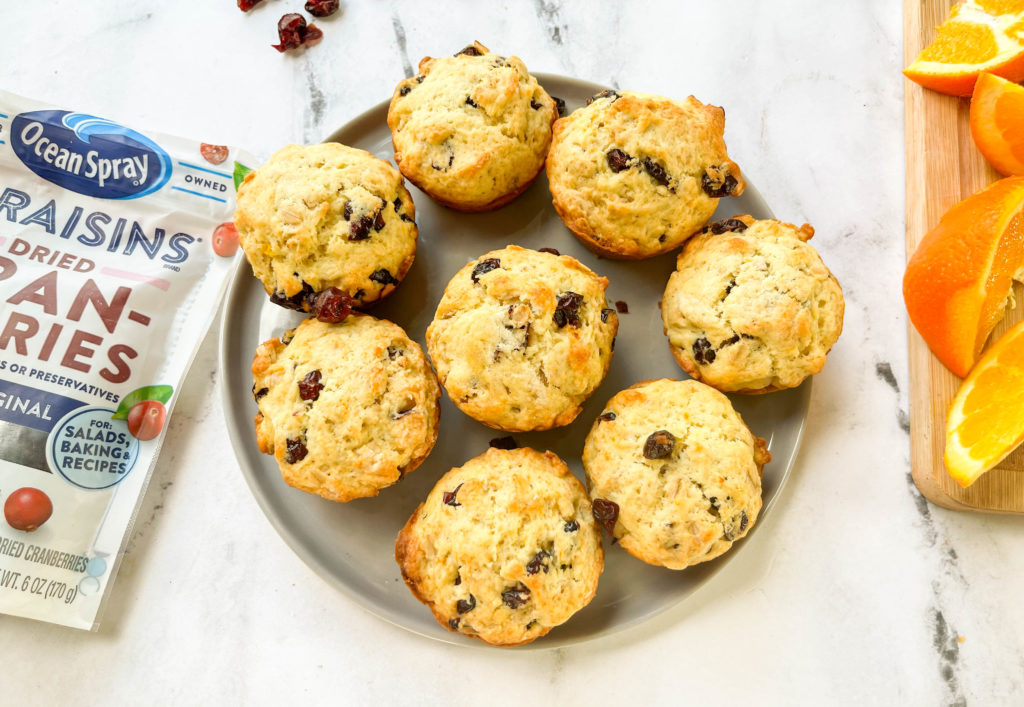 Get more recipes like this in the Workweek Lunch Meal Prep Program with access to our meal planning tools, grocery list generator, and more. Start a free trial today!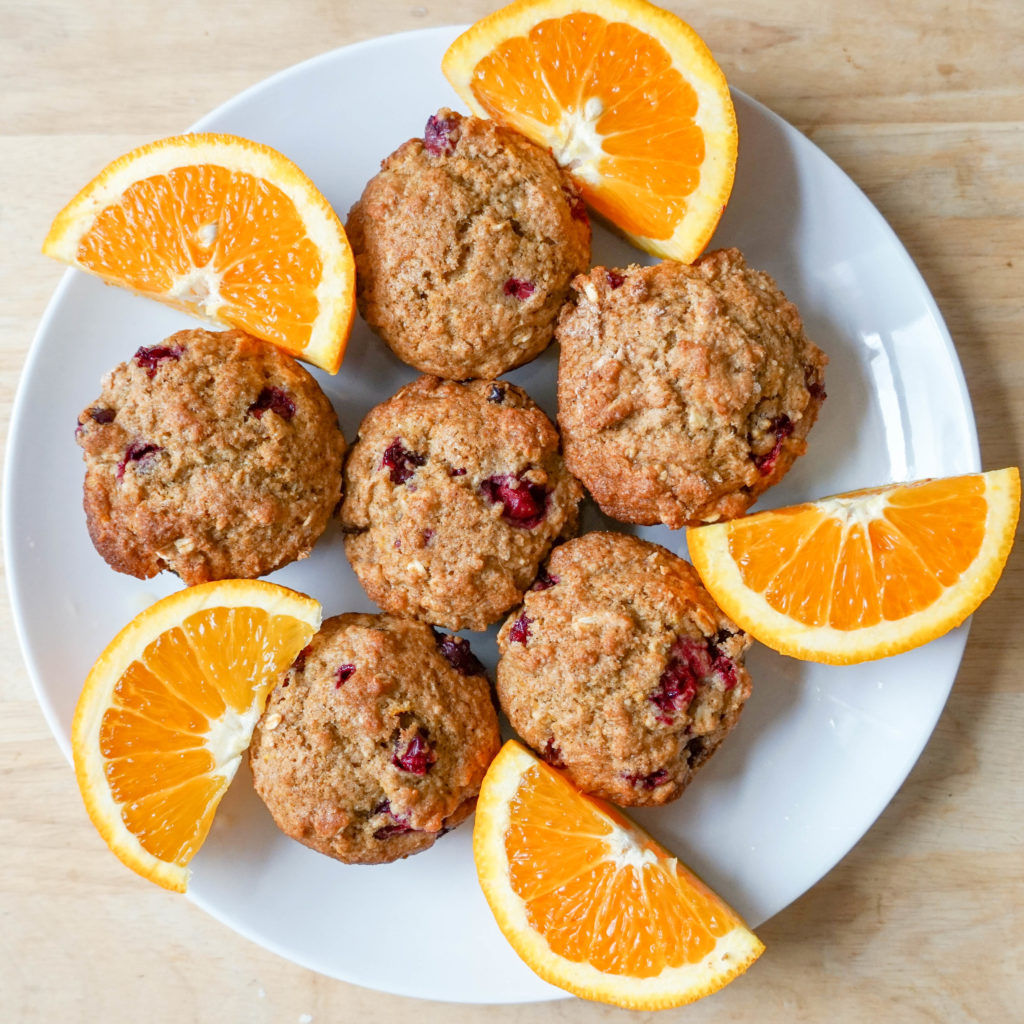 About these cranberry orange muffins:
This recipe features the usual muffin suspects: flour, oats, sugar, baking powder, baking soda, and an egg.
You can use fresh, frozen, or dried cranberries (I've tested these with all three) and bottled or freshly squeezed orange juice. I used bottled orange juice because it was easier, but if you get 2 navel oranges, that should give you enough for the 2/3 cup juice you need!
Not into cranberries? You can swap them for any berry of your choice. It will change the flavor profile a bit, but you'll still get the sweetness from the orange and tartness from berries.
You're going to need a few mixing bowls for this recipe, so here are a few of my favorites!
Stainless Steel Set of 3 Bowls
Other swaps you can make to these muffins:
Swap granulated sugar with coconut sugar or liquid sweetener of your choice (this might change the texture of the muffins a bit, but they'll still be great). I wouldn't use brown sugar as a swap.
Use an all-purpose gluten-free flour blend instead of whole wheat or white flour
Vegans: swap the egg for a flax egg. Simply combine 2 TBSP flaxseed and 6 TBSP water for the equivalent of one egg.
Add in walnuts, pecans or pepitas if you want!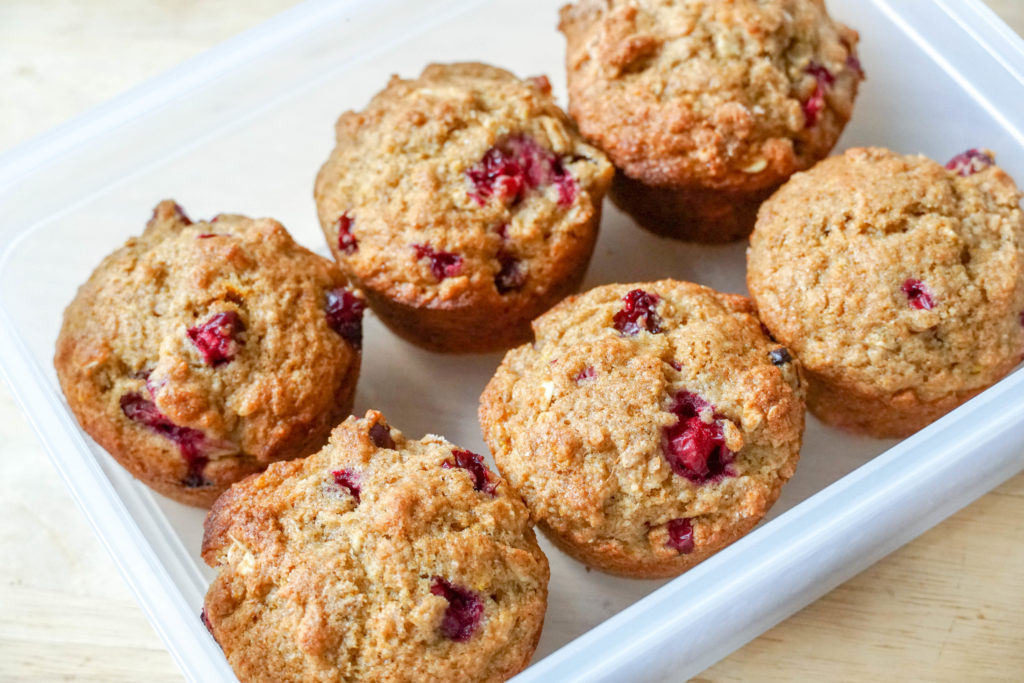 How many muffins should you eat at breakfast?
Obviously, this entirely depends on how much you usually eat in the morning and is different for everyone! I eat two of these cranberry orange muffins when I'm really hungry, one when I'm running out the door and not feeling super hungry. I eat one as a snack too.
There's no wrong way to do it, as long as you feel satisfied. If you're looking for a more well-rounded "complete" breakfast featuring these muffins, I recommend enjoying yogurt, scrambled eggs, a smoothie, or any other of your favorite breakfast foods on the side.
Related: Intuitive Eating Podcasts, Books, and Instagram Accounts to Start With
Here are some of our other muffin recipes to try as well!
And check out our master list of breakfasts here!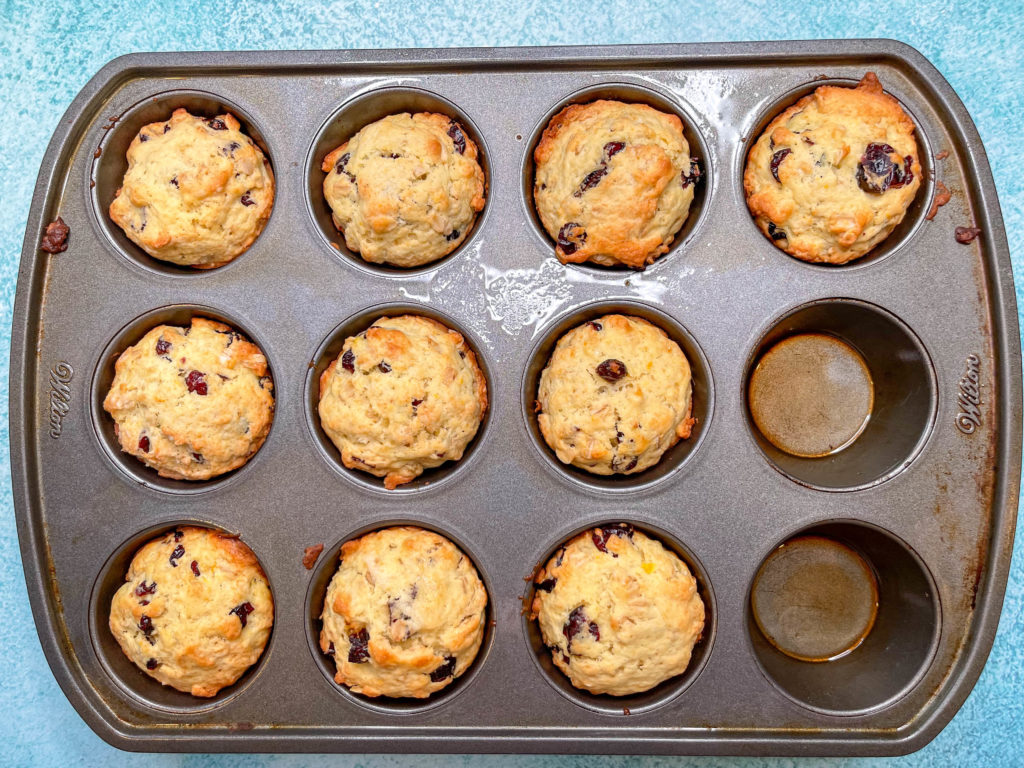 How to store these cranberry orange muffins:
These cranberry orange muffins can store at room temp in an airtight meal prep container for 4 days and last in the fridge (in a container) for up to a week. You can also freeze them for up to 6 months. They don't need to be reheated, but you can totally warm them up in the microwave or toaster oven if that's your jam. Happy prepping!
Don't forget to try our other delicious breakfast recipes!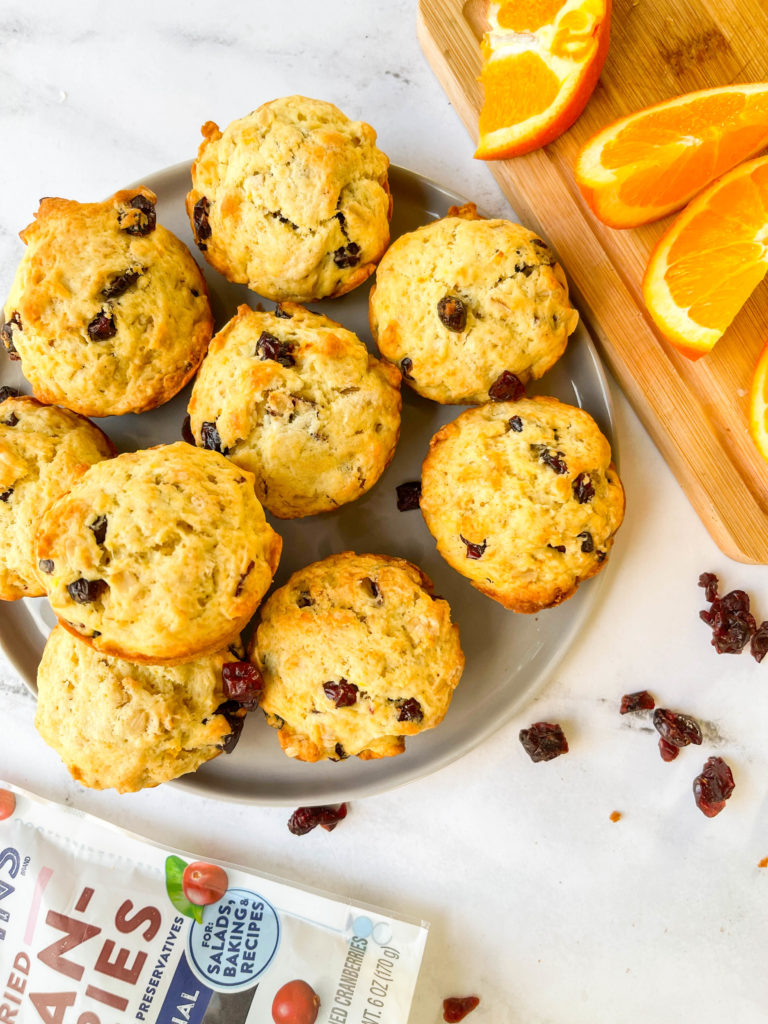 Cranberry Orange Muffins
Ingredients
For the Muffins
1.5

cup

whole wheat flour

sub all purpose flour

1/2

cup

old fashioned oats

1/2

cup

granulated sugar

1

tsp

baking powder

1/2

tsp

baking soda

1/4

tsp

salt

1

cup

cranberries

fresh, frozen or dried

1

egg

2/3

cup

orange juice

1/3

cup

butter

melted, sub coconut oil

2

tsp

orange zest

grated
Instructions
Preheat your oven to 400 F (205 C) and prepare a muffin tin with cooking spray or muffin liners.

To a large bowl add the flour, oats, sugar, baking powder, baking soda and salt. Mix well to combine, then stir in the cranberries.

In a separate smaller bowl, add the egg, orange juice, melted butter and grated orange zest (or lemon zest). Mix well to combine.

Pour the wet ingredients into the dry ingredients and mix until just combined, being careful not to over mix!

Spoon the batter into the muffin tin. I got 8 big muffins (I like to fill each all the way to the top) but if you fill the tin 3/4 of the way full, you'll get 10 muffins.

Bake for 20 minutes, until the tops are firm and lightly brown. Let cool, then store in a container at room temp or in the fridge!
DID YOU MAKE THIS RECIPE?
Please leave a comment below on the blog or share a photo with us and tag @workweeklunch! Can't wait to see what you made!