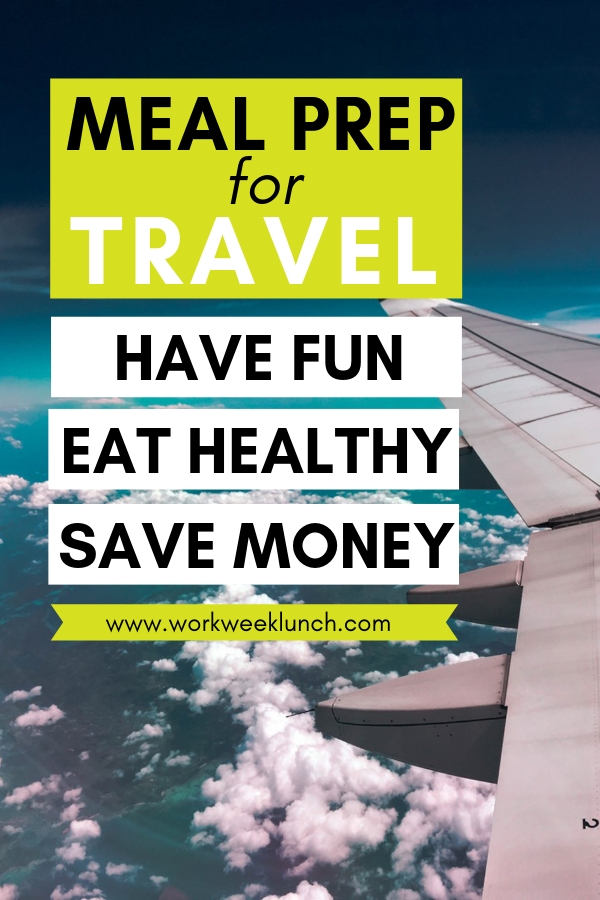 A travel meal prep post has been in demand for a while, and what better time to share it than when I'm about to head overseas to visit my fam!
Eating healthy on the road, whether you're on vacation or traveling for work, is not easy.
Hotels don't exactly give you kitchen access to make your own food. And even if you're staying in a place that does have a kitchen, you may not always be able to get your own groceries.
Most of the time, we eat at restaurants while traveling. This not only gets pricey, but also can wreak havoc on your stomach if you're a new country.
Even when traveling in your own country, the takeout and restaurant options for days on end get tiring (and make you feel like crap).
So where's the balance? How can we eat a little healthier while traveling so we don't feel like we have to detox or work out like crazy when we come home? (By the way, don't do detoxes. That's what your kidneys are for!)
In this post, I'm going to share a few different strategies for healthy eating and using meal prep while traveling.
And if you want more tips and tricks from me on a regular basis, sign up here to get them via email every Friday!
Let's jump in!
Why you should get your house ready for a homecoming prep before you leave: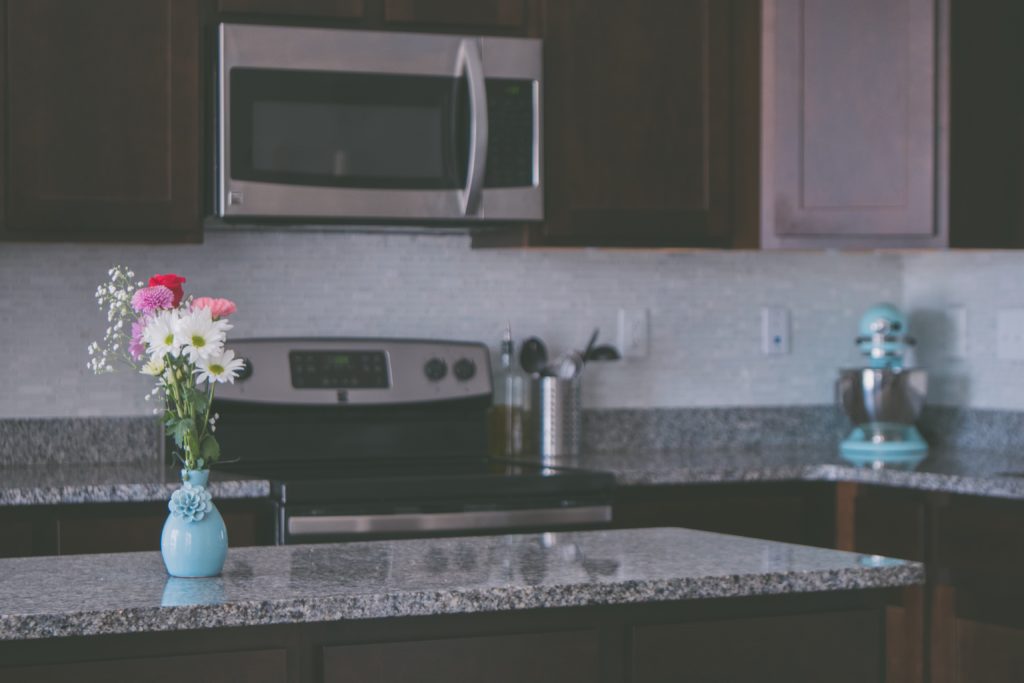 There's no better time to meal prep than right after a vacation. Why? Because right after you come home from a trip, you have to dive right back into reality and having food on hand helps with that process.
Plus, if you're anything like me (with a slightly sensitive stomach) I find that meal prepping right after a vacation helps me digestion get back to normal.
So, here's how you can get your kitchen ready for an easy homecoming prep:
Check your inventory. If you're out of (or running out of) any of your staples, write a quick list of what you need to buy and put it somewhere you can't miss when you come home. This helps you know exactly what you need for the house when you get back.
Clean out the fridge. Throw out anything that's going to expire (or freeze it if you can) so you have a nice, organized fridge to come home to.
Make sure all your dishes and prep containers are clean and put away. There's nothing better than coming home to clean, cooking-ready kitchen!
Bonus tip: got any healthy meals you can throw in the freezer before you leave? Do it! That way, you can reheat some home-cooked food when you get back instead of grabbing takeout.
When you set yourself up for a relaxing cooking sesh after a vacation, you're way more likely to actually get it done (even if you're super jet lagged or tired or still in vacay mode).
How to meal prep snacks and meals for the plane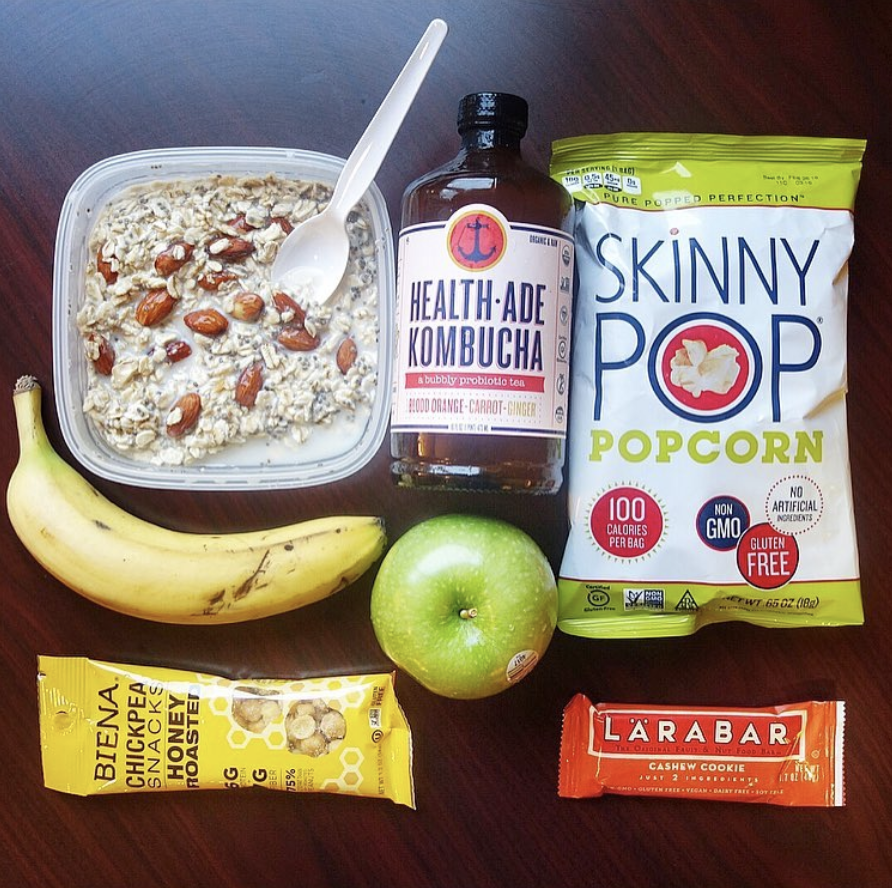 I want to say upfront that this varies depending on what airport you fly in and out of! I normally fly from NYC and other major airports in America. Even when flying out of foreign countries, I have had absolutely no issue getting snacks through security.
I recommend looking up the rules online before attempting to bring food through security if you're worried about it! And I think these tips will help.
What foods you CAN bring on the plane (in my experience):
Salads with a very small amount of dressing
Cooked meals that are solid (so no soups, stews or anything liquidy)
Pasta-based meals
Fruit! I've brought on apples, bananas, grapes and grapefruit.
Veggies! Think cucumbers, carrots, celery and even baked sweet potato wedges.
Dry snacks, like chips, pretzels, cookies etc.
Trail mix!
Candy (duh)
Single packs of peanut butter and hummus (travel size)
Protein and granola bars
baked goods (muffins, breads etc)
What foods you CAN'T bring through security (in my experience):
Yogurt
Kombucha
a whole jar of peanut butter
a whole thing of hummus
basically, anything that's liquidy
You can usually grab yogurts and drinks after going through security!
Pro tip: Bring a water bottle, but make sure to empty it before security so you can fill it when you get through (and not have to buy water).
Another pro tip: Don't worry about bringing your own utensils. You can always grab them after security if there are restaurants and takeout places in the terminal.
What to meal prep for plane, train and car rides: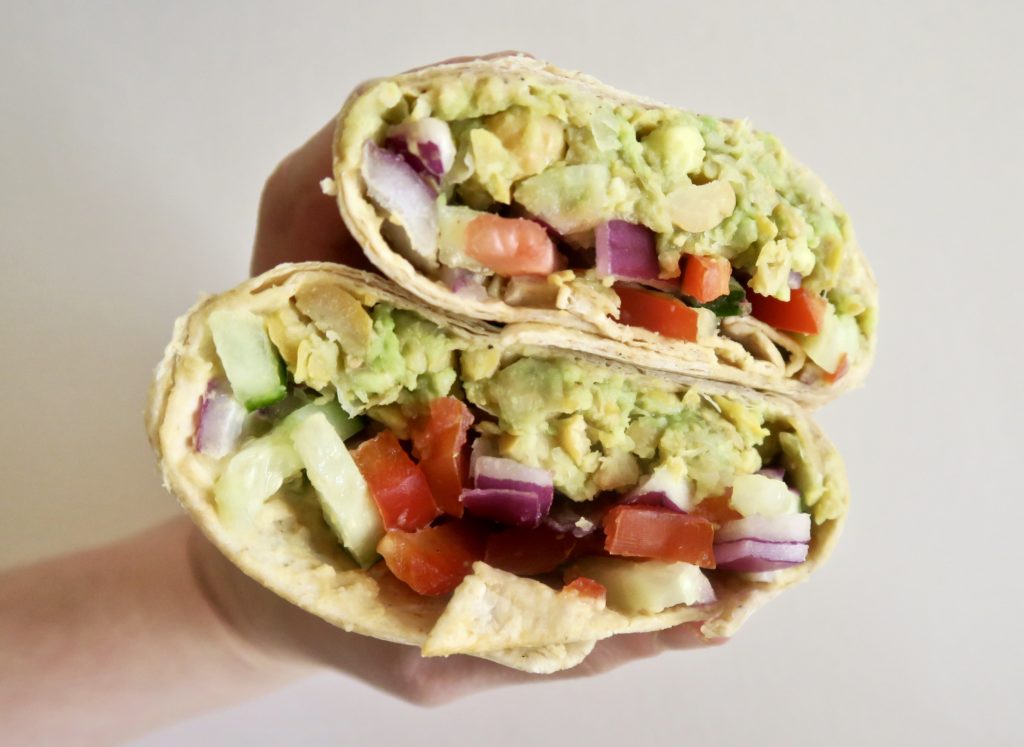 I love bringing my own food to the terminal to eat before I get on the plane. If I have a morning flight, I prep overnight oats the night before and pack them in a small container in my carry-on bag.
If I have an afternoon or evening flight, I go with a no-reheat meal like wraps and grain-based salads (I love my quinoa bowls before a flight).
This is such a smart move because meals in terminals are so overpriced (healthy or not) and we all know the deal with airplane food.
If I'm going on a long car ride, I usually pack a sandwich or something that's easy to eat while driving or if I stop somewhere to rest. The key here (if you can) is to bring a lunchbox with an ice pack to keep your meals cool in the car! Scroll down to see which products and containers I recommend for meal prep while traveling.
Same goes for a train. I really hate having to buy food in train stations.
My favorite travel meal prep strategy ever: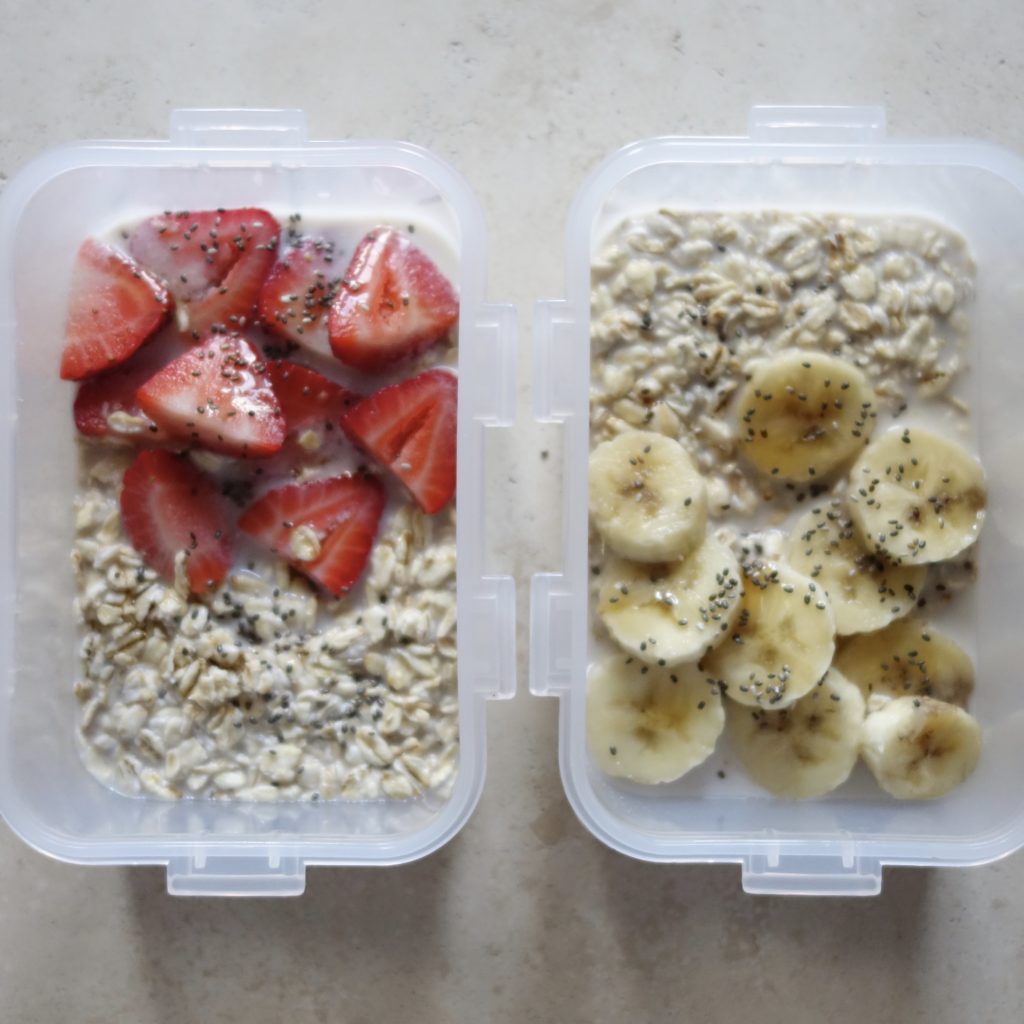 So let's say you're staying in a hotel or Air B'n'B for a few days in a new city. I highly recommend bringing/getting what you need to prep overnight oats.
Breakfast is often the same everywhere and isn't the most interesting meal to buy at restaurants. Save the fun foods for lunch, dinner and dessert! (More on that below).
Overnight oats are also a great snack if you're between meals and don't know when or what you're eating next (I often have this issue while traveling).
All you need is:
Oats in a Ziploc bag which you can bring from home. 1/2 cup of oats = 1 serving, so bring as many servings as you need.
Apples or bananas to add to your oats. These are two fruits that are portable and travel well (especially apples, which don't need to be refrigerated and don't go bad as quickly).
Single packs of nut butter to add to your oats (optional)
Your favorite oatmeal toppings: nuts, seeds, brown sugar and dried fruits in a baggie
One container to store overnight oats in, which you'll clean out and reuse every day on the trip.
You CAN try to find single packs of almond milk (I've used these before) which don't need to be refrigerated until they're opened. But, there's always water and you can get milk from coffee shops and gas stations. No shame in that!
Why I love this method: It allows you to eat one "home cooked" meal per day while traveling. You feel less gross throughout the trip because oatmeal is something you'd eat at home too. And then for the other meals, you don't feel as guilty about splurging or eating what you want.
What to buy when you arrive at your destination: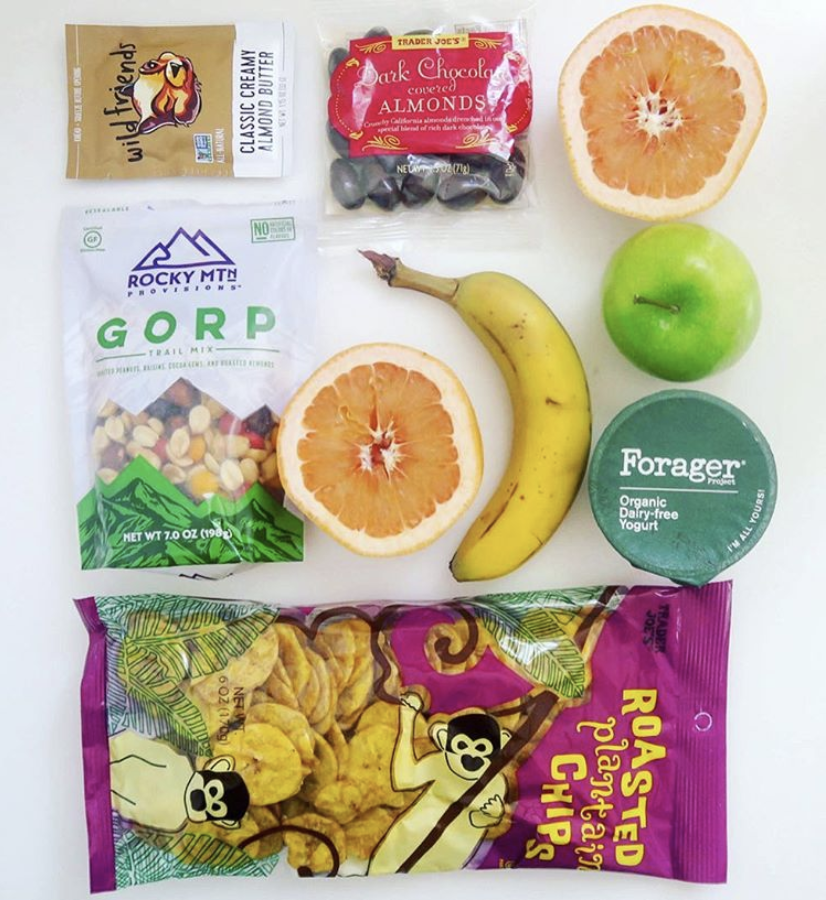 If you're traveling to a city where it's easy to get around, or you have access to a car, I recommend going to the nearest grocery store on the first day of your trip to stock up on snacks.
While traveling, you're probably going to be on a different eating schedule. I personally hate not knowing when I'm going to eat next and to avoid a dip in energy, blood sugar and to avoid hangry-ness, I always grab snacks.
Stick to snacks that you don't need to refrigerate:
Protein and granola bars
Apples, peaches, plums and bananas
Avocado
Carrots
single packs of nut butter
nuts and trail mix
pretzels, chips, crackers, rice cakes and popcorn
beef jerky (or vegan beef jerky)
Even if it's not what you'd normally eat at home, it's better than reaching for a bag of Doritos or something like that if it's not what you really want to eat. (Nothing wrong with Doritos if that's your jam!)
Another idea would be to grab some canned tuna, avocado and crackers. I am not a fan of canned tuna, but I think that would work well for an emergency meal that doesn't need to be refrigerated!
Finding the balance while eating at restaurants
I think this is where people struggle most when it comes to vacations. Eating at restaurants all the time (mostly out of necessity if you're in a new city and not visiting family or friends) can get expensive and after while… it gets a little tiresome.
And if you're someone that struggles with healthy choices, going to a restaurant isn't always a fun experience. Sometimes, there's guilt involved.
So where's the balance?
My approach is to make sure there are some veggies on your plate for lunch and dinner. I'm not saying you should only eat salads… I'm just saying you have the ability and option to choose meals that include vegetables which helps your digestion run a little more smoothly in a new place! Fiber is your friend 🙂
My other piece of advice is to try to not let who you're with influence your food choices. Sometimes we travel with people who are health-obsessed that make us feel bad about ordering the cheesy nachos. Sometimes we travel with people who only eat junk on vacation when we want to order the salad.
Either way, remember that you're eating for YOU, not for someone else. Order what you're in the mood for and if people make comments or if you're worried about being judged, remember that you get to decide what you put in your body and that's really no one's business!
If you're traveling with people that have different food priorities than you, I recommend taking turns picking restaurants. It's hard to please everyone in a group! (That's why I love solo travel).
No matter what happens or how you feel about it, remember that you get to go back to "normal" when you're home and life goes on.
Useful tools and equipment for eating healthy on the road
So now you know what you need to do… and it's time to do it! Here are some useful tools for eating healthy and meal prepping on the road:
Small, light meal prep containers for easy travel food (these are my favorite)
A compact lunchbox to keep cool food on the road
Plus an ice pack or two
Stasher Bags! They're reusable and perfect for snacks
A travel-friendly water bottle that you can refill as you travel instead of buying water
Travel utensils, just in case
A meal-prep container made specifically for salads (so you can add some dressing too)
This bento-box meal prep container for a fun variety of snacking
Are you ready to give your food an upgrade on your next trip?
I hope this post helped you and gave you some ideas for your next work trip or vacation.
Want access to all my travel-friendly (no-reheat) meals? Click here to learn about the Workweek Lunch Meal Prep Program and sign up to get access to all of my recipes, weekly meal plans and so much more.