Vegetarian meatball combinations are endless, but this miso chickpea version is a must-try!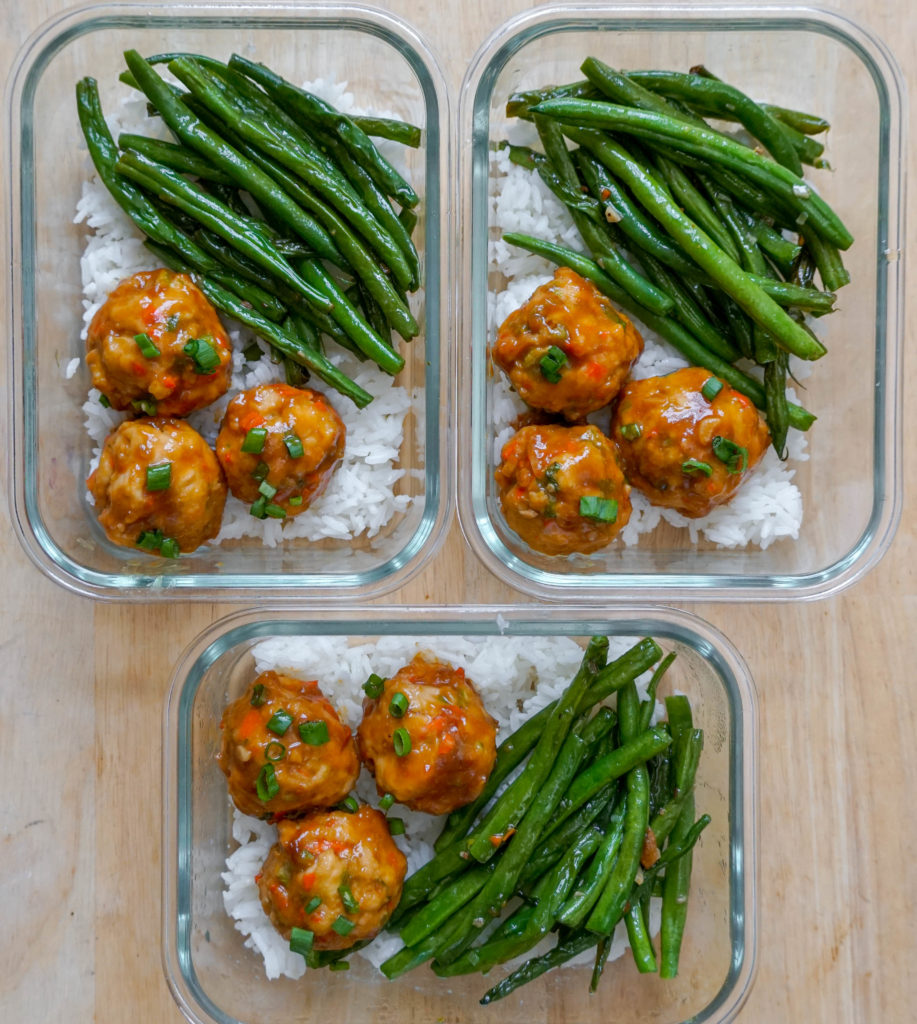 These chickpea and miso vegetarian meatballs are delicious, work well for meal prep and they're freezer friendly!
Keep reading for tips on where to find miso and how make your chickpea vegetarian meatballs a success.
How to Make Vegetarian "Meatballs"
Obviously, when we're talking about veggie meatballs, we aren't talking about meatballs with animal proteins. Veggie meatballs are entirely vegetarian! I've seen some people refer to them as "beanballs" too to avoid confusion.
For any successful vegetarian meatball, you need a base (in this case chickpeas), a binder (like an egg or chia seed egg), aromatics and flavors (like miso, garlic and soy sauce) and breadcrumbs, panko or grain to get that ideal moist, but not dense, consistency.
Generally, you can process your beans in a food processor or blender (or mash them) with the rest of your ingredients, or you can mix them all up in a bowl. Here's our recommended food processor!
Related: Minimalist Kitchen Equipment
If your veggie meatballs include other vegetables like red bell peppers or broccoli, or ingredients like onions, you will have to cook them on the stove before making the vegetarian meatball mixture.
To keep your vegetarian meatballs moist, it's best to add a little oil too (I use olive oil).
By the way, we have a TON of veggie meatball recipes in the WWL Program for members! Sign up here on a free trial get our weekly meal plans, new recipes, grocer list generator and more.
How to get the best results when cooking vegetarian meatballs
I've tested many techniques for cooking vegetarian meatballs. Sometimes, veggie balls fall apart, get crumbly or just don't have an amazing texture.
My favorite way to cook vegetarian meatballs is partially on the stove and partially in the oven.
First, cook them on the stove to get a sear/some color on them. Then stick them in the oven to firm up. Always let them cool before assembling, as they will continue to firm up as they cool down.
What To Know About Miso Paste
The cool thing about miso, as an ingredient, is that it lasts forever in the fridge.
I've had some in my inventory since the summer when we did our miso sheet pan salmon and tofu. If you were in the WWL Program back then (or you're just a huge miso fan like me), chances are you still have some in your fridge too! And if not, this recipe is a great excuse to grab some miso and start using it.
Miso paste is a fermented seasoning made from soybeans. So if you're allergic to soy, keep reading for alternatives.
In the store, you can find three varieties: white, red and mixed. White is more mild, while red has a more pronounced flavor. Mixed has the boldest flavor of the three.
You'll generally find miso paste in the refrigerated section, near the tofu or the eggs depending on the store. Note that I couldn't find miso paste in my regular Key Food, but I successfully found many options in another neighborhood general grocery store.
Miso paste is EXTREMELY versatile, which is why I can't wait for you to take it for a test run and have it on hand. It can be used as a salty addition to marinades, dressings, sauces and more.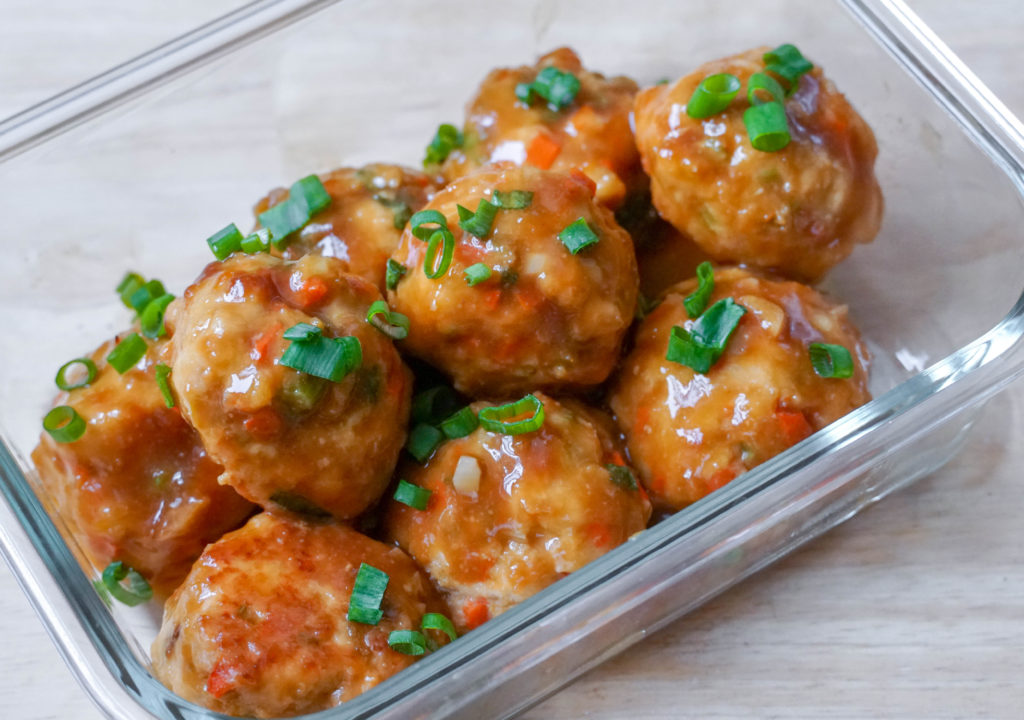 What if you can't find miso paste
Miso paste is vegan and the varieties I found in the store were certified gluten-free (make sure to read the label to check!). But if you're allergic to soy or can't find miso paste, you have options.
You can order chickpea miso paste from here. Even if you don't plan on using it a lot, it's worth it. This will last for over a year in your fridge!
If you CAN eat miso paste, but couldn't find it in your store, you have many options on Amazon. Here's the top-rated red miso paste (GF) on Amazon.
Unfortunately, because of it's unique umami flavor, it's hard to find a true substitute for miso paste. But I did come up with a little hack:
1 TBSP tahini
1 TBSP soy sauce/tamari/coconut aminos
optional: 1 tsp umami seasoning from Trader Joes if you have it/can get it
Since the chicken meatballs have a lot of steps, we're keeping the sides (rice and green beans) simple. I originally wanted to use baby bok choy, but my farmer's market stand was out!
You can use whatever vegetable(s) and carbs you want for this meal.
Here are my suggestions:
broccoli, cauliflower, bok choy, collard greens, onions, snap peas, asparagus, Chinese eggplant, roasted carrots, peas, corn, bell pepper
noodles or pasta of any kind (mixed with the sauce or sesame oil), potatoes cooked however you like them, any grain you're into/have on hand
Whatever you choose, just keep it simple!
Nailing the glaze
We're using a technique to make the glaze that we use often! We're mixing the main ingredients: mirin, miso, water/broth, honey and soy sauce in a small saucepan.
Then, when that mixture is boiling a little (not big bubbles, just small ones) we add a mixture of cornstarch and water which will immediately thicken the sauce once stirred in.
The longer the sauce is on the heat, the thicker it will get. Sauces CAN burn, so just make sure your heat isn't too high after the cornstarch goes in.
Make sure you taste it before you can commit!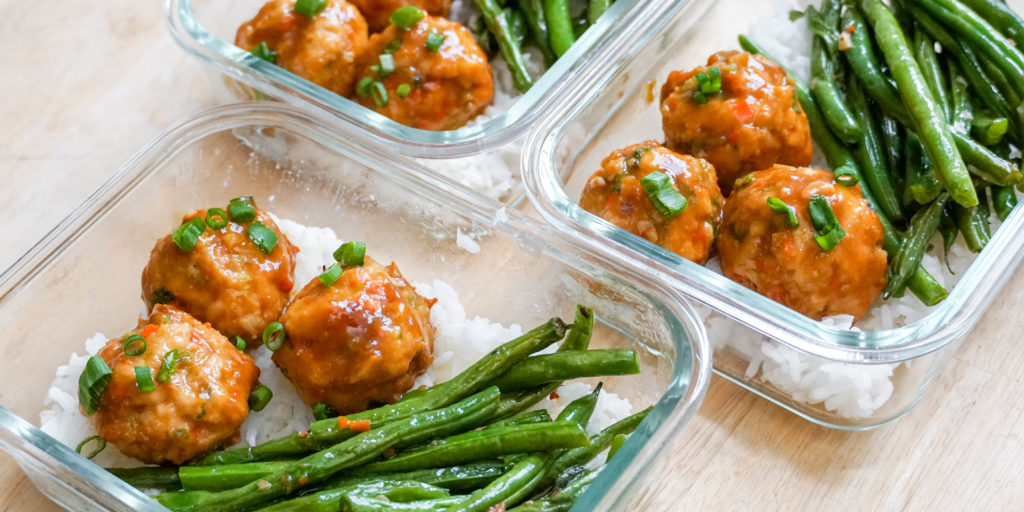 A tip to avoid soggy veggies after cooking this meal:
Place the cooked veggies on top of the rice. The rice will soak up any extra moisture from the cooked veggies!
Storage and reheating notes:
This meal can last in the fridge for up to 4 days. It's not freezer-friendly, but you can freeze extra frozen and cooked meatballs for future meals! I am not 100% sure if the glaze is freezer-friendly, but I think if you really loved it and wanted to use it later, it would freeze well.
I recommend reheating this meal in the microwave or on the stove.
Equipment used in this recipe:
Happy prepping!
Check out these other recipes where you can use miso paste!
And check out these delicious WWL recipes!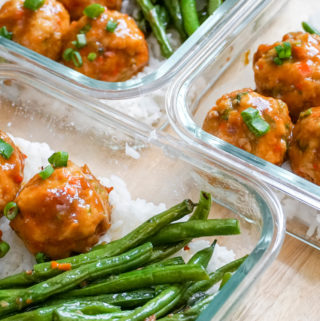 Miso Chickpea Balls, Green Beans & Rice
Ingredients
For the veggie balls, green beans and rice
15

oz

can of chickpeas

rinsed and drained

2

tsp

miso paste

1

TBSP

soy sauce

1/2

cup

bread crumbs

panko preferred

1

carrot

chopped small

2

celery sticks

chopped small

1/2

yellow onion

chopped small

2

clove

garlic

minced

1

inch

ginger

minced

1

egg

**omit if vegan

3

scallions

ends chopped

2

TBSP

olive oil

divided

12

oz

green beans

ends chopped

salt and pepper to taste

3/4

cup

rice

uncooked

1-1/2

cup

water

sub broth
For the sauce
1/2

cup

mirin

sub 1 TBSP rice vinegar, 1/3 cup water and 1 TBSP agave

1/2

cup

water

1

clove

garlic

minced

1

inch

ginger

minced

2

TBSP

miso paste

1

TBSP

agave, maple syrup or honey

plus more to taste

1

tsp

sriracha

optional

2

tsp

cornstarch
Instructions
Preheat your oven to 375 F

Add oil to a pan over medium heat, followed by the chopped carrot, celery, ginger, garlic, onion and the white ends of the green onions. Add a pinch of salt and cook over medium heat for five minutes, stirring often. We just want the veggies to soften slightly and become fragrant.

Mash the chickpeas in a medium or large bowl with a fork or masher. Add the cooked carrot celery mixture, egg if using, panko, soy sauce and miso paste. Use a spoon to mix and combine well. The mixture should be sticky and hold together. If it's dry, add more soy sauce 1-2 TBSP at a time. If it's too wet, add more panko 1-2 TBSP at a time.

Prepare a baking sheet with cooking spray. Using a 1/4 cup measuring cup or a large ice cream scoop to measure the mixture, form meatballs with your hands. You should get 12 small chickpea meatballs total (four per meal). If you want less, note that you can freeze cooked or uncooked meatballs for the future! Bake for 20 minutes, until the meatballs are firm – no flipping necessary. Set aside.

While the veg meatballs cook, make the rice: Rinse the grains in a mesh strainer, then add them to a pot with the water and a generous pinch of salt. Bring the pot to a boil, then cover and reduce to the lowest heat possible. Cook for 10 minutes (15-20 if doubling) then turn off the heat and let the rice steam for an additional 10 minutes. Then fluff with a fork and set aside.

Roast the green beans: In a bowl, toss the green beans with oil, garlic, salt and pepper. Pour the mixture onto a baking sheet and bake on the top rack for 17-20 minutes.

Make the glaze: In a measuring glass, mix the water/broth, mirin or rice vinegar substitute, miso paste, ginger and garlic. Pour the mixture into a skillet over medium high heat and whisk with a fork so the mirin dissolves. While the mixture comes to a low boil, mix the cornstarch with water (1 TBSP or 2 if doubling). Pour the cornstarch slurry into the miso mixture, bring up the heat so it's bubbling a little, and stir constantly until thickened – 3-5 mins. When it's thickened, turn off the heat add the honey and sriracha if using. Taste before you commit! Add more honey if you want it to be sweeter.

Transfer the cooked veg meatballs to the sauce and toss to coat them in it. I kept the heat on so that my sauce would thicken even more during this step!

Assemble: Divide the rice between 3 meal prep containers, then add the green beans and chicken meatballs. Garnish with chopped green onion (the green part).
DID YOU MAKE THIS RECIPE?
Please leave a comment below on the blog or share a photo with us and tag @workweeklunch! Can't wait to see what you made!