You don't have to bid adieu to all of your food just because you're saying hello to a new neighborhood, here's how to pack your pantry for moving!
Before relocating, we often spend so much time focused on packing our personal belongings that we totally forget to think about how to pack our pantry for moving. Instead of tossing it all in the bin, know that there are a few smart ways to make the most of your moving-out food and reduce food waste before you hit the road.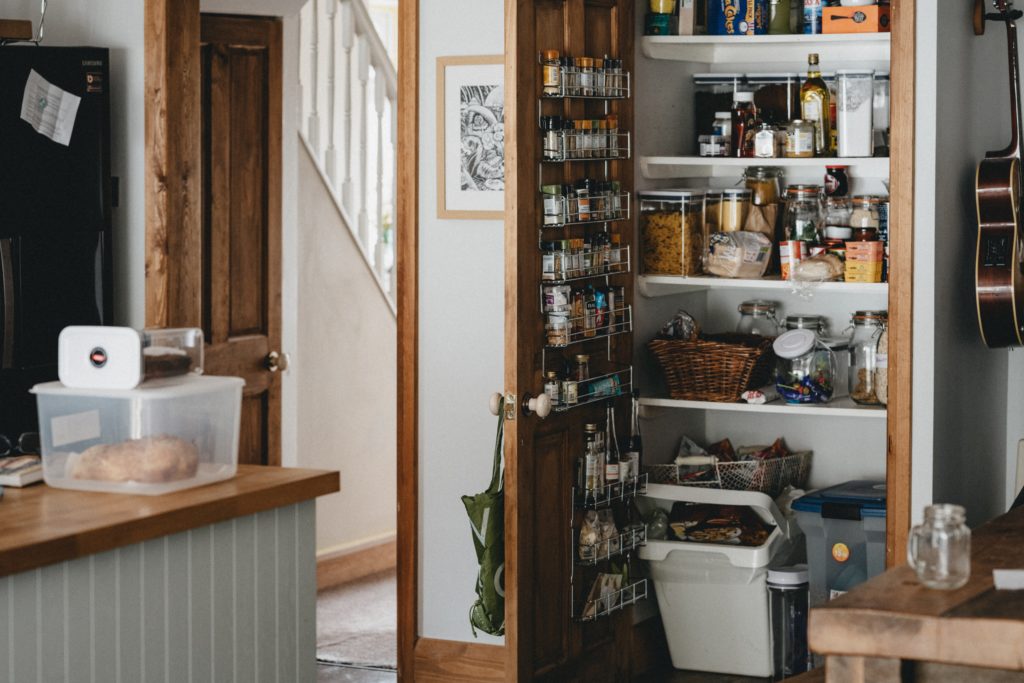 In the week preceding your departure, for example, you can make use of what's left to meal prep for the busy days ahead. And those pantry staples? Bring them with you! You'll be happy to have your favorite spices at the ready when you arrive at your new abode. Use this handy guide to figure out how to pack your pantry for moving and make the culinary transition to your new abode as smooth (and tasty) as possible.
1. Make a List of the Moving Food You Have and Prioritize the Freshest Ingredients
Figuring out what to do with your food before a move can be overwhelming, so take the pressure off by creating a quick inventory of all the items in your fridge. Organize the lists by each section in your fridge, pantry, and freezer. The most important thing to work through will be your fridge because that's where all of your time-sensitive ingredients are usually located. This breakdown will help you assess what you have and reduce food waste while you're at it.
Fridge:
Focus on using up any eggs or meat and dairy products first as these usually go bad the fastest.
Next, take a look at the veggies in your crisper drawer. Try to eat delicate vegetables like leafy greens right away, but know that certain sturdier vegetables may be able to last the journey to your new home (looking at you bell peppers).
Finally, examine your condiment shelf. Anything with a lot of salt, vinegar, or sugar is technically shelf-stable, which means it will be safe to eat even when left at room temperature. Try to work through the bottles of sauces that don't fit neatly into this category. Or hand them off to a friend (more on that in a bit!).
When you're done taking stock of the ingredients in your fridge, toss out what's expired and prioritize the ingredients that are closest to their best buy date. Then, cross out items as you eat them so you know exactly what you still have after each meal.
Related: Save Your Greens: 15 Foolproof Ways To Use Up Greens Before They Go Bad
2. Whip up a Bunch of Grab-and-Go Meals for Moving Week to Cut Down on Food Waste
Take a bit of time off from packing to use the remainder of your refrigerated ingredients to make all of your meals for moving week. You'll be relieved to know that you don't have to stop what you're doing to cook during this hectic time, and you can rest easy knowing that you didn't have to throw all your food away at the last minute of your move.
And don't forget to examine your freezer! You may find that you already have a few meals in there from a meal prep session that happened a long time ago.
Here are a few easy recipes to whip up:
Related: Meal Planning For Beginners (Meal Plan Template Inside!)
3. Host One Last Dinner Party to Reduce the Amount of Food You Need to Pack
If you have more food than you know what to do with and time is running out, hosting your friends for a quick dinner party is one of the easiest ways to make it disappear. Offer them a deal: If they don't want to help pack, they can cook a dish!
Above all, keep it simple—now is not the time to be testing a bunch of complicated recipes. Stick with one-pan dishes that will basically cook themselves and simple dips that take mere minutes to throw together.
Related: 12 One-Pan Dinner Ideas You Can Also Meal Prep For The Week
It's also a good idea to use this opportunity to hand off all the food you can't eat before your move. Tell your friends to bring food storage so they can easily take home leftovers from your meal. And take the opportunity to check your fridge and freezer for already opened products that you wouldn't be able to donate to a shelter or food bank. They'll be happy to have less grocery shopping to do for the week!
Try out these delicious recipes for your dinner party:
4. Give Your Food to Friends, Family, and Neighbors
When in doubt, handing out the rest of your food is always a great idea. Ask friends and family what they're happy to accept. If you're short on time, knock on a neighbor's door and give them one last friendly surprise. Almost everyone will be happy to be spared another grocery trip. And if you can't track down someone that's willing to take your leftovers, consider dropping them off at a local shelter or food bank on your way out of town.
If you're having a hard time passing off your moving food to friends and fam, know that there are plenty of other options online that will help you reduce food waste. Offer your already opened condiments on websites like Buy Nothing, where people will happily snatch up your hardly used chili oils and fancy vinegar. Give your unopened ingredients to community fridges, and pick up the phone to ask donation centers if they'll accept your opened pantry goods. Many of them will!
5. Extra Space in the Moving Truck? Pack Your Pantry Staples, Too!
Pantry staples are pantry staples for a reason—because they last a really long time, even at room temperature! If you have the room for it, bring all your dried, shelf-stable ingredients along for the ride. Arriving with all of your usual go-to's will really make your new home feel like home. Here are just some items that will be fine after a short or long trip in a moving truck:
Spices
Rice
Oats
Pasta
Grains
Dried beans
Pack these pantry staples in reusable silicone bags to ensure they don't break and spill all over the place during your move. When in doubt, try to limit the number of glass containers you're shipping for the best results.
I love these containers for organizing all of my pantry staples, and it makes it super easy to move them to your new place!
6. Save Frozen Ingredients by Packing Food Straight Into Your Freezer
It takes freezers quite a while to defrost, which means that they're the perfect vessel for packing up any frozen ingredients that you don't have the heart to say goodbye to. In fact, feel free to use your entire fridge as storage for the ingredients you're bringing with you. This is a spot that will take up space in your moving truck regardless, so take advantage of it to make more room for your non-culinary items.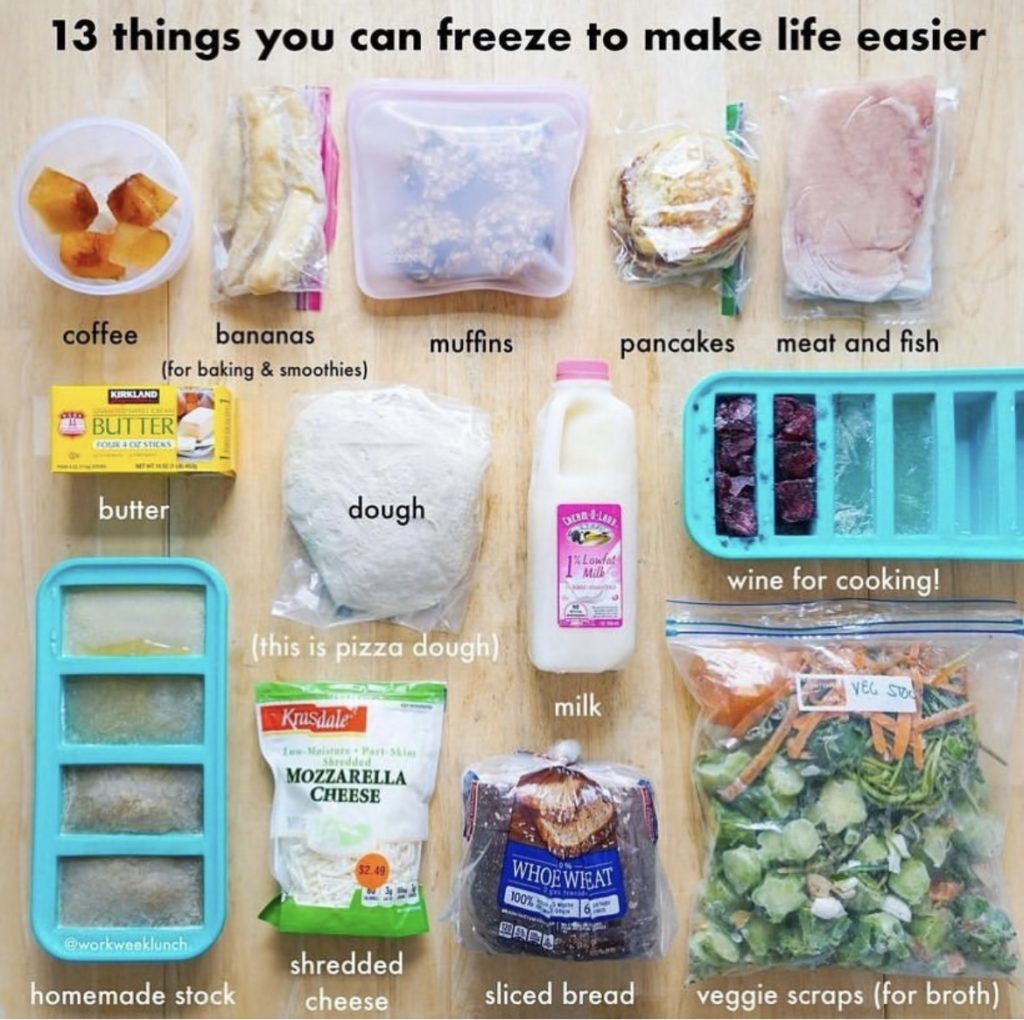 This trick really only works for relatively short moves—so you'll be better off packing chilled food in an icebox if you're planning a cross-country journey. But if you're working with limited space and time, donating what you can't eat will save you a lot of time and energy. You can always restock when you arrive at your new home! (or don't take them and donate them – probably a more realistic tip because space is limited on moves)
Related: 5 Essential Freezer Meal Prep Tips
I hope this post gave you everything you need to know about how to pack your pantry for moving and reduce food waste!