These hummus wraps were inspired by one of the best takeout lunches I had last summer at a Long Island sandwich shop! It was bursting with veggie goodness and flavor — I still think about it, to be honest.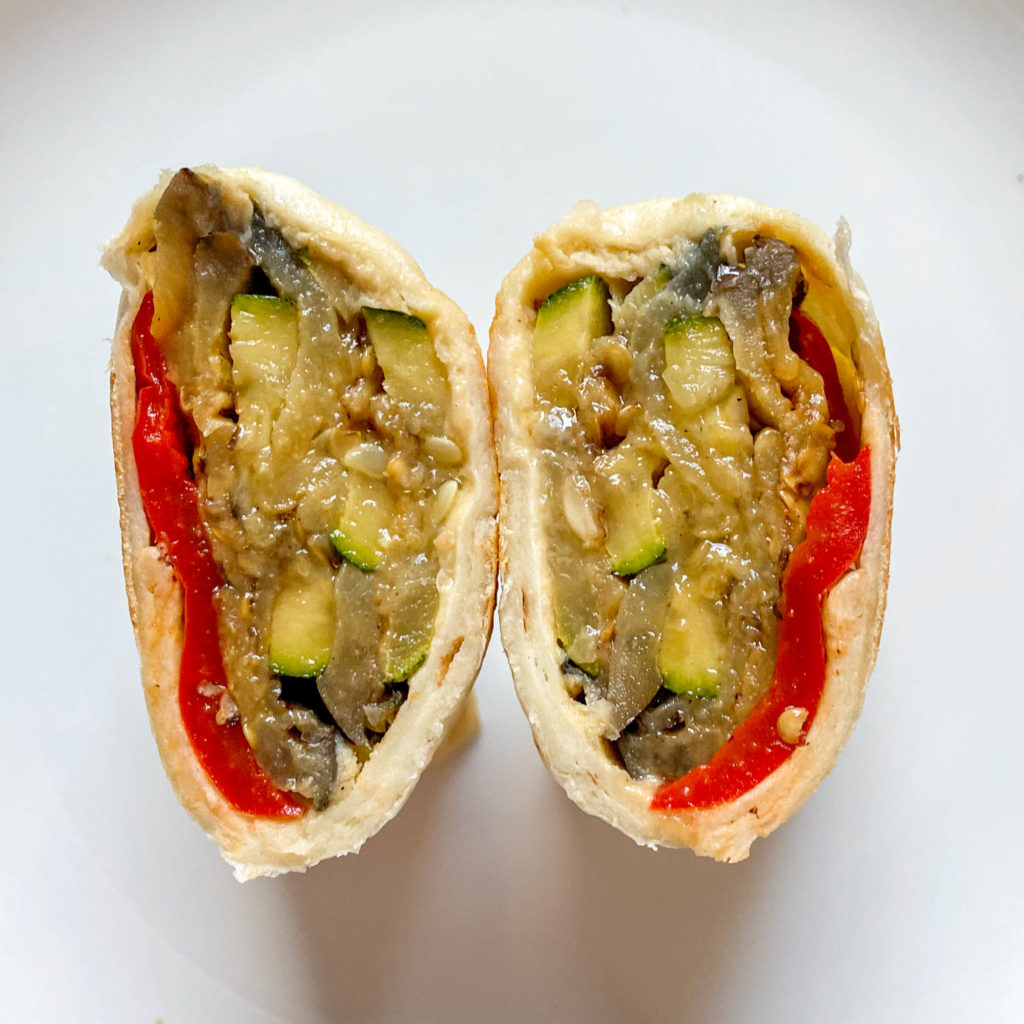 Recipe Overview
We're using tortillas, eggplant, zucchini, bell pepper, some herbs and homemade hummus (or storebought!) in these veggie wraps. Grilling is optional but recommended. I hope you make them your own!
Check out our full recipe on homemade hummus here!
Get more recipes like this in the Workweek Lunch Meal Prep Program with access to our meal planning tools, grocery list generator and more. Start a free trial today!
How to customize these Hummus Wraps
A lot of roasted/sautéd veggies would be great in these, here are the ones I think would work the best:
onion
red onion
portabello mushroom
carrots (sliced into strips)
fennel
summer squash
broccoli/cauliflower (sliced thin)
asparagus
parsnips (sliced into strips)
spinach/kale
sweet potato or regular potato (sliced into strips)
tomato – raw, patted dry with a paper towel to avoid too much moisture
cucumber – raw
Related: Cold Lunch Ideas: Meal Prep Recipes When You Don't Have A Microwave
Here are some more ideas for what you can add to these wraps:
Shredded chicken, mashed chickpeas instead of hummus, black beans, and baked tofu. You can also add cheese to this if you'd like -feta, goat cheese, and mozzarella would be some of my first choices! If you don't want to use hummus, or you just want more flavor overall, try adding basil or sundried tomato pesto! You can make your own (this one has kale and walnuts) or use store-bought.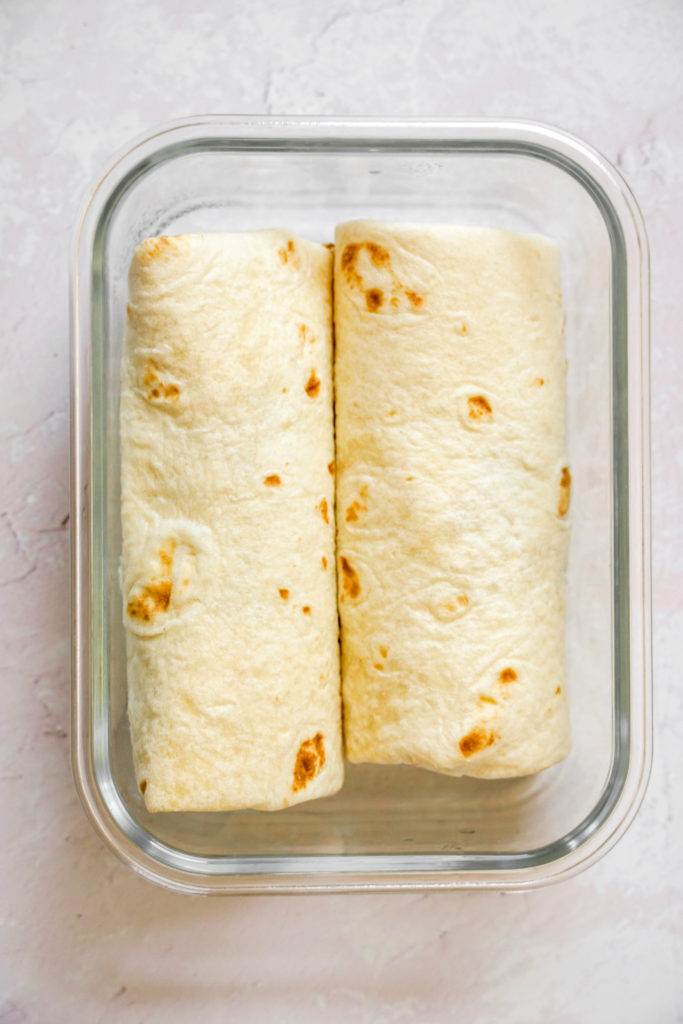 Here's how to properly wrap a tortilla:

The method goes like this: place filling in the middle, the lower third of the tortilla. Then fold up the bottom, then each side to make a little envelope. Then tuck and roll!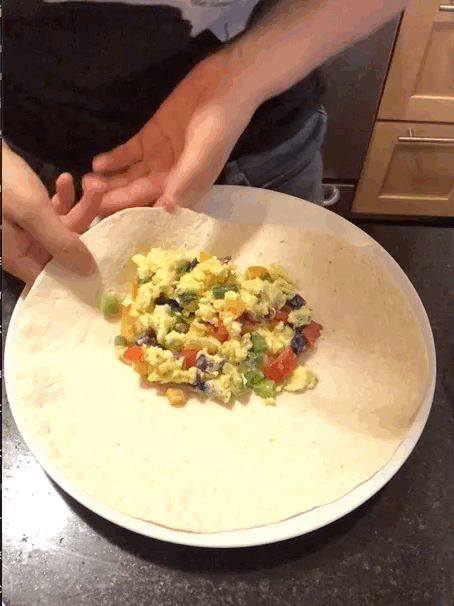 I recommend turning this meal into a bento box
These were pretty filling, but this wrap might not be enough on it's own for you. So you can turn this into a bento box situation by pairing it with fruit, popcorn, pretzels, chips, trail mix, a muffin or whatever else sounds good at lunchtime.
Related: 70+ Best Camping Meals (Easy and Affordable!)
To grill or not to grill these Hummus Wraps:
For these, I left them in the fridge wrapped and not grilled. Before eating, I wrapped them in a dry paper towel and reheated in the microwave for a minute or two, then popped it on a skillet (with cooking spray) to crisp it up and continue reheating it. It was SO GOOD.
You can definitely pre-grill them and store them in the fridge. You can also leave the veggies naked, wrap and grill them right before eating!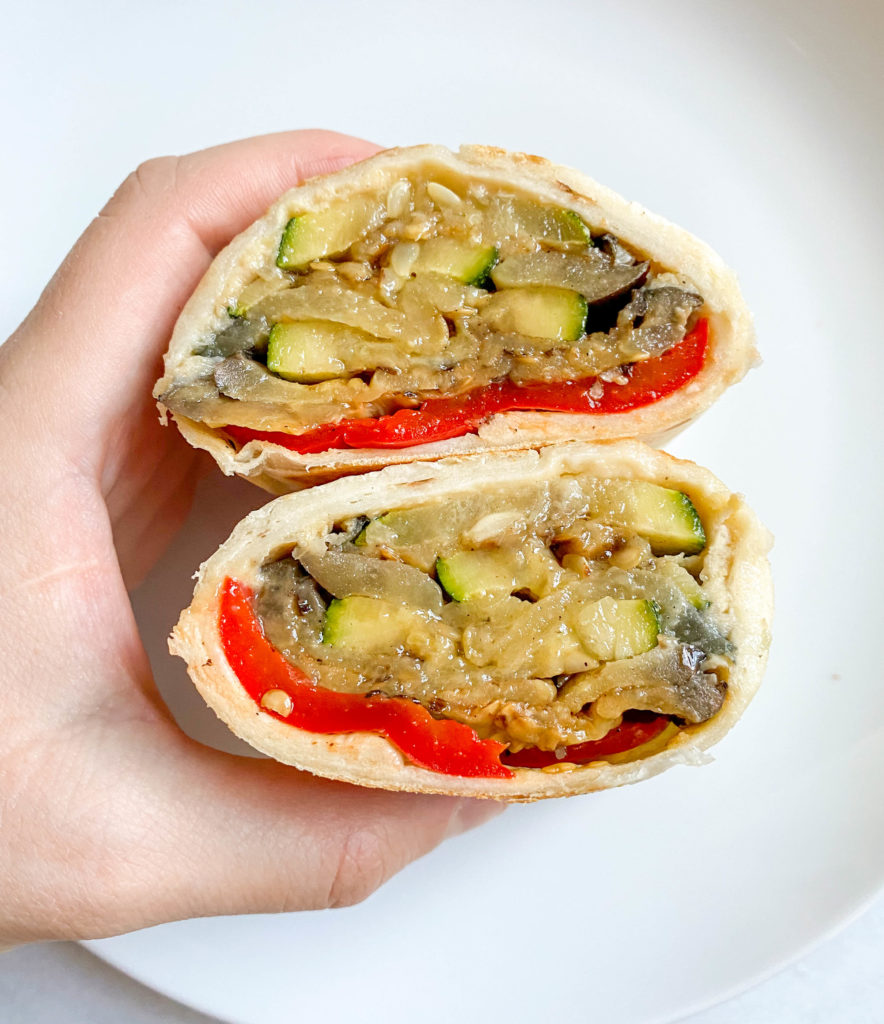 How to Store these Hummus Wraps:
This meal will last 3-4 days in the refrigerator, and it is not freezer friendly! They are good cold or at room temperature but taste best when reheated in the toaster oven, microwave, or on the stove. See grilling notes above!
Try out some of these other delicious wraps:
And Check out our other vegetarian recipes!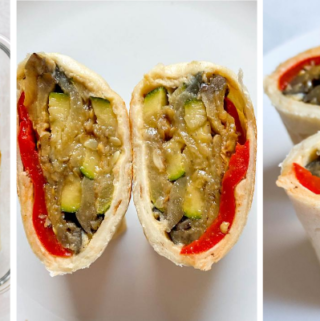 Grilled Veggie Hummus Wraps
Ingredients
For the veggies & wraps
1

small

eggplant

sliced

2

TBSP

olive oil

divided

salt and pepper to taste

1

red bell pepper

chopped into big chunks

2

zucchini

sliced

1

tsp

oregano

1

tsp

paprika

3

large

tortillas
For the hummus
15

oz

can of chickpeas

rinsed and drained

1/3

cup

tahini

1/4

tsp

salt

plus more to taste

1/4

cup

water

plus more to thin

1/2

lemon

for juices
Instructions
Prepare the veggies: add the eggplant slices to a bowl and toss with a little olive oil and salt. Remove from the bowl and set aside on a plate. Repeat this process with the bell peppers and zucchini. Mix the oregano and paprika together with more salt and pepper in a small bowl and sprinkle the mixture over the veggies.

Cook the veggies (stovetop): Heat up a cast-iron skillet, grill pan (or any pan you like to use) for 3-4 minutes. Over medium-high heat, add the eggplant to the pan and cook on each side for 3-5 minutes, depending on the thickness. It should be very soft, fragrant and a little sweet when finished. Repeat with zucchini (which needs only 2-3 minutes on each side) and bell pepper (3-4 minutes on each side). If the veggies are really oily, pat them dry with a paper towel. Let them cool completely.

Meanwhile, make the hummus: add the chickpeas, tahini, salt, water and lemon juice to a food processor or blender. Process/blend until smooth, then taste and adjust seasonings as necessary. You may want to add more salt, water or any seasonings you like!

Wrap it up: spoon about 1/4 cup (3 TBSP) hummus in the center/lower third of the tortilla. (see video for reference) layer on the zucchini and eggplant (I did about 3 slices of each, but it depends on how thick you sliced yours) and place the bell pepper on top of the stack. Fold the bottom third of the tortilla over the veggies, then fold the sides in on top. Roll the veggies wrapped in the tortilla away from you tightly, keeping the sides tucked in. Place the wraps in your containers seam-side down.

Optional step: Grill your wrapped tortillas in a pan on the stove with a little cooking spray, butter or oil (just a tiny bit) to seal them and make them crispy. Ideally, do this step right before you eat! But you can do it ahead of time too.
DID YOU MAKE THIS RECIPE?
Please leave a comment below on the blog or share a photo with us and tag @workweeklunch! Can't wait to see what you made!