Want to put a seasonal spin on a classic Caesar salad? This vegetarian brussel sprout caesar salad is for you! This salad highlights Brussel sprouts because they are one of my favorite vegetables in season this time of year! Let's get into it.
Need help meal planning? We're all about it in the Workweek Lunch Meal Prep Program! Get access to our meal planning tools, grocery list generator, and more. Start a free trial today!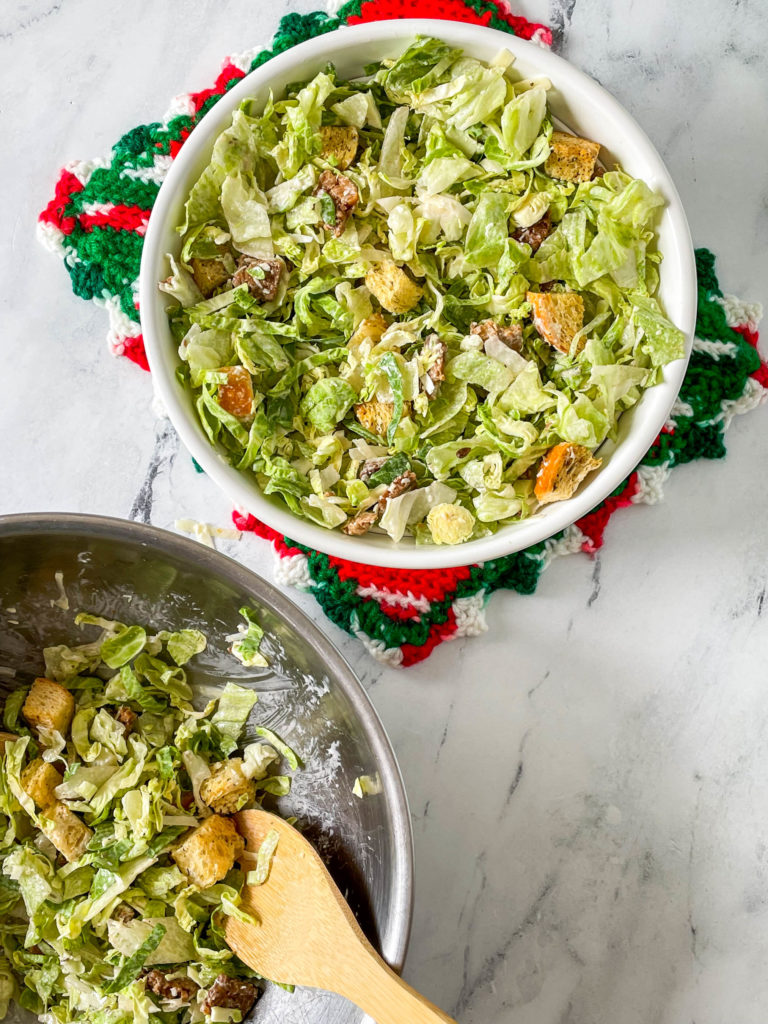 Elements of a great Brussel Sprout Caesar salad
The greens
Most Caesar salads feature greens like romaine lettuce as their base. We wanted to change that up a bit by using shredded Brussel sprouts mixed in with the shredded lettuce.
If you can find shredded Brussel sprouts in your grocery store, pick those up along with the pre-shredded lettuce to keep this salad super simple.
If you don't want to use shredded lettuce in this salad, you can do all shredded Brussel sprouts, or mix it with kale or the greens of your choice instead. 
The croutons
Croutons might be one of my favorite parts about Caesar salad. Add your favorite croutons to this salad or make your own!
You can make your own croutons using your favorite bread by following a simple recipe like this one. This is a great option if you cannot find a gluten-free crouton option at your store. Making your own croutons is also a great way to use up any leftover, stale bread you have on hand instead of tossing it.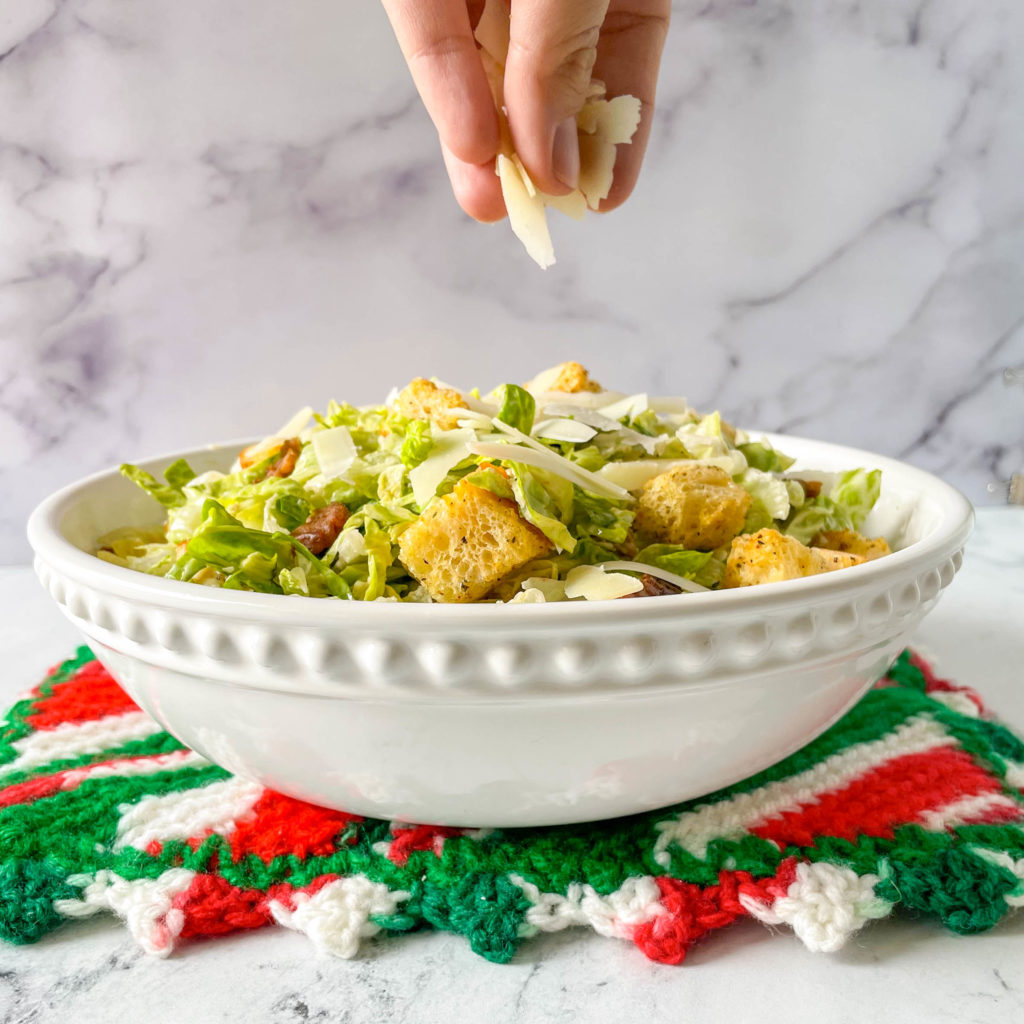 The dressing for this brussel sprout caesar salad
Caesar dressing is traditionally made with anchovy paste to add a salty, savory flavor to this creamy dressing.
We are making this dressing vegetarian by using capers instead. They have a similar salty, briny flavor and they work wonderfully in this dressing. If you don't have capers on hand, you could use chopped green olives instead, or leave them out entirely and up the soy sauce amount to balance it out.
Make sure to test the dressing before you put it on the salad and adjust the flavors as needed!
The "bacon"
We are using our favorite tempeh bacon recipe in this salad to add a smoky element to the salad.
If you do not want to make the tempeh bacon, you can use your favorite store-bought plant-based bacon instead! Prepare it according to the packaging. If you eat meat, feel free to cook up your favorite bacon or use some prosciutto, yum!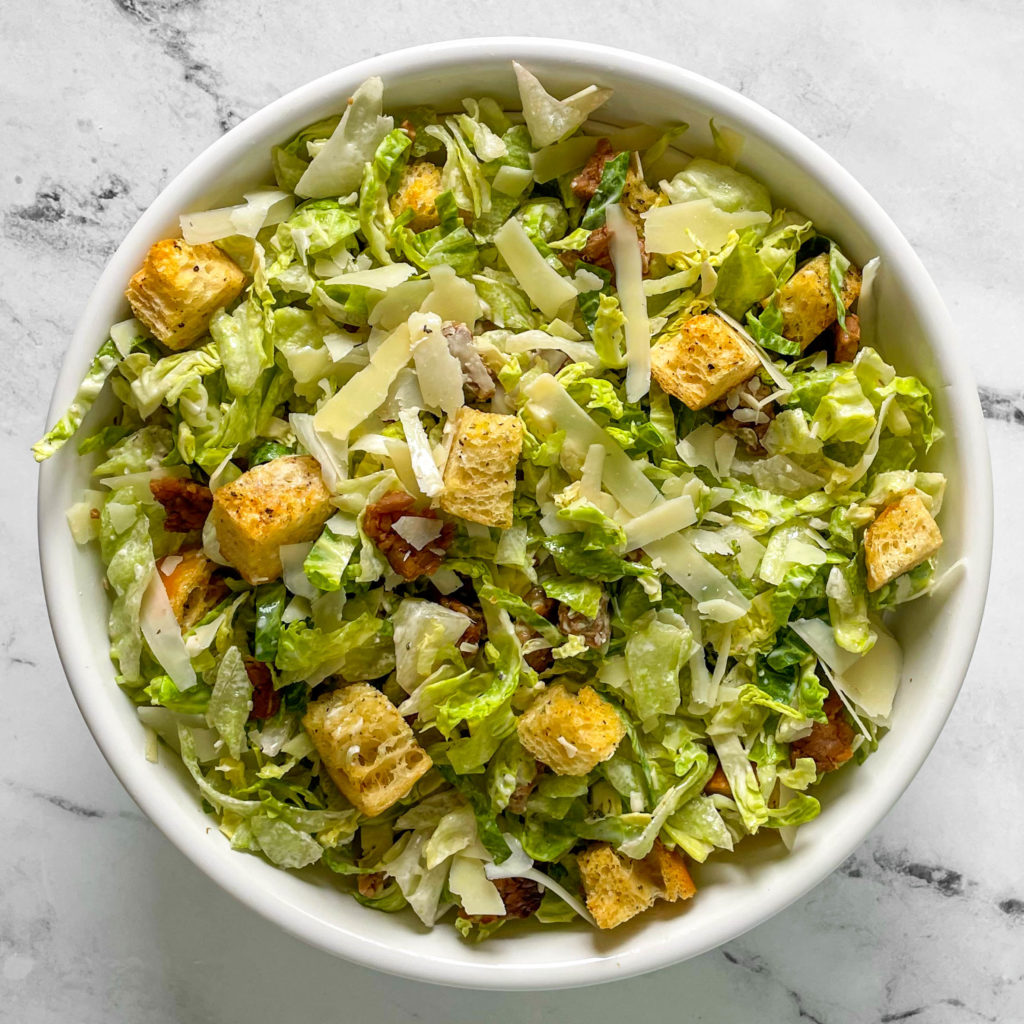 How to store this brussel sprout caesar salad
This salad is best when assembled right before serving. Store the greens, tempeh bacon, croutons, parmesan, and dressing separately. Right before assembly, add the greens, tempeh bacon, and half of the croutons to a large bowl. Add the dressing and parmesan and toss with tongs or very large utensils. Top with the remaining croutons and serve!
Don't forget to check out the rest of our holiday recipes!
Brussel Sprout Caesar Salad (With Homemade Dressing!)
Ingredients
For the tempeh bacon
8

oz

tempeh

thinly sliced

1/4

cup

soy sauce

sub tamari or liquid aminos

1

tsp

paprika

1

TBSP

maple syrup

sub agave or honey

1/2

tsp

liquid smoke

optional

salt and pepper

to taste

1

TBSP

olive oil
For the salad
12

oz

Brussel sprouts

whole or pre-shredded if you can find it

8

oz

shredded lettuce

sub 1 head of lettuce finely chopped

1/2

cup

parmesan

grated

2

cups

croutons
For the caesar dressing
1/2

cup

mayo

sub sour cream or vegan mayo

1

clove

garlic

minced

1

TBSP

capers

finely chopped, plus 1 tsp caper brine

1/2

lemon

for juices, plus more to taste

1

TSP

Dijon mustard

1

TSP

soy sauce

sub tamari or liquid aminos

1/4

cup

parmesan

grated

salt and pepper

to taste
Instructions
Optional, prepare the tempeh: Add the tempeh to a skillet and cover with water, bring to a boil and simmer for 10 minutes. This will remove any bitterness from the tempeh.

For the tempeh bacon: In a bowl or shallow dish, combine the soy sauce, paprika, maple syrup, liquid smoke, salt, and pepper. Mix with a spoon or spatula to combine, then add the tempeh slices and mix until all of the tempeh is coated in the marinade. Let sit to marinate for at least 15 minutes, stirring every few minutes to evenly coat, while you prepare the other ingredients for the salad.

In a skillet over medium heat, add olive oil. Once it's hot, cook your tempeh bacon pieces until darkened in color, about 5-6 minutes, flipping occasionally. Remove the tempeh bacon from the pan and set aside to cool.

Prepare the salad ingredients. If using whole Brussel sprouts, cut them in half and thinly slice them to create shreds. Mix the shredded Brussel sprouts with the shredded lettuce and toss to combine. Set aside with the grated parmesan and croutons in separate bowls or containers until ready to use.

Make the dressing. In a small jar, combine the mayo, minced garlic, capers, brine, 1/2 the lemon juice, mustard, and soy sauce. Mix well with a spoon and taste, adjusting flavors as necessary. Add the grated parmesan and salt and pepper and taste again to adjust flavors. Store in the jar until ready to use.

Assemble the salad. This salad is best when assembled right before eating! If you plan on prepping this in advance, make sure to store the components separately to maintain freshness. Before serving, add the brussel sprouts and shredded lettuce, crumbled tempeh bacon, parmesan, croutons, and dressing to a large mixing bowl. Toss with tongs to evenly combine everything. Serve immediately and enjoy!
DID YOU MAKE THIS RECIPE?
Please leave a comment below on the blog or share a photo with us and tag @workweeklunch! Can't wait to see what you made!