There's nothing worse than seeing a bunch of limp greens in your fridge after a busy week when you didn't have time to cook. It can be kind of heartbreaking. 
You had good intentions. You actually went out and bought spinach or kale. Or arugula. Or maybe even Swiss chard. But instead of making beautiful leafy salads as you planned, or that awesome frittata, or tossing it into a smoothie all week or your soup, none of that happened. It just sat in your fridge, forgotten.
R.I.P., beautiful greens.
Just because greens go bad sometimes doesn't mean you should stop buying them, though. One of the most common fears that stops people from grocery shopping for fresh fruits and veggies is that they won't use up the produce before it spoils.
When good greens go bad
I've been there. There are many ways and reasons why you might not be using up all your greens, or your veggies in general. Maybe you made a couple of meal preps and had some leftover greens. And then forgot they were there. But when you get into the habit of incorporating the veggies you buy into little bits of meals here and there, in addition to cooking with them, it gets a lot easier.
Eventually, you'll be able to dial down more precisely how much produce you actually need for the week, know what to do if you've got leftovers after prepping, and therefore not waste any food.
It does take some trial and error, but today I'm going to tell you how to use greens (spinach, kale, arugula, etc) in just about everything.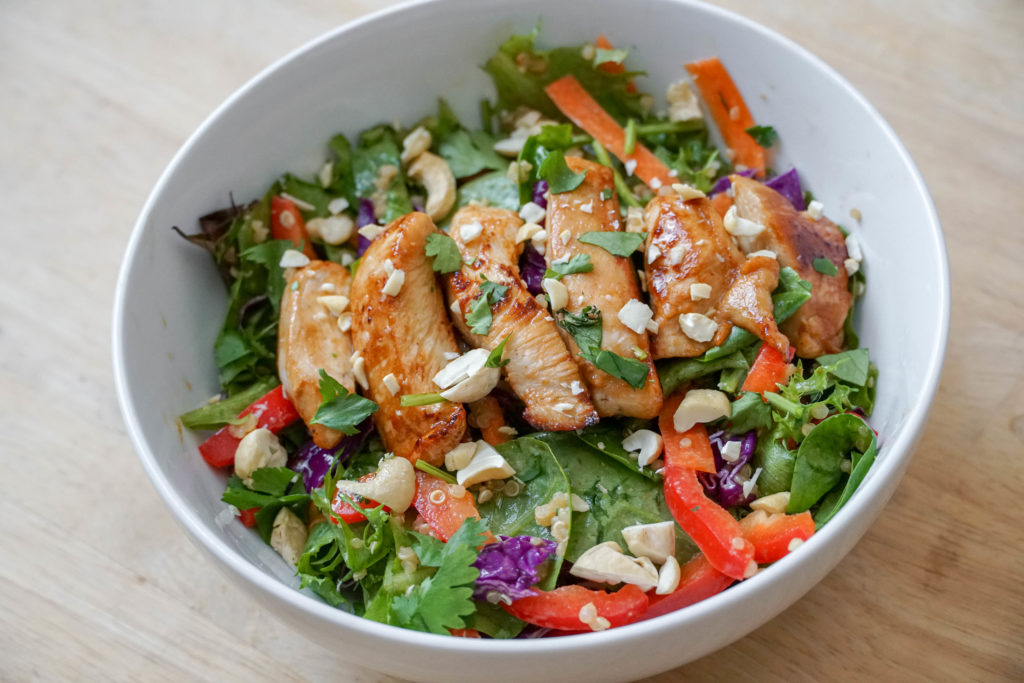 Why is kale so great?
Let's just talk about kale for a quick second. Here's my case for kale.
A lot of people are "over" kale. There's a reason why it's popular. And yes, it's a vegetable, guys. I'm not here to tell you the health benefits of kale, because you probably know and that's not the point necessarily of this post. But I'm going to tell you why I swear by it. It's a much more practical reason than what you might think.
Kale won't go mushy on you after three days in your fridge like spinach does. It's much tougher than that.
It doesn't even matter if you pick green curly kale, red curly kale, or lacinato (aka dinosaur or Tuscan kale). I have my preferences, but they're all great.
Here's the deal. One time my supermarket was out of kale (I know, right?!) and I had to buy one of those plastic tubs of spinach. Let me tell you, eating that entire box before it went bad was definitely more of a challenge than dealing with kale. Yes, it's great to de-rib the kale and massage it so that its fibers are softer and it's not so scratchy in your mouth. The texture improves vastly. But it's precisely that sturdy nature of kale that makes it a winner in the fridge.
Kale can keep in the fridge for up to one week. So it's OK if you can't use it every day. It will be there when you need it. And that's a good reason for buying it.
Here are my four foolproof ways to incorporate more greens in your meals and make sure they're never tossed in the trash. Make sure to comment and add your methods below if you have any!
How to make greens last longer
Ok, so maybe you're not into kale, and that's fine. Maybe you buy a few different kinds of greens and figure out how to use those greens throughout the week. Regardless of your preferences, how you store them makes the difference. It's all about smart storage.
There are limitless recommended ways to store your greens and herbs, and whether they work for you can depend on how fresh your greens are, your fridge climate, and other variables — so these methods may or may not work for you, but they're certainly worth trying!
How to use glass jars to store herbs
For herbs, one of the most common ways to store them in the fridge is to put them in a cup of some kind (lots of people on Instagram use Mason jars, but it doesn't actually need to be aesthetically pleasing), and fill the cup/jar partly with fresh water. Some people will also put a plastic bag over this. Other folks like to wrap herbs loosely in a damp paper towel,
Another glass jar method I just discovered and plan on trying is this one: Wash the herbs and lay them out to dry. Once dry, put them in a clean, airtight jar and close it. That's it! Big if true, honestly.
Wrap fresh herbs in a paper towel
The method that has worked best for me comes from this YouTube video from awesome food blogger Jerry James Stone, which is specific to cilantro because that's what I needed to store at the time. It tends to wilt pretty fast! Using this method, my cilantro lasted two weeks, and I think it would work for most herbs. Basically, you wash the herb, pat it dry with a clean reusable cloth or paper towel, then wrap it in a new, dry reusable cloth or paper towel. Place that in a flexible airtight bag, squeeze out all the air, and close it. This method really does work well for cilantro, and especially if you are cutting herbs right from your garden (basil likes this kind of treatment, too).
As I said, there are truly so many different methods, with endless slight variations. Experiment and see what works for you; you might lose a few herbs in the process, but you'll ultimately learn to reduce food waste.
Greens like spinach, kale, and arugula are, thankfully, far less prone to wilting than their herbal counterparts.  But the storage methods are pretty similar — you can wrap them in a damp paper towel and put them in an airtight bag. For me, putting the whole bunch in a SLIGHTLY damp — keyword slightly, as in not dripping wet — reusable cloth produce bag usually works great. But if you've tried that method and it hasn't worked for you, the smart people from the Kitchn tried three different methods for greens, with some impressive results.
How to use those greens
Finally! Here's more useful information about how to use up those greens that you've so thoughtfully stored all week. (Hopefully!)
Add greens to your breakfast protein shake or smoothie
This is a tried and true trick. Blending up some greens with your smoothie is a great way to sneak veggies into your breakfast and use up greens. I usually add a handful of chopped kale to my smoothies. They help thicken them up a bit, too.
Adding greens might make your smoothie look brownish and unappetizing, but unless you used a really enormous amount, it won't really affect the taste. And not all food has to be Instagramable, right?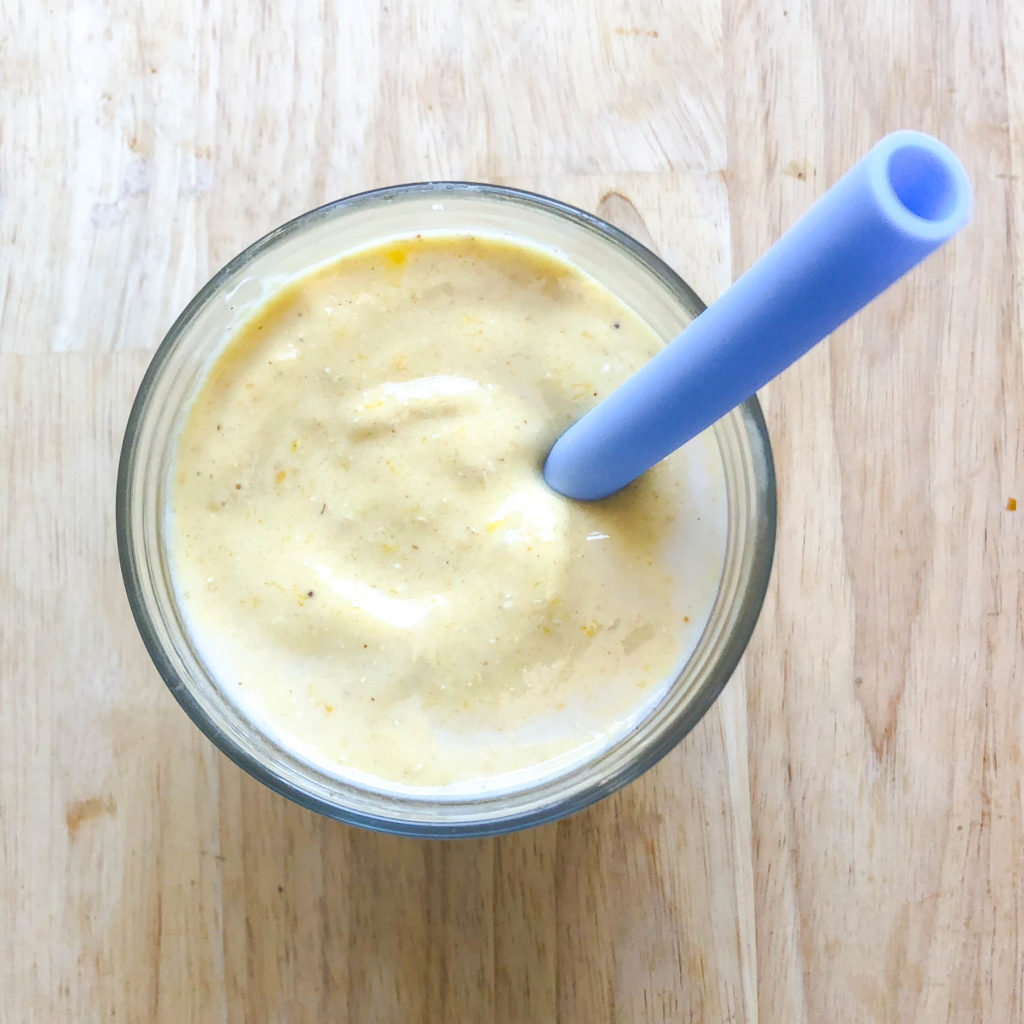 Put protein on a bed of greens
When I take lunch to work, I usually have a protein like chicken or salmon in my Tupperware. An easy way to add greens is to put them under the protein, or as a bed for whatever meal you've prepped.
If you use kale and you're worried about it being too hard and crunchy, add a drop of olive oil and massage your kale before laying your protein on top. Microwaving your lunch before eating it will also make the kale a little softer.
This method is similar to what most fast-casual spots like Dig Inn, Sweetgreen, and Chipotle do when they offer a base of greens or grains with your order.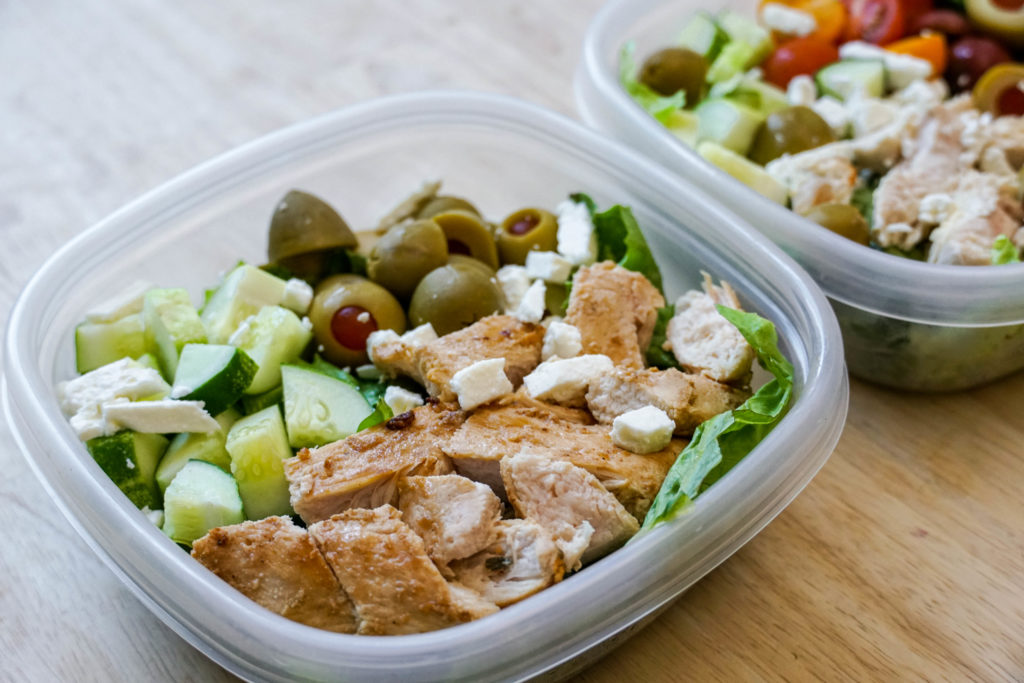 Add it to your go-to quick meals
There are so many dishes that can benefit from a quick hit of greens. Really. When I come home from work and cook a quick dinner, I always add kale as an ingredient.
My go-to meals are:
Egg dishes (scrambles, frittatas)
Salads
Stir-fries
Curries
Pasta
But you can easily add greens to pasta and other dishes, too. And then of course there's the classic Mason Jar Salad.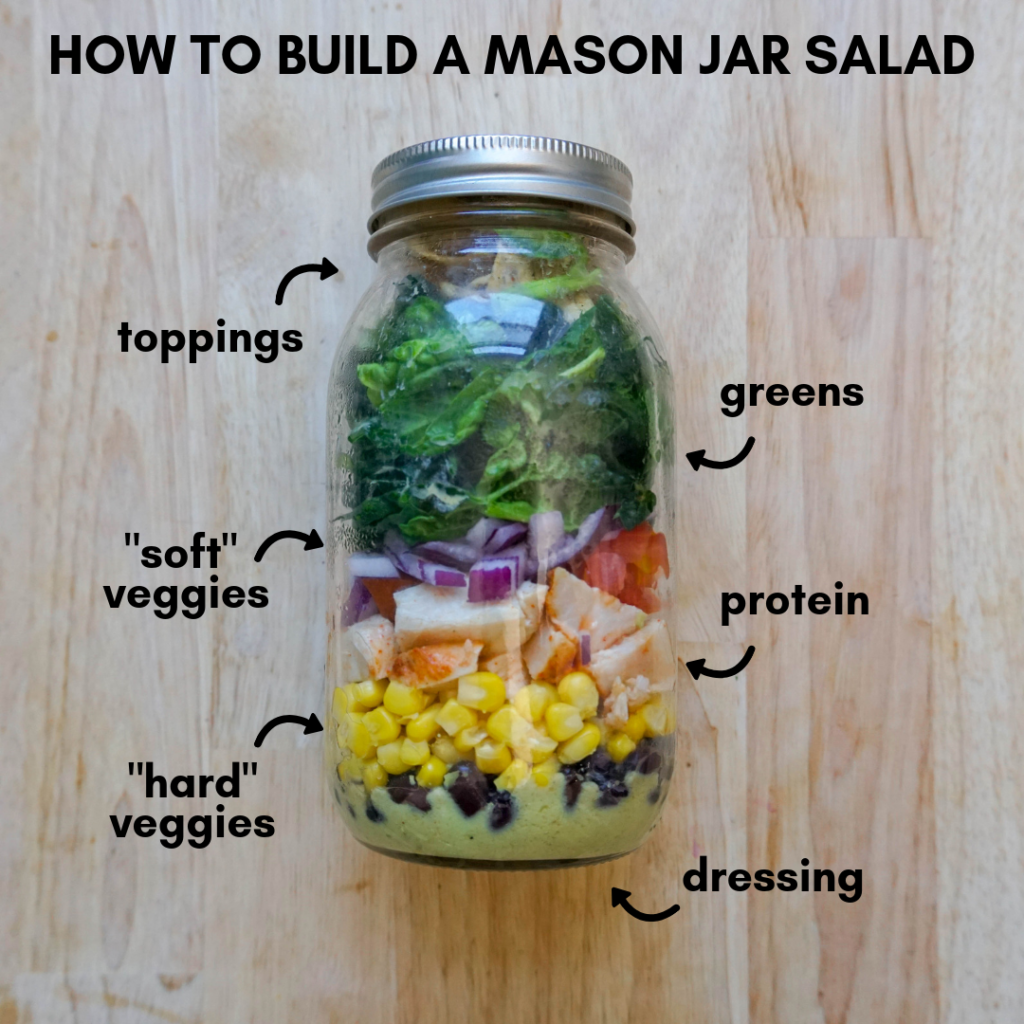 ---
Just sauté those greens
A side of sautéed greens goes with almost every dish. And look at that spark of color they add! If you want to make them tastier, add a little bit of garlic, onion, salt, pepper, and a little lemon juice.
---
When all else fails, freeze your greens
It's Wednesday. You're ridiculously busy, and you know you're not going to have time to do anything with the half bunch of arugula or the untouched collard greens that have started wilting in your produce drawer. No worries, dude! If you have five minutes and a freezer, you have a solution.
First, wash and blanch the greens, and pat dry. Then put them in a Ziploc-style plastic bag or a Stasher bag, and make sure you squeeze out all the air before zipping it up. If you're freezing herbs, there's an even more convenient option: you can make frozen herb cubes, which can then be easily plopped onto a pan or into a sauce!
(PRO TIP: Here's a guide to freezing them in oil, which is the most common way to do it, and here's a more comprehensive guide with three different methods.)
There you have it! Frozen greens can be kept in the freezer pretty much indefinitely (although ideally, you'd want to use them within a few months), and although I wouldn't necessarily recommend just defrosting them and digging in (freezing will change the texture and make them more limp),  you can still apply most of the methods I've already mentioned. In my experience, frozen greens and herbs work best in a soup, sauce, or curry situation.
How to blanch greens
Blanching greens is a good thing to know how to do, because it's the first step in some recipes, and even if you're free-styling it instead of using a recipe, it softens them and makes them easier to work with. Additionally, it's common practice to blanch greens before freezing them.
It's also ridiculously easy! Here's what you do:
Bring water to a boil.
Throw in the greens and leave them in for just two or three minutes. When they're soft and bright green, they're ready.
Scoop them out with a pasta spider or dump the water through a colander and IMMEDIATELY transfer the greens to ice-cold water, a process known as "shocking them." It stops them from cooking any further.
That's it! Congratulations.
How To Blanch Leafy Greens
Storage solutions for herbs and leafy greens
There are indeed products designed for keeping herbs and greens fresh — here are some of the best options. Personally, I think the Vejibag is the best of the bunch.
---
More ideas for using your greens…..courtesy of the Interwebs
1.  Store them properly
This is the same thing we discussed earlier, but it bears repeating!
Wash them.
Wrap in a clean dish towel (or paper towels).
Store in an airtight container in the fridge, usually a freezer bag.
Change out the towel when it gets soaked through, usually once per week.
Doing this easily doubles or triples the shelf life of most leafy greens.
---
2. Commit to eating a lot of salad during any given week, or whatever else you decided to cook with the greens
Once you've made the decision to eat 4 to 6 salads as meals (or with meals) during a week, you've won half the battle already.
---
3. Make a stir-fry or curry
Stir-fries and curries are fantastic for using (almost) any veggie up. And although this isn't about greens specifically or exclusively, it's valid nonetheless!
---
4. Do an egg bake, which is like quiche without the crust
You can use up a ton of greens! Remember they will wilt as you cook them down, as they're made of a lot of water. In a 9×13″ pan, beat 8 or so eggs, with 2 cups cottage cheese (or plain Greek yogurt), a little flour, and some shredded cheese if you want. Wilt down a good portion of greens with whatever seasoning you like & saute any other veggies that need to be used up (green onion, tomatoes, mushroom, zucchini). Stir it all up in the pan with the other ingredients (no need to dirty a big bowl) and bake it, uncovered at 350 degrees F, for 45 minutes or so. Cheap, easy, and veggie-loaded (and therefore healthy) as you want to make it.
---
5. Make soup
Boil some broth and potatoes. Blend half of it. Add white beans and greens, along with salt and pepper. And there you have soup.
---
6. Turn them into ice cubes for smoothies
When your greens are just about to turn, toss them in the blender with some orange juice and ginger. Blend them, transfer them to some ice cube trays, and freeze them. It's great for smoothies.
---
6. Make a warm pasta salad
Cook pasta and drain it. Add the greens to the pasta while it's still hot so they'll wilt a bit. Salt and pepper, along with maybe some mayo or Greek yogurt, or whatever dressing you want. Add some cheese if desired. Toss in some other cut-up veggies like halved cherry tomatoes.
---
7. Pre-portion and freeze
Buy giant bags of kale and spinach, separate them into serving-sized plastic bags, and freeze them for smoothies. It's convenient and this way you don't need to add as much ice.
---
8. Make pesto
Yes, pesto is great with basil, but pesto is sauce. You can make pesto with pretty much any type of greens. Put the greens in the blender with nuts you think will go well with them (spinach and almonds; kale and walnuts or pecans), plus some olive oil. Add in a clove or three of garlic, Parmesan cheese if you have it, and so forth. Experiment. And then you can freeze!
---
9. Top pizza with greens
Saute them lightly and then put them on a pizza! Surprisingly delicious.
---
10. Place in bowl. Devour. Repeat.