This chickpea pita pocket is not the first appearance of its kind on Workweek Lunch. Think of this one as the new and improved version. When we had this in our meal rotation, my partner said it was his favorite of the week! I can't wait for you to try this easy, fast and versatile vegetarian lunch idea that could easily be made vegan!
Pin this post for later!
What I love about these chickpea pita pockets is how easy they are to make. Simply roast up your chickpeas and vegetables on a sheet pan while you make a sauce on the side. Boom! Done. 
Here is our favorite sheet pan!
Get more recipes like this in the Workweek Lunch Meal Prep Program with access to our meal planning tools, grocery list generator and more. Start a free trial today!

How to customize this chickpea pita pocket
Switch up the protein
We're using chickpeas as our main source of protein here, but you can swap it out for tofu, tempeh or setian.
If you eat meat, you can use shredded chicken, grilled chicken or mini meatballs (ground meat of your choice) which would be fun/easy to do on a baking sheet.

Choose your favorite veggies
We're using red bell pepper, onion and raw spinach as our veggies in this meal. There are so many easy swaps to make!
These chickpea pita pockets also work with roasted:
Broccoli

Cauliflower

Beets

Asparagus

Carrots

Eggplant

Cherry tomatoes

Zucchini/summer squash

Red onion

Jalapenos
And you can add more fresh veggies like:
Cucumber 

Raw tomato

Greens (arugula, kale, chard, lettuce)

Celery

Microgreens

Raw bell pepper

Raw red cabbage

Cooked jackfruit
Quick pickled red onions would be amazing on this too!
Wow! That's a lot of possibilities, right? As always, I encourage you to make these your own.
What to use instead of a pita:
The pita pocket is the carb element in this recipe, but you can use something else! Here are some ideas:
Use a gluten-free tortilla if needed

Tortilla (make it a wrap)

Quinoa, rice, bulgur or farro (make it a grain bowl)

More greens! (turn it into a salad bowl, but this might not keep you as full)

Flatbread or naan (add feta make it a pizza of sorts!) Here is our favorite brand!
Phew! SO many ways to customize this one.

Want to make sure your chickpeas are crispy? Check out the video below for our best tips!
How to Make Crispy Chickpeas at Home
Let's talk about the sauce.
It's not easy to make a vegan/dairy-free version of this sauce because it's damn near impossible to find really yummy plain non-dairy yogurt (most of the plain ones have a vanilla flavor).
If you're vegan or dairy-free, I highly recommend using hummus on the side instead of a yogurt-based sauce. Here's my recipe for a super basic hummus! Or you can use store-bought hummus.
How To Make Hummus At Home With 4 Ingredients
If you're vegetarian, the Greek yogurt sauce is so easy to make and is delightful in the wraps. All you need is yogurt, tahini, salt and lemon juice!
How to add more volume to or double this pita pocket recipe:
To double this meal, simply double the ingredients! You may need to use two sheet pans to avoid crowding (which doesn't help veggies/chickpeas get crispy).
To add more volume to this meal, I recommend choosing one or two of the veggies from the suggestions above. Or add a grain like quinoa to the mix for extra protein.

Storage, assembly, and reheating notes:
This meal lasts in the fridge for up to five days and is not freezer-friendly.
To assemble, I recommend NOT doing what I did in the photo (it's way too messy). Simply use the pita like a giant taco, placing the filling directly on top/in the middle and folding the pita up around it. It's much easier to eat this way.
I recommend reheating the filling and/or pita in the microwave or on the stove (but it's good cold or at room temp too) but do NOT reheat the sauce. I know this meal makes you work a little harder for it, but I promise it's worth it.
Happy prepping!
Want some more easy vegetarian lunch ideas? Here are some we love
5-Ingredient Spinach and Black Bean Enchiladas 
And check out these recipe roundups for even more vegetarian lunch ideas!
9 Tofu Recipes Perfect For People that have never tried it
15 Meal Prep Sandwiches and Wraps that are Perfect for Lunches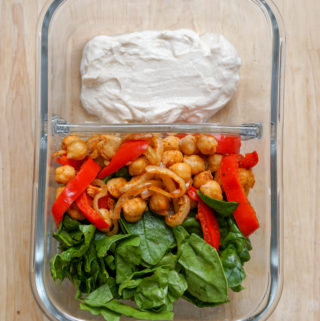 Chickpea, Spinach, Onion and Red Pepper Pita Wraps with Tahini Yogurt Sauce
Ingredients
For the pita filling
15

oz

can of chickpeas

rinsed and drained

1

red bell pepper

chopped into strips

1/2

yellow onion

chopped

1

cloves

garlic

minced

1

tsp

cumin

1

tsp

paprika

1/2

tsp

oregano

salt and pepper to taste

1

TBSP

olive oil

2

cups

spinach

chopped

3

pitas with the pocket

use GF if needed
For the yogurt sauce
5

oz

plain Greek yogurt

1/3

cup

tahini

1/2

lemon

squeezed for juices

1/2

tsp

salt
Instructions
Preheat your oven to 400 F.

Add the chickpeas, red bell pepper and onion to a bowl. Add the olive oil, salt, pepper, cumin, paprika and oregano and mix well with your hands or a wooden spoon. Pour the mixture on a baking sheet and bake on the top rack for 15-20 minutes, flipping everything halfway. Let the ingredients cool slightly before assembling everything.

Meanwhile, make the sauce: simply stir the yogurt, tahini, lemon juice and salt in a bowl. Taste and adjust from there - you can add spices like cayenne to give it a kick or dill to make it a little bit like tzatziki. Up to you!

Put everything together: In your containers, add the chopped spinach and slightly cooled chickpea/veggie mixture. Keep the pitas and sauce on the side. Assemble it all before you eat. That's it!
Notes
Vegans: for the sauce on the side, I recommend hummus (storebought or homemade) because non-dairy yogurt won't work for this sauce (the flavors will be funky based on what I tested and tried myself).
DID YOU MAKE THIS RECIPE?
Please leave a comment below on the blog or share a photo with us and tag @workweeklunch! Can't wait to see what you made!