Three words: protein, veggies and carbs.
That's the format I've used since day one of my meal prep journey. It's never let me down.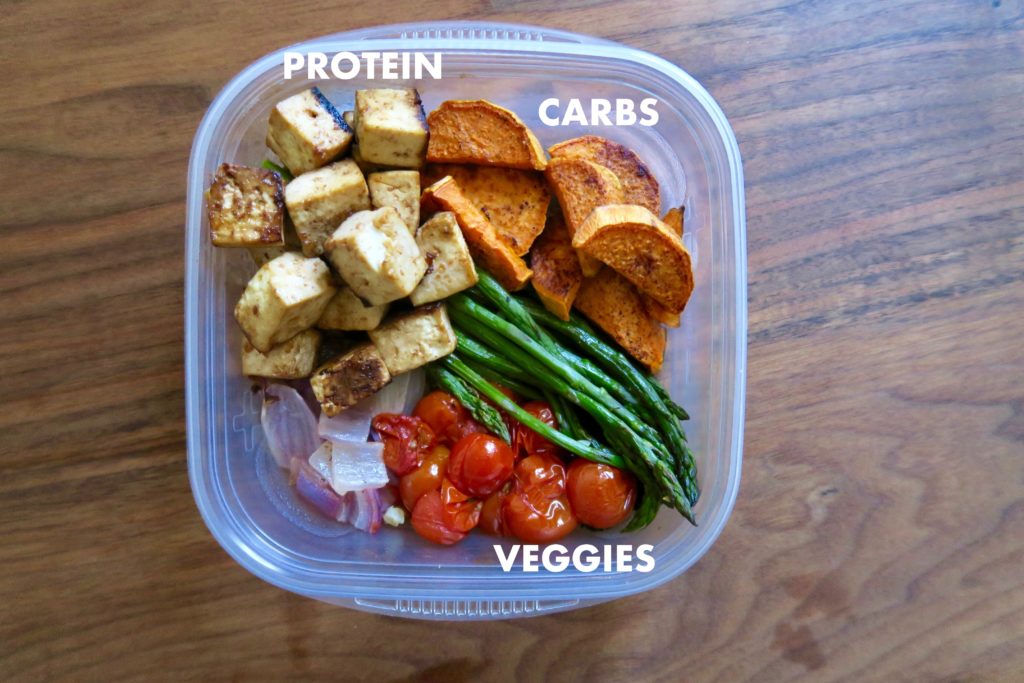 What do I mean by format?
Instead of counting calories or macros, and instead of weighing food, I use a template to build balanced meals.
It's so much simpler than counting calories and macros but still helps you get the right nutrients in each meal.
Does it help you count exactly how much protein you're getting in every meal? No. It doesn't.
But in the beginning, it's a lot easier to start simply by just getting that protein on your plate without worrying about the numbers.
The first thing you need to make this super simple meal format work is knowing which protein, carbs and veggies to choose.
The second thing you need is being able to visually identify what portion sizes are best for you. This comes with time but gets easier.
Below is a visual guide based on what I eat.
The black beans (top right) are my protein, the quinoa (top left) are my carbs and the peppers (bottom) are my veggies. Notice how the veggie portion is twice as large as the protein and carbs portions. This is how all your meals should look, no matter what.
Veggies are crucial. They provide necessary vitamins and minerals, they are a healthy carb that will fill your body for longer and they're usually lower in calories compared to carbs and protein. They're good for you so just eat them!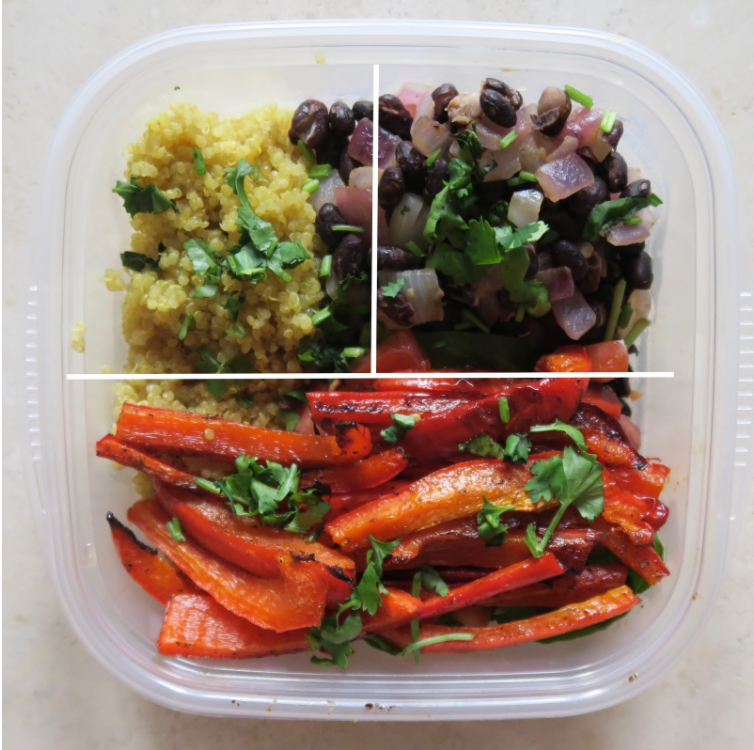 Today I'm going to talk about the first thing: protein, veggie and carb choices that are perfect for meal prep.
When you're stuck on what to make, come back to this post and simply pick one protein, one carb and one to three veggies.
By the way, when I started meal prep, I picked one of each. I would do salmon, broccoli and sweet potato. Chicken, quinoa and asparagus. Shrimp, bell peppers and rice. Chickpeas, kale and sweet potato. You get it.
Now, I do more complex preps. My point is, start simple. Start with three or four main ingredients, then work your way up.
Pssst. This meal format is the secret behind all of my meal plans. Even the ones I make for myself.
If you want this grid, sign up to download it here! It's completely customizable and looks almost like this one below.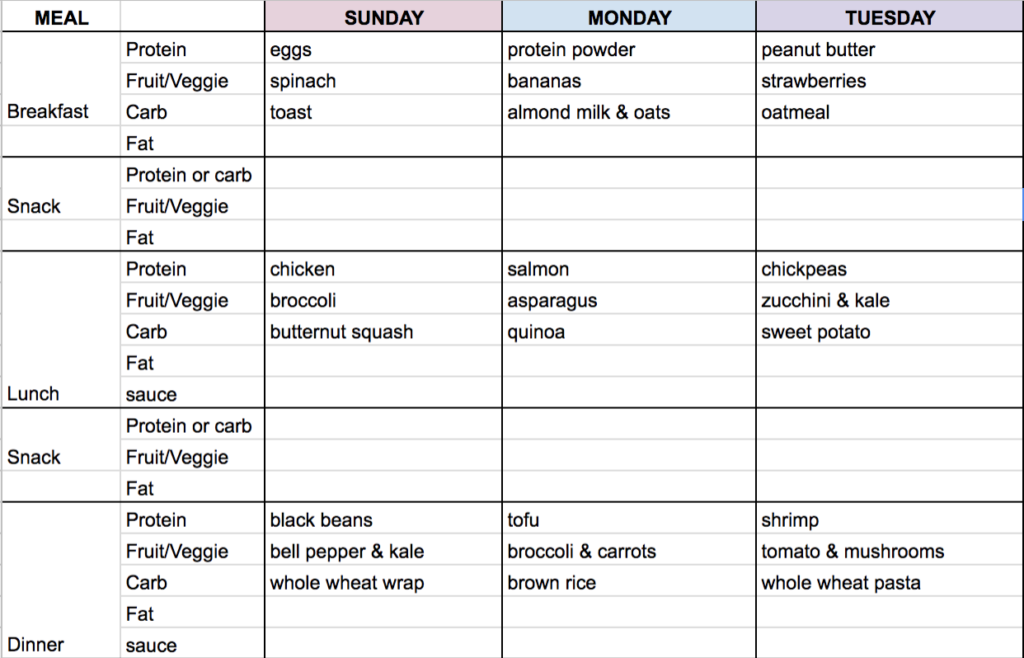 I started planning my meals like this from day one, and it's seriously the best way to think about meal prep and planning.
I love it because it forces me to get creative and make sure each meal is totally balanced.
In the photo above, you can see nine totally different meals using this format. So easy!
Let's get to the good stuff. Below you'll find the full list of meal prep-friend proteins, veggies and carbs for all diets.
Protein, Veggies & Carbs Download from Workweek Lunch of all these options so you can tape it to your fridge and have it in front of you when you need it!
Go-to protein options for all diets
Vegan/Vegetarian proteins ideal for meal prep:
Chickpeas
All beans** (I like black bean and pinto)
Lentils
Tempeh (soy based)
Tofu (soy based)
Seitan (gluten based)
Quinoa
Veggies like peas and edamame
Veggie burgers & veggie sausage
Non-dairy yogurt
Non-Vegetarian proteins ideal for meal prep:
Chicken
Turkey (ground is best)
Salmon
Tuna (canned or fresh)
Shrimp
Lamb
Beef
Pork
Eggs
Dairy
Other types of fish are good too, tuna and salmon are just most common in meal prep.
Go-to vegetables for meal prep:
Broccoli
Asparagus
Green beans
Peas
Tomatoes
Bell peppers
Onions
Leafy greens (kale, spinach)
Mushrooms
Eggplant
Zucchini/zoodles*
Yellow Squash
Cauliflower*
Brussels sprouts
Bok choy
Avocado
Cucumber
Celery
Carrots
Cabbage
Cilantro & parsley
Beets
And let's not forget about fruit!
Apples
Bananas
Oranges
Grapefruit
Watermelon
Plums
Peaches
Lemons & limes
All the berries
Grapes
Pineapple
Pomegranate
Papaya
Plantains
Mangos
Guava
Passion Fruit
Persimmons
Look at all of these options! You could never get bored with all of the potential combinations.
Go-to complex carbs for meal prep
What's a complex carb, you ask? A complex carb has more to offer than just carbohydrates. They're not "empty calories" like white bread and potato chips. Carbs are important to include in your meal prep because they help you stay fuller for longer and they give you more fuel for your body!
Any type of plain rice (don't buy pre-flavored rice because it usually has a ton of extra ingredients)
Whole wheat bread, wraps and tortillas, pasta
Sweet potato
Winter squash (acorn squash, butternut squash)
Quinoa
Veggie-based pastas
Pulse-based pastas
Zucchini/zoodles*
Cauliflower*
Faro
Bulgur
Barley
Millet
Brown rice noodles
Soba noodles
homemade mac and cheese (don't buy it in a box!)
Beans**
*some veggies can be counted as a carb especially when you're doing a low-carb diet. That's where there are some doubles!
**Some beans (like black beans) are rich in carbs AND protein. Depending on your diet (like if you're vegetarian or vegan) you may use it as a protein to replace meat OR a carb to replace grains.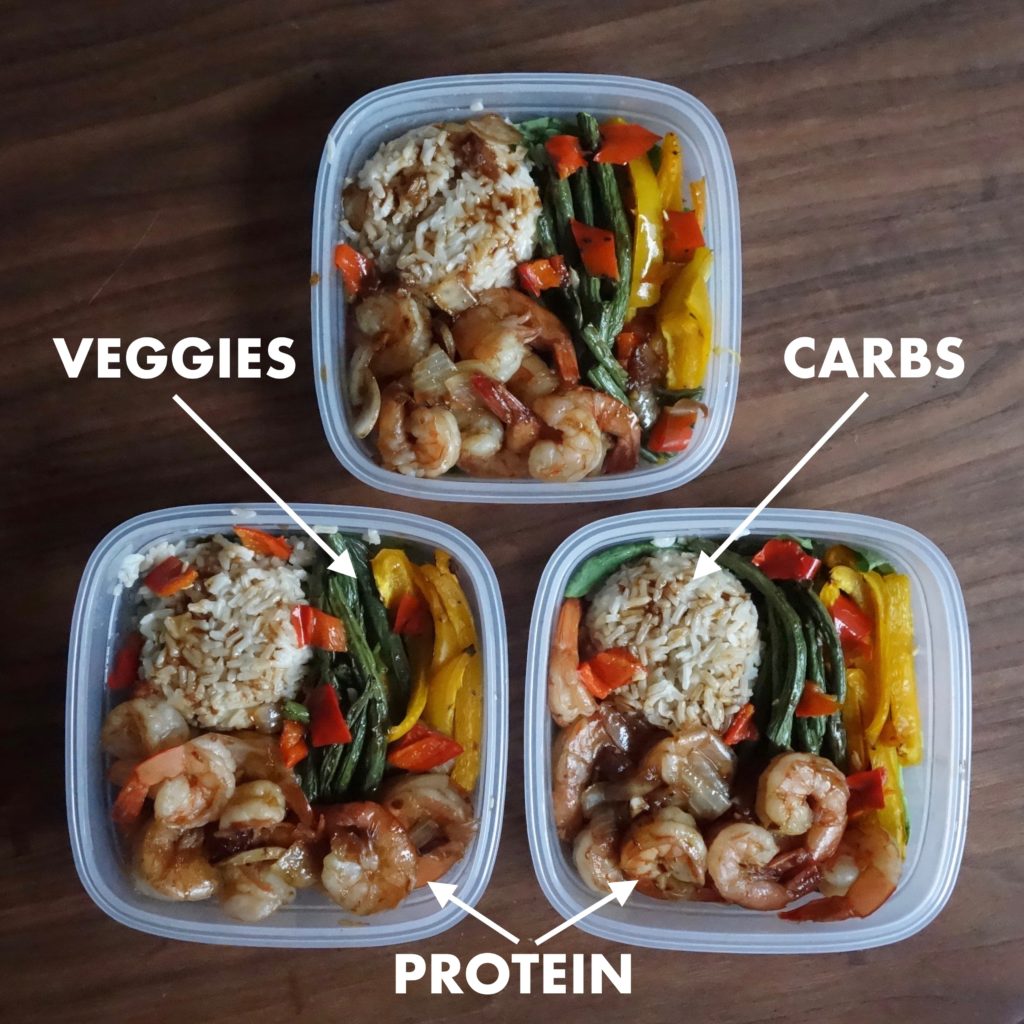 A couple things to note:
This format can totally be applied to a meal you eat at a restaurant too. When you read the options on the menu, think about if the meal you're choosing has all three of these elements. If not, think about a side or appetizer to get that will help fill in the gaps. For example, if you order a sandwich on a roll that comes with fries, you have bread AND potatoes – both carbs. instead of the fries, get veggies. You can never have enough veggies! Or if you're ordering a salad, add a protein on top to make it more balanced when you have the option.
As a vegan or vegetarian, some sources of carbs can also be protein, like beans and quinoa. In this case, you want to put less carby carbs on your plate and MORE protein-y carbs.
In general, healthy carbs are not going to kill you or make you fat. Put them on your plate. Your body will thank you for it. The key is keeping your portion sizes in check. Normally, you'd want about 1/2-3/4 cups of carbs on your plate and two cups of veggies.
If you have dietary restrictions, make a list (or circle the ones on my list) of what you CAN eat instead of focusing on what you can't. Then build meals around that and ignore the rest. If your restrictions leave you with little options, read this post about flavor profiles to turn even the most boring meals into something exciting and different with flavor.
I'm so happy to share this meal format with you because it's what I've stuck to every single week since I started meal prepping and it's one of the easiest rules to follow.
If you found this post helpful, SAVE it to your Meal Prep Tips board or Meal Prep for Beginners board!