If you're a beginner at meal-prepping, it can be really difficult to come up with new meal prep ideas every week — or even any idea for a meal at all. It's especially hard when you're not only new to meal prepping but new to cooking. The intimidation of making your own meal plan is why I created the WWL program. Becoming more comfortable in the kitchen allows you to be creative and experimental, so you can whip up something you'll love eating or customize any recipe to your own unique taste buds.
To that end, I have three words for you: protein, veggies, and carbs and if you're vegan don't worry – I've got you covered! Check out this list of vegan protein options!
That's the format I've used since day one of my meal prep journey. It's never let me down.
Scroll down to see my comprehensive list of veggies, carbs, and proteins that are meal prep-friendly. Plus, find eight of our favorite free recipes at the bottom!
And for all our best tips on everything meal prepping, check out our other meal prep pro tip blogs!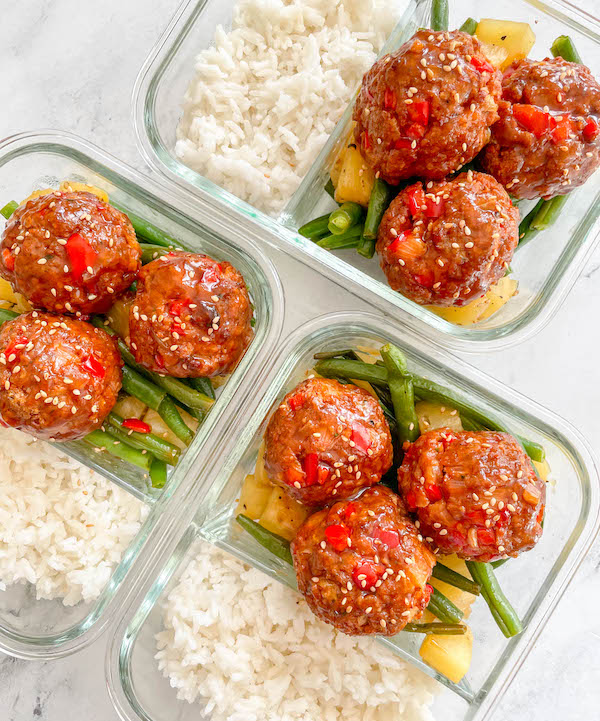 Intuitive Eating & Meal Prep And How They Can Align
At Workweek Lunch, we follow an Intuitive Eating approach to health. Intuitive Eating isn't just about responding to your body's wants and needs at the moment, it's also about anticipating your body's needs, which is where meal prep comes in. The two approaches may not always seem super compatible at first glance, but they're both essential to the WWL philosophy. You can read more about how meal prep and intuitive eating go hand-in-hand here. I don't believe in counting calories or macros or weighing food ounce by ounce. Not only that, but this method is about as simple as it gets.
Related: Intuitive Eating Podcasts, Books, and Instagram Accounts to Start With
Protein, veggies, and carbs are the three major buckets that all food falls into. Generally, our bodies crave all of them and we need each throughout the day to feel satisfied. When you include all three in your meals, you're less likely to end up hungry, or splurging on an extra afternoon meal from the lunch spot by your office because your prepped meal didn't satisfy you.
Here's how I used to break down meals into these categories when I just started out with meal planning: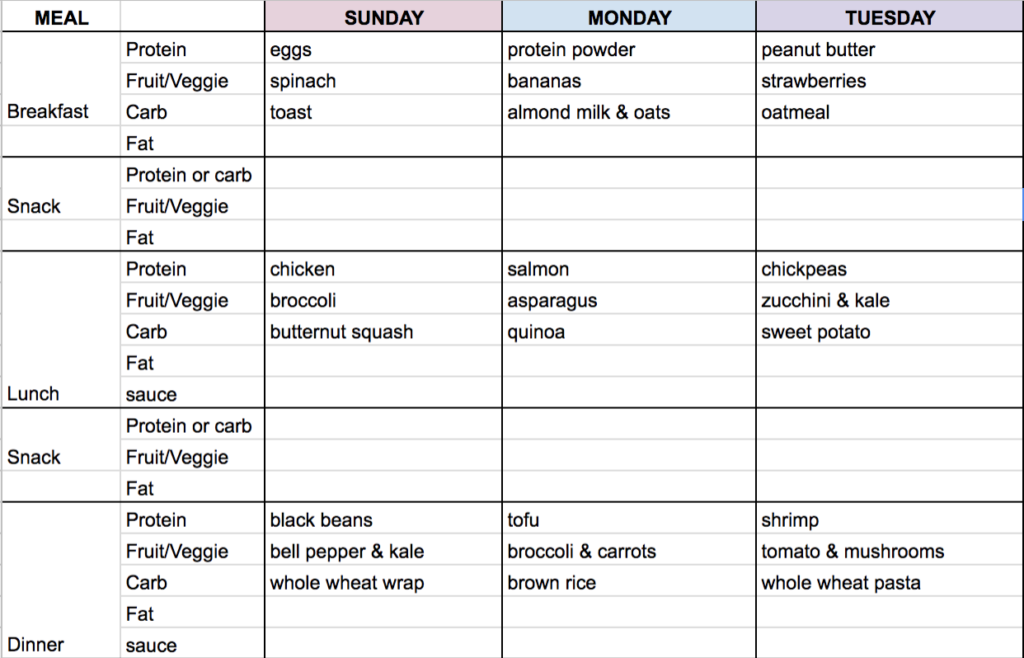 This method really helped me wrap my head around coming up with satisfying ideas without solely relying on recipes.
Get My Planner To Organize New Meal Prep Ideas
This meal format is the secret behind all of my meal plans, even the ones I make for myself!
I started planning my meals like this from day one, and it's seriously the best way to think about meal prep and planning.
If you want this grid, sign up to download it here! It's completely customizable, free, and looks almost like the one above!
I love it because it forces me to get creative and make sure each meal is balanced — but remember, your plate does not need to look like mine. Find what works for you! And making more of something because you like eating it is just as valid a reason as making it because you know it'll keep you satisfied.
It's also 110% okay to not have all three of these components on your plate; a meal can still be great and filling and delicious without protein. This is just a good template for coming up with satisfying meal preps on your own.
In the photo above, you can see nine totally different meals using this format. So easy!
Let's get to the good stuff. Below you'll find the full list of meal prep-friendly proteins, veggies, and carbs for all diets.
Here's the Protein, Veggies & Carbs Download from Workweek Lunch
Challenge: to get some new meal prep ideas right now, pick 3 proteins, 3 veggies, and 3 carbs and see how many delicious-sounding ideas you can come up with!
Proteins
Plant-based proteins ideal for meal prep:
All beans (I like black and pinto)
Broccoli
Chia seeds
Chickpeas
Edamame
Lentils
Non-dairy yogurt
Nuts and nut butters, especially almonds, cashews, and peanuts
Peas
Quinoa
Seitan (gluten-based)
Spinach
Tempeh (soy-based)
Tofu (soy-based)
Quorn
Meat replacements like Beyond and Impossible "Meat"
Veggie burgers & veggie sausage
Animal-based proteins ideal for meal prep:
Beef (steak, ground)
Chicken (breast, thighs, ground)
Turkey (ground)
Dairy (yogurt, cheese)
Eggs
Lamb (ground is ideal for prep)
Pork (loins or ground)
Salmon (fillets)
Shrimp
Tuna (canned or fresh)
Turkey (ground is best)
Other types of fish are good too, tuna and salmon are just most common in meal prep.
Related: Meal Prep Containers 101
Vegetables
Asparagus
Avocado
Beets
Bell peppers
Broccoli
Brussels sprouts
Bok choy
Cabbage
Carrots
Cauliflower
Celery
Cucumber
Eggplant
Green beans
Leafy greens (kale, spinach, collard greens, chard, etc.)
Mushrooms
Onions
Peas
Pumpkin
Tomatoes
Squash
Zucchini
Fruit
Apples
Bananas
Oranges
Grapefruit
Watermelon
Plums
Peaches
Lemons & limes
All the berries
Grapes
Pineapple
Pomegranate
Papaya
Plantains
Mangos
Guava
Passion Fruit
Persimmons
Jackfruit
Carbs
Barley
Beans
Bread
Bulgur
Cauliflower
Farro
Gluten-free and plant-based pastas
Millet
Pasta
Quinoa
Rice
Rice noodles
Soba noodles
Sweet potato
Winter squash (acorn squash, butternut squash)
Look at all of these options! You could never get bored with all of the potential combinations. You may have noticed some overlap — there are plenty of veggies that are also proteins and carbs. Beans are a great example.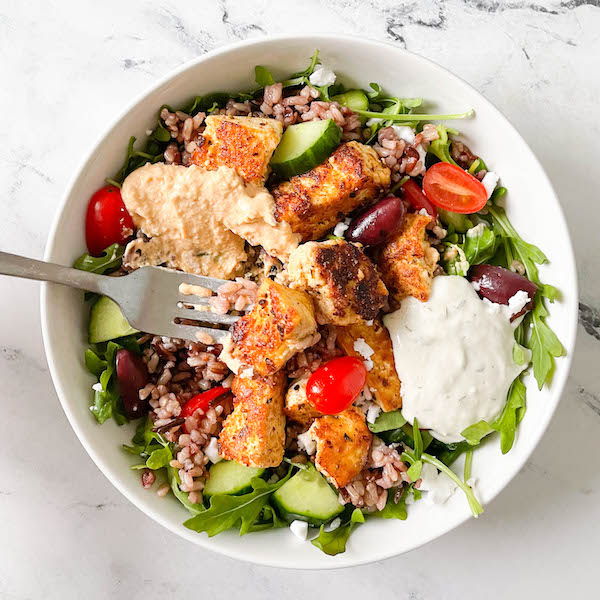 If you have dietary restrictions, make a list (or circle the ones on my list) of what you CAN eat instead of focusing on what you can't. Then build meals around that and ignore the rest. If your restrictions leave you with few options, read this post about flavor profiles to turn even the most boring meals into something exciting and different with flavor.
I'm so happy to share this meal format with you because it's what I've stuck to every single week to generate new meal ideas since I started meal prepping and it's one of the easiest rules to follow.
Here are some of our favorite free recipes that follow this easy format!
Click here for our full catalog of free recipes! And if you don't want to come up with your own meal prep ideas, let us do it for you! Join the WWL Program and gain access to over 600 meal prep-friendly recipes!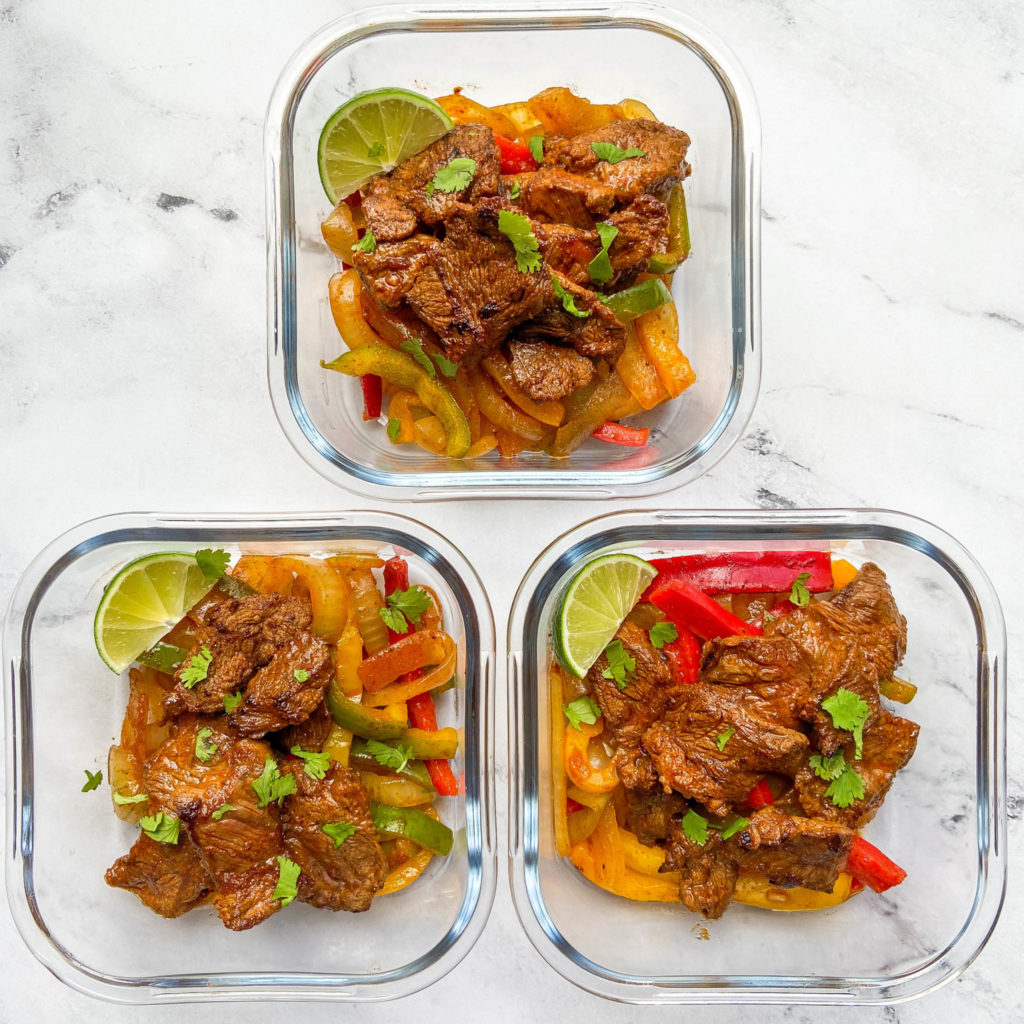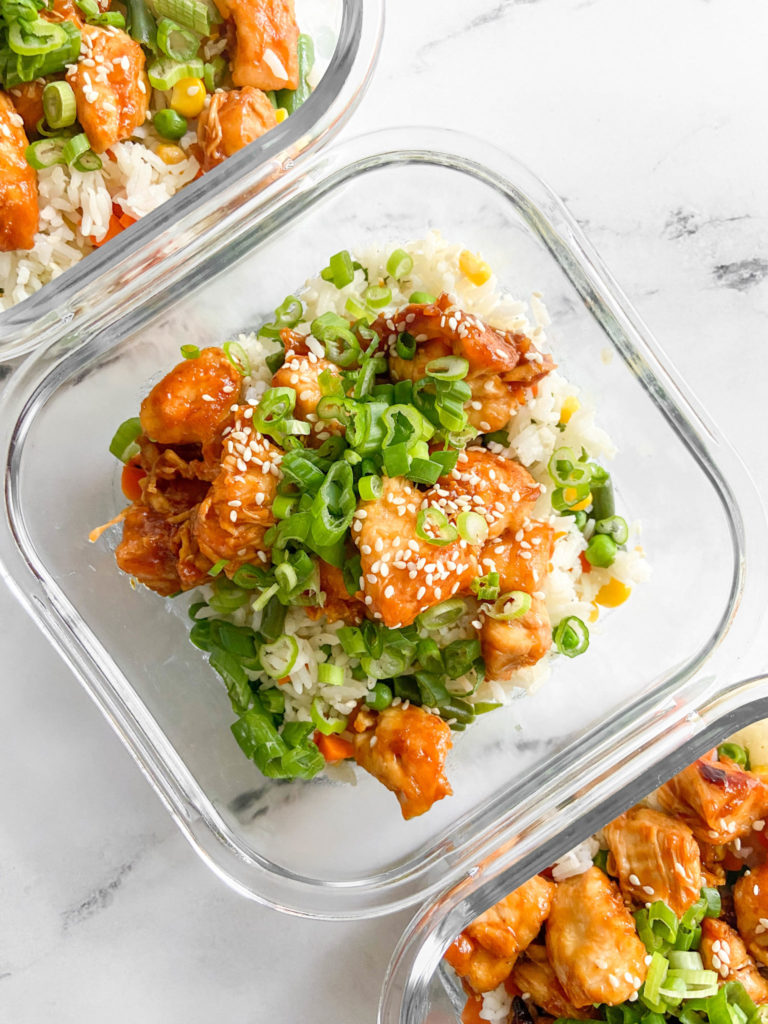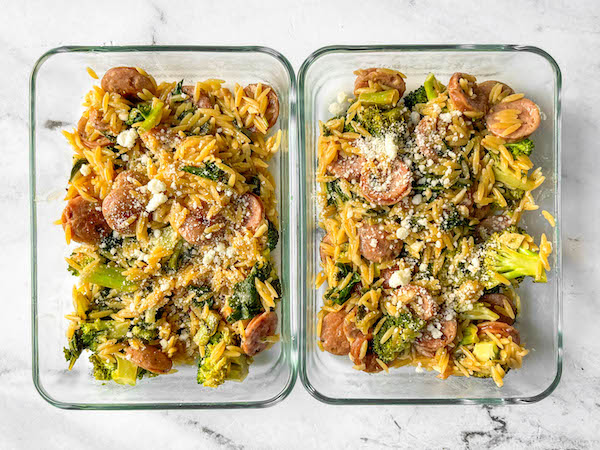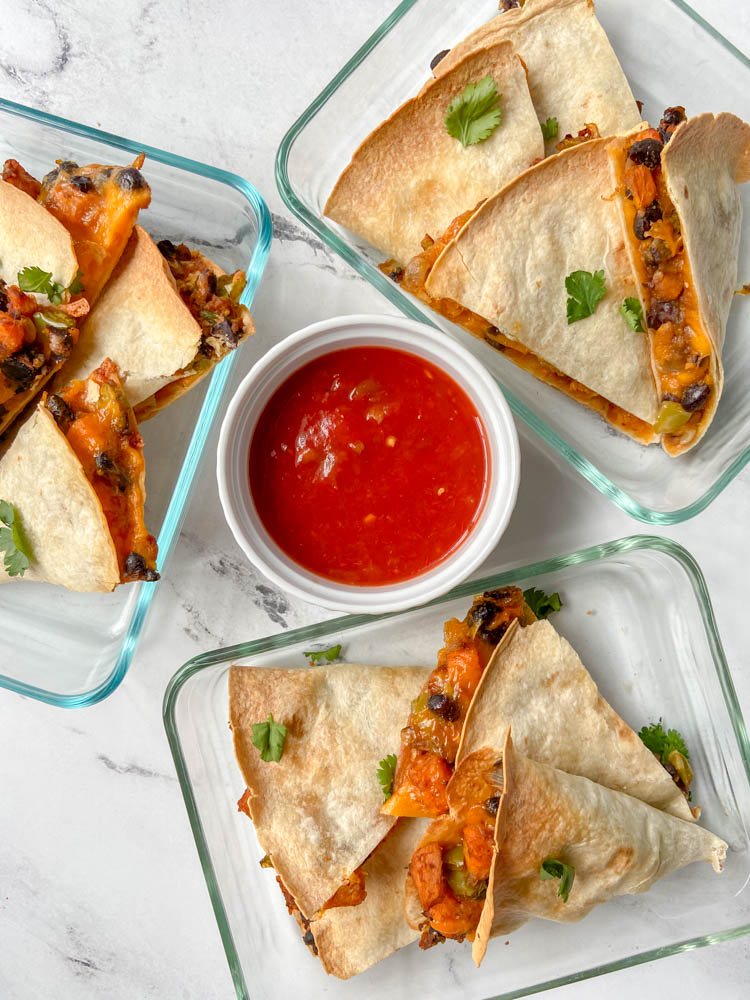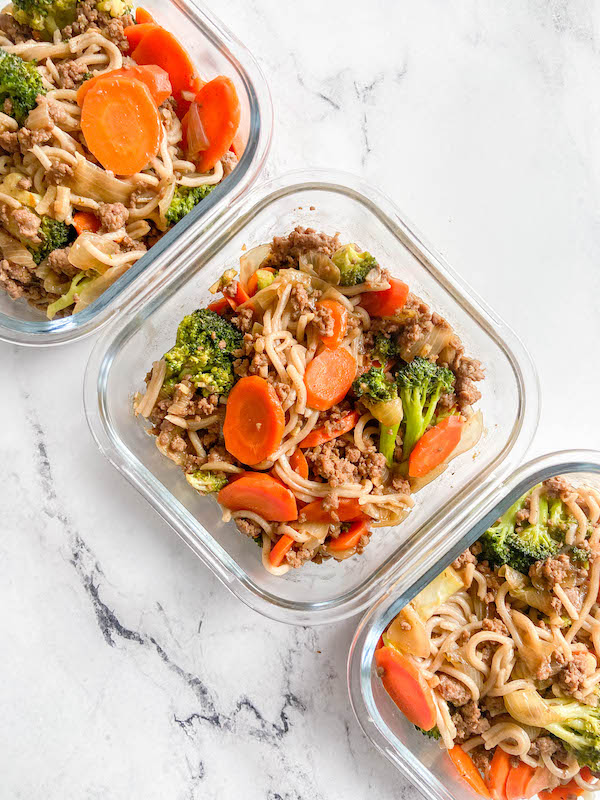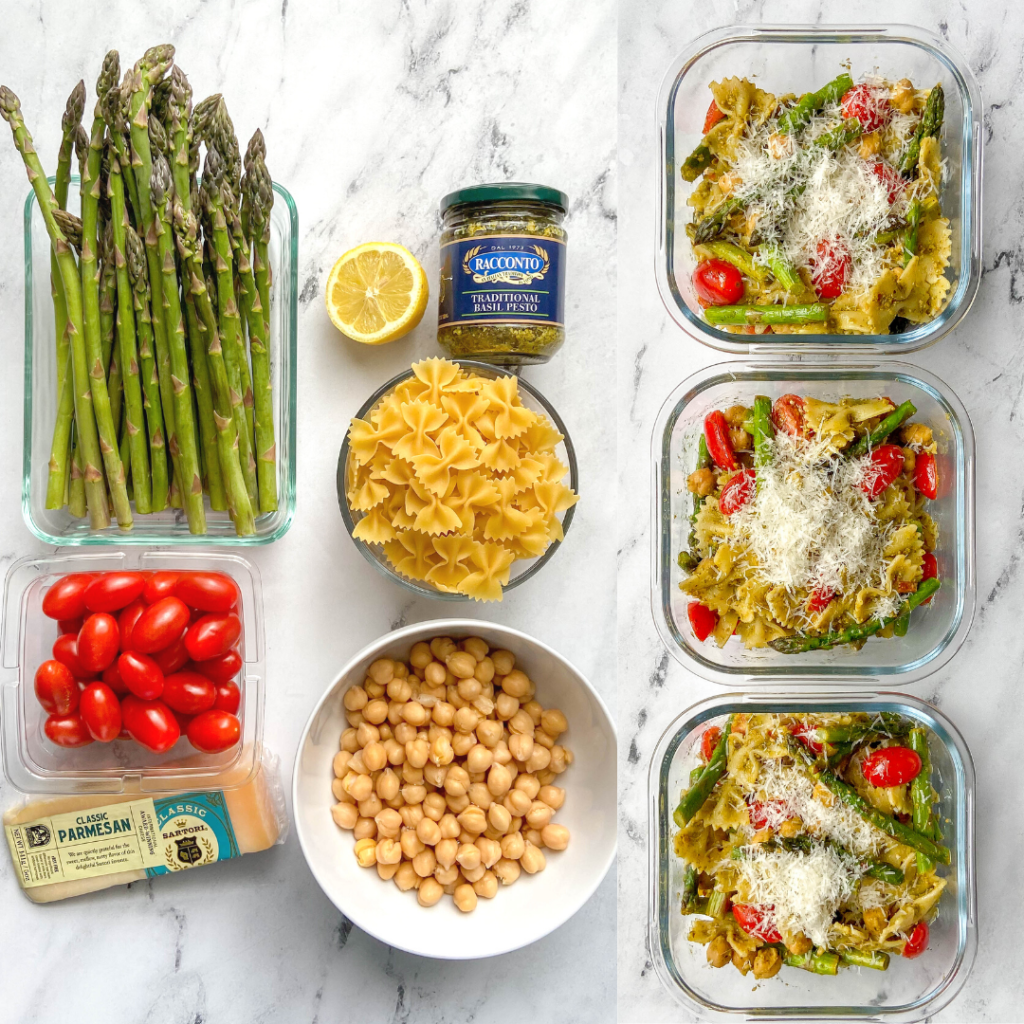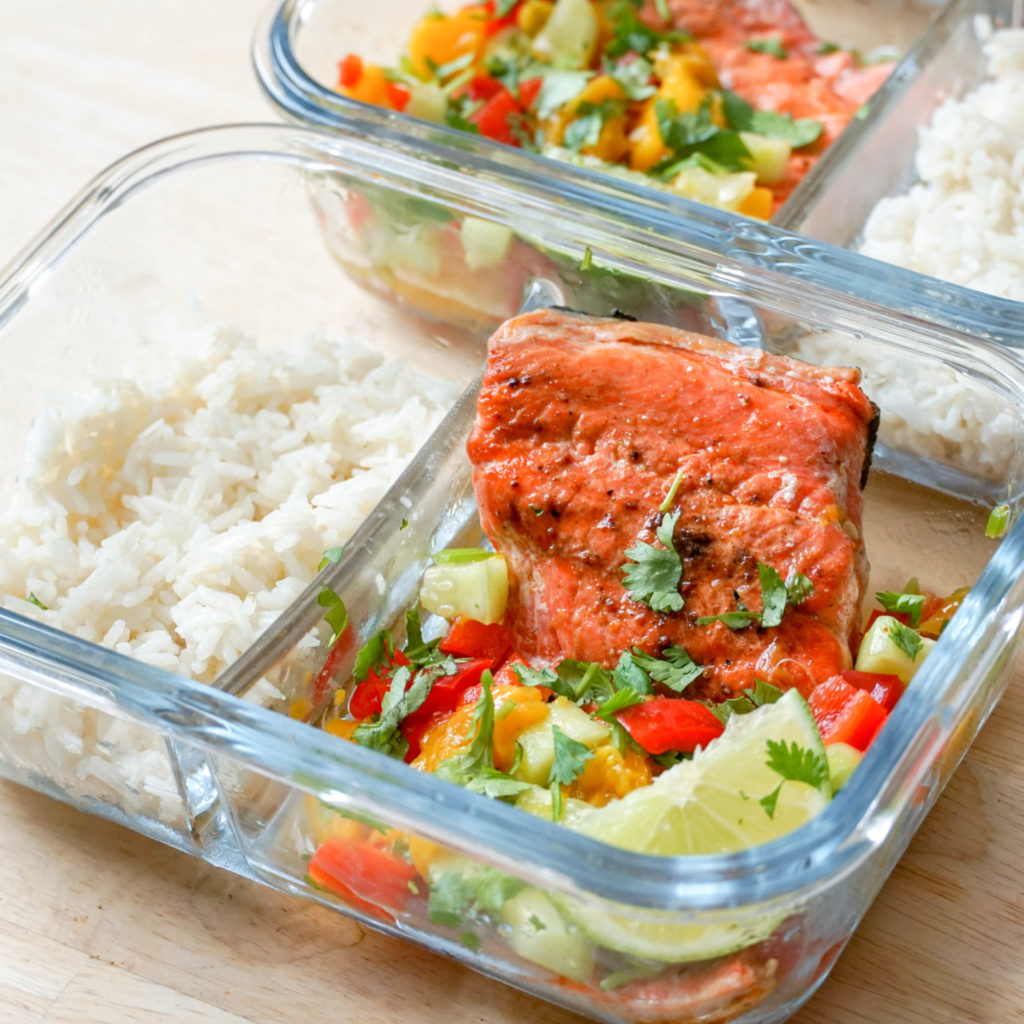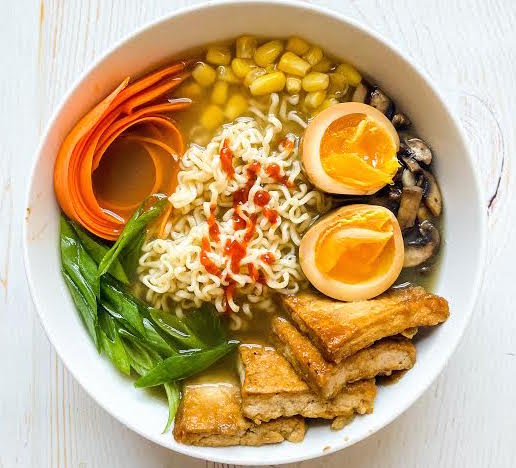 Comment below what your favorite protein, veggie, carb combination is!