One of the most exciting parts of our cross country move was planning all of our road trip food! I can't wait to share how exactly we planned meals for this seven-day trip from NYC to Seattle, where we stayed and my best tips and tricks for eating healthy on a budget on the road.
Planning Our Road Trip
I'm the planner in my family, so plotting out a road trip across the country was my responsibility. I loved every second of it. My app of choice is called Roadtrippers. I've used it for years to plan amazing road trips and I think it's well worth the cost of $25/year even if you only do one big road trip in a 12 month period. It's way easier to plan a road trip with this app compared to Google Maps.
Even though we could have done a much longer trip, because this was a moving road trip, we decided to do it in 8 days, following almost the most direct route to Seattle. We aimed to average about 6 hours of driving per day and pretty much no sightseeing.
If you want to do a sightseeing road trip, you shouldn't do more than 4 hours of driving/day.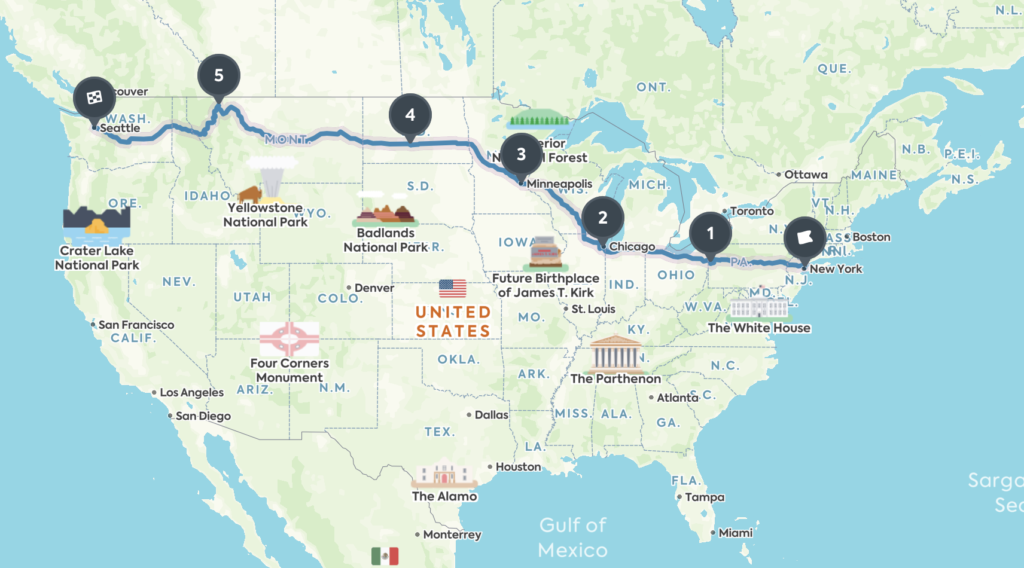 We chose this route because not only is it more direct, but it also came super close to Glacier National Park. So we designed the trip around stopping there for two nights to be able to get a taste of the park, instead of just one night.
How we chose where to stay during our cross country trip
We did a mix of Airbnb, camping, hotels and glamping on this trip! The variety was awesome and I'm glad we branched out of Airbnb, to be honest.
Having a hotel one night was perfect after a night of camping and sleeping on the ground. And Airnbns that had access to laundry came in handy in the middle of our trip, since we packed pretty light!
Every Airbnb also had a fridge which helped us with taking food on this trip and preparing meals for the road.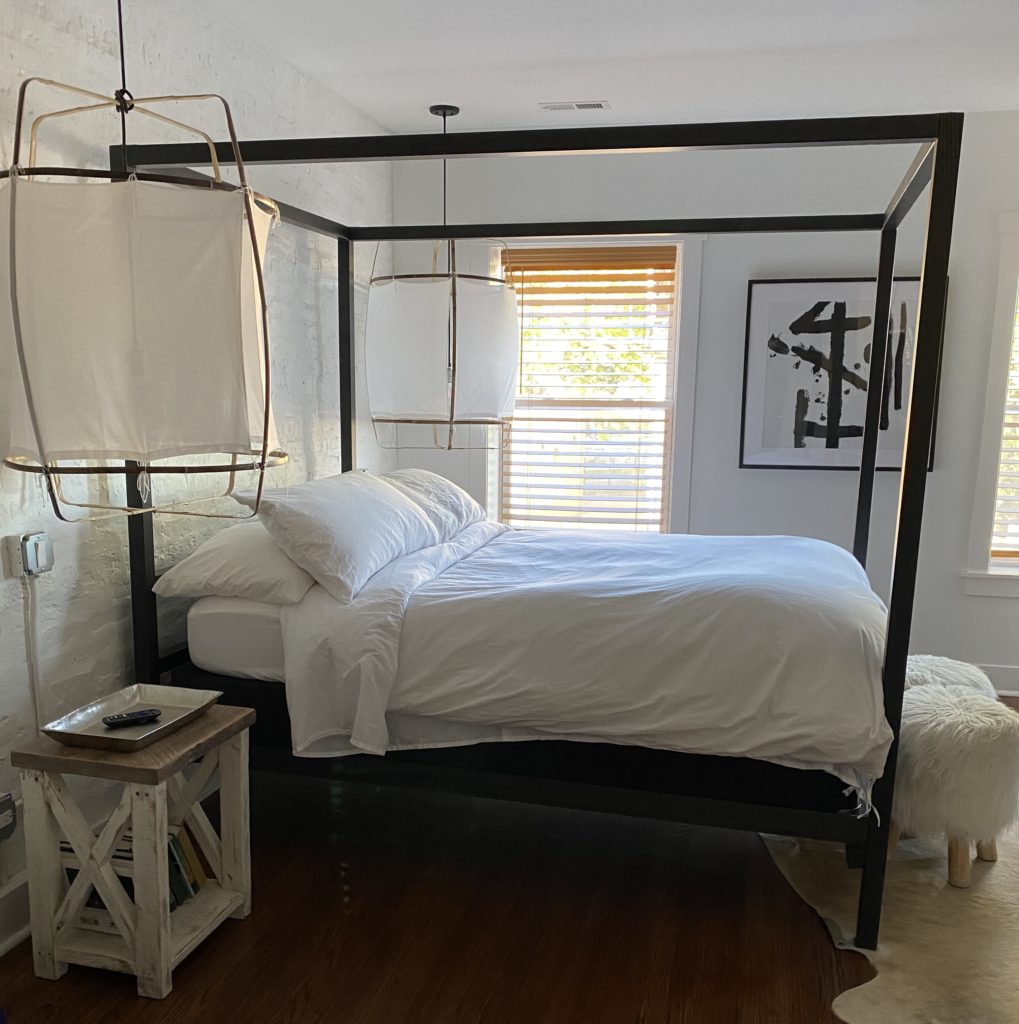 Here are links to all the places we stayed: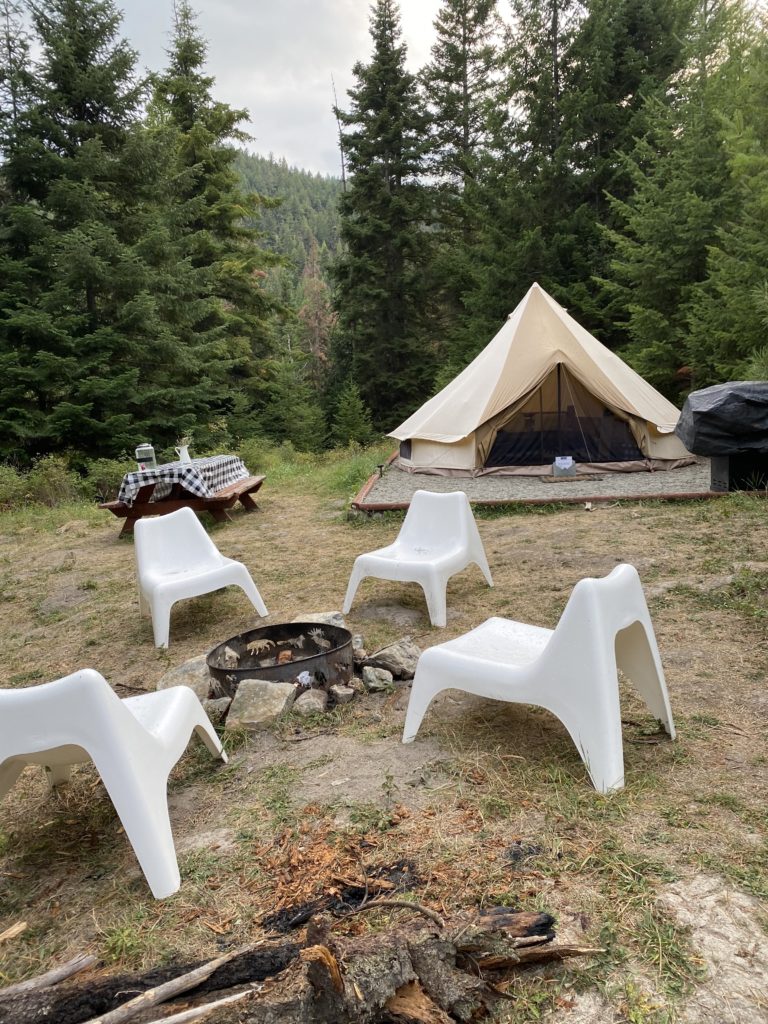 How I Plan Meals For Road Trips
Meal planning helped us save a lot of money and reduce stress during this trip. I approached it the same way I approach regular weekly planning by focusing on breakfast, lunch and dinner for myself and my partner. It was overwhelming at first, but once I filled in where we'd be and thought about the amenities we had at each place, it was easy.
While this really depends on the type of road trip you want to take, my golden rule is to eat one takeout full meal per day.
When you're sitting in a car for hours, it's more fun to snack and it's really nice to end the day with a big meal, rather than eat takeout multiple times and feel overstuffed and sleepy in the car. This method also saves money, which is important to me (but maybe not important to you!).
That being said, if I were designing a trip around visiting different foodie spots along the way, I would approach meal prepping and takeout very differently. This move was not a foodie trip, but we did make a point to try local beer and coffee everywhere we stopped.
Our trip was one week long, so it was easy to plan with an excel spreadsheet. If you want to try out our regular meal planning template/spreadsheet, you can download it here!

How much food cost on our road trip
My partner and I were pretty focused on saving money with our move happening at the same time. We spent about $1,500 total on the trip, including lodging, food, gas and random/emergency stuff.
This trip was all about driving. The pandemic definitely made things we would have normally done not possible, like local comedy shows, concerts and day tours.
Our Road Trip Grocery And Food Packing List
Bananas
Apples
Grapes
Avocados
Old fashioned oats*
Peanut butter*
Tortillas
Canned tuna*
Pesto*
Pre-mixed salad bags
Olive oil, salt, pepper and cooking spray*
Cinnamon*
Cheddar cheese
A small milk bottle
Brown sugar*
Fig Bars
Trail Mix
Popcorn
Beer*
The list above includes some ingredients we purchased before the trip as well as some that we grabbed from our pantry (marked with an *). We spent a total of $50 on groceries before the trip.
We also packed homemade baked banana bread and cookies!
During the trip, we spent about $30 on groceries we needed for cooking, like our two camping meal and a few picnic lunches. For these meals, we just needed fresh veggies and proteins to cook with! We kept things super simple and by the end, I was a little bit sick of tortillas.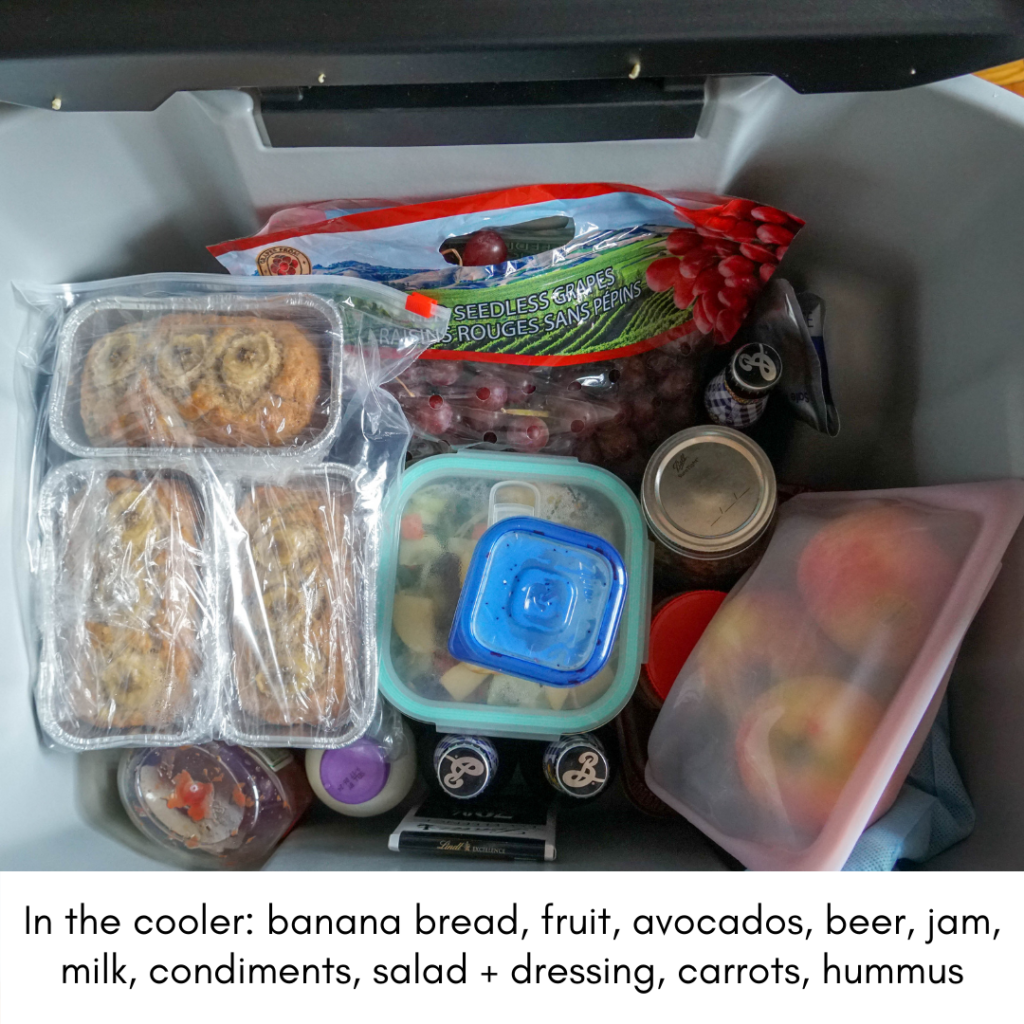 Where We Stopped Ate On Our Cross Country Road Trip
The list below includes places we would eat at again, which we, unfortunately, can't say of every place we stopped at.
Youngstown, OH (coffee): Culture House Coffee
Granger, IN (beer): Bare Hands Brewery
Minneapolis, MN (dinner): Red Cow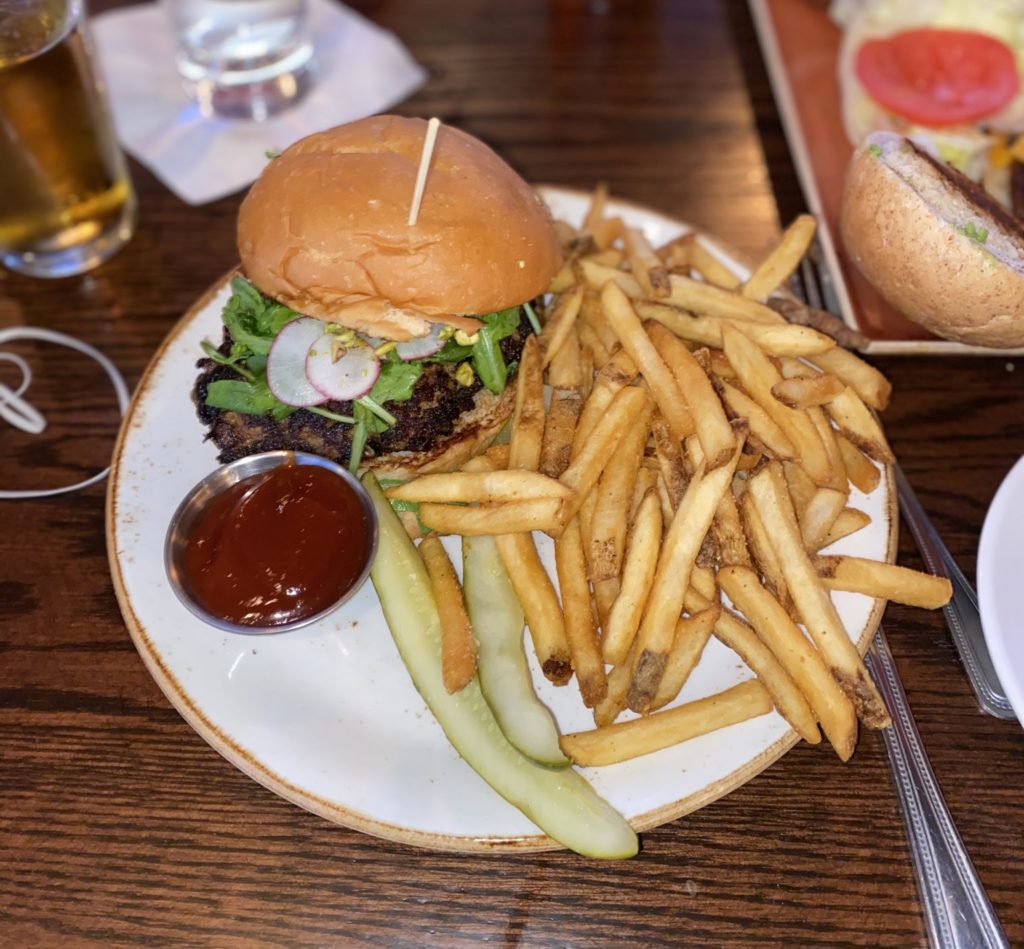 Minneapolis, MN (coffee): Zoe's Cafe
Bismark, ND: Stonehome Brew Pub
Lakeside, MT (dinner): Tamarack Brewing Co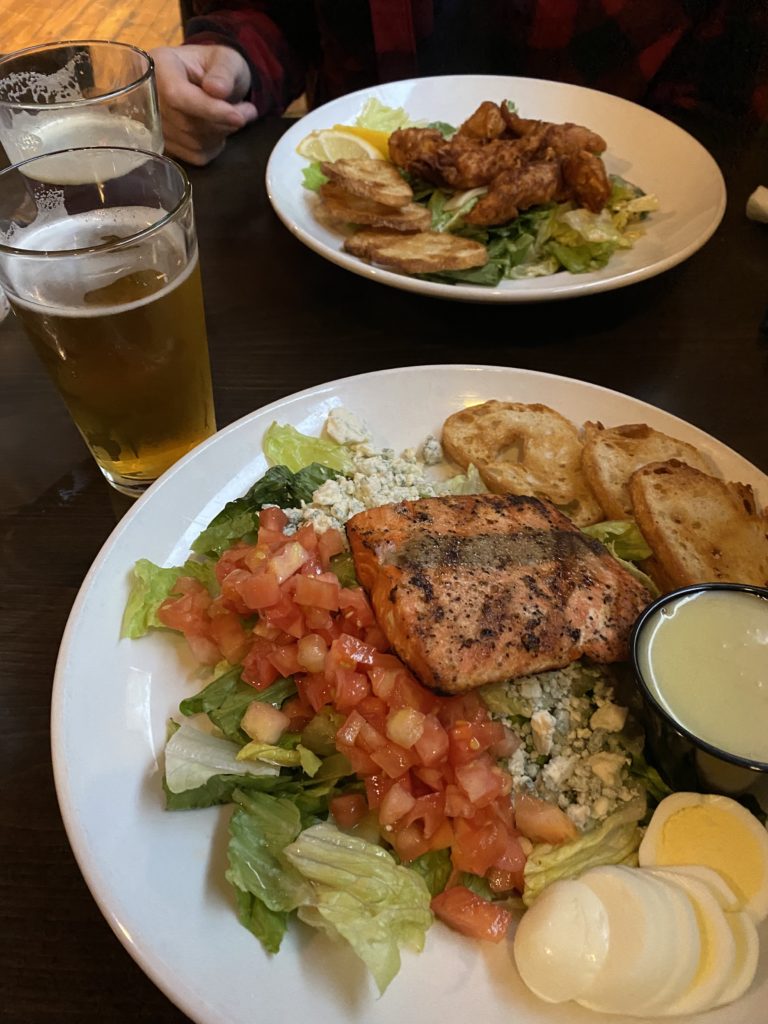 Lakeside, MT (breakfast): Glacier Perks Coffee House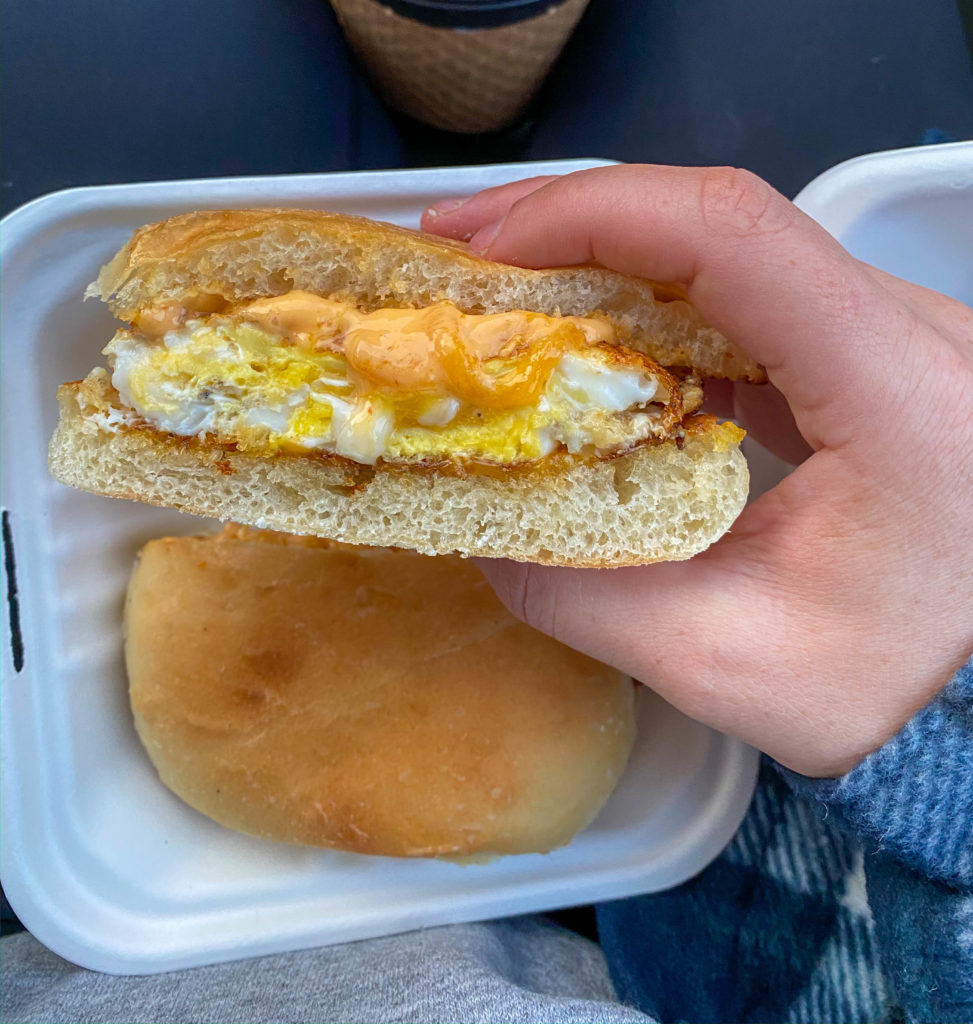 We spent about $200 total on restaurants during this trip! We stuck pretty well to our one takeout meal per day, so we only spent $28/day for two on food. I'm happy with that!
Easy Meals To Make On A Road Trip Without Equipment
Overnight Oats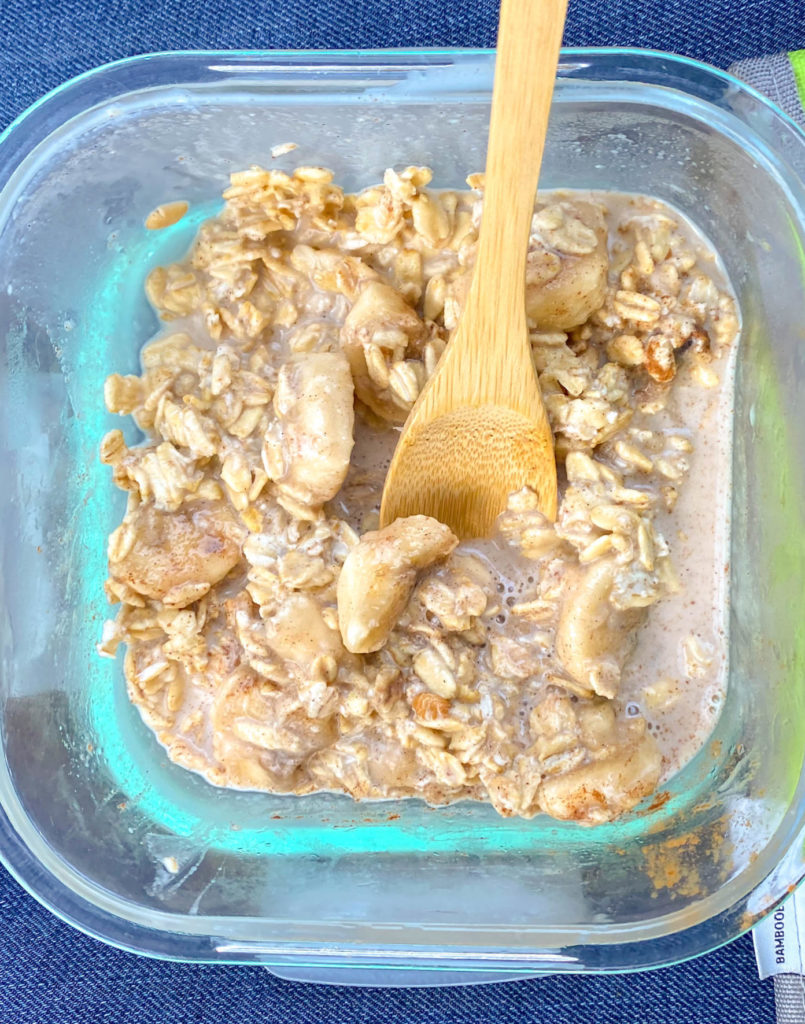 Here's our Master Overnight Oats Recipe if you want to try it out!
Fresh Wraps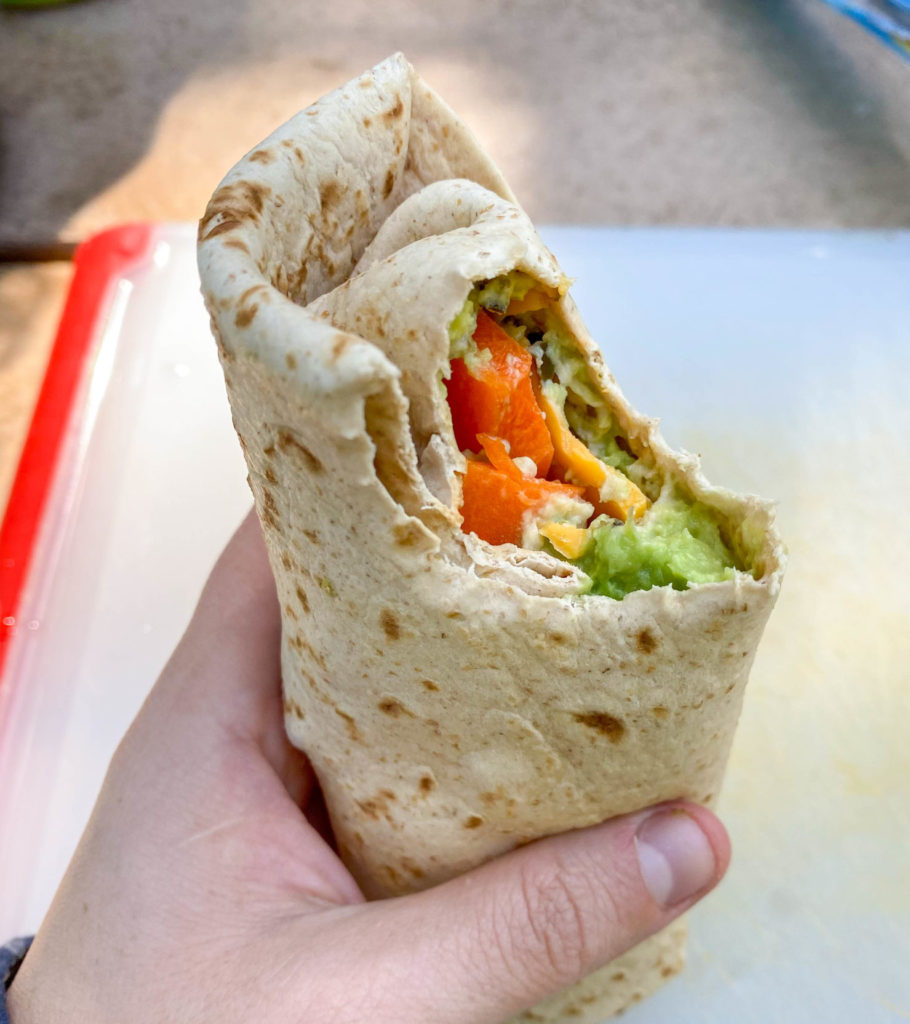 Here's an easy no-cook wrap recipe that would be perfect for road trips.
Crunchy Salads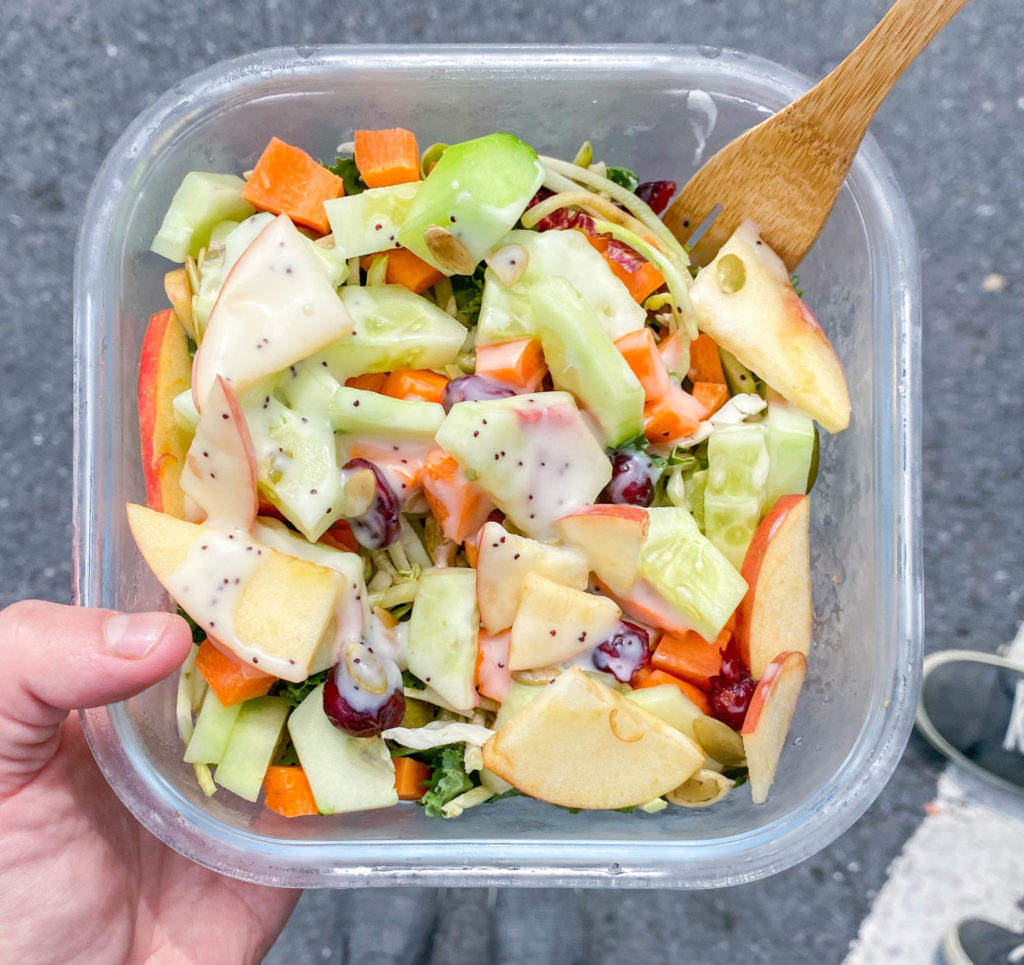 This is more of a hack – pre-made salad kits are so easy to find in grocery stores on the road, and you can customize them however you like.
Meals You Can Cook While On A Road Trip
With the help of our stove and access to grills/a campfire, we were able to cook several meals on our trip.
Grilled Wraps & Paninis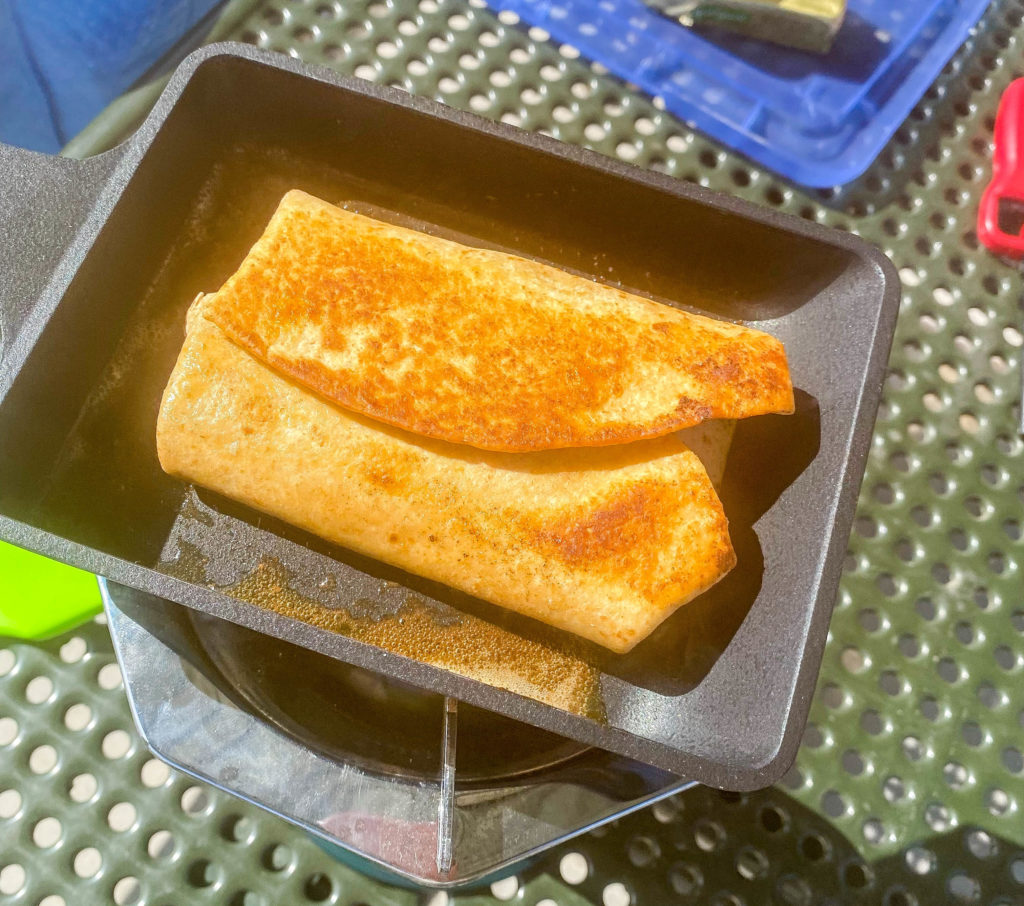 We had a blast eating apple cheddar quesadillas at a rest stop! We happened to have apples and cheddar with us, but you can use really anything. All you need is a portable stove, a small non-stick pan and cooking spray to make it happen.
Loaded Campfire Baked Potato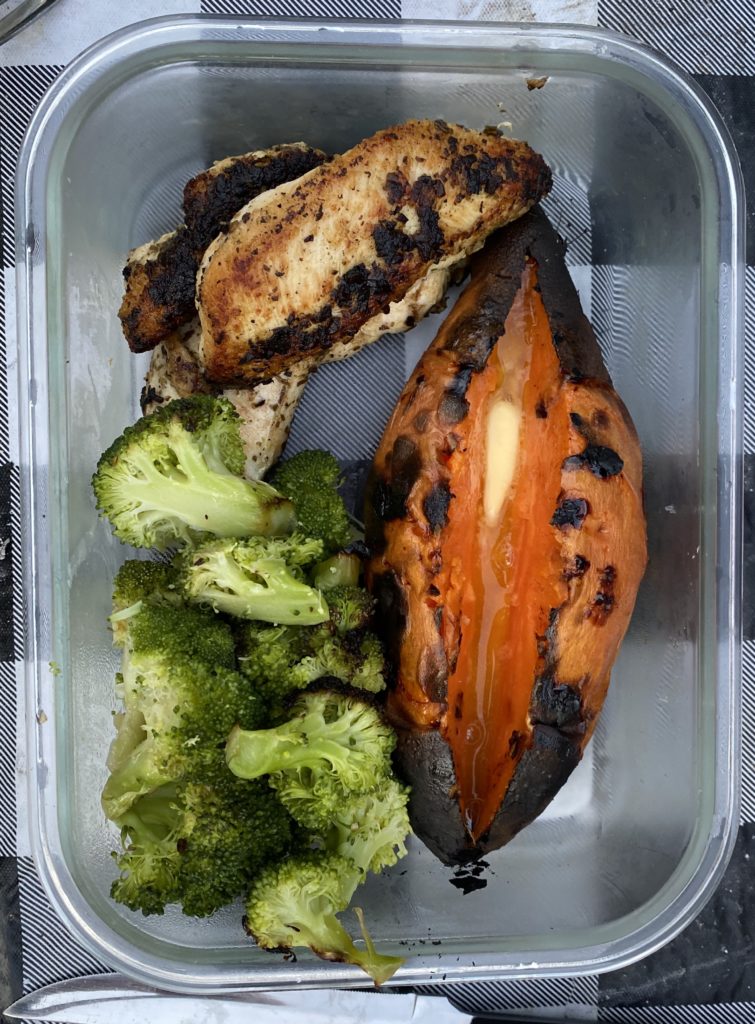 You really can't go wrong with a loaded baked potato or sweet potato. All you need is foil, your favorite kind of potato, cheese and any other baked potato fixin's you like!
Roasted Veggie Wraps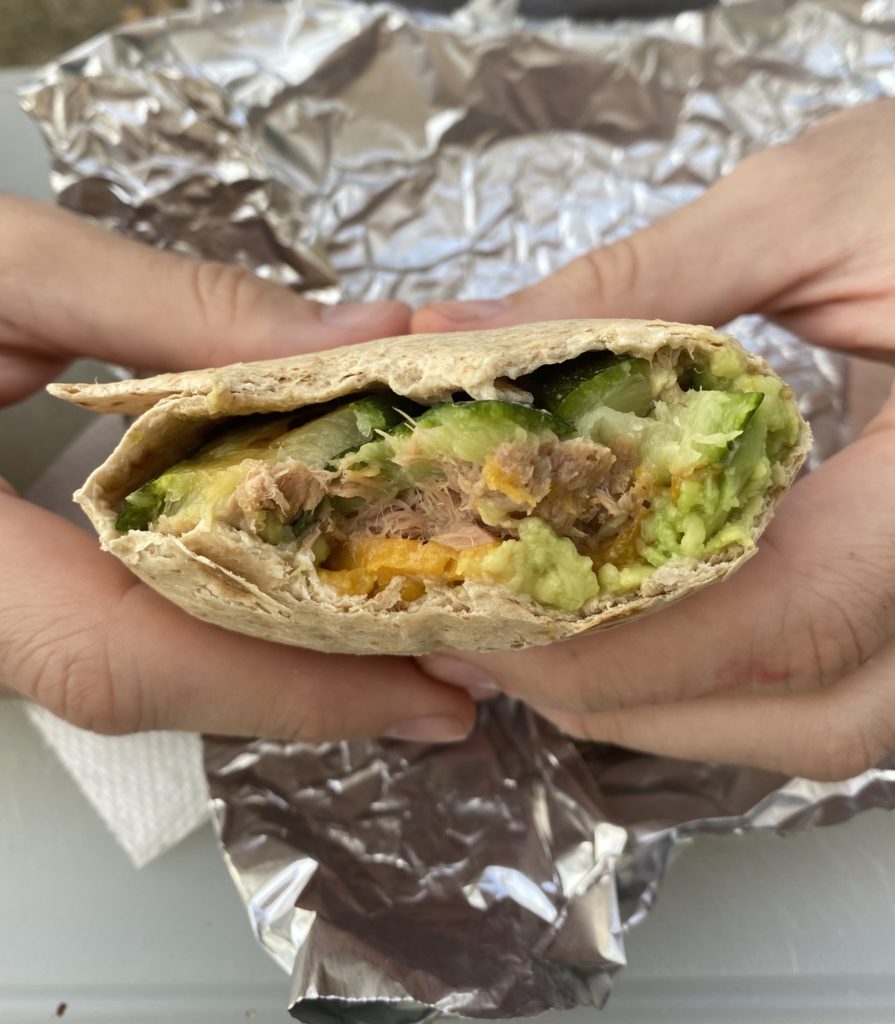 We made these grilled veggie wraps on a grill at our KOA campsite! They tasted so good with just a dash of salt and pepper.
How We Cleaned Our Cooking Equipment On Our Road Trip
So we made a point to stay at places every few days with access to a sink or area to clean our dishes. We brought dish soap, a sponge and paper towels with us to do light cleaning at the campsites as needed. It wasn't such a big deal! At the end of our road trip, we just loaded up the dishwasher with all our camp cooking equipment for a final wash.
How long does food last in a cooler on a road trip?
I highly recommend the cooler we bought for families or people going on long road trips. It's not great for solo travel, as it was almost too big for us!
Every other day, we put a new bag of ice in the cooler (purchased at a gas station) and drained it before adding a new bag of ice. By the very end, some of the food definitely smelled a bit inside the cooler – but not in a bad way. We may have not kept up the ice re-stocking toward the end as well as we could have.
All in all, no food spoiled on our trip. Everything made it through the seven days, and whatever we didn't eat we were able to store in our fridge when we got home.
Essential Equipment For Packing Road Trip Food
Bamboo Travel Utensils – love these compact utensils for travel meals!
Coleman Cooler – we loved this cooler! It fit all our food
Mini Camp Stove – essential for when you don't want to/can't make a campfire
Food Containers – we used these to store food and as bowls!
Stasher Bags – useful for dry snacks for any travel occasion
Small Non-Stick Pan – perfect for cooking on the camp stove
Cast-Iron Pan – ideal for campfire cooking
Cozy Flannel – I wore this every day of the trip! Super handy for the transitioning summer/fall weather.
I hope this inspires you to plan an epic road trip and stay within your budget!
If you want more travel meal ideas, here are some other posts that could help:
This post contains affiliate links.