This basic smoothie bowl recipe can be customized to your heart's content! Smoothie bowls are basically just thicker smoothies you eat with a spoon and top with delicious toppings. I love using frozen berries to prep smoothie bowls because I can use them frozen to blend a thick smoothie base, and I can let some thaw in the fridge overnight for fresh toppings in the morning.
Get more recipes like this in the Workweek Lunch Meal Prep Program with access to our meal planning tools, grocery list generator, and more. Start a free trial today!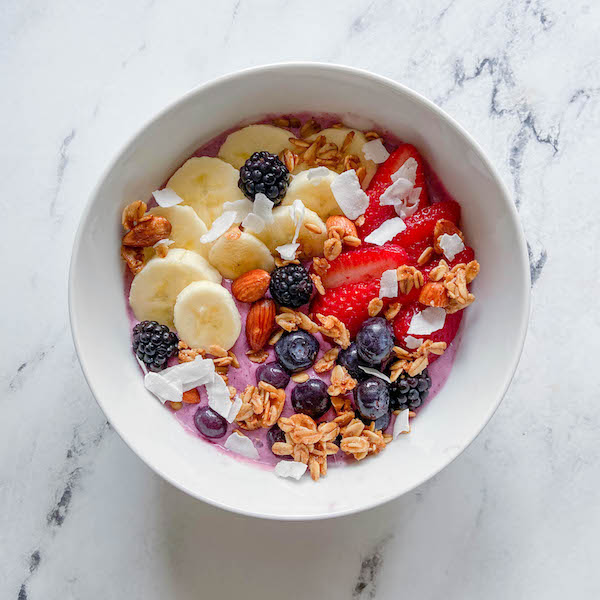 Ways to customize this smoothie bowl recipe:
Make it an acai bowl with acai packets or powder. This base recipe as written is very similar to acai bowls! You can find acai packets in the freezer section (at my grocery store the packets are with the frozen fruit and smoothies). The packets are single serving and you just blend two packets in with the smoothie ingredients when you prep. If you're using powder, add 2-4 TBSP powder.
Use your favorite store-bought granola, or swap out the granola for one of our other great granola recipes.
Swap out the fruits in the smoothie. You can use any smoothie you love as the base of a smoothie bowl. Make it more tropical with kiwi, pineapple, and/or mango. Make it sweeter with strawberry, cantaloupe, and raspberry. Make it nuttier with banana, apple, and peanut butter.
Yogurt is optional in this recipe, I used it to make my smoothie a little tangier and thicker. You can omit yogurt entirely or swap for cottage cheese or steamed cauliflower.
Add a scoop of your favorite protein powder.
Customize your toppings! Chia seeds, chopped nuts, chopped and sliced fruit, your favorite granola, nut butter, etc. will all work!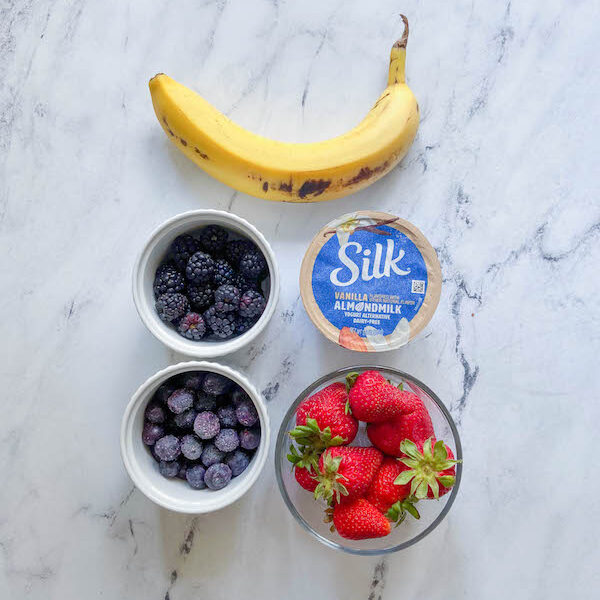 Try some of our other favorite granola recipes:
Related: Breakfast Ideas: Our Master List Of Go-To Meals
How to freeze blended smoothies:
I recommend freezing these in ice cube trays. It's easier on your blender and you can even customize the portion size based on how much you're in the mood to eat! You can also freeze smoothies in meal prep containers. When you're ready to eat, run hot water over the bottom of the container and the smoothie cube will pop right out. If you have Souper Cubes, you can use those as well.
If you don't want to pre-blend these smoothie cubes, you can totally make them day of! Just make sure to use frozen fruit instead of fresh (or add ice) so that you get that nice thick texture.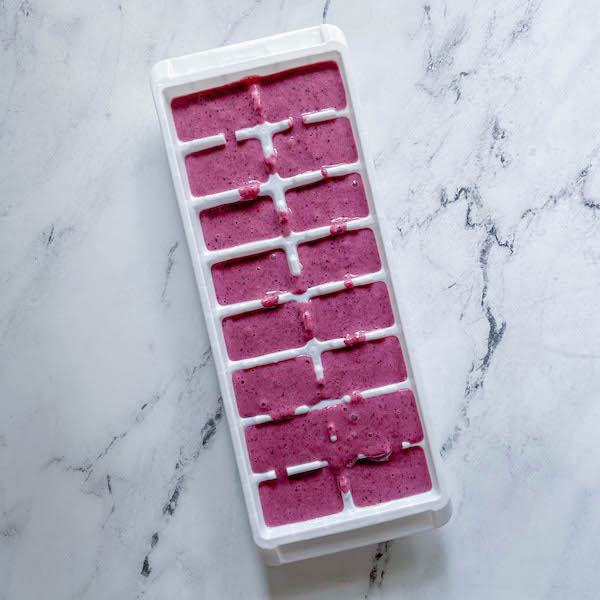 How to store this smoothie bowl:
The granola will keep at room temperature for up to 5 days. You could also store it in the fridge for up to 2 weeks or in the freezer for up to 6 months. I prefer to freeze my blended smoothies in ice cube trays then store in ziploc or stasher bags. For the fruit toppings, I store my sliced berries together and my sliced banana separately.  Happy prepping!
Related: How Long Do Meals Last: A Quick Cheat Sheet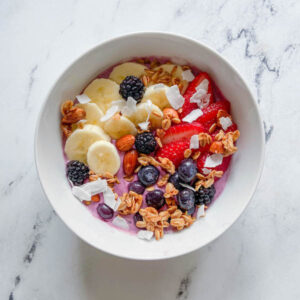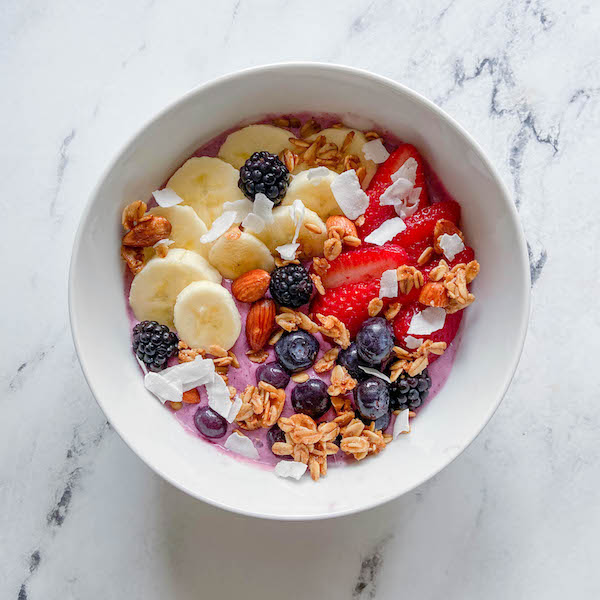 Smoothie Bowls For Meal Prep
Ingredients
For the granola
cooking spray

3

TBSP

coconut oil

sub butter, melted

1

cup

old fashioned oats

1/4

cup

coconut flakes

optional

3

tbsp

brown sugar

1

tsp

cinnamon

1/2

tsp

salt
For the smoothie
1

banana

fresh or frozen

1/2

cup

strawberries

fresh or frozen

1/2

cup

blueberries

fresh or frozen

1/2

cup

blackberries

sub raspberries, cherries, or berry of choice

1

single-serving yogurt of your choice

optional

1/4

cup

milk

sub juice of your choice, for blending
For the toppings
1/2

cup

strawberries

fresh, sliced

1/2

cup

blueberries

1

banana

sliced

1/2

cup

granola

2

TBSP

coconut flakes

2

TBSP

honey

sub agave
Instructions
Make the granola (skip this step if using store-bought!). Preheat your oven to 325 F / 160 C and prepare a baking sheet with cooking spray. Stir the brown sugar into the melted coconut oil. Add everything to a bowl and mix thoroughly with a spoon. Pour the mixture on the pan and spread it out evenly. Bake for 10 minutes, then take the tray out and stir the mixture. Bake for another 10 minutes, stir and place the tray on cooling rack or the stovetop to let the granola cool. It will continue baking a little on the hot sheet pan, too. Let it cool completely before storing.

Smoothie cube prep: Blend the banana, strawberries, blueberries, blackberries, and yogurt until smooth (omit the milk!!) and pour into an ice cube tray. Let it freeze, then blend with the milk in the morning. Top with your preferred toppings and enjoy!

Blender prep: Divide the fruit for the smoothie between two meal prep containers and freeze. In the morning, add the frozen fruit, yogurt, and milk to the blender and blend until smooth. Top with your preferred toppings and enjoy!
DID YOU MAKE THIS RECIPE?
Please leave a comment below on the blog or share a photo with us and tag @workweeklunch! Can't wait to see what you made!