Have you ever pulled out an almost-forgotten meal prep from the back of your fridge and wondered if it was safe to eat or how long do meals last in the fridge? Or if it would still even taste good?
One of the MOST common barriers to meal prep is being unsure about how long meals last in the fridge.
What if meals go bad? How do you know if it has gone bad? What if it's safe, but not tasty? What if I have to throw the meal away? (The worst)
I got you! These are all valid concerns with meal prep. Keep reading to learn exactly how long different types of meals should be kept in the fridge.
One important note though: as long as you cook meals properly, food will be perfectly safe to eat within seven days. However, by day five, it might not be as tasty.
If there's one number to remember from this cheat sheet, it's four. Most meals are good (safe AND tasty) in the fridge for up to four days. Listed below are some of our favorite meal preps and how long they last in the fridge.
Related: Discover New Meal Prep Ideas: Our Basic Formula For Delicious Recipes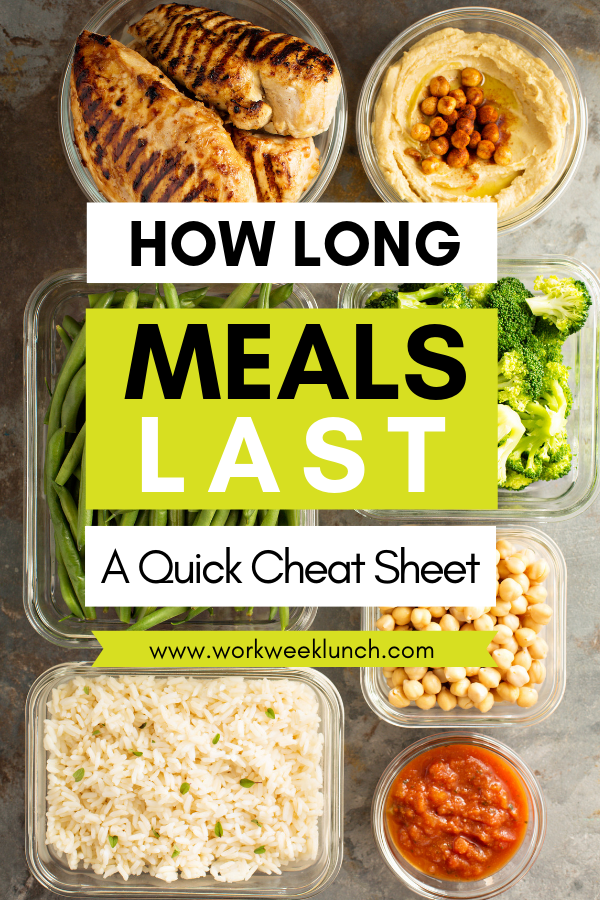 Overnight oats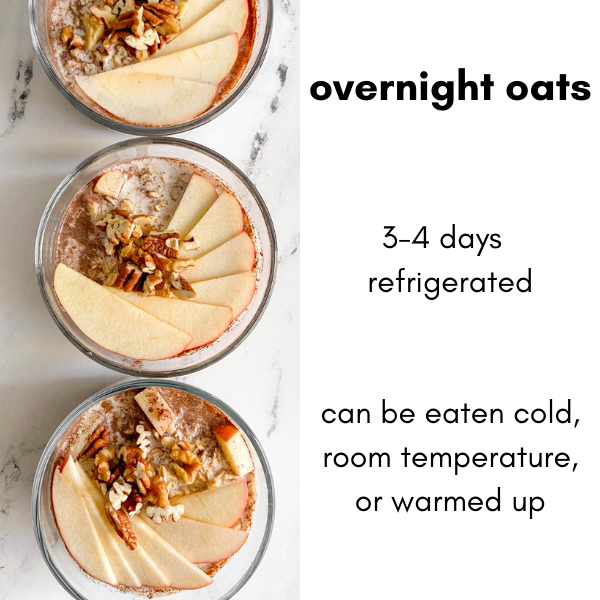 Pictured: Apple Pie Overnight Oats
Overnight oats are one of the BEST meal prep breakfasts out there. We have two delicious ono recipes for free one the site, as well as a master recipe and many more in the WWL Program!
There are many ways to make and store them, but when in doubt, keep overnight oats in the fridge (with fruit) for three to four days. You could stretch it to five days or eat them within two days — it's up to you. And if you hate mushy fruit, leave the fruit on the side until right before you dig in.
Pasta dishes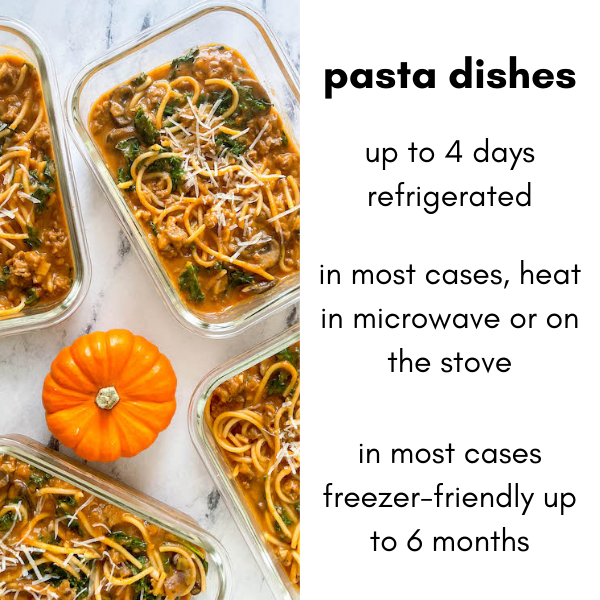 Pictured: Pumpkin Pasta With Ground Turkey, Mushrooms & Kale
Pasta meal preps are among my favorite! They generally last three to four days in the fridge, but you could push it to five days and still live to tell the tale of how delicious it was.
Note that pasta dishes sometimes risk getting a little dry because your pasta will soak up extra sauce overnight. To fix this, you can add extra sauce before reheating it, a few drops of water to break up the pasta, or include more sauce than you'd normally think to use when you actually cook the meal.
More recipes like this to try:
Green salads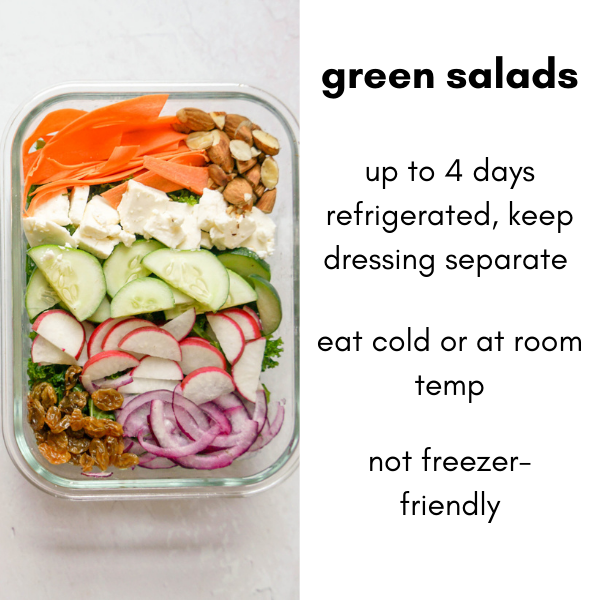 Pictured: The "Everyday" Kale Salad With Homemade Dressing
When I say green salads, I mean salads that have a base of lettuce, kale, spinach, or green leaf of any variety. These can be really tricky to meal prep because they risk getting soggy if not prepped properly.
The trick is keeping the dressing (and any super watery veggie like tomatoes and cucumbers) on the side until you actually eat the meal. Most salads are good within four days. I've learned that kale and spinach (heartier greens) keep better for a few days than arugula and mixed greens.
Related: Meal Prep Containers 101
Rice and grain bowls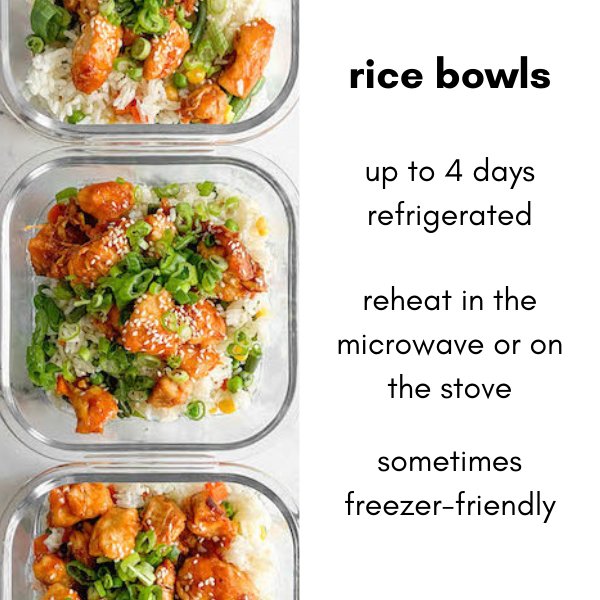 Pictured: General Tso's Chicken Recipe: Better Than Takeout!
Rice and grain bowls make great meal preps! They can chill in your fridge for up to four days and are freezer-friendly in most cases.
The cool thing about meal prepping rice is that many times, microwaving it can fix any rice issues you had when cooking it. For example, microwaving is the solution to mushy rice! Thanks to meal prep you have the chance to resurrect not-perfectly-cooked rice.
Try some of our other delicious rice bowl recipes:
Sheet pan meals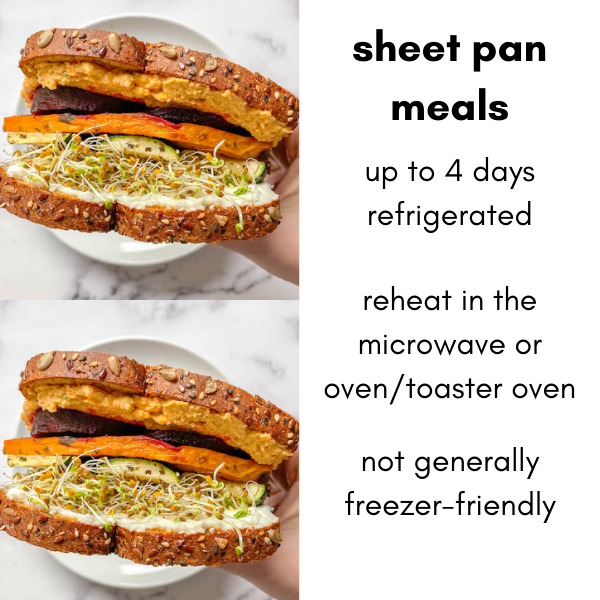 Pictured: Roasted Veggie Sandwiches | Meal Prep Friendly!
Sheet pan meals are so easy for meal prep, but the tricky part about them is keeping the texture of what you cook. Do NOT expect your sweet potatoes to stay crispy unless you reheat them in a toaster oven, the oven, or an air fryer, for example. Sheet pan meals aren't freezer-friendly but they can last in the fridge for up to four days!
Soup, chili and stews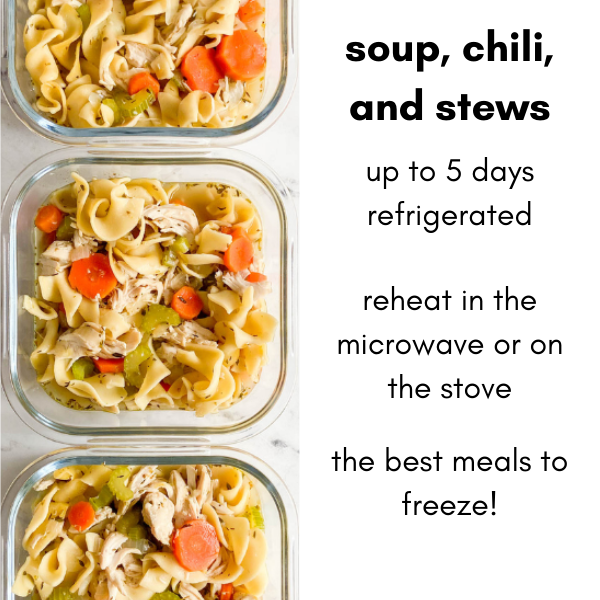 Pictured: Homemade Chicken Noodle Soup (Freezer-Friendly!)
Soups, stews, and chili are the ideal meal prep because they last a little longer than most meals (up to five or six days) AND they're extremely freezer-friendly. If you're new to meal prep and are nervous about how foods taste after a few days, I recommend starting with a soup, stew, or chili.
Other delicious recipes to try:
Baked goods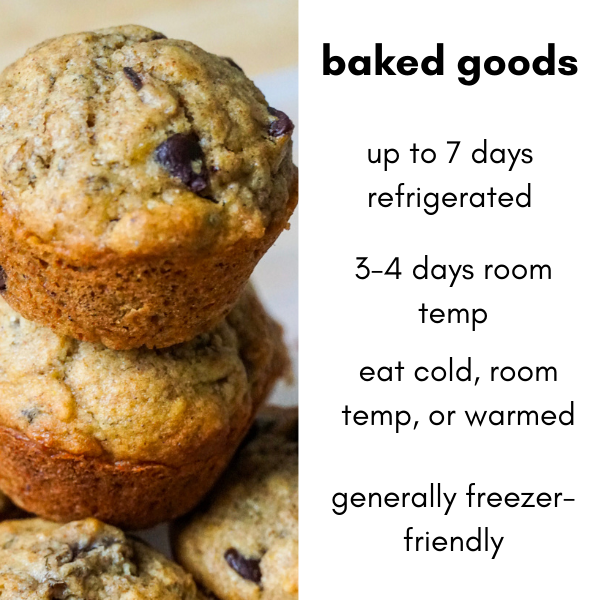 Pictured: Easy, No-Frills Banana Bread Muffins Recipe For Snacks & Breakfast
Baked goods are another easy, delicious meal prep option. You can store muffins and breads for a few days on your counter or make them last longer (up to a week) by sticking 'em in the fridge. You can freeze any extra muffins or baked goods too. What's not to love? We love storing baked goods in stasher bags.
Obviously, there are more types of meals that we meal prep, but this cheat sheet gives you a good idea of how long different meals last.
Related: Meal Prep for Beginners: 5 Things You Need To Know Before You Start Meal Prepping
When in doubt about how long meals last, think four days.
Meaning if you cook it on Sunday, eat it on or by Thursday while it's still tasty and perfectly safe. Not sure if it's freezer-friendly? Google is your friend.
Want more in-depth tips on reheating meals for the best results? Here's my blog post all about that.