No-bake chocolate peanut butter bars are for when it's hot and you don't want to flip on the oven (like right now!!), or you're feeling dessert-related impatience (it's a thing). If you love peanut butter cups, consider this your own personal slice of chocolate-peanut butter heaven. Ready very quickly.
These four-ingredient no-bake bars are an easy snack that happens to also be gluten-free–heads up if that's important to you. (It's also a contributing factor to the no-bake thing!) Plus, it's vegan-friendly if you make some switches with the chocolate.
And why are we still talking about this? Let's get busy assembling these bars!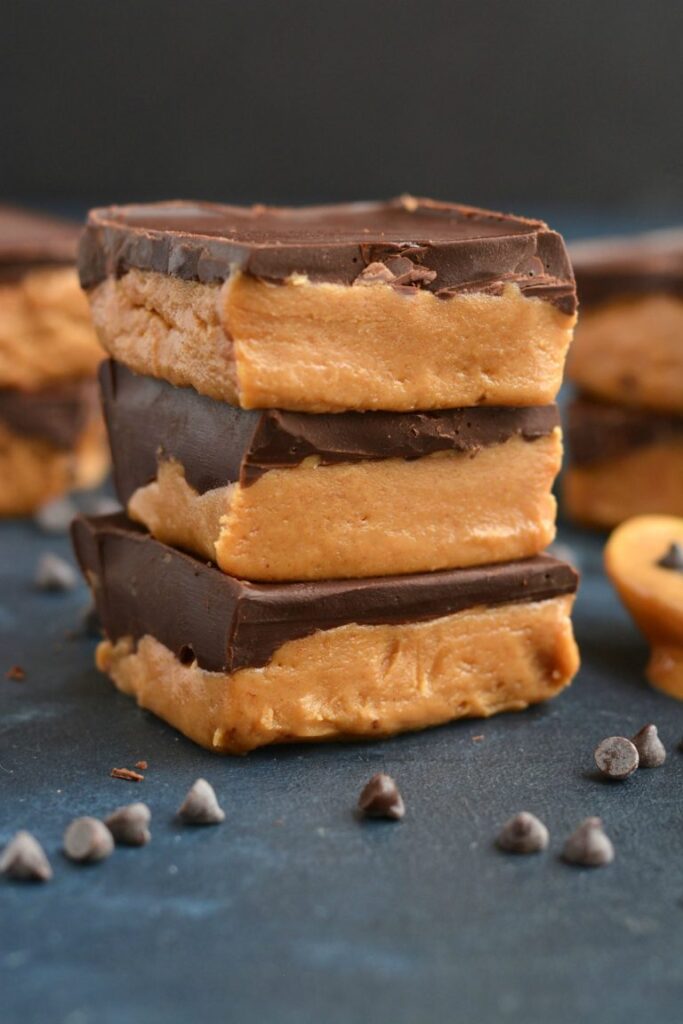 No-bake chocolate peanut butter bars ingredients
For the peanut butter layer:
1 cup creamy peanut butter
1/2 cup coconut flour
For the chocolate layer:
1 cup semi-sweet chocolate chips
2 tbsp. coconut oil
How to make these amazing bars!
Four ingredients. Oh, this is awesome!
In a bowl, just combine peanut butter and coconut flour, which will help to bind it. Spread it across the bottom of either an 8-inch square pan or a loaf pan (your call!) Pop it in the freezer until it's chilled. In the meantime, melt the chocolate and coconut oil in a double boiler. (We like to use glass prep bowls that nestle nicely over the simmering pot of water). Once that's melted, let it cool a few minutes. Then, assuming your peanut butter layer is frozen (or frozen enough!), pour that chocolate on top. Pop the whole thing into the freezer for an hour.
How to store chocolate peanut butter bars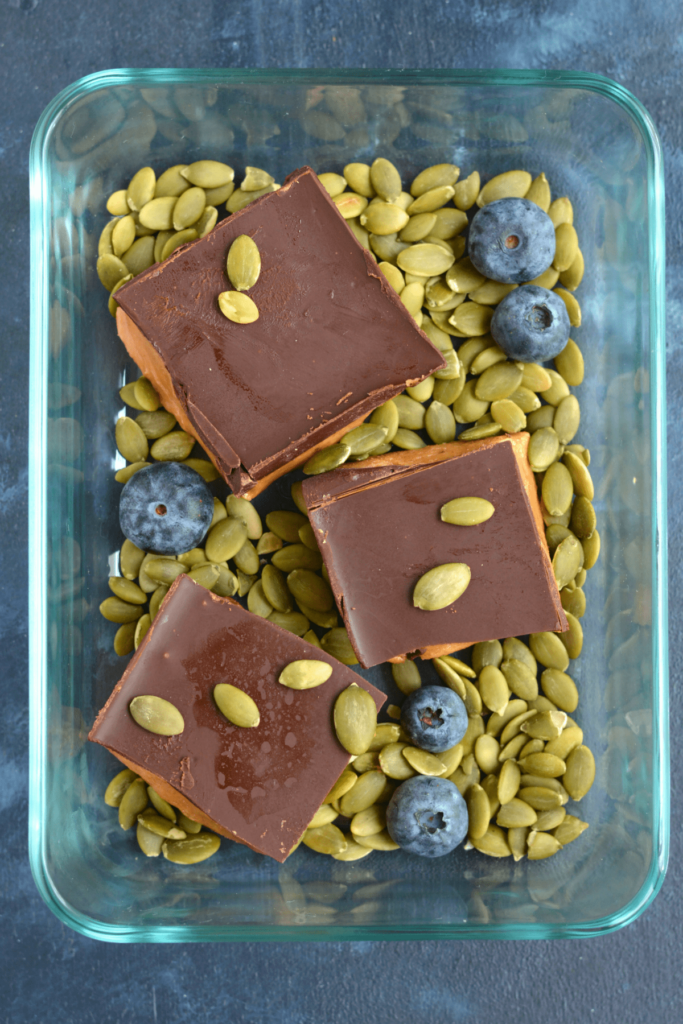 You'll wanna refrigerate these babies. Keep them covered in the fridge for up to a week. Or, better yet, freeze them! Oh, they're so good when they've been really really cold and they're just coming back to room temperature. Wrap them tightly if you freeze them. They'll keep for months that way.
Tips!
Use a vegan chocolate to make this dessert vegan. Try dark chocolate if you want something more decadent and slightly bitter, or milk chocolate chips for a more classic peanut butter cup taste!
Try these other delicious sweets, too!
No-Bake Chocolate Peanut Butter Bars
Ingredients
1

cup

creamy peanut butter

1/2

cup

coconut flour

1

cup

semi-sweet chocolate chips

2

tbsp

coconut oil
Instructions
Line a 9×5-inch baking pan (or 8-inch square pan) with enough parchment paper to create a sling (let there be some extra hanging over the edges). Set aside.

In a mixing bowl, stir together the peanut butter and coconut flour until well combined. Transfer it to the prepared baking pan and then the freezer while you make the chocolate topping.

Heat the chocolate and coconut oil in a glass bowl over a double boiler until melted, stirring occasionally. Let the chocolate cool for about 5 minutes before pouring it over the frozen peanut butter mixture.

Freeze for 1 hour. Remove the bars from the pan using the parchment sling. Transfer to a cutting board and slice into 8 bars.
DID YOU MAKE THIS RECIPE?
Please leave a comment below on the blog or share a photo with us and tag @workweeklunch! Can't wait to see what you made!