These cauliflower tacos hit the spot whether you're prepping them for work lunches, weeknight dinners or just a random meal during the week! Smoky seasoned cauliflower pairs so well with our bright chunky corn-based salsa and creamy avocado sauce. Ready to make it?
Get more recipes like this in the Workweek Lunch Meal Prep Program with access to our meal planning tools, grocery list generator, and more. Start a free trial today!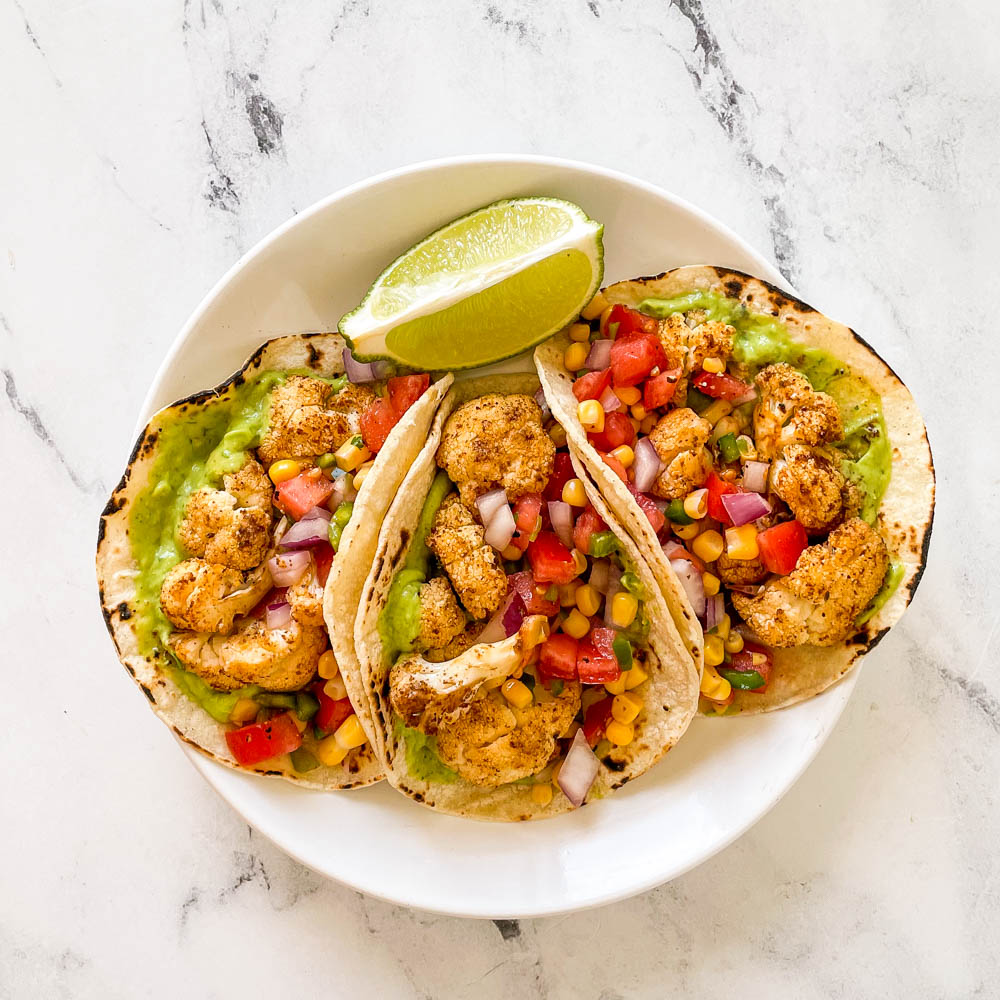 How to customize these cauliflower tacos:
Swap cauliflower for tofu, tempeh, veggie "meat" of your choice, or seitan.
You can make this an omnivore recipe by swapping the cauliflower for shredded chicken, shrimp, or even salmon.
Change up the salsa by adding in some mango or pineapple!
Add some more raw veggies such as red cabbage, bell pepper (any color), radishes, green cabbage and green onion.
If jalapeno might be too spicy for you, just skip it!
How to get crispy cauliflower
As you probably know, I'm not an air-fryer owner (yet). But if you have one, the air-fryer is your best bet for crispy cauliflower.
But if you're like me and don't own one, use the toaster oven or oven.
I stick mine under the broiler for maximum crispiness! Just make sure to keep an eye on them. Food can easily burn under the broiler. You'll only need about a minute or so.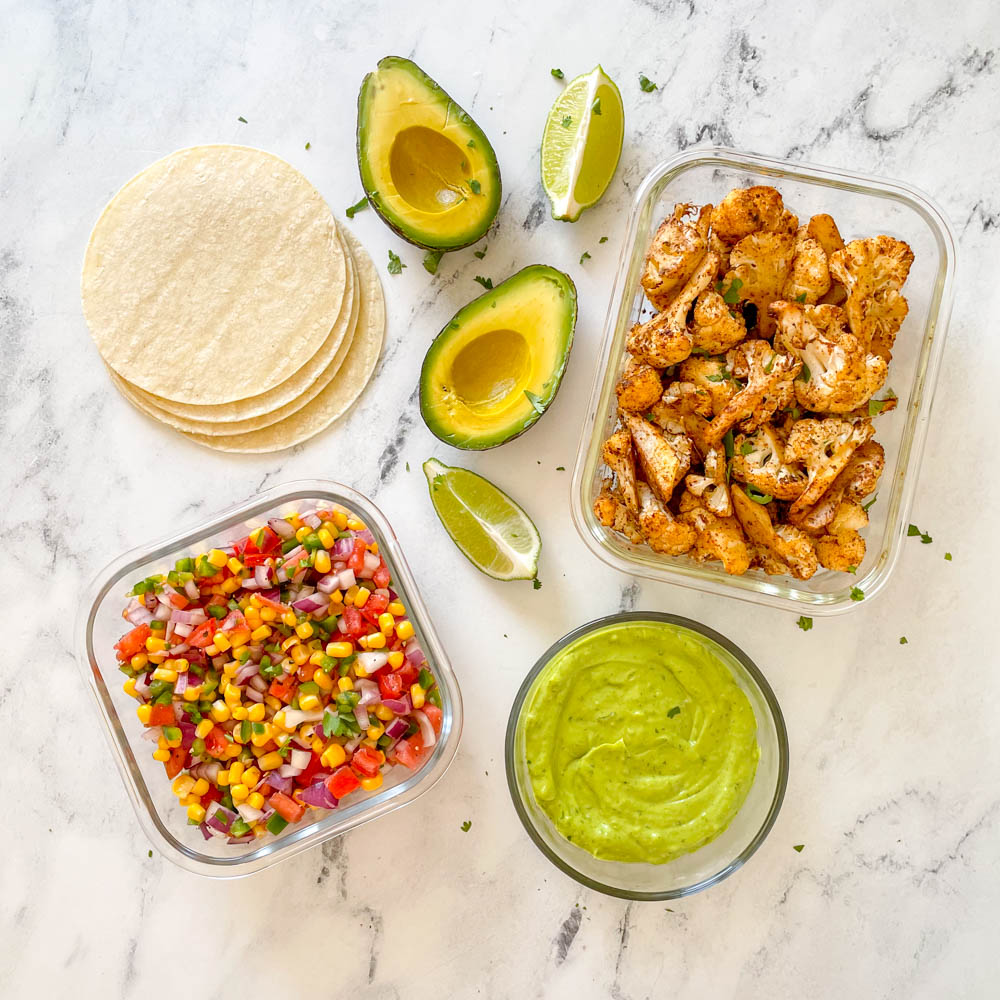 Making these cauliflower tacos gluten-free:
The only ingredient that has gluten in this recipe is the tortillas! My favorite gluten-free tortilla is the Mission brand original GF tortilla, which you can find in most grocery stores (but unfortunately not in Whole Foods). You can also order them here!
If you want to see me rate 6 different gluten-free tortillas, check out the video below!
Turn these cauliflower tacos into bowls:
Let's say you don't have tortillas or you don't like them. You can turn these tacos into a bowl by adding rice and/or greens! (Like a burrito bowl). Super simple.
Make your own taco seasoning blend:
Storebought taco seasoning blend is a great option to save a little bit of time, but it's easy to make at home as well. You can use the following blend to make 1 Tbsp of taco seasoning, the amount needed for this recipe!
1/4 tsp dried oregano
1 tsp chili powder
1/4 tsp onion or garlic powder
1 tsp ground cumin
1/4 tsp paprika
1/4 tsp salt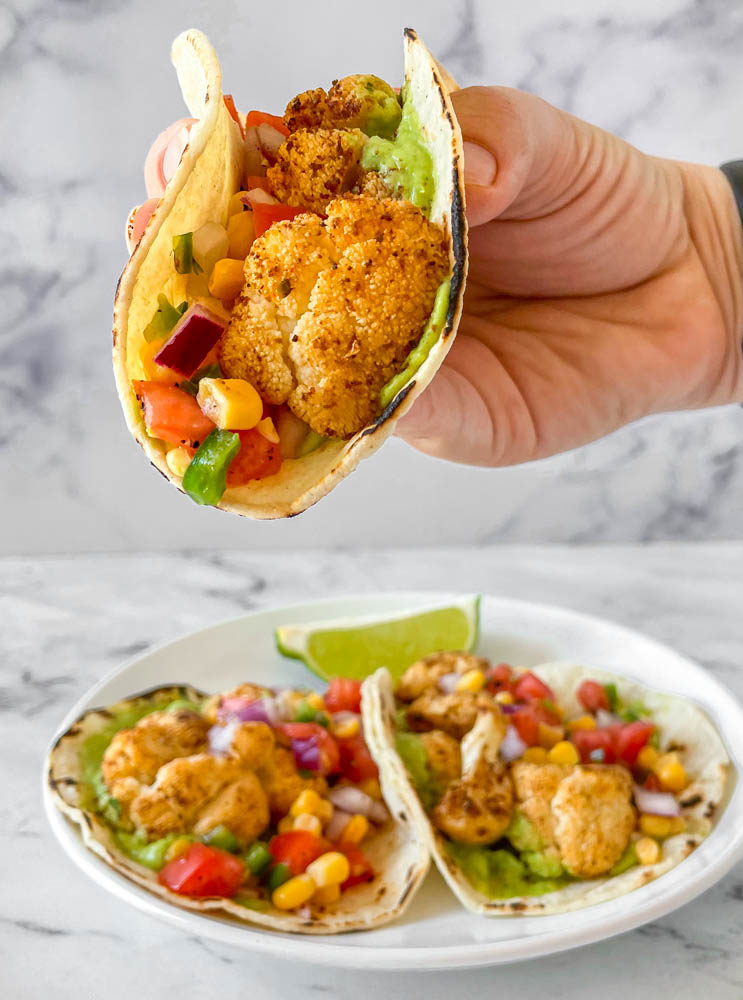 Storage & Reheating Notes
These tacos will last in the fridge for 4 days. I recommend keeping the tortillas and toppings on the side.
The best way to reheat these tacos: assemble them on a plate or in the meal prep container lined with a paper towel or napkin and reheat in the microwave for a minute. The paper towel helps get rid of any sogginess! You can also reheat the filling on its own in the microwave or on the stove OR just eat these tacos cold.
Happy prepping!
And Don't forget to try out our other delicious vegan/vegetarian recipes!
And check out these other vegetarian tacos recipes!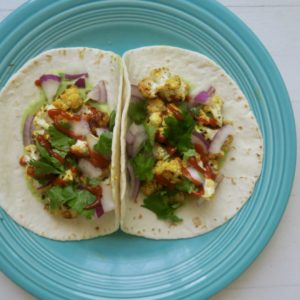 Vegan Cauliflower Tacos With Chunky Salsa And Avocado Cilantro Sauce
Ingredients
1

cauliflower

one head, chopped into florets

1

tomato

large, chopped

1

jalapeno

seeds removed and chopped

1/2

red onion

chopped

1

corn

or canned or frozen corn

1

bunch

cilantro

2

avocado

small

9

tortillas

small, of your choice, 3 tacos per serving

2

lime

chopped into wedges

salt and pepper to taste

1

TBSP

taco seasoning

see notes if you don't have this

1

tsp

paprika

only if using fresh corn

1/2

tsp

cayenne

1

TBSP

olive oil

+ more if using fresh corn
Instructions
Preheat your oven to 400F and prepare a baking sheet with foil.

In a big bowl, toss and mix the cauliflower florets, 1 TBSP olive oil, salt, pepper and taco seasoning well. Pour the seasoned cauliflower onto the baking sheet and spread the pieces out a bit.

Put the baking sheet in the oven for 20 minutes, flipping the pieces halfway.

IF USING FRESH CORN: Season corn with 1 TBSP olive oil, salt, pepper, and paprika – make sure it's evenly covered. Roast for 15 mins, rotating halfway.

Make the dressing: Add the 2 avocados (after peeling them), 1 cup of cilantro, juice from 1 lime, 1 TBSP olive oil, 2 TBSP water, salt and cayenne to a food processor or blender. Blend until smooth. Taste the sauce. Add more salt if you think it needs it, and if you want it to be thinner, add 1-2 TBSP more water.

Make the salsa: add the tomato, jalapeno, and red onion to a bowl. Season with salt and pepper. Squeeze 1 lime wedge over it. When the corn is done, slice the kernels off and add it to the salsa, then mix it together. (My tip: chop the bottom of the corn so you have a flat end to work with before you slice the kernels off)

Assemble! Divide the salsa, cauliflower and remaining cilantro between 3 meal prep containers. Store the sauce in another container or 3 smaller ones. Let the meals cool for 10 minutes before placing in the fridge.
DID YOU MAKE THIS RECIPE?
Please leave a comment below on the blog or share a photo with us and tag @workweeklunch! Can't wait to see what you made!