Hands down, apple pie is my favorite dessert, so these apple pie overnight oats are the best way to start my day! You are going to want to make these oats every week, no matter what the season.
Apples. Cinnamon. Milk. A dash of agave or honey. Nuts for an added crunch. What more could you need?
Get more recipes like this in the Workweek Lunch Meal Prep Program with access to our meal planning tools, grocery list generator, and more. Start a free trial today!
How these Apple Pie Overnight Oats Work:
There's no cooking necessary for overnight oats! All you do is prep the oats with liquid (usually milk), stick it in the fridge, and let the oats "soak" overnight.
Overnight oats can be prepped for up to four days in advance. No, the milk won't spoil when kept in the fridge.
And if you're worried about fruit getting brown (this doesn't mean it has gone bad, by the way) add the fruit fresh in the morning or add a little lemon juice to your apples.
The beauty of overnight oats is how fast they are in the morning. You literally just take one of your containers out of the fridge and eat. Honestly, there's not a faster breakfast out there.
So if you're someone who has crazy mornings where you're rushing around overnight oats are perfect for you. They are also a great option for kids before school because they are so hassle-free.
Still skeptical on overnight oats? We have more breakfast recipes here!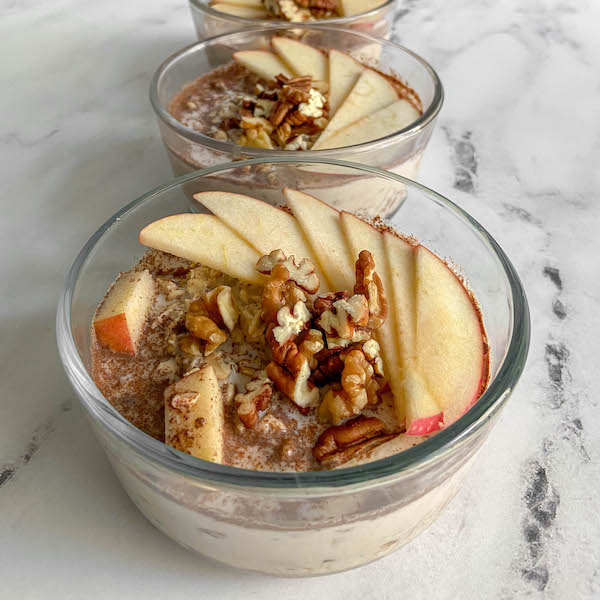 How you can change these apple pie overnight oats
Use non-dairy milk such as oat milk or almond milk if you are vegan
Add more fruit such as bananas, pears, or berries! This will change the flavor profile but it will still be delicious.
Add your favorite nut butter
Swap out the walnuts for pecans, almonds, or pepitas.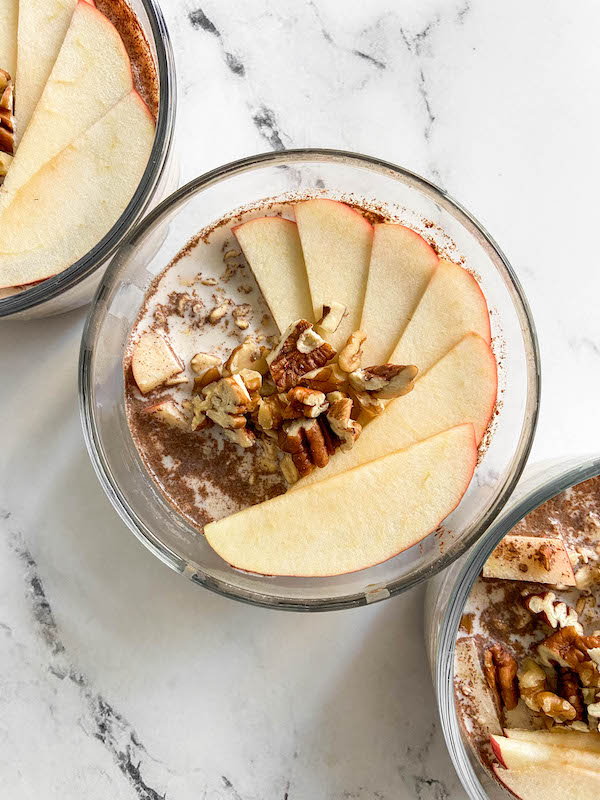 Looking for other budget-friendly breakfast ideas? We've got you covered with the video below!
Also, be sure to read our master list of breakfasts post to give you all the breakfast inspo you need!
Do You Eat Overnight Oats Hot Or Cold?
Did you know you can reheat overnight oats in the microwave? I know many folks can't wrap their heads around eating cold oatmeal, and I'm here to share that you absolutely don't have to.
While I love eating overnight oats straight from the fridge on a hot day, normally I heat them in the microwave for 1-2 minutes. You can also reheat overnight oats on the stove!
Note that with the microwave method, you may experience more liquid in your container. However, if that happens, you can just drain it a bit or let it sit for a few minutes so the oats absorb more liquid.
Overnight oats also taste great at room temperature! They're ok out of the fridge for up to 4 hours. They will last about 4 days in the fridge once you have made them!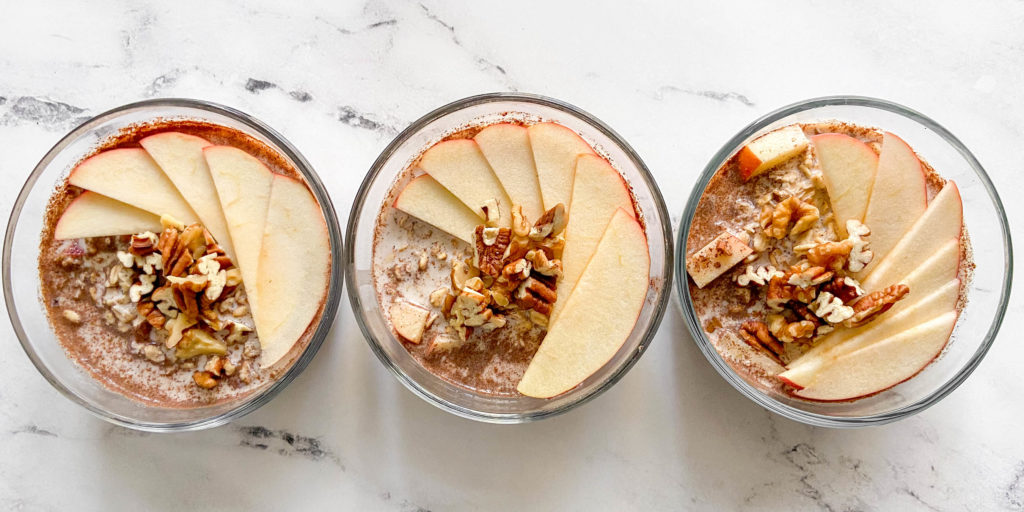 Not into overnight oats? Try some of these other apple pie-inspired recipes!
And don't forget to try out our other delicious free breakfast recipes!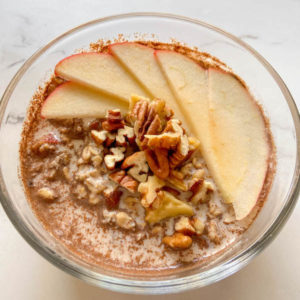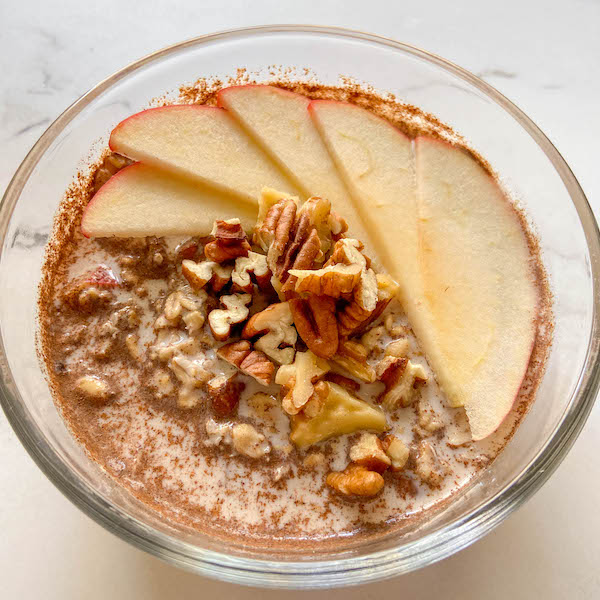 Apple Pie Inspired Overnight Oats
Ingredients
1 1/2

cup

old fashioned oats

divided

1 1/2

cup

apple

chopped, any kind, divided

2 1/4

cup

milk of your choice

divided

3

tsp

cinnamon

divided

6

tsp

agave, maple syrup or honey

divided

3/4

cup

walnuts

or pecans, divided
Instructions
In three small container or glass jar, add 1/2 cup of the oats, 1/2 cup apples, 1 tsp cinnamon and 1/4 cup nuts to each.

Then add 3/4 cup milk and 2 tsp agave to each container. Stir with a spoon.

Store overnight for up to three nights. The oats will "cook" by soaking up the liquid!

On the day you eat the oats, you can eat them cold or heat on the stove or in the microwave for a minute.
DID YOU MAKE THIS RECIPE?
Please leave a comment below on the blog or share a photo with us and tag @workweeklunch! Can't wait to see what you made!