Have you ever had horchata? The first time I had it was while visiting my brother in Berkeley, California and I fell in love. The horchata overnight oats inspired by this drink may not be exactly like the real deal, but the flavors are on point!
Get more recipes like this in the Workweek Lunch Meal Prep Program with access to our meal planning tools, grocery list generator and more. Start a free trial today!
What is Horchata?
Horchata is a milky, sweet Mexican beverage, served hot or cold, made with rice, evaporated milk, regular milk, cinnamon, sugar and almonds. I have a can of evaporated milk in my pantry right now dedicated to making this drink when I crave it! The only catch is that you have to remember to soak the rice, cinnamon and almonds overnight.
Luckily, for this recipe, there's not a lot of prep. Just throw these ingredients in a meal prep container, stick it in the fridge and enjoy it for breakfast the next day.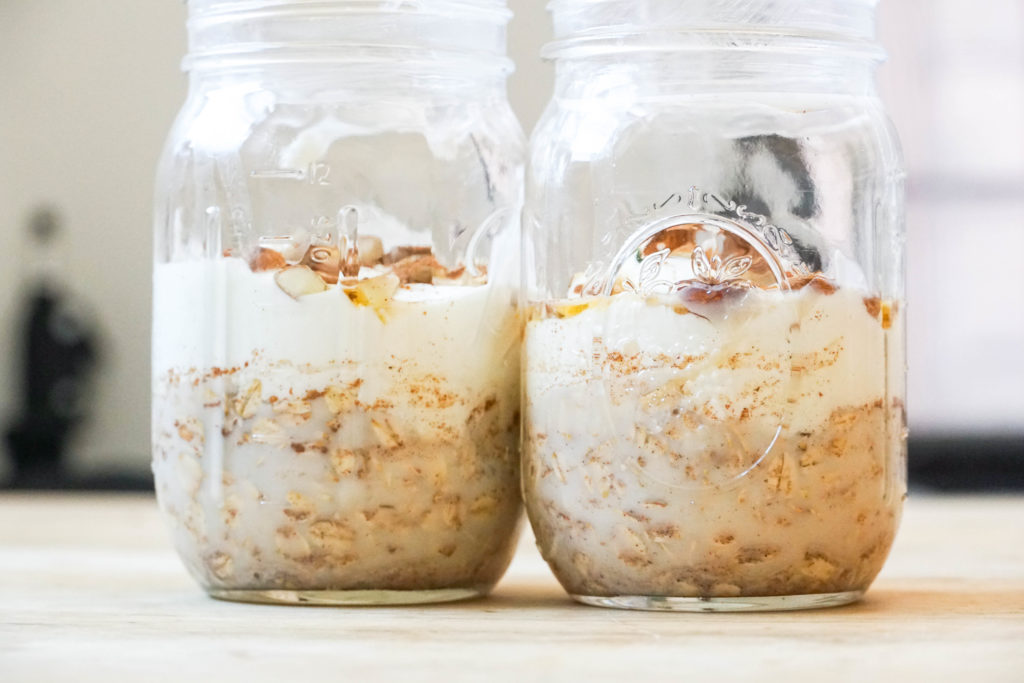 Recipe Overview
This breakfast calls for vanilla yogurt (non-dairy yogurt works!), cinnamon, old-fashioned oats (GF oats are ok), honey, milk, and almonds.
Ready to try it?
Overnight Oats 101
If you've never made overnight oats before, here's how it works. You mix oats and liquid (usually milk of your choice) and let it sit in the fridge overnight to allow the oats to "cook." What's really happening is that the oats absorb the liquid, just as they do when you cook them over the stove.
You end up with a delicious breakfast with absolutely no cooking and no mess! Here's our master recipe for overnight oats if you'd like to learn more about how to meal prep with them.
Changes You Can Make To These Horchata Overnight Oats
If you're allergic to nuts, simply omit the almonds and use chia seeds instead!
If you want to add fruit, I recommend adding berries or bananas!
You can use vanilla greek yogurt, regular vanilla yogurt or a non-dairy yogurt of your choice for this recipe.
Alternatively, you can try plain yogurt with a dash (1/4 tsp for each serving) of vanilla extract.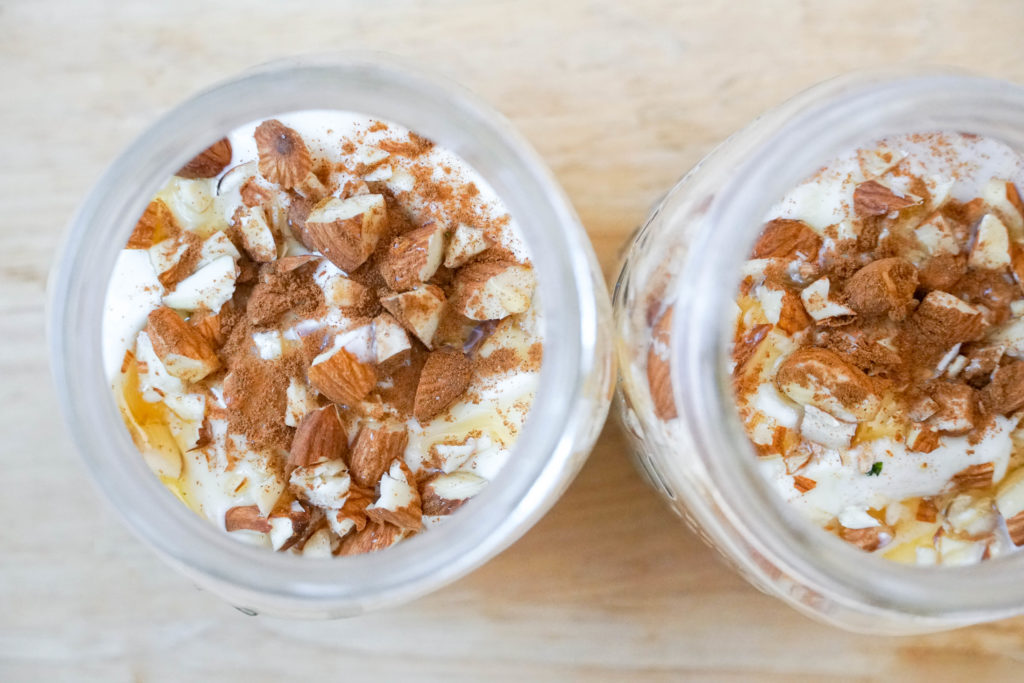 How overnight oats work
You don't have to cook overnight oats! Simply let them soak in liquid overnight and they'll be "cooked" that way. I know, it seems like magic right?
Don't use steel-cut oats for this recipe! Instant and rolled oats are the way to go.
Do you Eat Overnight Oats Hot or Cold?
Did you know you can reheat overnight oats in the microwave? I know many folks can't wrap their heads around eating cold oatmeal, and I'm here to share that you absolutely don't have to.
While I love eating overnight oats straight from the fridge on a hot day, normally I heat them in the microwave for 1-2 minutes. You can also reheat overnight oats on the stove!

Note that with the microwave method, you may experience more liquid in your container. If that happens, you can just drain it a bit or let it sit for a few minutes so the oats absorb more liquid.
Overnight oats also taste great at room temperature! They're ok out of the fridge for up to 4 hours.
How Long Do Overnight Oats Last?
This recipe can last for up to 3 days in the fridge. Overnight oats are not freezer-friendly and they're meant to be eaten warmed up, cold or at room temp. Because it has yogurt in it, I don't recommend reheating it.
Happy prepping!
Not into Overnight Oats? Check Out These Other Delicious Breakfast Recipes:
Or Try Out One of These Different Overnight Oat Recipes!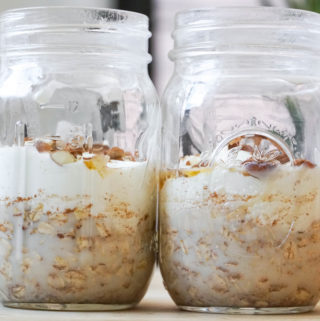 Horchata Overnight Oats
Ingredients
1

cup

old fashioned oats

divided

1

cup

milk of your choice

divided

1

tsp

cinnamon

divided

1/2

tsp

allspice

divided, sub ground cloves or nutmeg

2

single serving

vanilla yogurt

(1/2 cup of yogurt per serving)

2

TBSP

agave, maple syrup or honey

divided

1/3

cup

almonds

chopped, divided
Instructions
Divide the oats, milk, cinnamon and allspice between 2 small meal prep containers. Mix well.

Add the yogurt, sweetener and chopped almonds on top of each container. You can leave it that way or stir it all together – up to you! Cover and place in the fridge until ready to eat.
DID YOU MAKE THIS RECIPE?
Please leave a comment below on the blog or share a photo with us and tag @workweeklunch! Can't wait to see what you made!