Whenever I show a photo of meal prepped salmon on my feed, someone asks "is it safe to reheat?"
And what people usually want to know is if whether or not reheating a cooked meal will make them sick.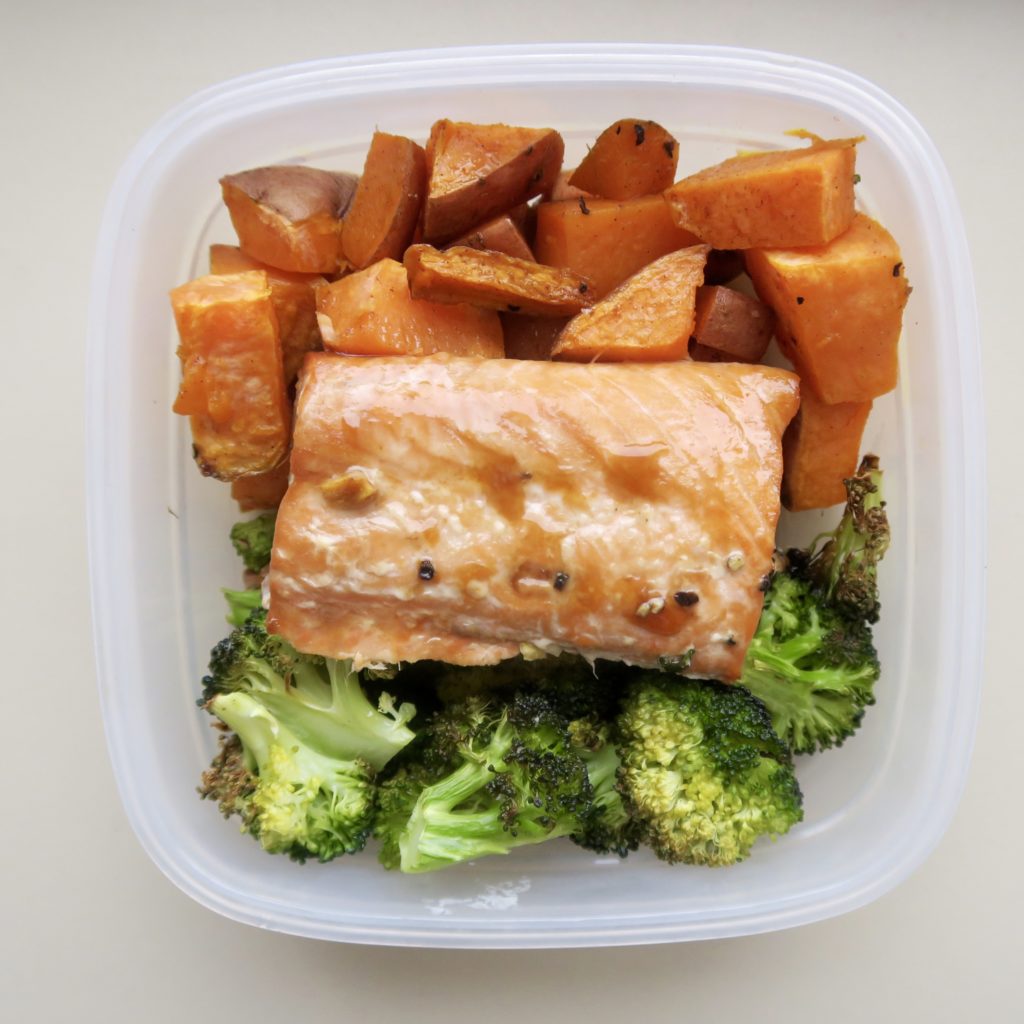 Going on record, I can say I have never been physically ill from my home cooked and reheated meals, including reheated fish.
The worst I experienced from my meal preps is minor bloating, and that has nothing to do with the reheating process.
The reason why someone would become ill from a meal, other than an allergy or intolerance, is harmful bacteria present in the ingredients.
Obviously, no one wants harmful bacteria in their food. From the grocery store to actually serving a meal, there are a few opportunities for bacteria to grow. But with the right washing, preparing, cooking (and reheating) practices, you're totally in the clear.
And let's get this out of the way — reheating your food is totally safe if you do it right!
I honestly have never thought of food as UNSAFE to reheat. Maybe ignorance is bliss? That being said, you can reheat the majority of meals in a completely safe manner without sacrificing the taste or texture.
It's important to note that your meal preps will never taste or feel AS good as when you first make them. But with the right recipe, they can be pretty damn close.
It's also important to note that not all meals are meant to be reheated or taste good the next day. So beware!
If you want access to creative and easy recipes that are made and tested for meal prep, sign up for the WWL Meal Prep Program which provides access to all of my meal prep recipes and weekly meal plans. Click here to learn more and join.
Safely cooking and reheating food is simple if you follow the steps below every time:
Meats must cook all the way through initially, to an internal temperature of 165 F for poultry and ground meat and 145 F for steaks. You don't NEED a food thermometer, by the way, you can just eyeball your meats for pinkness inside when cooking. That's how I do it.
Store cooked meats and all other ingredients in airtight containers in the fridge within 2 hours of cooking. Bacteria can grow between the temperatures of 40 F and 145 F, so your fridge is a safe place for cooked food if it's below 40 F (most fridges are so don't worry too much about that!)
Make sure you eat meal prepped food within 6 days at the very latest. Most of my recipes say 4 days, but that's because by day 5 the texture and taste start to get less appetizing, but technically it is still safe to eat.
Make sure you reheat meals to a temperature of 165 F or above. Most regular microwaves can accomplish this temperature after a minute or two of reheating a meal!
The point of all of these practices listed above is to avoid potentially harmful bacteria from growing on your food.
It's pretty simple and doable, and I promise if you follow the instructions above you'll be perfectly safe — as long as your ingredients are safe to start with.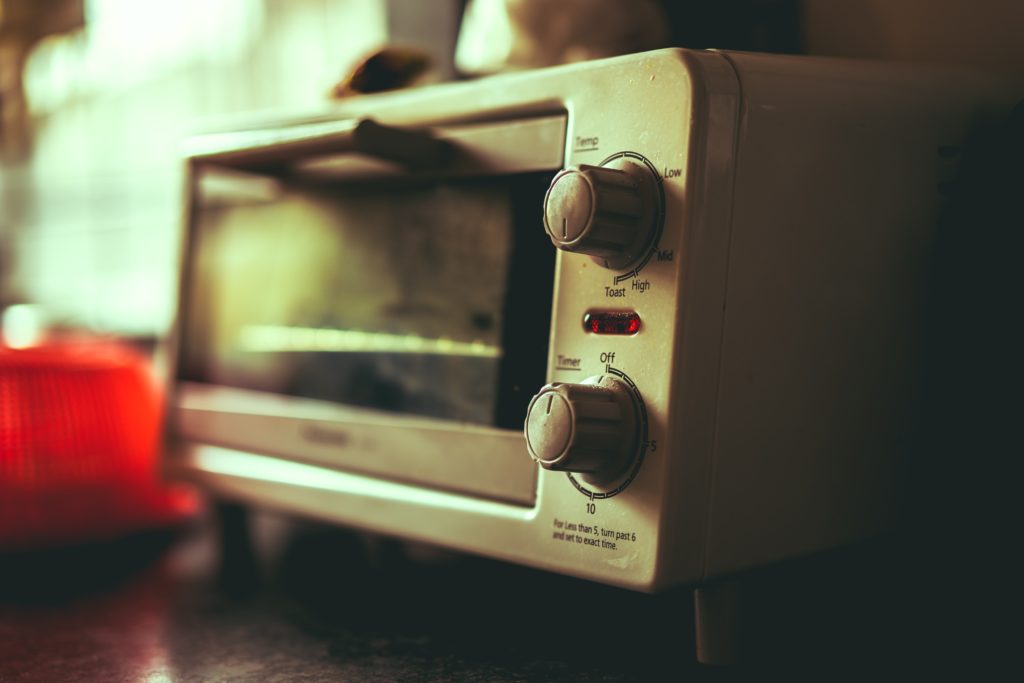 Here are best practices for safely reheating cooked meals in different appliances:
REHEATING FOOD IN THE MICROWAVE
Best for: pretty much all meals, soups, chilis, curries, stews, egg dishes, baked goods, breakfast dishes, oatmeal
You can reheat meals in the microwave covered or uncovered. Generally, reheating them slightly covered (as long as the lid is microwave safe) is safer. Make sure to adjust the lid to release steam while it cooks (you don't want to microwave a sealed container).
I usually microwave my food for 90 seconds on high because I want it piping hot. A minute is usually okay and for some ingredients, such as fish, it's better to reheat it on a lower power for a longer period of time.
REHEATING FOOD ON THE STOVE
Best for: anything you cooked on the stove will reheat well on the stove. Soups, chilis, stews, stir-fries, rice dishes, pasta dishes, meat dishes etc.
When you reheat food on the stove, you have a lot more control over the heat. Make sure to add a little bit of oil or water to the pan when reheating food on the stove.
You can reheat your food covered or uncovered, but using a lid will help the food reheat more evenly and retain moisture.
If you're reheating soups, sauces, curries or chilis, it's safest to bring the pot to a boil to reheat it to a safe temperature.
REHEATING FOOD IN THE OVEN
Best for: anything you cooked in the oven first will reheat well in the oven. Baked pasta dishes, sheet pan meals, casseroles, meat dishes etc.
Reheating food in the oven takes the longest, but it works just as well. Make sure you're using an oven-friendly or glass dish for this method.
I like to stick my oven meal preps in there as it's preheating. By the time the oven fully preheats, the meal is usually warm enough to eat!
REHEATING FOOD IN THE TOASTER OVEN
Best for: any meal that needs to retain its crispiness will do well in the toaster oven. Pizza, quesadillas, sandwiches, roasted veggies, breakfast burritos etc
This method is pretty straightforward! To avoid moisture gathering underneath meals that involve bread or tortillas, don't use the little tray that comes with the toaster oven. Instead, place the meal directly on the grate inside. Otherwise, some condensation will collect under the sandwich, quesadilla or pizza causing some sogginess.
SAFELY REHEATING FROZEN MEALS
The best practice for reheating frozen meals is to let them thaw out in the fridge first. Take the meal out ahead of time and place it in the fridge until it's not frozen, but simply cold. It depends on the meal and its size, but this could take anywhere from 12-36 hours.
After thawing in the fridge, reheat it normally with any of the methods listed above. I usually do the microwave or the stove, where the heat is more controllable.
If you're really worried about the safety of reheated meals, buy a food thermometer and make sure that you can eat your cooked meals within a few days.
If you need help choosing meal prep friendly dishes that you can definitely eat within this window AND learn how to cook properly, I highly recommend trying out the Workweek Lunch Meal Prep Program. It's $7.99/month for weekly meal plans (and more) and you can cancel any time if it's not for you.
Part of learning how to keep foods safe for reheating is learning how to COOK foods safely.
For example, It's NOT safe to cook with meat that was frozen, thawed and re-frozen.
And if you buy raw chicken breast and leave it in your fridge for 5-7 days, it's probably not a good idea to cook with it in the first place.
Wash your hands before cooking and wash your produce too. You don't need to wash meats! In fact, washing meat (raw chicken, fish) before cooking might seem like a good idea, but it actually spreads bacteria even more.
You'll see another post on cooking safety soon, friends!
And if you want your reheated meals to taste delicious, here are some other cooking practices to be aware of:
Very slightly undercook eggs, shrimp and beef (because they might cook slightly more when reheated and they're less likely to dry out)
Slightly undercooking certain veggies (for the same reason above, but in this case, they're less likely to get soggy if you undercook them slightly)
Knowing that pasta and rice might stick together after cooking, so you'll need to add water or broth before reheating no matter what
Making sure to let meat rest after cooking and before slicing into it to make sure it's not dry
Knowing that certain roasted veggies will not, for the most part, remain crispy in meal preps (like sweet potato fries). Consider avoiding meals that rely on that crispy texture for meal prep.
These are just a few hacks for meal prep-specific cooking. Obviously, you don't need to worry about some of the above tips when cooking a meal to be eaten immediately.
Have any more questions about reheating meals safely? Drop them in the comments below!