These veggie breakfast burritos are exactly what you need to start the day off on the right food. I mean, foot. See what I did there?
These little guys are packed with veggies, they're freezer-friendly and they're easy to eat on the go. That's a winning combo right there!
Want more easy meal prep-friendly breakfast recipes? Join the Workweek Lunch Meal Planning Program with access to 500+ meals, our meal planning tools, grocery list generator and more. Start a free trial today!
Want to make this meal? This recipe is stoppable via Jupiter! Click here to fill your cart with groceries and have them delivered to you asap.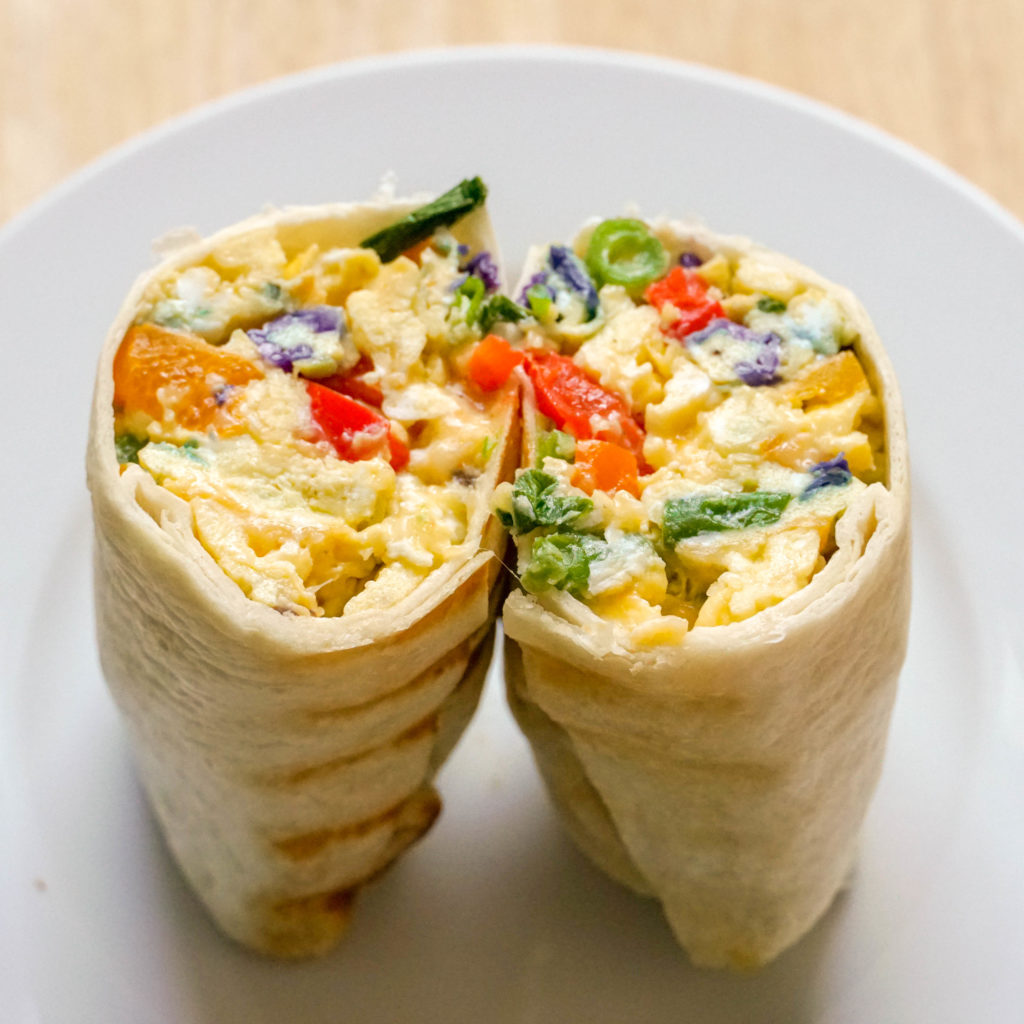 As always, you can customize everything about this recipe. It's a good way to use up whatever veggies you have in your fridge, especially if you have little bits of different kinds.
Almost any veggies you have lying around in your fridge can work in these breakfast burritos!
In the version pictured, I used red and orange bell pepper, green beans, green onion, and cabbage because I have a lot leftover from cooking this week.
Tomatoes, greens, asparagus, green beans, eggplant, celery, onions, garlic, mushrooms, potatoes, zucchini, squash, peppers of any kind, and cauliflower can all go in this.
The only veggie that probably wouldn't work (that I can think of) are cucumbers. They're pretty watery.
Meal Prep On A Budget: Spend $25 On Food This Week (Free Meal Plan)
What do you usually like in an omelet?
That's a good starting point to decide what kinds of other delicious ingredients you might want in your burritos. Cheese of any kind (feta, parmesan, cheddar, mozzarella, etc.) will work. Olives, avocado, bacon, or sausage can also go in these burritos, too. Have leftover black beans or pinto beans? Throw them in there, too. Beans freeze well, and so does rice, for that matter. But I'm getting ahead of myself.
Want more budget-friendly breakfast ideas? Check out the video below!
Spice it up!
In the recipe, we're using salt and pepper, but you can add other spices if you want! A little chipotle powder or cayenne could give this a good kick. Cumin, chili powder, paprika, or turmeric could add a little bit of heat and warmth. Use a little bit of dill, thyme, sage, or oregano for another interesting flavor profile. And don't be afraid to use salt!
The best thing about this recipe is you can taste your filling before committing to it. Taste the cooked eggs BEFORE you wrap your burritos just to make sure it's what you want.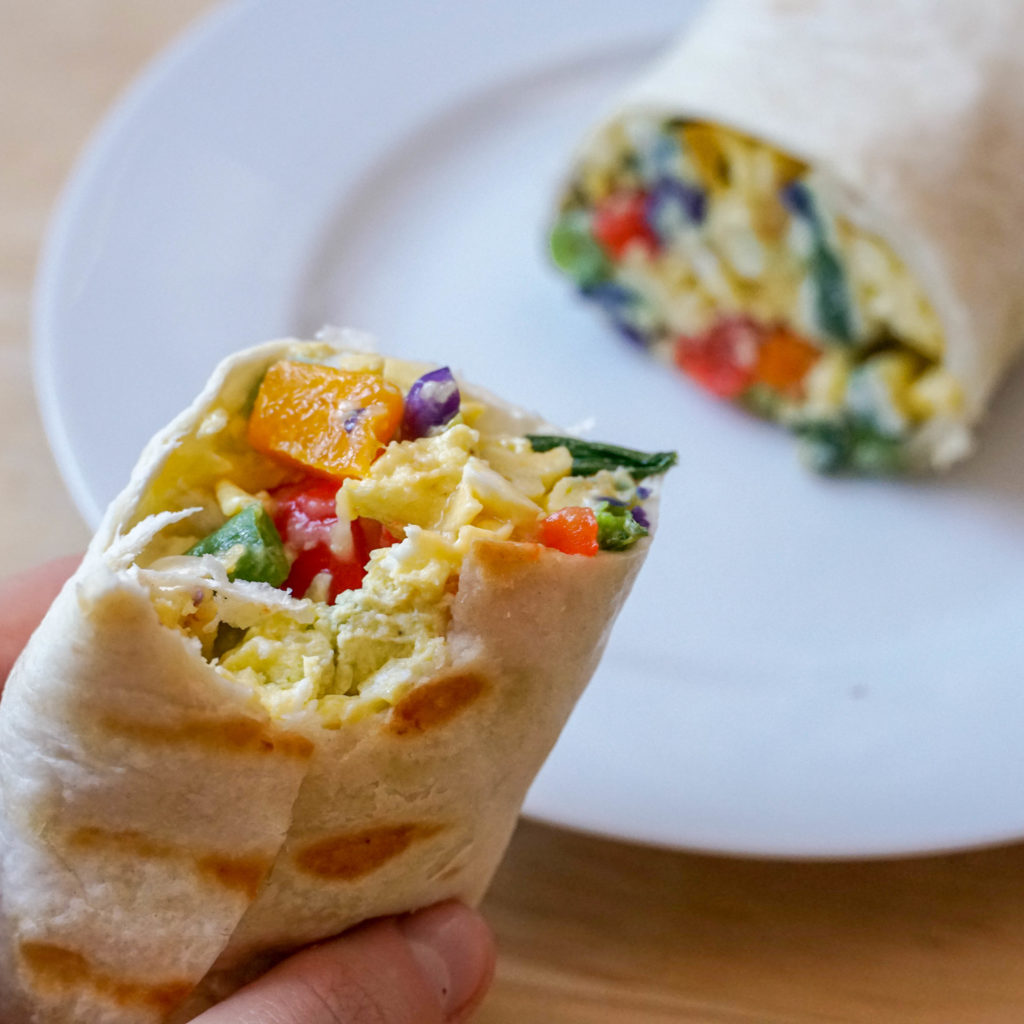 How to wrap up this veggie breakfast burrito:
The method goes like this: place filling in the middle, lower third of the tortilla. Then fold up the bottom, then each side to make a little envelope. Then tuck and roll!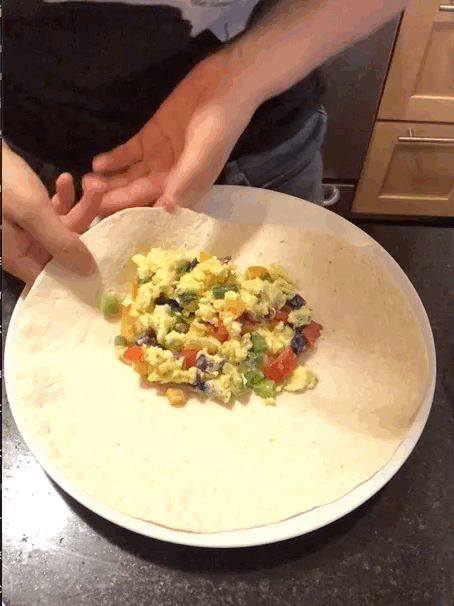 Sealing the veggie breakfast burritos after you roll them up on the grill is totally optional. But I like how it looks, and I like being confident that the tortilla won't fall apart on me! It's the little things, you know?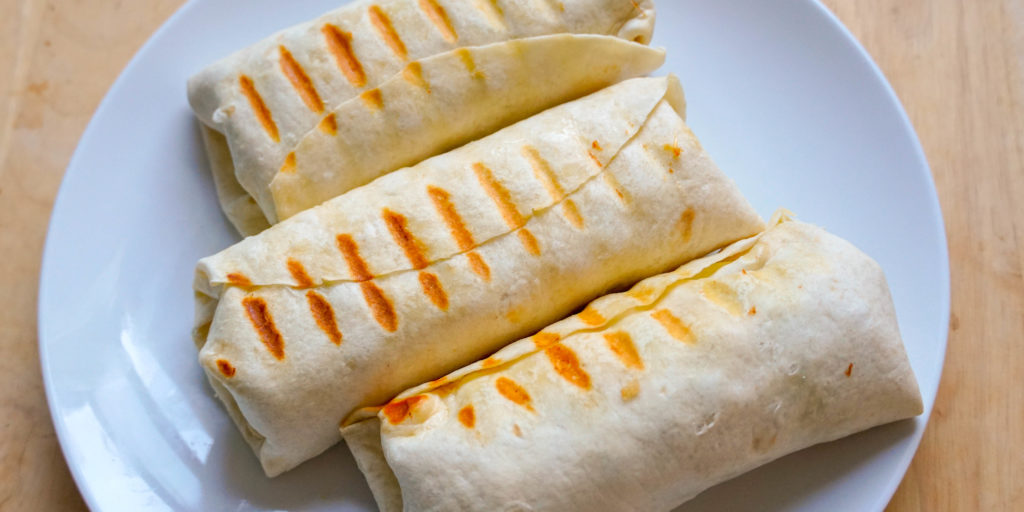 How to make these breakfast burritos gluten-free
The only ingredient that has gluten in this recipe is the tortillas! My favorite gluten-free tortilla is the Mission brand original GF tortilla, which you can find in most grocery stores (but unfortunately not in Whole Foods). You can also order them here!
How to store and reheat veggie breakfast burritos
You can place the burritos in an airtight container in the fridge OR you can wrap them up in foil, saran wrap, or in reusable beeswax wrap. I use the container method or the foil method! Foil is great because you can pop them in the oven just as they are.
You can reheat these in the microwave. Make sure to wrap them in a dry paper towel which will absorb any moisture (I promise it's safe). You can also reheat them in the toaster oven or oven.
Tip: Rotate the burrito halfway through reheating to get the eggs to reheat evenly.
Breakfast burritos are freezer-friendly for up to 3 months! Thaw them in the fridge or directly in the microwave.
Happy prepping!
Related: Freezer Meal Prep: Stock Your Freezer With 8 Easy Prep Recipes
Don't forget to try out our other delicious breakfast recipes!
Here are some other breakfast burrito recipes we love!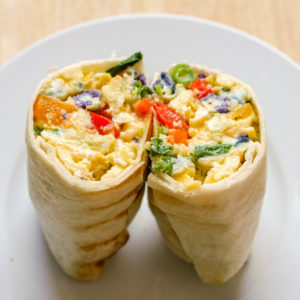 Veggie Breakfast Burritos Worth Waking Up For
Ingredients
6

eggs

1/4

cup

milk of your choice

salt and pepper to taste

1

red bell pepper

chopped

1

head

broccoli

chopped

3/4

cup

shredded cheese

optional

3

large

tortillas

you can also make breakfast tacos with this, or stuff a pita!

1

TBSP

olive oil
Instructions
Whisk the eggs, milk, salt and pepper to taste in a large bowl and set aside.

Add olive oil to a skillet over medium heat, followed by the bell pepper and chopped broccoli. Add a little salt and pepper. Cook for 5-10 minutes until the broccoli is bright green and fork-tender.

Pour the whisked eggs into the pan and stir. Cook over medium/low heat until eggs are just cooked through, stirring occasionally to scramble them, about 5 minutes. Turn off the heat and fold in the shredded cheese until it's melted. Transfer the egg mixture to a plate and let it cool for 20 minutes. Wipe the pan out and return to the stove.

Assemble the burritos. Place 1/3 of the egg and veggie mixture on a tortilla. See the video above for proper rolling instructions! Repeat two more times.

Optional step to seal the burritos: heat up the skillet with a very small amount of oil spread in a thin layer. Place the burritos seam side down and let them cook for 3-4 minutes on medium/high heat. This will help the burritos stay together!

Let the burritos cool then store in an airtight container or wrapped in foil, plastic wrap or beeswax wrap. Then place in the fridge.
DID YOU MAKE THIS RECIPE?
Please leave a comment below on the blog or share a photo with us and tag @workweeklunch! Can't wait to see what you made!