Making homemade scones can seem intimidating at first, but I promise you these lemon blueberry scones are so easy and are always a crowd-pleaser. We're keeping it super simple here and not adding a glaze on top, but if you want to take these to the next level there is a simple lemon glaze in the description below.
This recipe includes flour (all-purpose and whole wheat), butter, sugar, baking powder, vanilla, heavy cream, eggs, lemon, and blueberries. I bet you have most of that in your pantry already. Let's get into it!
Get more recipes like this in the Workweek Lunch Meal Prep Program with access to our meal planning tools, grocery list generator, and more. Start a free trial today!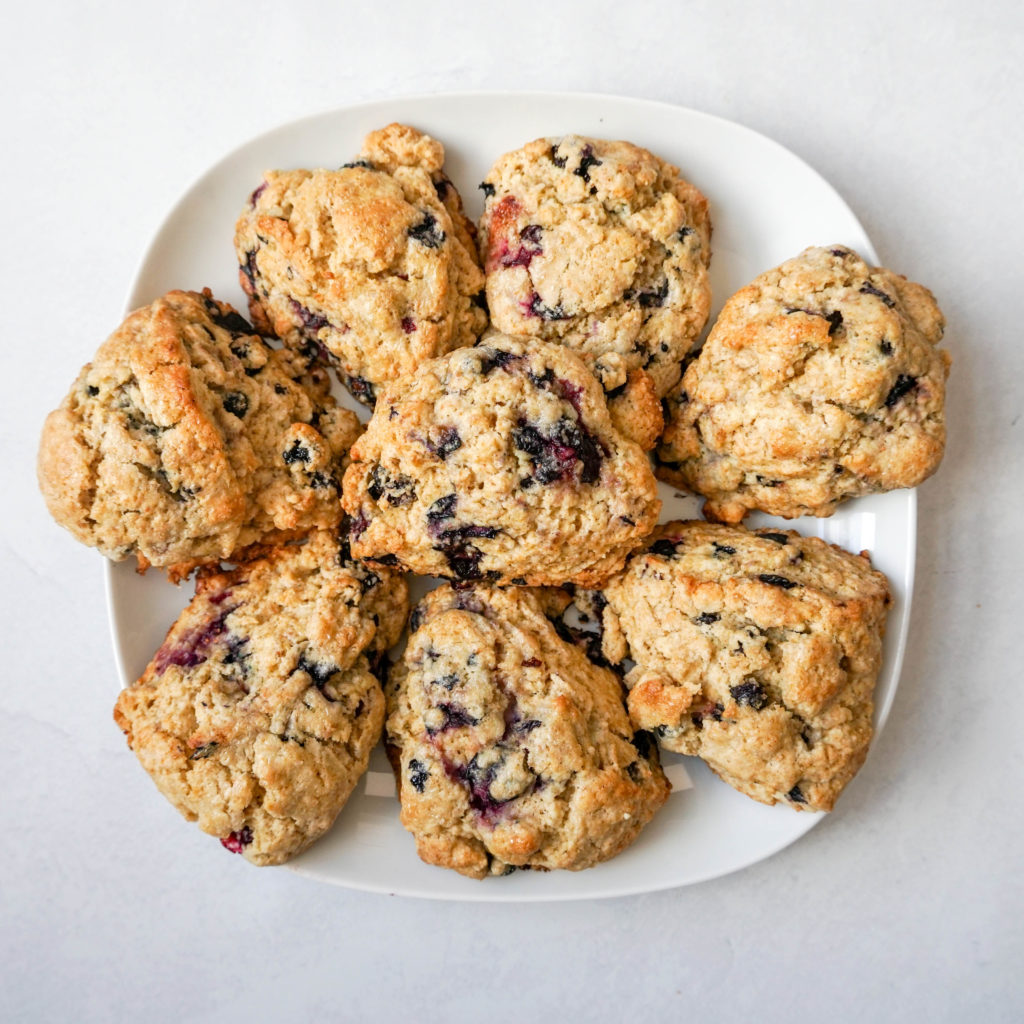 Changes you can make to these lemon blueberry scones:
If you're GF, use a blend you trust. All-purpose GF flour works well for me! If your GF flour doesn't have xantham gum, you'll need to add 1/2 a teaspoon for 2 cups of flour. Here's a recipe for GF lemon blueberry scones that are very similar.
If you're vegan, throw in a flax egg. (1 TBSP flax or chia seed combined with 3 TBSP water.)
Pro tip: If you're using frozen blueberries, lightly coat them in flour. This will help prevent the batter from turning purple!
Related: Breakfast Ideas: Our Master List of Go-To Meals
"Can I use milk instead of cream in scones?"
Yes! Whole milk will work just fine, or really any milk you have on hand or prefer.
If you're dairy-free, use oil and non-dairy milk to sub for heavy cream. (2/3 cup rice or soy milk combined with 1/3 cup olive oil or melted dairy-free margarine will make 1 cup of this mixture. Use 1/2 cup in the recipe and extra for brushing!).
Related: Vegan Protein Sources for Delicious, Plant-Based Meals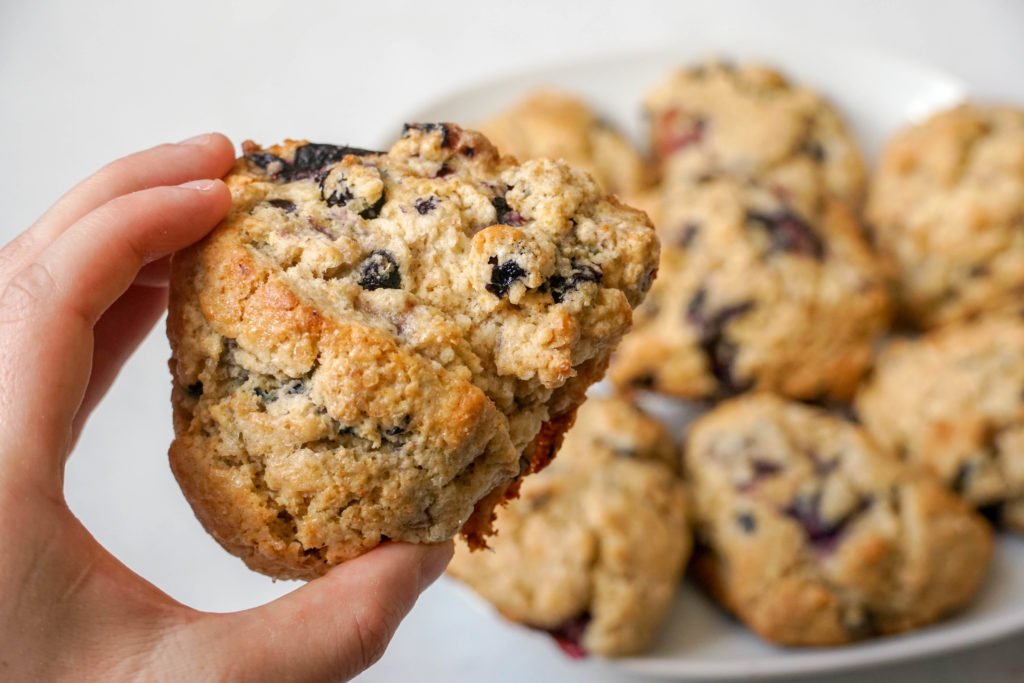 How to make a lemon glaze:
As mentioned above, this recipe doesn't include the steps to make a glaze, but it's super easy if you want to add it!
Simply whisk together:
-1 cup confectioners sugar
-3 TBSP lemon juice (about one large lemon)
Allow the scones to cool completely before glazing.
Other scone flavor combinations to try out
This recipe can also be used as a template! Try out any of these delicious flavor combinations.
Cranberry Orange (1 cup of fresh or dried cranberries with orange zest/juice to replace the lemon in the recipe below)
Chocolate Cherry (1 cup of chocolate chips and chopped dried or fresh cherries)
Cherry Almond (1 cup of fresh or dried cranberries with chopped or slivered almonds).
Cinnamon Raisin (1 cup of raisins + 1-2 tsp of cinnamon)
Raspberry Almond (1 cup of fresh chopped raspberries with chopped or slivered almonds).
Related: How Long Are Leftovers Good For? (And What to Do With Them)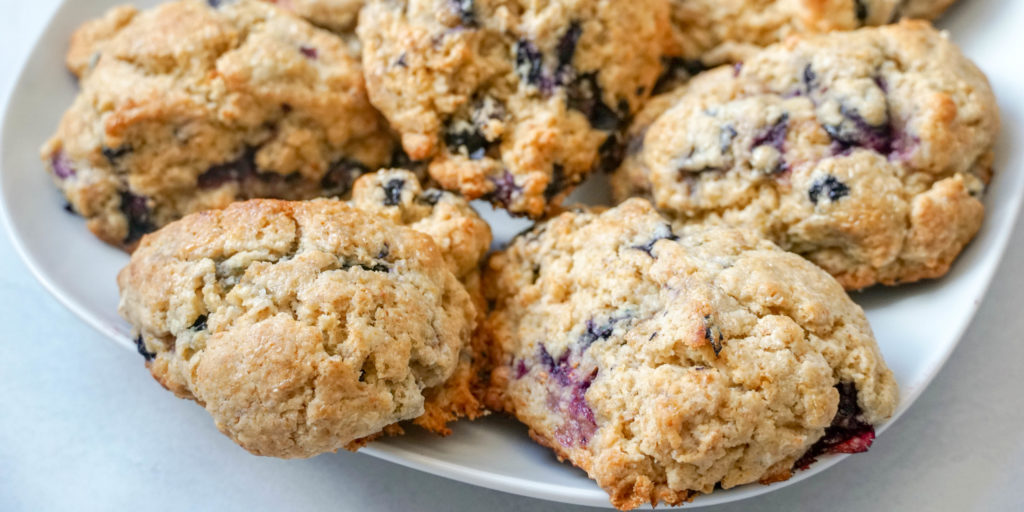 Storage & Reheating Notes:
These scones should last in an airtight container at room temperature for about 3-4 days and in the fridge for up to 5 days. I ate mine at room temp and they were delicious, but they definitely lost their crisp after the first day. So if you want that crispy, crunchy edge, I recommend reheating it a little in the toaster oven or in the oven before eating.
Can you freeze lemon blueberry scones?
I wouldn't recommend freezing the cooked scones, however, you can freeze uncooked scones and bake them later. Freeze the uncooked scones on a baking sheet, and transfer them to storage bags once they are frozen. When you want to eat them, follow the regular cooking instructions, while adding about 3 minutes to the cook time. Happy prepping!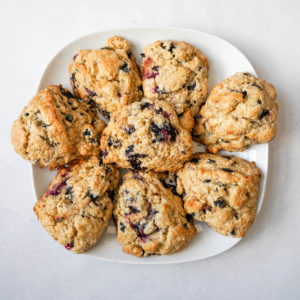 The Easiest Lemon Blueberry Scones
Ingredients
1/2

cup

butter

frozen or very cold

1

cup

all-purpose flour

1

cup

whole wheat flour

you can also use 100% all purpose

1/2

cup

granulated sugar

1

TBSP

lemon zest

1/4

tsp

salt

2.5

tsp

baking powder

1/2

cup

heavy cream

plus extra for brushing, sub buttermilk

1

egg

1

tsp

vanilla extract

1

cup

blueberries

fresh or frozen

2

TBSP

coarse sugar

optional, for topping
Instructions
Prep the butter: grate the frozen butter onto a plate (I recommend cutting the stick in half first, then grate one half at a time). If you forgot to freeze the butter, cut it with a sharp knife into small cubes. Stick it back in the fridge or freezer for now.

To a big bowl: Add the all purpose flour, whole wheat flour, sugar, lemon zest, salt and baking powder. Whisk together. Then add in the grated/cut butter and use a pastry cutter, two forks or your fingers to incorporate the butter with the dough so it comes together in pea-sized crumbs. Place in the fridge.

To another bowl: Add the heavy cream, egg and vanilla and mix to combine.

Add the wet ingredients to the dry. Add the blueberries and mix with a wooden spoon until you don't see any big pockets of flour. The dough will be thick and sticky.

Turn the dough onto a big clean cutting board (easier clean up) and try to shape the dough into a ball. If the dough seems dry, add 1-2 tablespoons of heavy cream. Add a sprinkle of flour if it's really sticky. Press the dough into an 8-inch disc (I just eyeball it) then, using a sharp knife, cut the disc into 8 wedges. Transfer the wedges to a plate. Brush heavy cream on top of the scones and freeze for 10-15 minutes.

Preheat the oven to 400 F and prepare a baking sheet with cooking spray, parchment paper or a baking silicone mat while your dough chills.

Arrange the scones on the sheet pan so they have some space and bake for 20-25 minutes, until the tops are golden. Let them cool completely before storing in a container!
DID YOU MAKE THIS RECIPE?
Please leave a comment below on the blog or share a photo with us and tag @workweeklunch! Can't wait to see what you made!