There's something magical about baking a humble loaf of homemade sandwich bread.
On my first few practice runs, my partner looked at the loaves in awe. "We are never ever buying bread at the grocery store again," he declared. After nailing this whole wheat (ish) sandwich bread, that's totally possible.
Get more recipes like this in the Workweek Lunch Meal Prep Program with access to our meal planning tools, grocery list generator and more. Start a free trial today!
Recipe overview
This recipe involves instant yeast, salt, sugar, milk, water, butter, white flour and whole wheat flour.
You'll also need cooking spray, a loaf pan, a big bowl, a hand mixer or stand mixer, a kitchen towel, and a rolling pin. A kitchen timer helps too.
This recipe takes a few hours to make, so it's the kind of thing you'll have to make while at home, doing laundry, or just chilling on the couch. Aside from the waiting for the first and second rise, and then the actual baking, it's a very low-effort recipe.
Homemade Sandwich Bread Ingredients
This recipe only requires eight ingredients! I bet you have most of these at home already.
All-Purpose Flour
Whole Wheat Flour
Water
Instant yeast
Salt
Sugar
Butter
Cooking spray
Swaps you can make
Baking bread is more of a science and I haven't tried or tested these swaps with this recipe. But here are some swaps you can probably get away with:
Gluten-free: I recommend using a recipe that's specific to gluten-free flour, since the rising and baking times may be different. This recipe is very similar to mine!
Vegan: You can use any milk you'd like for this recipe. You can replace butter with olive or avocado oil!
Replacing sugar: The yeast needs to feed on the sugar, so it's pretty important, but you can swap it for honey or agave.
We're using half whole wheat and half white flour because it yields a tasty bread with the right texture. While you can absolutely use just white flour or bread flour, I do not recommend using 100% whole wheat flour. The loaf will be really dense and won't have a great texture.
How to Make Sandwich Bread
1. Mixing the yeast, water, sugar and milk. Then the yeast has to "bloom" for 5 minutes. You'll know your yeast is working if it gets foamy on top (see photo, there's a layer of golden foam in the bowl).
2. Mix in room temperature butter, salt and 1/3 of the flour with a stand or hand mixer. Then add the remaining flour in 2 batches (you're adding 1/3 at a time) and whisk it in with a dough hook, spatula or Danish whisk (what I'm using). The ball will be a little shaggy, but should be uniform.
3. Kneading – First form the dough into a ball and knead it for five minutes.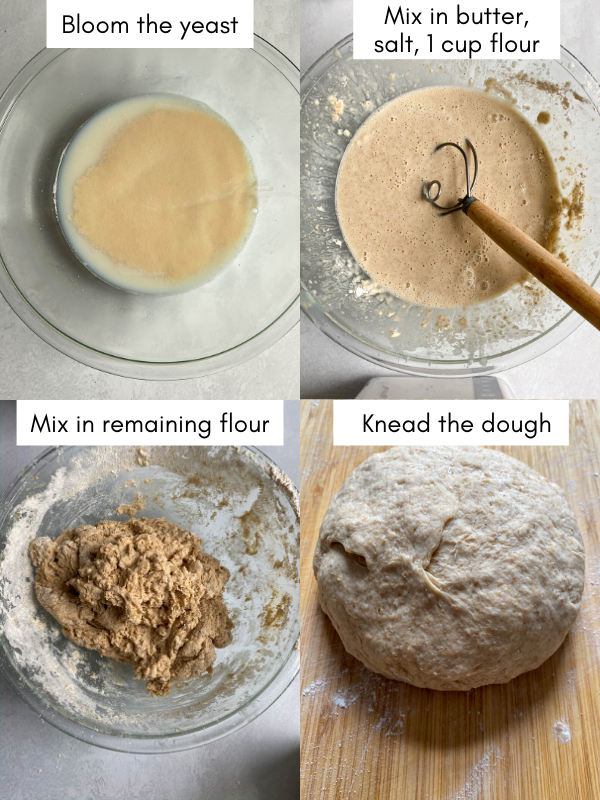 Kneading dough
It's easier to just watch how it works than try to explain! Knead this dough for about 5 minutes. When it gets sticky, sprinkle a little flour on the ball of dough and/or your hands.
4. First Rise – the dough needs to rise in a warm spot covered for an hour, or until it has doubled in size. I put mine on the stove with the oven on and wrap my bowl tightly with a big kitchen towel.
5. Shaping and second rise – this involves rolling out the dough into a rectangle, then rolling it up and placing it in a greased loaf pan and letting it rise again for about an hour, or until the dough has risen past the edges of the pan.
6. Baking! After the second rise, bake the loaf at 350 F for 32-34 minutes. It should be golden brown on top and sound hollow when you tap on it.
7. Slicing – Let the loaf cool completely and slice with a serrated knife.
Overnight Sandwich Bread Alternative
If you can't hang out long enough for the first and second rise after making the dough, here's what you can do:
Make the dough and knead it, but put it in a big container or bowl (covered) so it can rise overnight in the fridge.
When ready to bake the next day, take it out of the fridge and let it come to room temp. Roll it out, and shape it into a loaf, then let it rise again in the pan.
Bake as normal.
I tested this overnight method and it worked well! It's great for the busy days where you know you don't have time to go through the whole process. The only catch is that you have to let the dough come to room temp, which can take a while.
Uses for Homemade Sandwich Bread
I use bread for sandwiches, to be a vehicle for breakfast egg dishes, and to make homemade breadcrumbs and homemade croutons.
Here's a list of some of our favorite sandwich recipes to try!
For many months in 2020, I made bread at home and didn't buy it at all (this changed when we moved and I never got back into the groove). It's so easy and tastes better than storebought!
How to store Homemade Sandwich Bread
When I bake a loaf, I place half of it in the freezer in an airtight container and the other half on the counter in a container to be eaten within 3-4 days. Bread lasts in the freezer indefinitely!
I don't recommend storing this bread in the fridge. For frozen bread, it can defrost on the counter or pop it directly in the toaster.
Happy baking!
More Easy Bread Recipes to Check Out!
And Don't Forget to Check Out Our Other Free Recipes!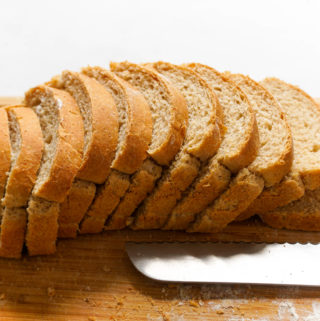 Basic Sandwich Bread Recipe (8 Ingredients)
Ingredients
1

packet

instant yeast

2

TBSP

granulated sugar

1

cup

water

warm (ideally 110 F)

1/4

cup

milk of your choice

warm

1/4

cup

butter

room temp (I warm mine in the microwave for 10-15 seconds)

1/4

tsp

salt

1-1/2

cup

all-purpose flour

1-1/2

cup

whole wheat flour

cooking spray
Instructions
Add the yeast, sugar, water and milk to a big bowl and whisk well. Cover with a towel and let it sit for 5 minutes. The mixture should be a little "foamy" on top. If your mixture didn't foam up, then your yeast is probably expired!

Add the butter, salt and 1 cup of white flour. Use a mixer to blend it together until completely combined. Add 1 cup of wheat flour and use a spatula to mix until combined. Add the remaining flour (1/2 cup of each) and mix to incorporate it. At this point, the dough should be a shaggy ball. Not all the flour will be incorporated, but that's ok. *If doubling the recipe, Add 2 cups of flour at a time for 6 cups total.

Once mixed, place the dough onto a clean, lightly floured surface and knead it for about 4-5 minutes. (But if you have a dough hook and mixer, feel free to use that!) If you've never kneaded bread, I recommend looking up a quick video or checking out the one above. The dough will be sticky, so keep some flour nearby for your hands.

Spray a large clean bowl with cooking spray and place the dough inside. Cover it tightly with a towel, foil or saran wrap and let the dough rise for an hour (or until it doubles in size) in a warm spot. I always set my dough on the stove with the oven on at 350.

After the dough has doubled in size, punch it down (press down on the dough with your fist to collapse it) and turn it onto a lightly floured surface. With a rolling pin, roll the dough into a rectangle, about 7 inches wide and 10-12 inches long. Then roll the short side up along the long side to make a log, then place it in the bread pan. Cover and let it rise again for about an hour, until the dough has risen an inch past the rim of the pan. Preheat your oven to 350 F while it rises if you haven't already.

Bake the bread for 32-34 minutes at 350 F. It should be lightly brown on top and sound hollow when you tap it. Carefully remove the loaf from the pan and let it cool on a wire rack if you have one or on a clean towel. When it's completely cool, slice it with a serrated knife.

Storage: If you eat bread frequently, store half of the loaf on the counter in an airtight container, and half in the freezer. When your counter stash is gone, take out the frozen loaf and put it in the container.
DID YOU MAKE THIS RECIPE?
Please leave a comment below on the blog or share a photo with us and tag @workweeklunch! Can't wait to see what you made!