Why make a whole pot pie when you make individual chicken pot pies?
This method of baking a pot pie directly into meal prep containers saves time on clean-up and makes it easier to customize them! The cook time is faster too since the containers are smaller vs a whole pie or casserole dish. 
By the way, this method isn't just for individual chicken pot pies. You can do it for lasagna, frittatas, breakfast bakes, mac and cheese or any casserole/bake recipe your heart desires.
But before you do anything please make sure your containers are oven-safe! You can do that by looking up the brand and model online or grab some of our recommendations linked below. 
Get more recipes like this in the Workweek Lunch Meal Prep Program with access to our meal planning tools, grocery list generator and more. Start a free trial today!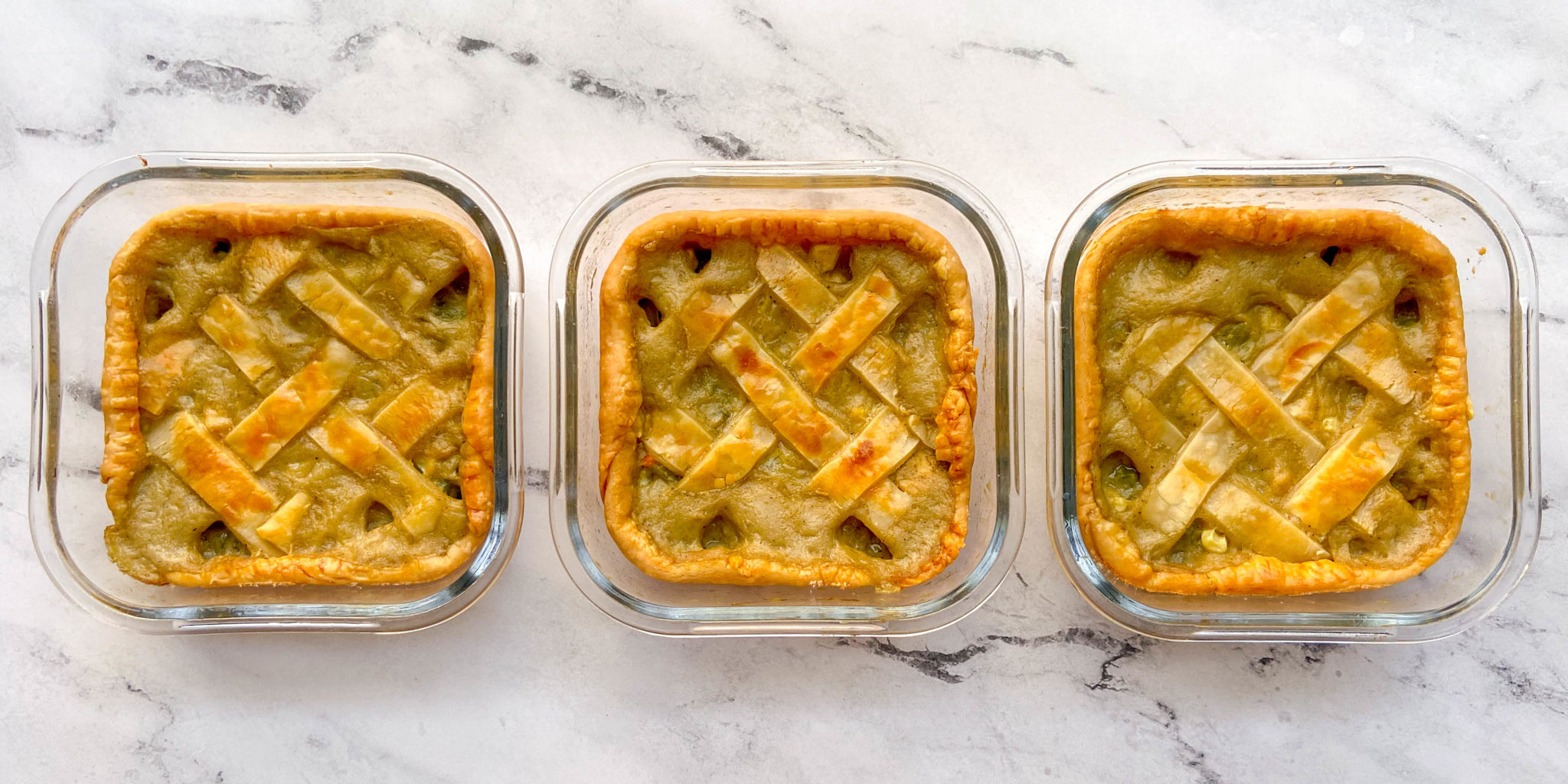 How to make mini pot pies
This recipe involves frozen veggies, chopped chicken (we'll tell you how to cook the chicken!), pre-made pie crust and some extras like flour and chicken broth.
As always, there's a ton of room for customization.
Basically, you're cooking the veggies and chicken then tossing them in a homemade creamy sauce to hold it all together. You'll then add the filling to your containers and top with the pie crust! You can put a layer of crust on the bottom of the container too if you want. Finally, you'll bake them to perfection and enjoy all week long.
Containers to Bake This Mini Chicken Pot Pie In
By the way, this recipe works as a normal pot pie too! You don't have to use small containers. Break out your favorite pie dish and enjoy!
Can I freeze individual chicken pot pies?
Yes! You can freeze these after you cook them in the oven for up to 3 months. Once frozen, thaw in the fridge and heat up normally (microwave or oven).
You can also freeze them BEFORE you bake them. Simply assemble them in the container, then pop them in the freezer instead of baking them right away. When you're ready to eat, thaw for an hour just to take the chill off and bake in the oven for double the normal time in the recipe as written.
Related: Freezer Meal Prep 101
The filling itself is freezer-friendly. So if you have extra, you can freeze it for later in the season! I also think the filling is completely edible and delicious on its own.
4 Freezer Meal Prep Ideas! | Workweek Lunch
Let's talk about the crust for mini pot pies
The crust is arguably the best part of any chicken pot pie! Here are some different options for getting a perfect, flakey crust.
To make our lives easier, I recommend using pre-made pie shells, found in the frozen or refrigerated section. I used Pillsbury for these! 
That being said, if you love making your own crust, go for it! Here is a recipe if you want to try your hand at it! 
You can also use puff pastry or crescent roll dough for the crust as well! Use whatever you prefer the most.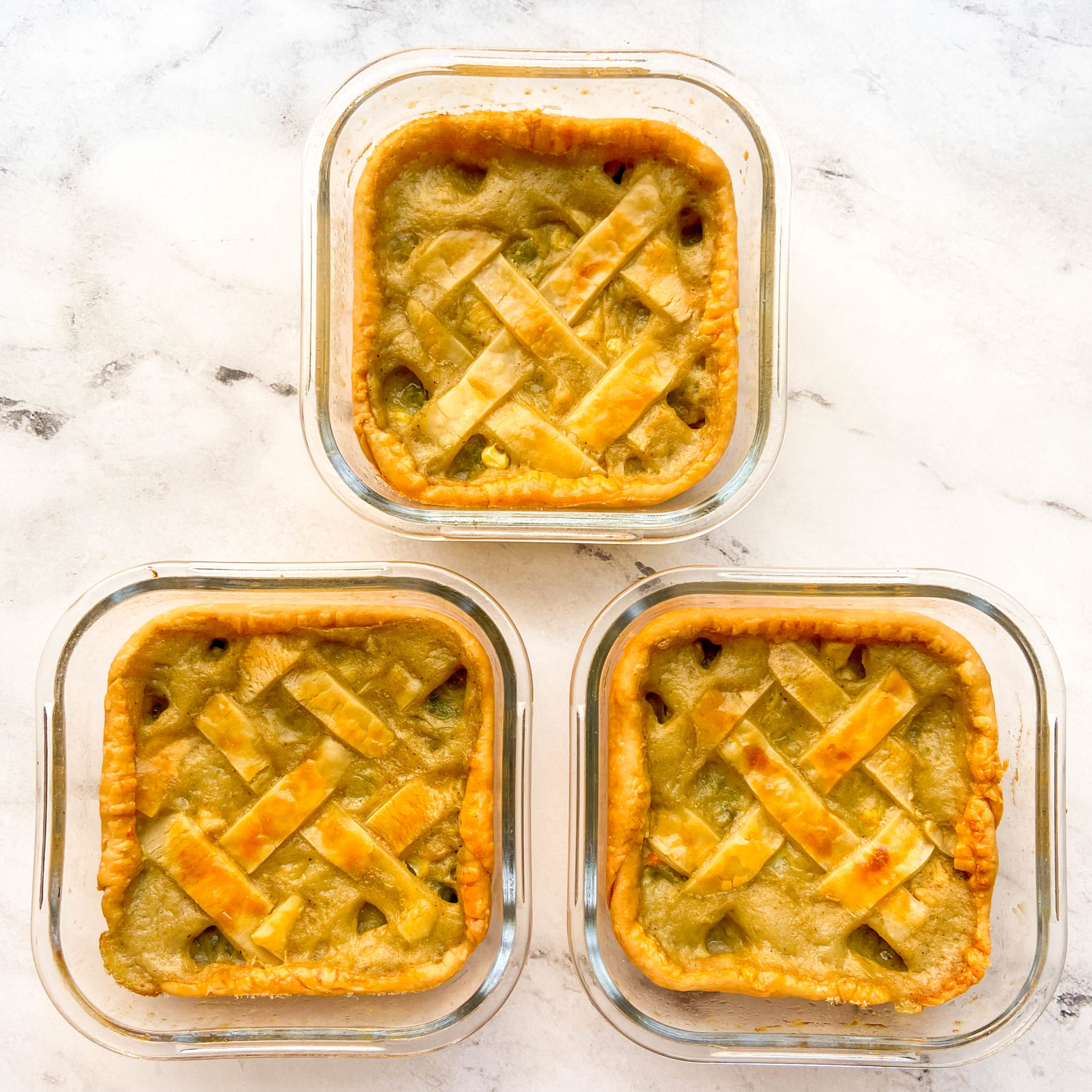 Other veggies that will work in an individual pot pie
You can use ANY leftover veggies you have in this recipe. I had no idea before making this, but the pot pie was invented with leftovers. Leftover chicken and veggies normally made up the filling so whatever you have can go in.
Feel free to use turkey, ground meat, or anything else you have lying around! If you don't want to use chickpeas in the veggie version, white beans would work!
I used a bag of frozen veggies for this, which included corn, peas, carrots, and green beans. But you can add in any veggies you like! Here are some I would recommend.
Asparagus

Broccoli

Cauliflower

Eggplant

Mushrooms

Potatoes

Sweet Potatoes

Cabbage

Kale

Onions of all colors
Other Individual Casserole Recipes To Try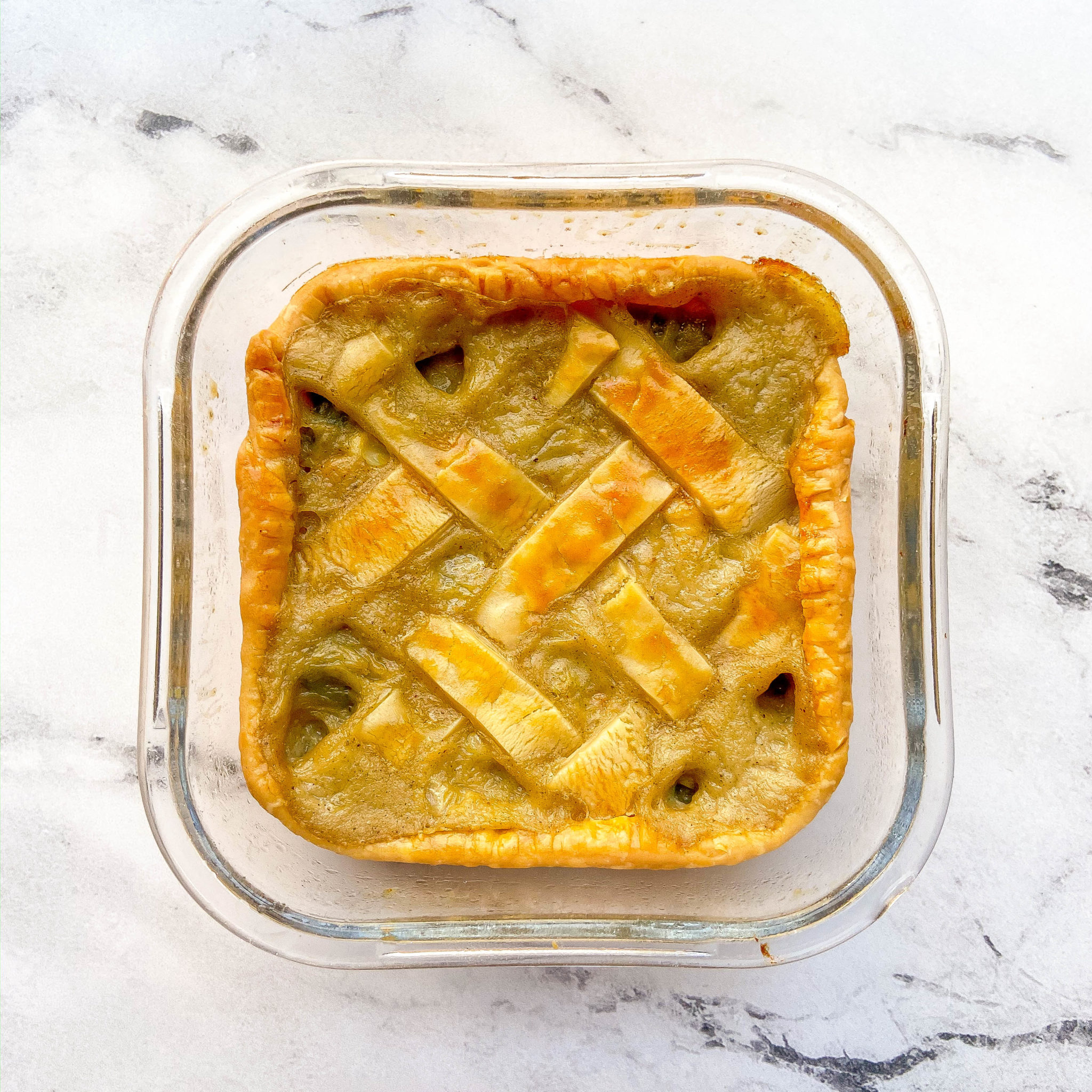 Storage and Reheating Notes
You can serve this immediately OR put it in meal prep containers. Let it cool before cutting if you're meal prepping it. It will last in the fridge for up to 4 days and in the freezer for up to 6 months.
Note that if you prep this, the crust won't be as crusty after you reheat it, but it's still really good. You can reheat it in the microwave or in the oven. Happy prepping!
Other Pot Pie Recipes to Try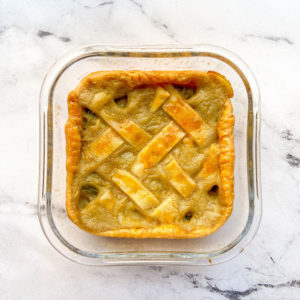 Mini Chicken Pot Pies
Ingredients
2

pie crusts

I used Pillsbury refrigerated crusts

cooking spray

1

TBSP

olive oil

sub oil of your choice

16

oz

chicken breast

chopped into medium-sized chunks

2

tsp

ground thyme

divided

2

tsp

ground sage

divided

salt and pepper to taste

1/3

cup

butter

sub oil of choice

1/2

onion

diced

1

clove

garlic

diced

1/2

tsp

salt

1/4

tsp

pepper

1/3

cup

flour

1-1/2

cup

chicken stock

sub broth, reduce salt if using broth

1/2

cup

milk of your choice

if using non-dairy, add onion powder or nutritional yeast

1/2

tsp

mustard powder

optional

1-1/2

cups

frozen mixed veggies

I used corn, peas, carrots, and green beans

1

egg whisked

optional, sub coconut oil if egg-free
Instructions
Preheat your oven to 425 F. Prepare your glass containers with cooking spray. Roll out your pie crust and cut strips that are slightly smaller than the height of your container (you'll need room for the container lid to close). Gently press the strips into the sides of your meal prep containers, pressing together strips as needed. I did not include a bottom because I wanted more room for filling (and nobody likes a soggy bottom), but if you love crust you can keep it! You may have to use scraps later for your pie lid.

Add 1 TBSP oil to a large skillet or dutch oven over medium heat. After 2 minutes, add the chicken breast. Season it with salt, pepper, half of the sage and half of the thyme. Rotate the chicken breast every few minutes and let it cook completely through, about 10 minutes. Remove it from the pan and set aside.

Add your butter to the pan over medium heat and allow it to melt and get bubbly. Add the onion and cook for about 2 minutes, stirring frequently, until tender. Add garlic and cook for 1 minute more.

Add flour, salt, pepper, mustard powder, thyme, and sage, and stir well until all the onions and garlic are coated. This should resemble a thick paste. Continue stirring for another 2-3 minutes until the flour is no longer raw.

Add chicken stock a half cup at a time, stirring constantly to prevent lumps, then add milk. Between each addition, stir until the mixture is fully combined. Continue cooking and stirring until the mixture is bubbly and thickened, about 5 minutes.

Stir in chicken and frozen mixed vegetables. Let mixture return to a bubbly simmer for 5 minutes, then remove from heat.

Pour the mixture into pie crust-lined containers. Leave some crust visible on the sides. It might not all fit, but the remaining filling is delicious on its own and it's freezer-friendly. Top with the remaining pie crust and using your fingers or a fork, seal the lid. Cut 3 slits on top. Using a small brush or the back of a spoon, brush whisked egg on top of the pie shell. Bake for 25-30 minutes.

You can eat this right away OR let it cool a bit before putting the lid on.
DID YOU MAKE THIS RECIPE?
Please leave a comment below on the blog or share a photo with us and tag @workweeklunch! Can't wait to see what you made!