These blueberry lemon pancakes are the best pancakes I've ever made at home. They're fluffy and so full of flavor they almost don't need maple syrup, but you're definitely going to want to drizzle some on anyway. Make these blueberry lemon pancakes for an easy weekend breakfast or meal prep them as breakfasts for the workweek.
Want to make this meal? This recipe is stoppable via Jupiter! Click here to fill your cart with groceries and have them delivered to you asap.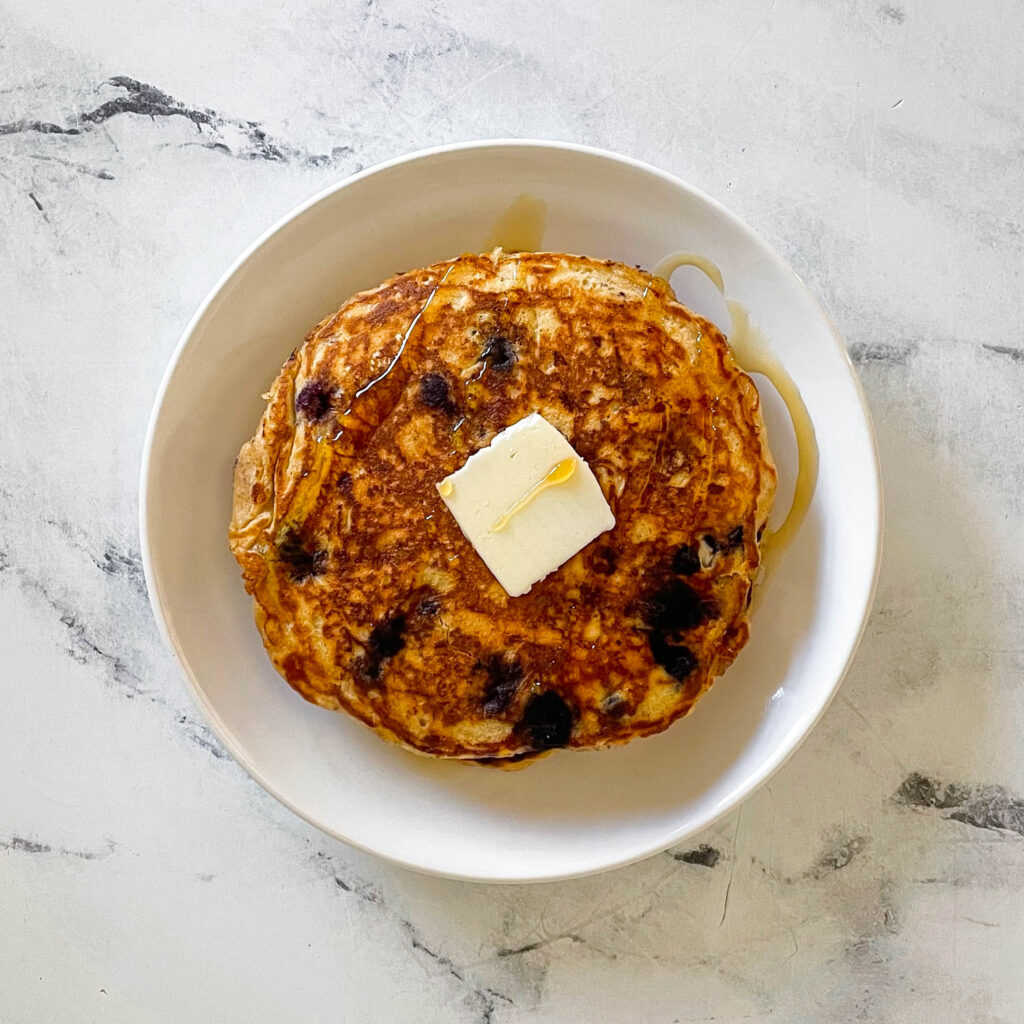 This easy blueberry lemon pancake recipe is made with lemon juice and zest, blueberries, a mix of whole wheat and all-purpose flour and the usual suspects in a standard pancake recipe. These pancakes make the perfect Sunday breakfast or meal prep option for the workweek.
Get more recipes like this in the Workweek Lunch Meal Prep Program with access to our meal planning tools, grocery list generator and more. Start a free trial today!
Substitutions you can make in this pancake recipe
Swap blueberries out for raspberries or strawberries. Feel free to also use a mix!
If you don't like lemon, leave it out and make regular fluffy berry pancakes!
When it comes to flour, you're welcome to use 100% whole wheat, but note that your pancakes will be a little denser and heavier. You can use 100% white flour too.
If you're gluten-free, I recommend using all-purpose GF flour unless you have another flour blend that you trust for pancakes.
If you're vegan, use flax or chia eggs.
How to make perfect blueberry lemon pancakes
Here are the ingredients you'll need to make this pancake recipe.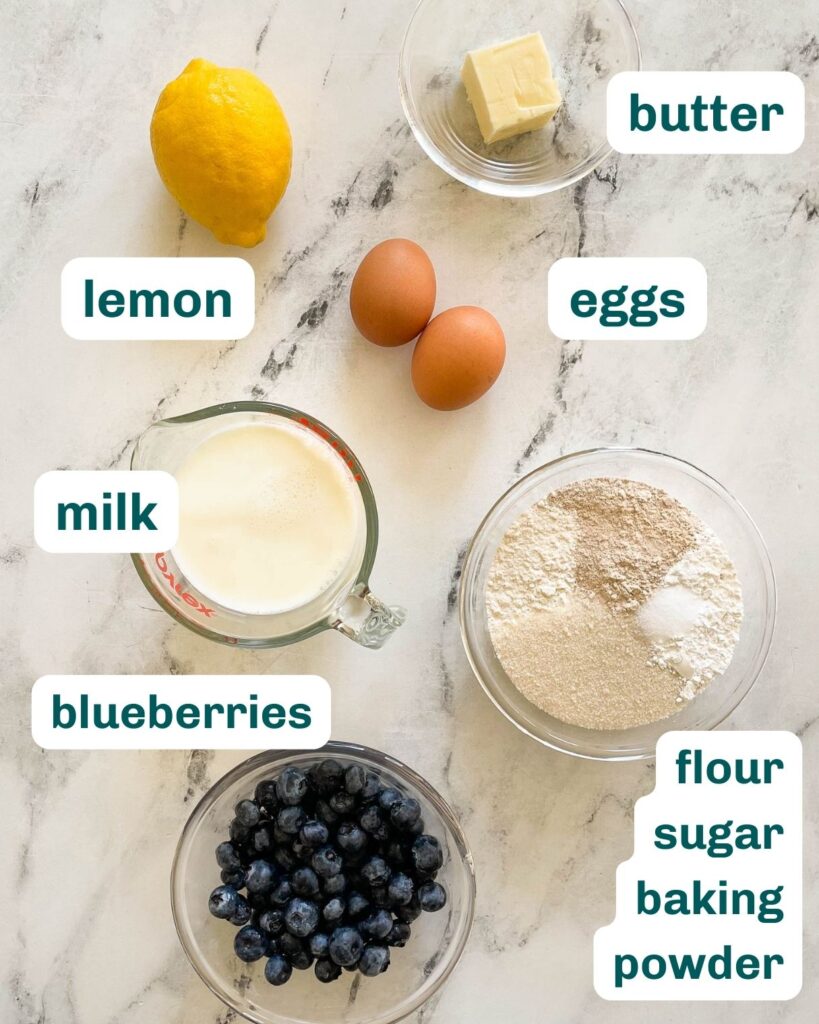 Make these blueberry lemon pancakes step by step
Mix the dry ingredients and wet ingredients separately.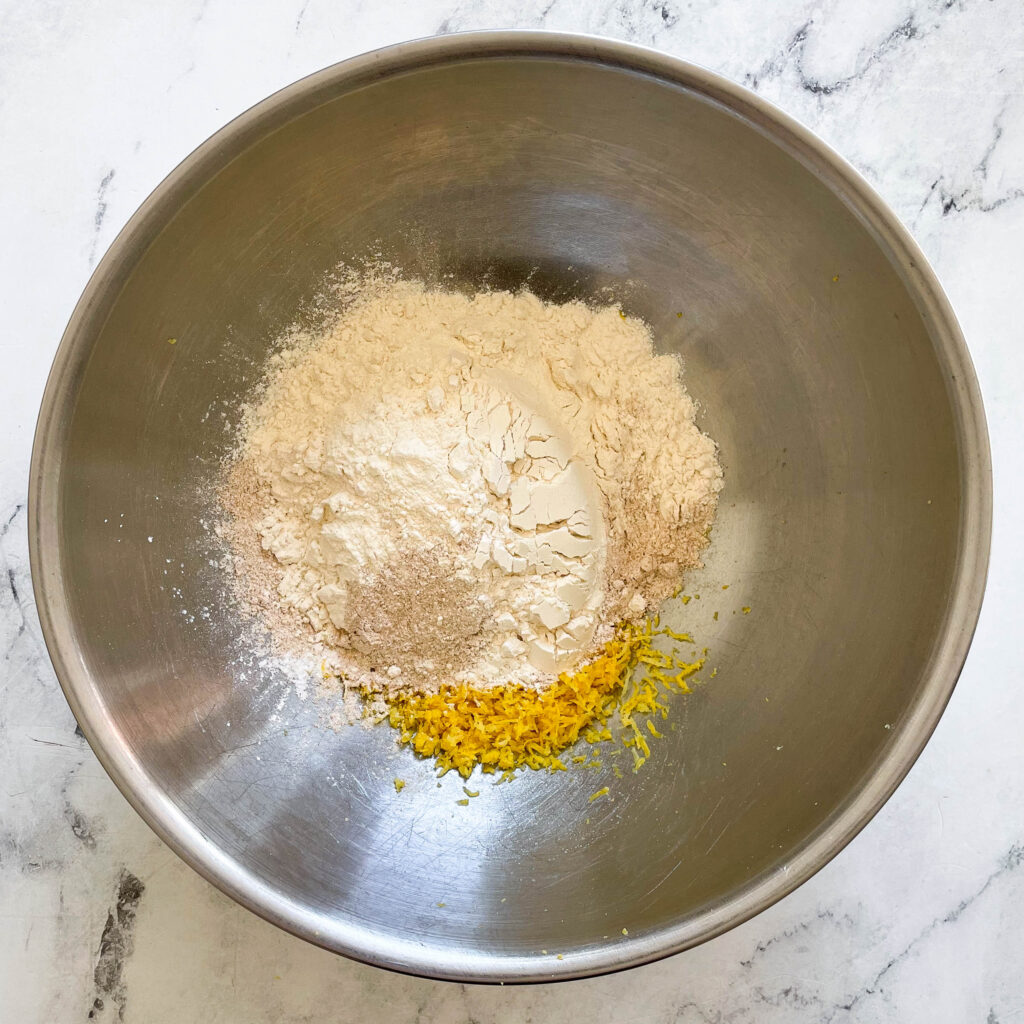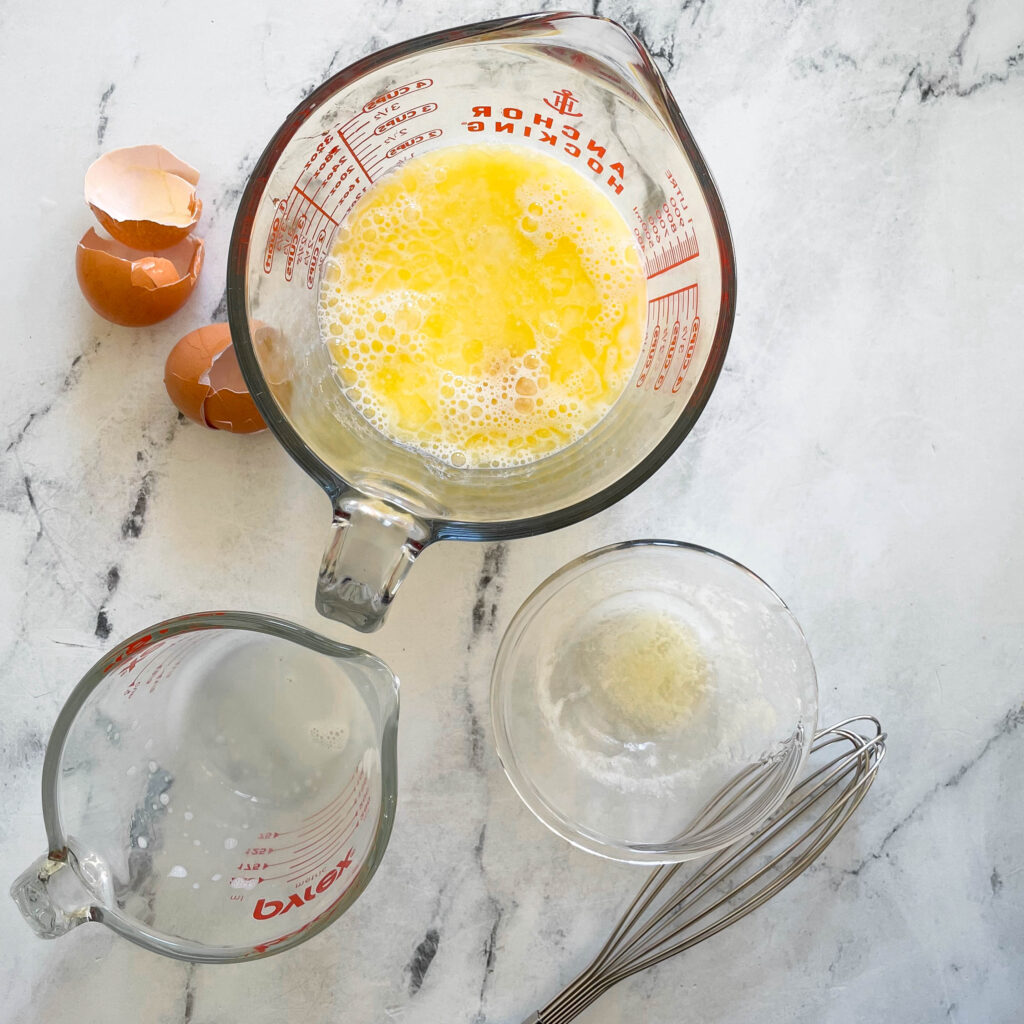 2. Mix the dry and wet ingredients in the same bowl, then fold in the blueberries.
3. Cook the pancake batter in a nonstick pan, for about 4 minutes on each side.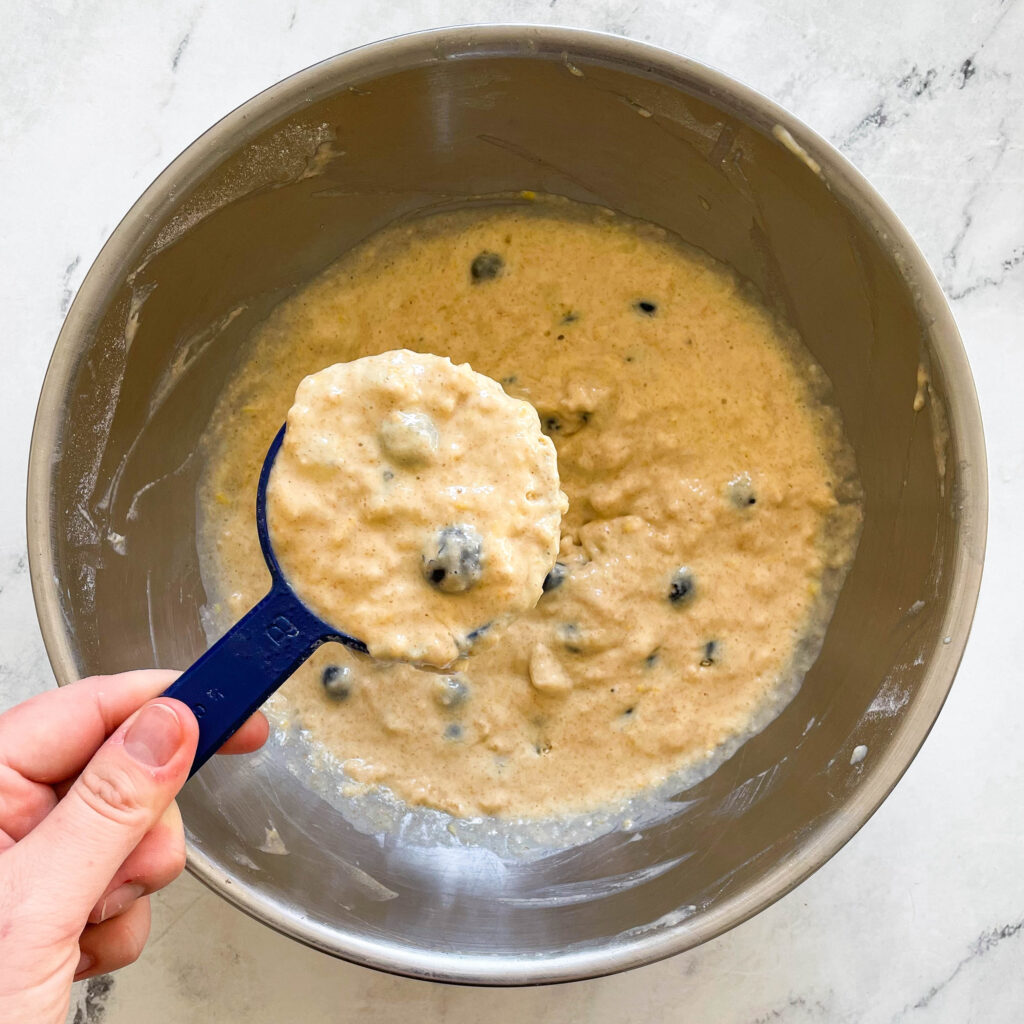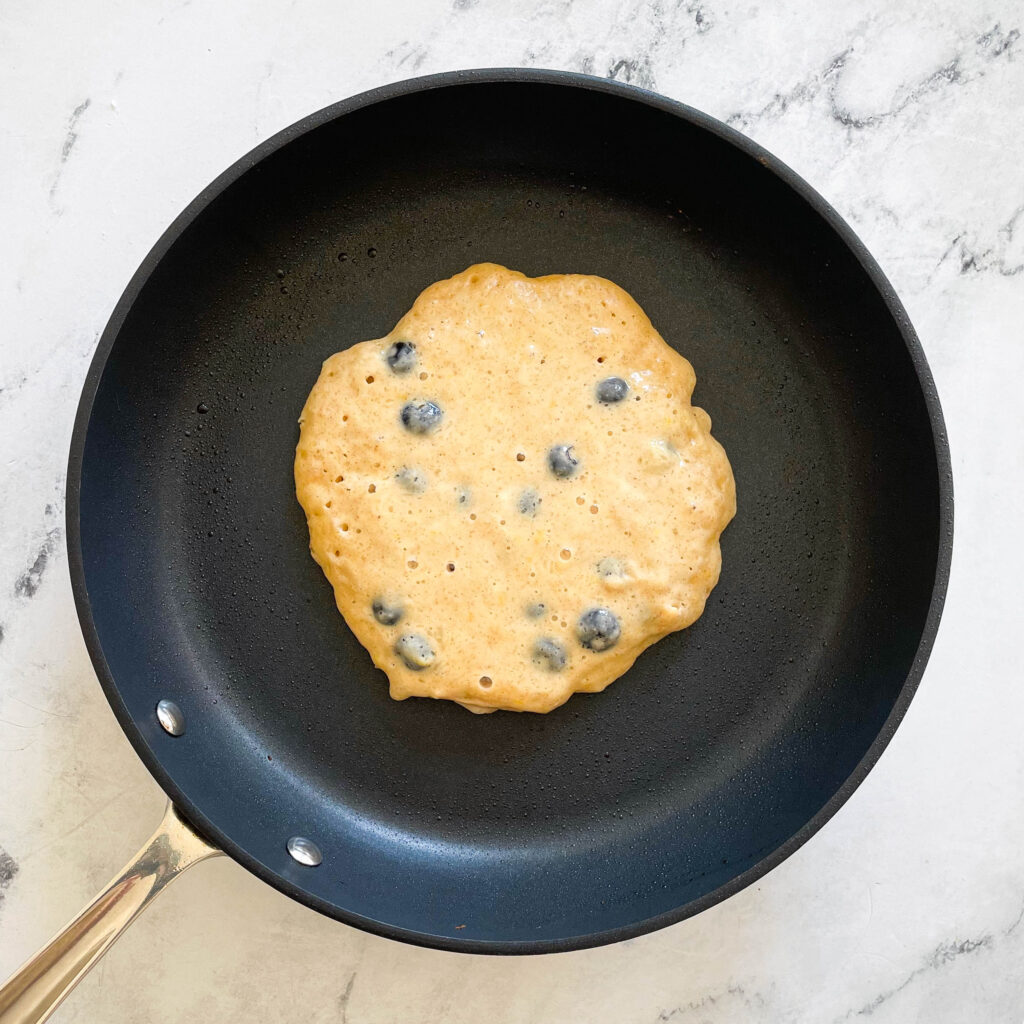 4. Repeat the process until you're out of batter!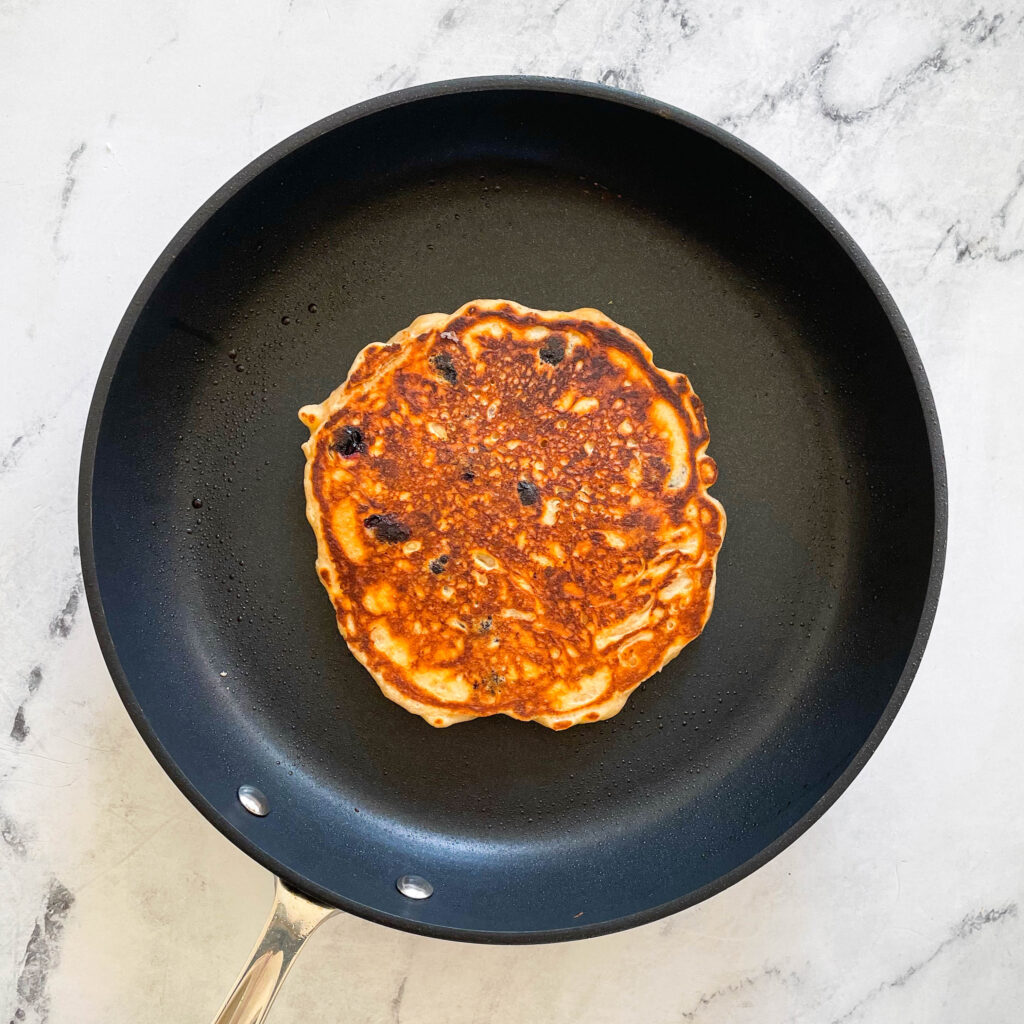 The BEST tips for amazing pancakes every time:
Get your pan HOT. Let it sit over a medium flame for about 3-4 minutes.
Add your cooking fat and let it heat up for a minute. I love cooking pancakes in butter, but if you want to use cooking spray or coconut oil, that works too.
Use a 1/4 or 1/3 measuring cup to scoop the batter into the pan. I usually fit 2 at a time. Use a spoon to spread the batter out on the pan into a circle (or as close to a circle you can get)
Cook the pancakes until you see a few bubbles, then flip!
Repeat steps 3 and 4 until you're out of batter. I recommend re-greasing the pan between batches.
How to meal prep lemon blueberry pancakes:
You can absolutely meal prep lemon blueberry pancakes!
You can store these in the fridge for a few days and reheat them in the microwave, in the toaster, on the stove or even in the oven! I perfer the microwave.
The key to avoiding sogginess with pancakes is to make sure you store them after they've cooled down. This helps avoid condensation collecting in the meal prep container, which usually causes sogginess.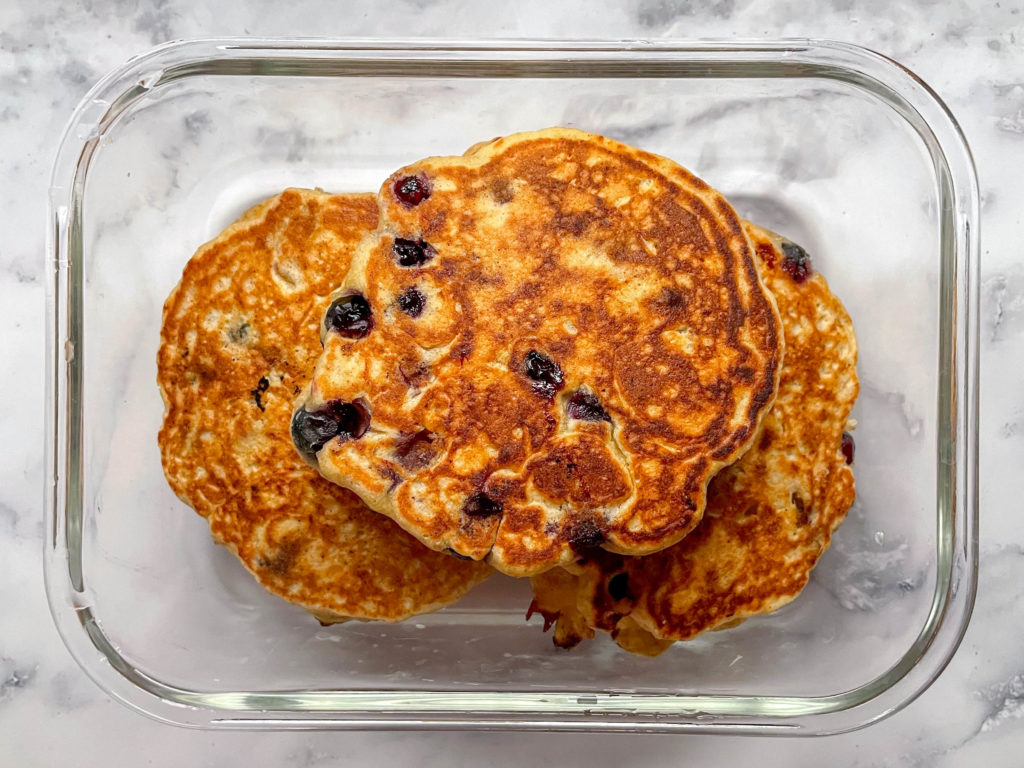 When to add berries to pancakes:
You can add berries to the batter when you're mixing it, just make sure to not over mix.
Adding berries to the pan after pouring pancake batter works too.
You'll get a more even distribution of berries, but when you flip your pancakes they might stick a little more because the berries are coming in contact with the pan.
Storage and reheating notes:
These delicious blueberry lemon pancakes will last in the fridge for up to 4 days. You can reheat them in the microwave, toaster oven or on the stove.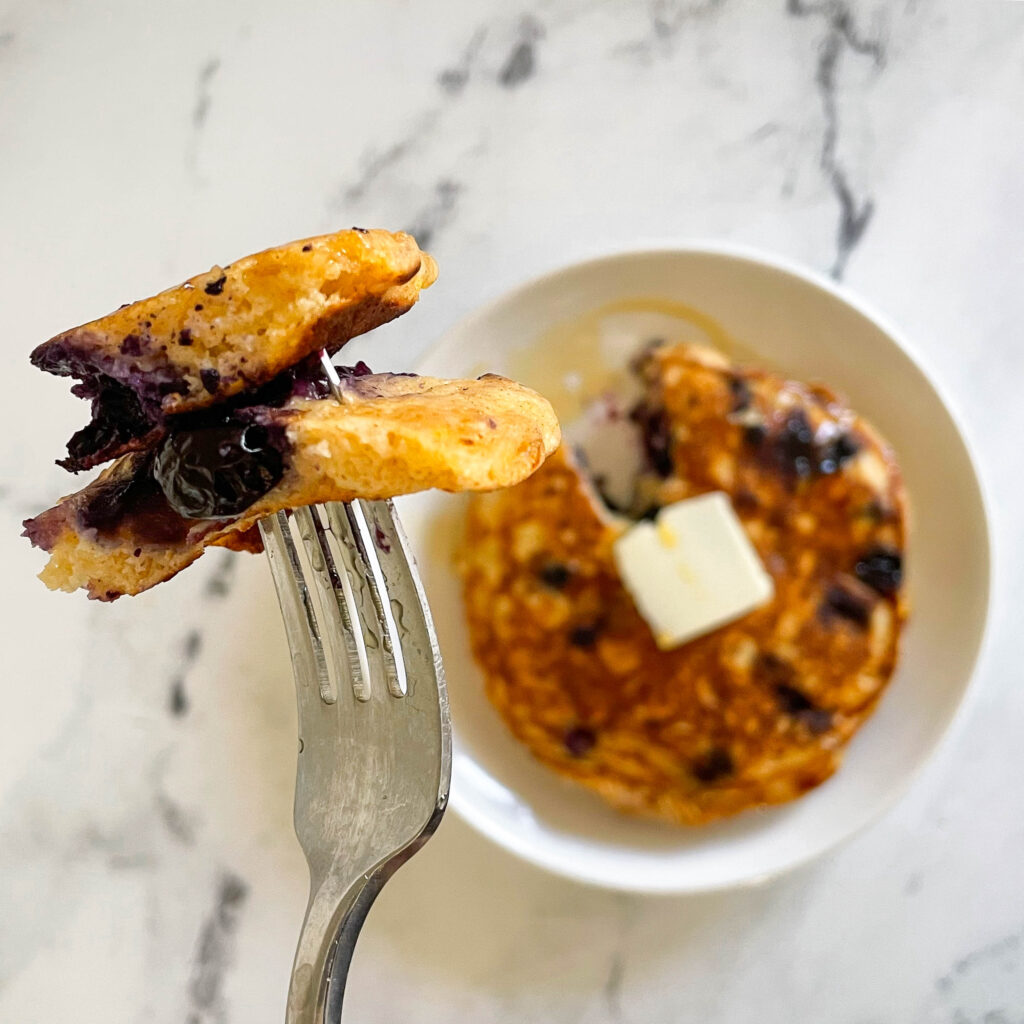 Can you Freeze Blueberry Lemon Pancakes?
Good news, pancakes are freezer friendly! Freeze your cooked pancakes in zip-top bags for up to 3 months.
Happy prepping!
Here are some more pancake recipes you'll love:
And Don't Forget to Try more WWL breakfasts!
This post is featured by Twinkl in their 'Pancake Day 2022' blog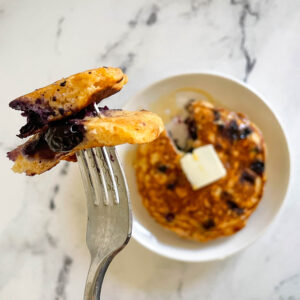 Blueberry Lemon Pancakes For Meal Prep
Ingredients
1

cup

all-purpose flour

1/2

cup

whole wheat flour

2

tbsp

granulated sugar

2

tsp

baking powder

1/4

tsp

salt

1

lemon

for zest (2-3 tsp) and juice (2 TBSP)

1

cup

milk of your choice

2

egg

sub flax eggs – see notes

4

tbsp

butter

melted (sub coconut oil)

1-1/4

cup

blueberries

cooking spray

sub butter or coconut oil
Instructions
Mix together your flours, sugar, baking powder, salt, and lemon zest in a large bowl.

Mix the milk, eggs, butter, and fresh lemon juice in another bowl, or large glass measuring cup.

Add the wet ingredients to the dry and mix until just combined. It's OK if the batter looks lumpy! Don't over-mix. Gently fold in the blueberries last.

Heat up a large skillet over medium heat. Add cooking spray or 1/2 TBSP butter. Then add 1/4 cup batter to the pan and cook pancakes for 2-3 minutes on each side (you're looking for a nice golden brown color). Flip and repeat until you're out of batter! This batter ended up making 9 pancakes.

Assemble: Add 3 pancakes per container. Let cool to room temp to avoid soggy pancakes throughout the week, then cover and store in the fridge.
Notes
Need to make 2 flax eggs? Here's how:
Combine 2 TBSP ground flaxseed meal or chia seeds with 6 TBSP water.
Let the mixture sit for 15 minutes at room temp or in the fridge.
The final result will be goopy, like an egg.
DID YOU MAKE THIS RECIPE?
Please leave a comment below on the blog or share a photo with us and tag @workweeklunch! Can't wait to see what you made!