For a long time, veggie sandwiches were one of the top requests from members of the WWL Program. So it was no surprise when we released this recipe that it was a huge hit! And yes, even sandwiches can be meal prepped! This particular roasted veggie sandwich recipe is super easy and very customizable. It is the perfect meal to assemble for lunch while working from home or bring with you into the office. Let's get into it!
Get more recipes like this in the Workweek Lunch Meal Prep Program with access to our meal planning tools, grocery list generator, and more. Start a free trial today!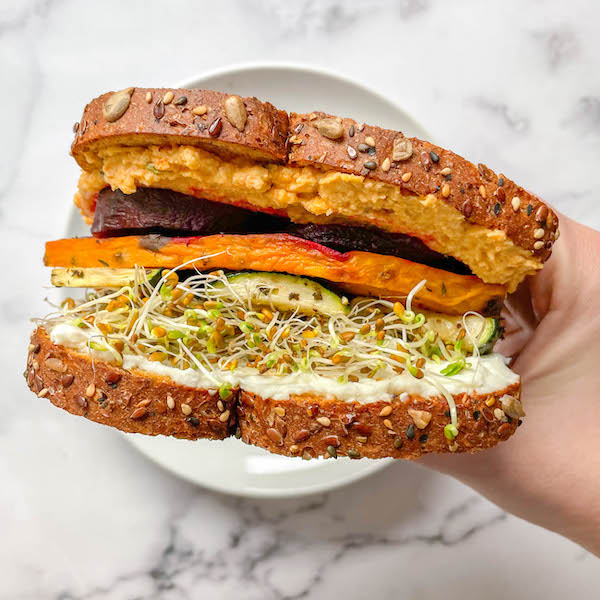 How you can change these veggie sandwiches:
There is no main protein source in these sandwiches, but I still found them to be really filling and satisfying. You could easily add shredded chicken or turkey, or your favorite deli meat if you wanted!
You can switch up the combination of roasted vegetables to fit your preference as needed. Other vegetables that would roast up well and be great in this sandwich would be (from longest to shortest times) butternut squash, Yukon gold potatoes, turnips, carrots, eggplant, yellow squash, onion, and bell peppers.
You can also customize the spreads and other toppings; pesto would be great in place of hummus, and cream cheese or goat cheese would be so good in place of ricotta.
You could use leafy greens in place of or in addition to the sprouts.
If you don't have sandwich bread, this would make a great wrap or filling in a pita pocket!
Related: 18 Meal Prep Recipes For When You Have No Microwave or Fridge At Work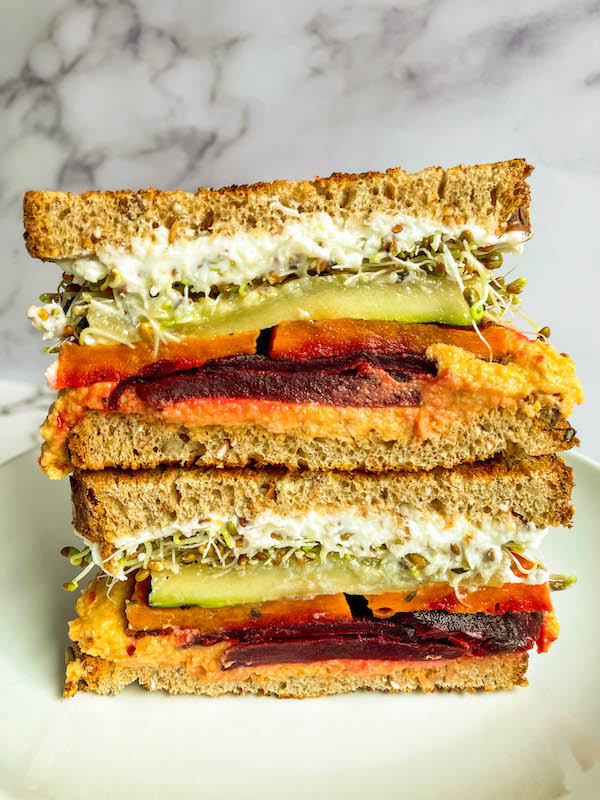 A guide to roasting veggies:
As we mentioned above, if you aren't a fan of these veggies, there are so many others to choose from! try out different combinations, mix and match, and have fun with it!
Here is a cheat sheet that goes into detail about how to get the perfect roasted veggies every time.
Related: No-Cook Meals: Three Vegan Recipes You Can Make Without A Kitchen
Make your own hummus:
Storebought hummus is perfectly fine to use in this recipe, but if you want to make your own, it's really easy!
We have a simple hummus recipe that you will want to make every week after you try it!
How to store these veggie sandwiches:
This meal will last 3-4 days in the refrigerator, and it is not freezer-friendly! They are good cold or at room temperature.
These sandwiches will taste best made the same day you eat them. No need to reheat the roasted veggies unless desired. Toast the bread if you want to! Happy Prepping!
Related: Cold Lunch Ideas: Meal Prep Recipes When You Don't Have A Microwave
Don't forget to try out our other vegetarian recipes:
Looking for more veggie sandwiches? Try out some of these!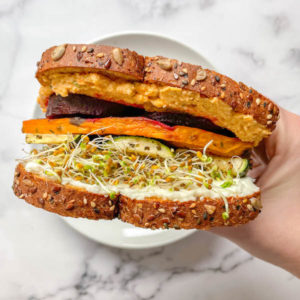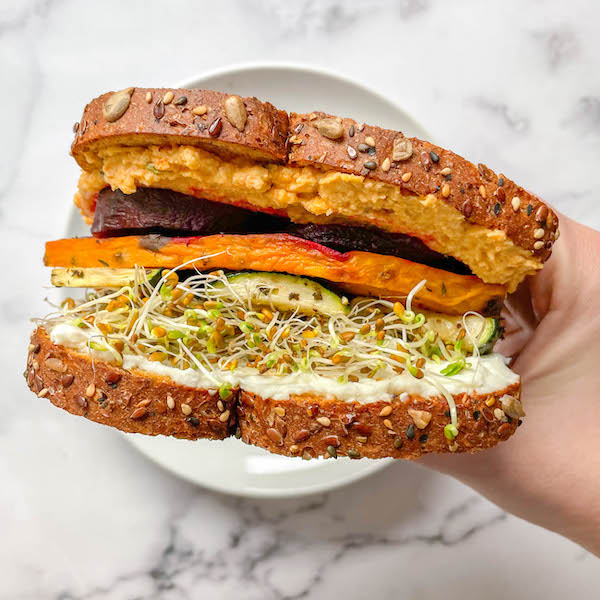 Roasted Veggie Sandwiches For Meal Prep
Ingredients
For the roasted vegetables
1

large

beet

peeled

medium

sweet potato

peeled

1

medium

zucchini

3

tsp

olive oil

1.5

tsp

dried thyme

1.5

tsp

dried oregano

salt and pepper
For everything else
1/2

cup

hummus

1/2

cup

riccotta cheese

sub cream cheese

3

oz

alfalfa sprouts

sub fresh greens of your choice

6

slices

bread of choice
Instructions
Prepare the vegetables. Preheat your oven to 375F (190C). Prepare 2 baking sheets with foil, parchment, or a silicone baking mat. Carefully slice beets, sweet potatoes, and zucchini into 1/4 inch (.6 cm) strips. In a medium-sized bowl, toss the sliced beets with 1/3 of the olive oil, 1/3 of the herbs, and seasonings (you will be doing this three times). Toss with tongs or hands until beets are completely coated and then lay them on the prepared baking sheet. Repeat this process with the sweet potato and line on the same baking sheet if there is still room, making sure they are not touching. Finally, add the zucchini slices to the bowl with the remaining oil, herbs, and salt, and pepper and toss to combine. Set aside for now.

Bake the beets and sweet potatoes for 20 minutes, then take the pan out and flip so they brown evenly. Add the sliced and seasoned zucchini to the second baking sheet and spread them out evenly so they are not touching. Bake for 10 minutes.

After 10 minutes, check on all the veggies to see if they are fork-tender and slightly darkened. The beets and zucchini may need 5-10 minutes more. Remove the vegetables from the oven when they are fork-tender and slightly darkened. Allow to cool completely before storing in a container.

Assemble the sandwiches. The sandwich will taste best made the same day you eat it. No need to reheat the roasted veggies unless desired. Toast the bread if desired, and top one slice of bread with about 2 tbsps ricotta, and the other slice with about 2 tbsp hummus. On top of the hummus, layer 2-3 slices of beets, sweet potatoes, and zucchini. On the other slice, press the sprouts into the ricotta. Cut the sandwich in half and enjoy!
DID YOU MAKE THIS RECIPE?
Please leave a comment below on the blog or share a photo with us and tag @workweeklunch! Can't wait to see what you made!