Breakfast taco bowls are adaptable, easy to prep, and full of flavor. This is a rewarding way to start off your day, and a fun way to welcome in the school year with a meal that feels kind of special but isn't hard to make at all. And you know how we love a good meal prep in a bowl!
No one needs to wait until dinner, or Tuesday, to have some taco love. These breakfast taco bowls are great because you can prep some or all of it at once, and it's ready to roll when you are. Yeah, it's a breakfast recipe, but consider this an any-time-of-day recipe, because breakfast meals are awesome for dinner or lunch. And because, well, tacos!
How to make breakfast taco bowls
Scramble up a whole bunch of eggs and cook ground turkey with cumin, sea salt, and chili powder. Once it's cooked, combine them in a bowl with some air fried baby potatoes, which you can do ahead of time. Top with some shredded Mexican cheese—you know, one of those specialized blends you can buy pre-shredded, in bags. All of that makes up the "bowl" portion of the breakfast taco bowl.
The other delicious component of these breakfast bowls is the pico de gallo. It's basically a fresh salsa with tomatoes, red onion, cilantro, lime juice, and salt. Very simple, very quick, and very delicious. It's a handy way to use up end of summer produce, too.
Cooking options for conventional oven vs air fryer
Part of the speed of this dish is the fact that you can use an air fryer for the potatoes. Use baby potatoes (or cube other potatoes to about an inch in size) and air fry at 350 degrees F for about 20 minutes, stopping halfway through to shake the basket around a bit. But, if you don't have an air fryer, that's totally okay! Just roast the potatoes at 400 degrees F for about 25-30 minutes until they're crispy on top and a fork can easily pierce through them.
Pro tip: If you're going to use the oven for the potatoes, start them first because they'll take the longest. You can even prep them the day or night before if you want! They'll keep in the fridge, covered, no problem.
How to store
Breakfast taco bowls will keep about 3 to 4 days in the fridge. The ideal way to reheat this meal is in a covered casserole dish in the oven. Eggs can get dried out easily and keeping them covered protects them a bit. Alternatively, if you have a preferred setting on your microwave for this breakfast bowl, go ahead and reheat it carefully; you'll want to avoid rubbery overcooked eggs. Microwaves can cook fast, so keep an eye on it.
Ways to adapt and customize these breakfast taco bowls
Oh, there's so much fun you can have with this.
The recipe calls for ground turkey, but feel free to use ground beef, chicken, pork, or some combination thereof.
Bump up the seasonings, or add some cayenne or ground corinader.
Skip the homemade pico and buy salsa already made.
Add your favorite hot sauce.
Add lots of chopped or sliced avocado.
Use all cheddar cheese if you want, or Monterey jack cheese. Maybe you like a spicy cheese. Go for it.
Sprinkle over more cilantro if need be.
Scoop out some sour cream or plain Greek yogurt for a bit of tang and creaminess.
Use some tempeh or tofu instead of ground meat.
Serve with a few wedges of lime.
If you can't resist, serve with your favorite tortilla chips.
Make rice instead of potatoes and serve the rice on the bottom of the bowl.
More awesome bowl meal preps!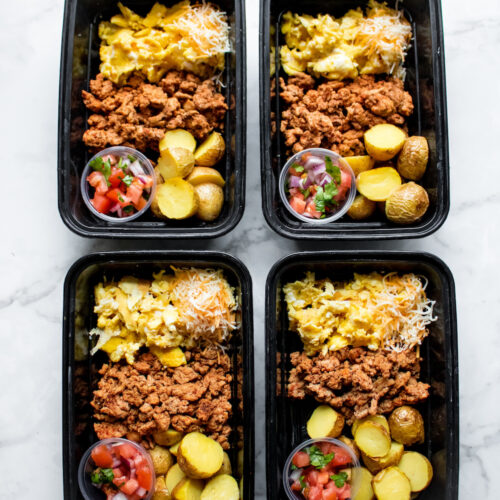 Breakfast Taco Bowl
Ingredients
For the bowls
8

large

eggs

1

pound

ground turkey

2

tsp

ground cumin

1

tsp

chili powder

1

tsp

sea salt

divided

1/2

cup

shredded Mexican cheese

1

pound

air-fried baby potatoes

halved
For the pico de gallo
1/2

cup

chopped tomatoes

1/4

cup

minced red onion

2

tbsp

chopped cilantro

1

tbsp

lime juice

1/4

tsp

sea salt
Instructions
Heat the ground turkey over medium heat in a medium skillet. Use a spatula to break up the turkey into small pieces. Cook for 4 minutes. Stir in cumin, chili powder, and ½ teaspoon of sea salt. Continue to cook 4-5 minutes longer or until the ground turkey is fully cooked.

Heat a separate medium skillet over low heat and lightly grease with olive oil or butter. Add eggs and cook for about 5 to 6 minutes, stirring regularly, until eggs are fully cooked. Season with remaining ½ teaspoon of sea salt

In a small bowl, stir together the ingredients for pico de gallo. Divide among 4 small sauce cups.

Divide turkey mixture, scrambled eggs, and air fried potatoes among 4 meal prep containers of your choice. Sprinkle the cheese over the eggs. Add a cup of pico de gallo to each container. Garnish with optional things such as chopped avocado, sour cream, or more cilantro. Store in the fridge for up to 4 days.
DID YOU MAKE THIS RECIPE?
Please leave a comment below on the blog or share a photo with us and tag @workweeklunch! Can't wait to see what you made!