If you're looking for a simple, flavorful, and delicious meal to enjoy this week, look no further than these Mediterranean bowls! Our previous shawarma-inspired bowls were such a hit, we just had to make another (slightly easier) variation. This is a meal that you'll be looking forward to all week long, so let's get into it.
Want to make amazing meal prep plans in minutes? Get weekly meal plans, our meal planning tools, hundreds of meal prep recipes and our instant grocery list generator when you join the Workweek Lunch Meal Prep Program. Start a free trial today!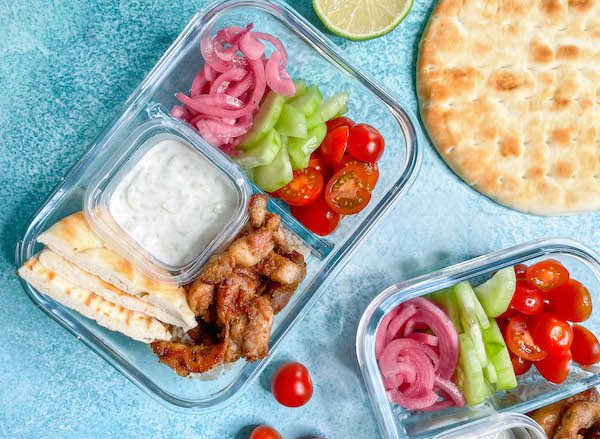 The main elements in this meal are seasoned chicken thighs, rice, homemade tzatziki sauce, veggies, and pita bread. Like all of our recipes, this meal is extremely customizable and can be changed to your preferences!
Changing the protein in these Mediterranean chicken rice bowls:
We chose juicy chicken thighs as the protein for this meal, but there are so many ways to change it up! You can use:
Chicken breasts
Thinly sliced steak or beef
Seasoned ground meat
Tofu or tempeh
Falafel
Shrimp
Related: 15 One-Pan Chicken Dinner Recipes You Can Meal Prep in 30 Minutes
Let's talk about rice
We're using rice as the main carb in this meal, but there are so many different ways you can go! And if you're not confident with cooking rice on the stove just yet, check out the video below.
And if you don't feel like rice, here's what we would suggest:
Crispy baked potato wedges. You can use this recipe from our original shawarma bowl
Naan
More pita bread
Barley
Farro
Quinoa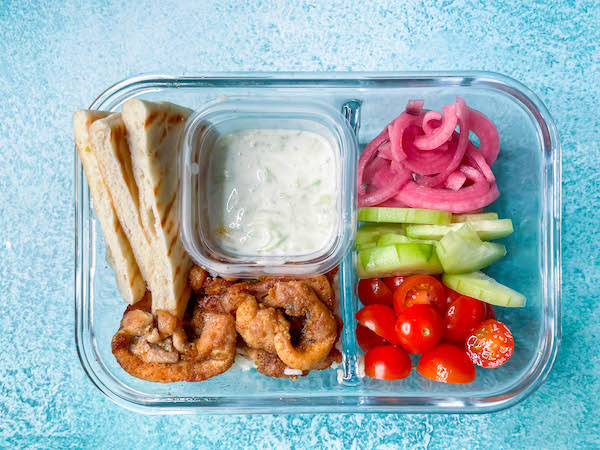 Want to add hummus to your Mediterranean chicken rice bowl?
Hummus would be a tasty addition to these bowls. Storebought is great, but you can also make your own! Our simple recipe can be made with five main ingredients in less than ten minutes.
If you want an even more simplified version, add all of this to a food processor and process until smooth:
1/2 cup tahini
15 oz can of chickpeas, rinsed and drained
1/2 tsp salt (plus more to taste)
2/3 cup water (plus more to thin if needed)
Related: 18 Meal Prep Recipes For When You Have No Microwave or Fridge At Work
Different veggies you can add to your bowls:
Here we have tomatoes, cucumbers, and pickled red onions, but add what you enjoy!
You can add lettuce or other greens like arugula or baby kale if you want. You can leave out tomatoes too if you're not into them and swap them for red bell pepper (raw or roasted).
If you don't want to use pickled onions you can leave them raw or use cabbage instead. Celery would also be a delicious addition.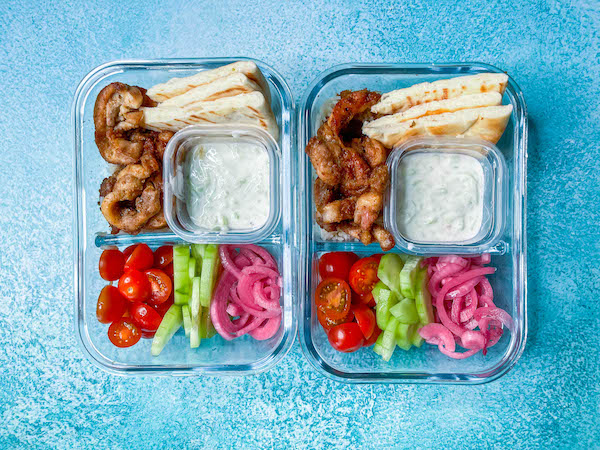 Storing these Mediterranean bowls:
These Mediterranean bowls can last in the fridge for up to four days. They are not freezer-friendly. I recommend reheating the chicken, and rice in the microwave together. Place the fresh elements (tomatoes, lettuce, tzatziki) on top of the bowl after the other ingredients have been reheated.
Happy prepping!
And don't forget to try our other delicious free meal prep recipes!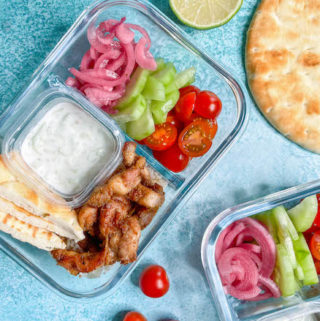 Easy Mediterranean Bowls With Homemade Tzatziki
Ingredients
For the pickled onion
1.5

cup

apple cider vinegar

any clear vinegar will work

1

cup

water

2

TBSP

granulated sugar

plus more to taste

1

TBSP

salt

plus more to taste

1/2

red onion

sliced
For the chicken
1/2

tsp

paprika

1/2

tsp

garlic powder

1/2

tsp

oregano

1/2

tsp

salt

1

tsp

cumin

1/4

tsp

cayenne

optional

pepper

to taste

3

TBSP

olive oil

divided

16

oz

chicken thigh

chopped into bite-sized pieces
For the rice
3/4

c

rice

1-1/2

c

water

1

tsp

cumin

salt

to taste
Tzatziki, toppings and veggies
1

large cucumber

chopped in half

1/2

cup

greek yogurt

1

tsp

dried dill

sub 1 TBSP fresh chopped dill

1

lemon

chopped in half

salt

to taste

1-1/2

cup

cherry tomatoes

chopped

2

pitas

chopped, optional
Instructions
Prepare the pickled onion: Combine the vinegar, water, sugar and salt in a small pot and bring it to a boil. Meanwhile, add the sliced onion to a heat proof jar (canning jars work great!) and pour the boiled liquid over them. Press the veggies into the liquid with a wooden spoon so they're completely covered. If there's not enough liquid, add equal parts water and vinegar to the jar until the onions are fully submerged. Let them sit at room temp for about an hour, then move them to the fridge. Picked veggies can keep for at least a week in the fridge!

Season the chicken: To a large bowl, add the paprika, garlic powder, oregano, salt, cumin, cayenne if using, and pepper. Mix, then add half of the olive oil, followed by the chopped chicken. Use a fork to toss the chicken in the spices.

Make the rice: To a medium saucepan with a tight-fitting lid over medium heat, add the rinsed rice, water, cumin and salt and bring to a boil uncovered. Once boiling, stir once, then cover and turn the heat to low and cook for 15 minutes. No peeking! After 15 minutes, remove from the heat and leave covered for another 15 minutes to steam. Then, fluff with a fork and set aside to cool.

Cook the chicken: Preheat a cast-iron skillet for 2 minutes over medium heat, then add the remaining oil. After about a minute (less if you start to see the oil smoking), add the seasoned chicken. Depending on the size of your pan, you may need to do this in batches. Cook the chicken on each side for 5 minutes over medium heat, until it's golden in color and firm to the touch. Remove from the pan and set aside.

Make the tzatziki: Using a grater, shred half of the cucumber. Then strain it using a mesh sieve to remove excess moisture, and add it to a bowl. Add the yogurt, dill, juice from half a lemon and salt to taste. Mix and adjust salt as needed.

Chop the remaining half of the cucumber and slice the remaining half of the lemon into 3 wedges.

Assemble: I recommend keeping the chicken and rice (which can be reheated in the microwave or on the stove) separate from the pickled onion, cucumber, tomato, tzatziki and pita (not to be reheated) by using divided meal prep containers or separate containers. This meal can also be eaten cold if you'd like to add everything to one container. Keep tzatziki and pita on the side until you are ready to eat!
DID YOU MAKE THIS RECIPE?
Please leave a comment below on the blog or share a photo with us and tag @workweeklunch! Can't wait to see what you made!