I find myself making omelets, scrambles and frittatas every week (or weekend) to use up all my leftover veggies.
There's no better feeling than using up everything you buy and baked frittatas are the perfect vehicle for odds and ends that get left behind in your fridge — even the ones that are about to go bad.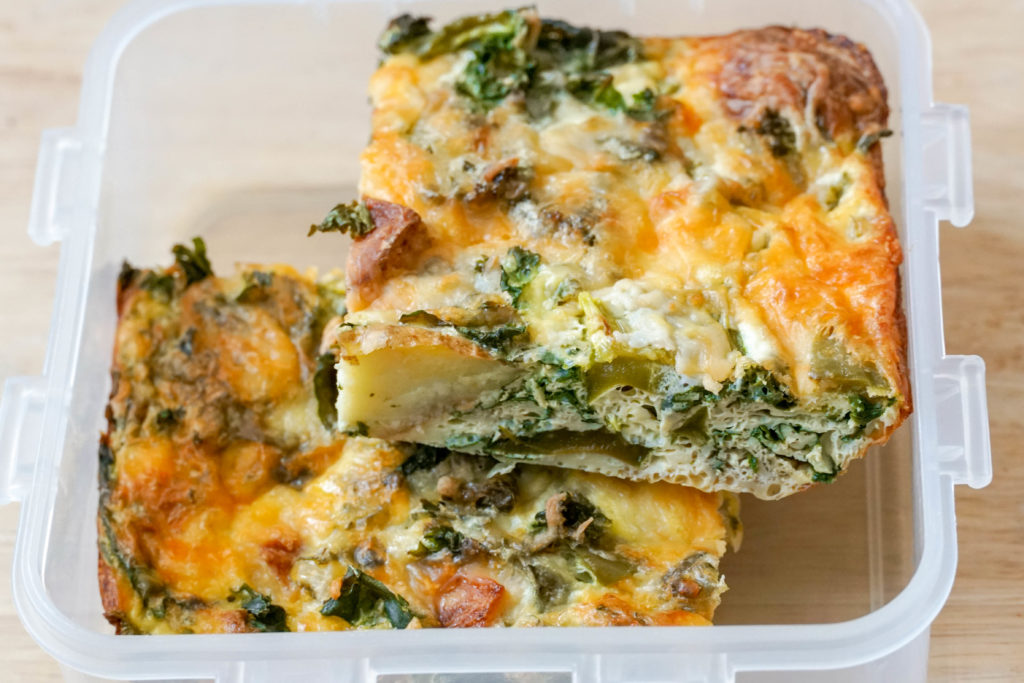 This recipe has A LOT of room for customization, so let's get into it.
The foundation is simply eggs, milk, salt and pepper. The rest is up to you!
Vegetables that work in frittatas (from hardest to softest):
potatoes of any kind: Yukon gold, fingerling, sweet potato, russet etc

Hard squashes like butternut squash, acorn squash and pumpkin

Brussels sprouts

green beans

broccoli

cauliflower

eggplant

mushrooms

asparagus

leeks

onion of any kind

shallots

peppers of any kind
zucchini
peas
summer squash
tomatoes
greens of any kind
Veggies that don't work: super watery veggies that shouldn't be cooked like cucumbers and very sweet veggies like corn and carrots.
You can also add leftover cheese and herbs to your frittata! 
How to cook veggies to go in a baked frittata:
From the list above, the ones highlighted in green need to be cooked for about 10-15 minutes (chopped small so they cook fast!) before baking them into a frittata. You can choose to roast them (since you're using the oven anyway) or quickly sautee them in 1 TBSP of oil in a skillet on the stove. Cover the pan to get them to cook faster.
The remaining veggies can go into a frittata raw or lightly steamed in the microwave.
Want to add meat?
Cooked sausage, bacon and ground meat go really well in frittatas too! Just make sure it's cooked before you add it to the egg mixture.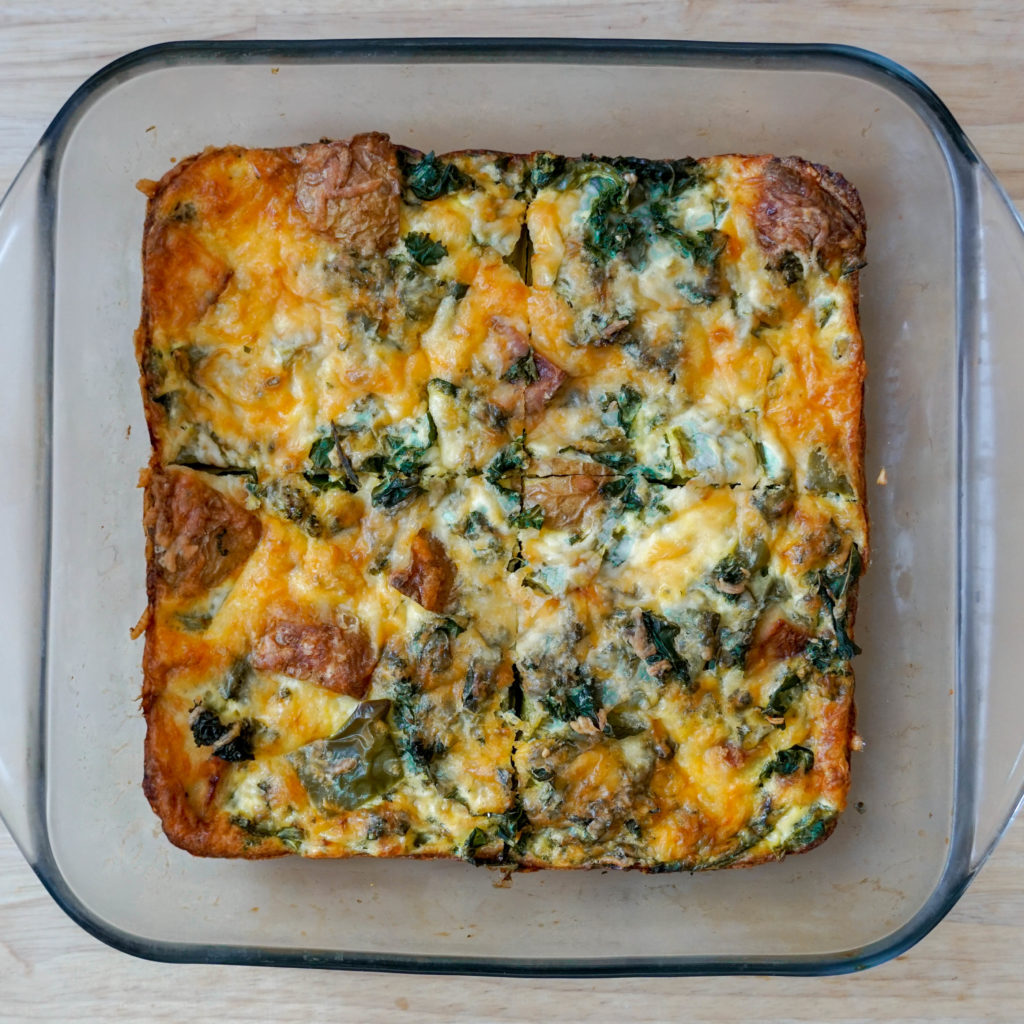 The best ways to eat a meal prepped frittata at breakfast (or any meal you want)
I like to reheat mine in the microwave for a minute, add a few drops of hot sauce and enjoy it "plain."
But you can use the baked frittata as a filling for a sandwich or wrap, or just eat it with a slice of toast on the side!
As you can see, I sliced mine into four pieces, but how many servings you get out of this depends on what you eat it with. If you eat it with bread, a smaller piece could be filling enough. Without bread, you might need a larger piece to fill you up.
Storage & reheating notes:
This baked frittata can last in the fridge for up to 5 days and in the freezer for up to 6 months. It reheats well in the microwave, on the stove, in the oven or in the toaster oven (covered so it doesn't dry out).  You can also eat it cold or at room temp!
Happy prepping!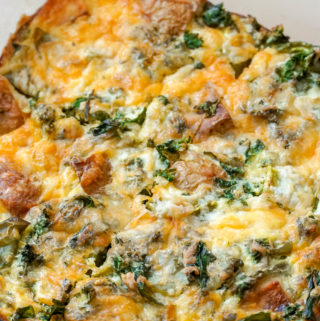 Easy Baked Frittata: The Last Chance For All Your Unused Vegetables
Ingredients
7

egg

1/3

cup

milk of your choice

cooking spray

salt and pepper to taste

leftover vegetables

1/2

cup

shredded cheese

optional
Instructions
Preheat your oven to 400 F. Grease a baking dish with cooking spray.

Whisk 7 eggs in a large bowl with milk of your choice and set aside.

Gather all of your leftover vegetables. Harder vegetables, like potatoes, broccoli and green beans, should be cooked before you add them to the frittata. Saute them in a pan with some oil and a pinch of salt until they're mostly cooked through - 10-20 minutes depending on the size and type of veggie.

For softer vegetables, like greens, zucchini, peppers and peas, you can leave them raw when you add them to the frittata OR you can give them a quick steam in the microwave. You can place these veggies in a microwave-safe bowl and partially cover them (I use a food container lid) and microwave for a minute.

For tomatoes and herbs (cilantro, basil, parsley etc) you can leave them totally raw when you add them to the egg.

Mix it all together: pour the whisked egg into a baking dish. Stir in cooked/prepped vegetables, salt and pepper to taste and cheese if using. Bake uncovered for 35-40 minutes, until the top of the frittata is a deep golden color and it's firm to the touch.
DID YOU MAKE THIS RECIPE?
Please leave a comment below on the blog or share a photo with us and tag @workweeklunch! Can't wait to see what you made!