Steak fajitas are a delicious, filling, and reliable meal that always hits the spot. And I bet you didn't realize that they can be meal-prepped! This recipe takes less than 30-minutes, making it perfect for a quick dinner or easy meal prep for the week.
Get more recipes like this in the Workweek Lunch Meal Prep Program with access to our meal planning tools, grocery list generator and more. Start a free trial today!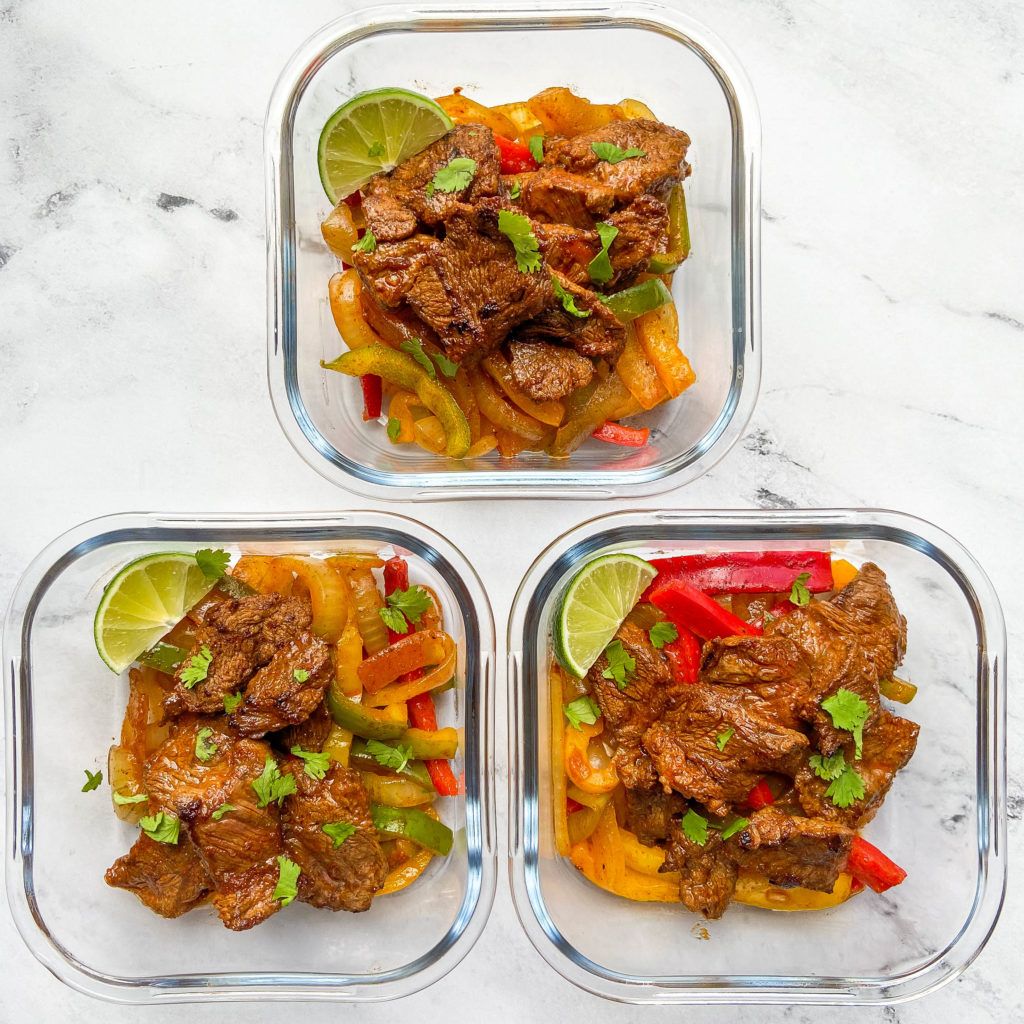 What kind of steak should be used in fajitas?
If you've been using WWL recipes for a while, you know we don't use steak often. Here, it made total sense. But if you're not comfortable working with beef you have options.
For this recipe, I used a 10 oz New York strip steak. Flank steak would work as well. Sometimes grocery stores have pre-sliced steak pieces (usually labeled as stir fry steak or something like that) and that type would work well too.
The key is to be really careful when cooking the steak. It's one protein that will need more attention on the stove to avoid overcooking. That way it keeps well in the fridge and reheats well too.
My trick here was slicing the steak before cooking it so I could cook the strips individually and easily taste check them while they cooked instead of cooking a large cut of meat and slicing it later (which is how traditional fajitas are cooked, usually on a grill).
Speaking of using a grill, this is a recipe to use your cast iron skillet with, if you have one. Here's the one I have — I love it!
If you don't want to use steak…
Shredded chicken breast, grilled chicken breast, or shrimp would make great alternatives in this steak fajita recipe.
If you choose to use chicken breast, I recommend that you marinate it in the same lime/taco seasoning combo in the recipe below, bake it at 375 F (190 C) for 20 minutes, let it cool a bit and then shred it. You could also cut the chicken breast into strips or chunks, marinate it and cook it as the recipe below is written, but for a few minutes longer on each side.
For shrimp, use the same process as the steak written in the recipe, but cook for just 2-3 minutes on each side.
You can also use tempeh or mushrooms as a plant-based option.
Related: Meal Planning for Beginners (Meal Plan Template Inside!)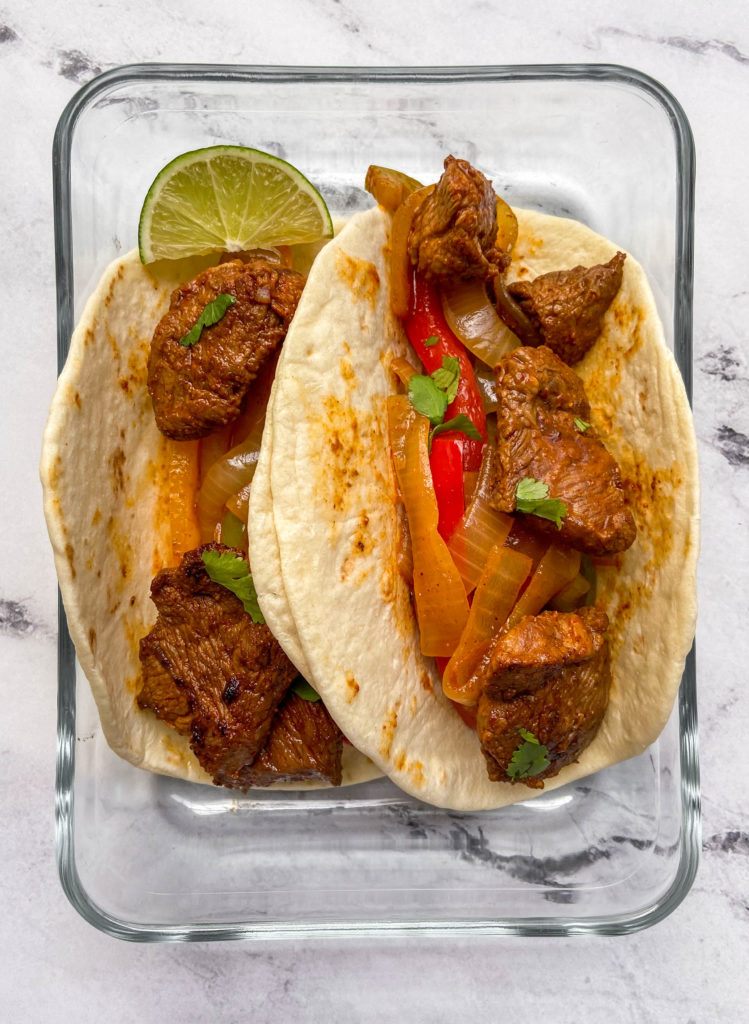 Steak fajitas seasoning
A packet of taco seasoning is a great shortcut for this recipe, but if you want to make your own you can follow the recipe below! This makes about 2 tablespoons (28 g) or about the amount in one packet:
2 tsp chili powder
½ tsp onion or garlic powder
½ tsp dried oregano
2 tsp ground cumin
½ tsp paprika
½ tsp salt
Related: 12 One-Pan Dinner Ideas You Can Also Meal Prep For The Week
What veggies go in steak fajitas?
Saucy, slightly spicy bell peppers are the star of this easy dish! You can use any colors you want (in this recipe we're using all the colors, haha).
But if you're not into bell peppers, you have options!
Try:
sliced cabbage
zucchini, sliced
carrots, sliced
red onion, sliced
mushrooms, sliced
Choose 2-3 veggies from the list above and you'll be good to go!
Of course, if you're not into yellow onions (also included in the recipe below), you can leave that out altogether and still have delicious fajitas.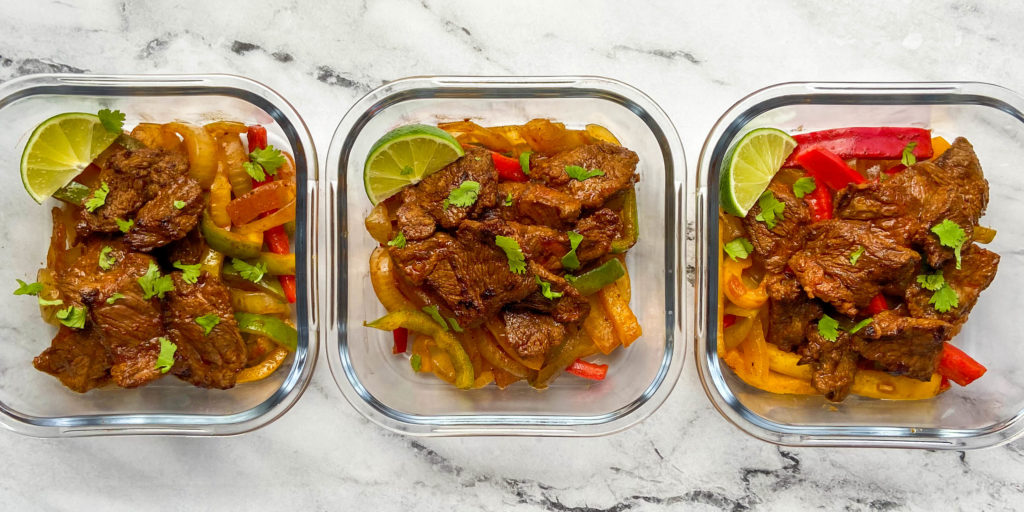 And finally, the tortillas:
I used flour tortillas in my fajita meal prep. I love flour tortillas! They're so satisfying, but don't make me feel like I ate a rock.
But if you want to try something else, here's what I recommend:
Corn tortillas
Gluten-free tortillas (if needed, see our comparisons below!)
Pita bread (for a heartier fajita meal)
Regular wraps of any variety
Note that if you use any of the above, you should store them separately from the steak and veggie mixture to avoid sogginess.
You can even replace fajitas with rice if you want to turn this into a fajita bowl. To be honest, a rice fajita bowl would be a little easier to eat than using tortillas.
Phew! Who knew there were so many ways to customize fajitas? I love when you make my recipes your own, so don't be afraid to deviate a little!
How to add more volume or double these steak fajitas:
To add more volume to this recipe, I'd start by adding another bell pepper first. That makes it simple. I ate this with two tortillas per meal, but you can increase that to three if you need more volume in a meal.
To double this meal, simply double the ingredients! You may need to cook the steak in batches to avoid crowding the pan.
Storing and reheating these steak fajitas:
This meal is good in the fridge for up to 3 days. It's not freezer-friendly. You can reheat fajitas (the steak and peppers) in the microwave or on the stove. I recommend storing tortillas and reheating them separately.
Happy prepping!
Don't miss out on our other delicious meal prep recipes!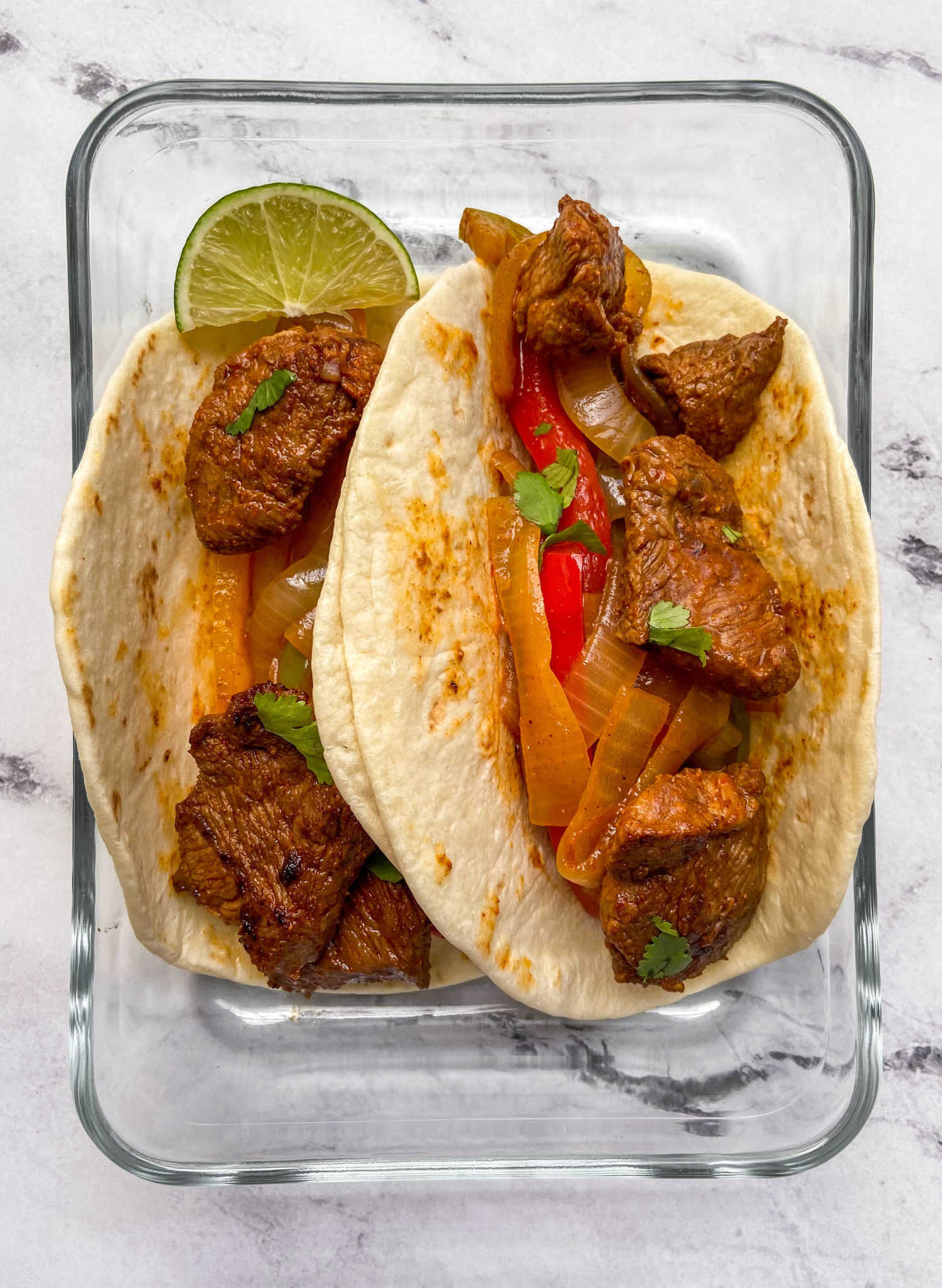 30-Minute Steak Fajitas For Meal Prep
Ingredients
10

oz

strip steak

sliced into thin strips

1

packet

taco seasoning

divided, see notes for homemade

2

lime

one for juices and one chopped into wedges

3

tablespoons

olive oil

divided three ways

1

red bell pepper

sliced into thin strips

1

yellow bell pepper

sliced into thin strips

1

green bell pepper

sliced into thin strips

1

yellow onion

sliced thin and separated

salt and pepper to taste

6

small

tortillas
Instructions
Add the sliced steak to a zip top bag. In a bowl, mix 1/2 the packet of taco seasoning with juice from 1 lime and 1 TBSP olive oil. Pour into the bag with the steak and shake gently to coat it. Place it in the fridge to marinade for 10 minutes or up to 3 hours.

Heat a large skillet over a medium-high heat for about 2 minutes. You want the pan very hot! To the pan, add 1 TBSP of oil, followed by the sliced bell peppers, sliced onion, salt and pepper to taste and the remaining taco seasoning. Cook the peppers and onions, stirring often to coat them in the seasoning, for 7-10 minutes, until they're tender and slightly charred depending on how hot your pan is. Remove the peppers and onion from the pan and set aside in a small dish.

In the same skillet, add 1 TBSP more olive oil. Remove the steak from the marinade using a slotted spoon, tongs or a fork. Discard the marinade. Add the steak to the pan and cook for 5-7 minutes, flipping the pieces occasionally, until cooked to your preference. 

Assemble: Distribute the bell pepper mix and cooked steak to meal prep containers with a lime wedge in each. Keep the tortillas separate until you're ready to eat!
DID YOU MAKE THIS RECIPE?
Please leave a comment below on the blog or share a photo with us and tag @workweeklunch! Can't wait to see what you made!