This chicken satay recipe is inspired by one of my favorite Thai starters, chicken satay with peanut sauce! Satay dishes consist of meat on a skewer served with sauce, and they come from Indonesia but are popular across Southeast Asia. Turns out, you don't have to go to a restaurant to enjoy satay — it's pretty easy to replicate the flavors at home and build a meal around it like this! We're not using skewers, but the flavors are there for sure. Keep reading to learn more about this chicken satay recipe!
Get hundreds of recipes like this in the Workweek Lunch Meal Prep Program with access to our meal planning tools, grocery list generator and more. Start a free trial today!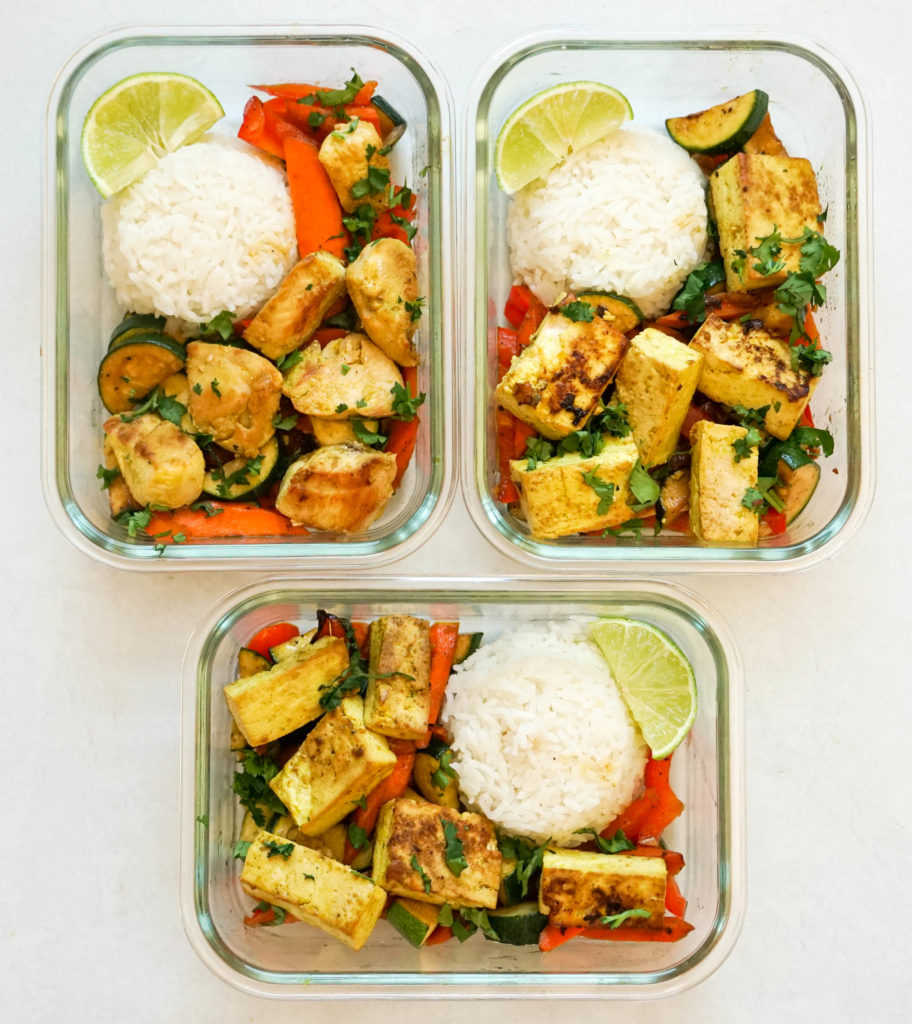 Chicken Satay Recipe Overview
This chicken satay bowl looks like it has a lot of ingredients because there are three parts: the protein and sauce, the veggies and rice, and then the side sauce. The good news is that you only need one pot (for the rice and one pan (for the chicken and veggies) to make it!
We're using chicken, zucchini, red bell pepper, carrots and rice as the main elements for this meal. As always, you can change things up and make this recipe your own!
Related: Freezer Meal Prep: Stock Your Freezer With 8 Easy Prep Recipes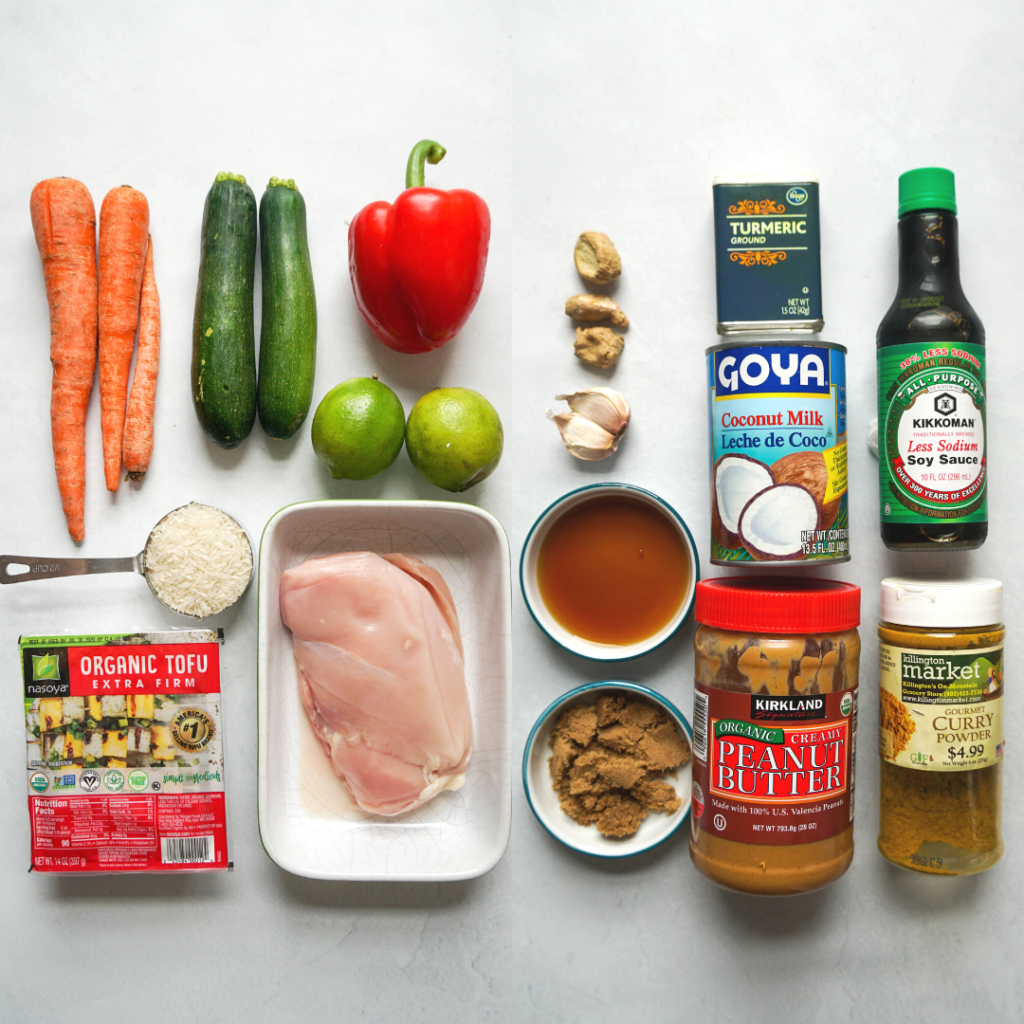 How to customize this chicken satay recipe:
Chicken is the go-to for this meal, but if you'd rather use beef or a different protein, go for it. Chicken thighs can work instead of breasts too!
If you're vegetarian, you can turn this chicken satay into tofu satay! Tempeh and seitan could also work.
Allergic to coconut or don't like the taste? Leave it out.
Gluten-free? Sub tamari or liquid aminos for the soy sauce.
Not feeling rice? You can use any grain or even noodles of your choice for this meal.
Allergic to nuts? You can use any seed butter to replace peanut butter in this recipe – I love sun butter (made with sunflower seeds)
What to Serve With Chicken Satay: Let's talk veggies
We're using bell pepper, carrots and zucchini in this meal, but you have lots of options here!
Green beans, broccoli, cauliflower, snap peas, edamame, bok choy, greens, onions of any kind, eggplant and cabbage all work in this meal.
Related: How To Keep Produce Fresh: Storage Tips For Fruits & Veggies
A few notes about the peanut sauce
When making any sauce, the best thing to do is taste as you go and adjust the flavors accordingly! If you like it to be a bit thicker, add more peanut butter. If you enjoy your saice on the saltier side, add more soy sauce. Not a fan of ginger? You can leave it out! If you want to make it spicy, add some sriracha. It is all about your prefernce and what you like.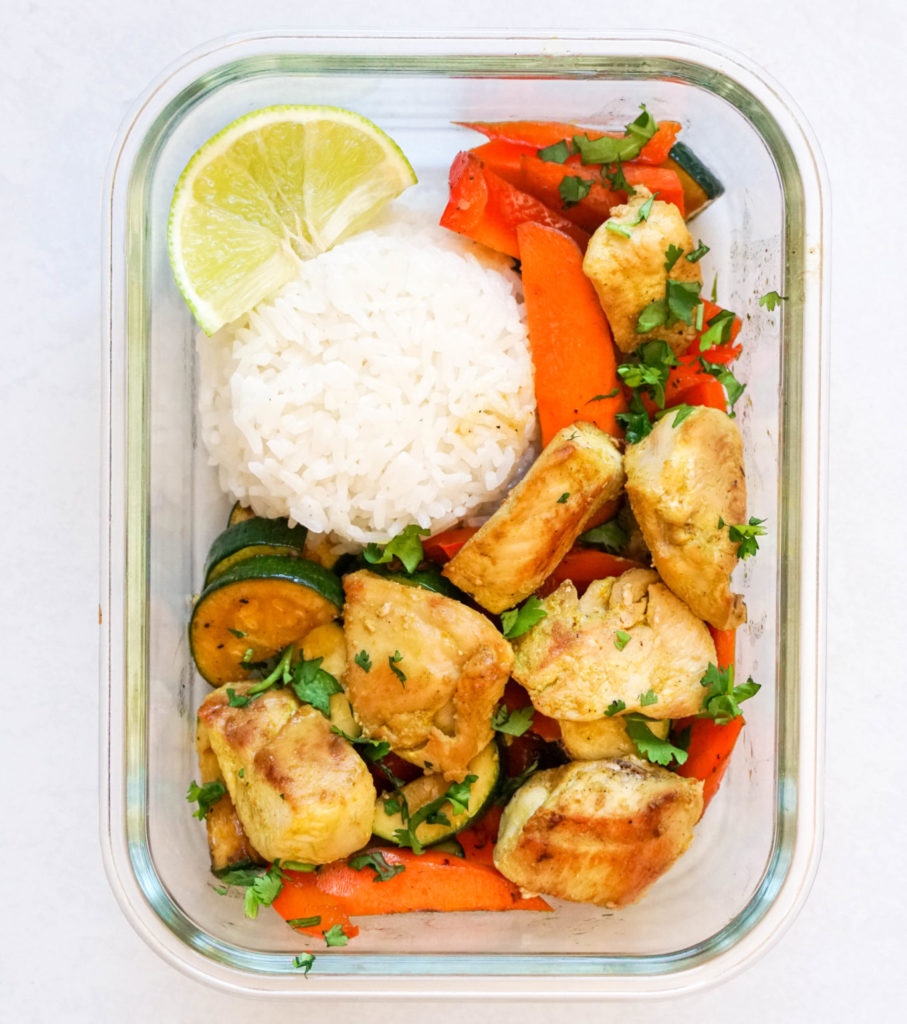 What you need to know about coconut milk
It is completely normal to open a can of coconut milk and find a thick layer of cream on top! Just use a fork to mix it in with the more liquidy portion below. If you find yourself halfway through this recipe and realize you forgot to pick some up, don't worry! Greek yogurt, heavy cream, soy milk, or evaporated milk will work as a substitute in most dishes.
How to store this chicken satay recipe:
This meal can last in the fridge for up to 4 days. It's not freezer-friendly, but you can freeze the chicken on its own if you'd like.
I recommend reheating it in the microwave or on the stove.
Happy prepping!
Here are some other Thai dishes we love!
And don't forget to check out our other delicious recipes!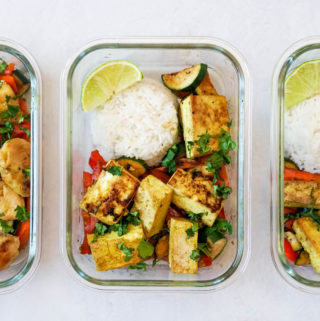 Chicken Satay Bowls With Rice & Stir Fried Veggies
Ingredients
For the chicken & marinade
16

oz

chicken breast

chopped

1/4

cup

canned coconut milk

omit if needed

2

TBSP

soy sauce

1

TBSP

fish sauce

sub lime juice or rice vinegar

1

TBSP

vegetable oil

sub coconut oil or olive oil

1

inch

ginger

minced or grated

1

cloves

garlic

minced or grated

2

tsp

curry powder

1

tsp

turmeric

1

TBSP

brown sugar

sub liquid sweeteer
For the rice
3/4

cup

rice

sub grain of your choice

3/4

cup

water

3/4

cup

canned coconut milk

sub water if you dont eat coconut

1/2

tsp

salt
For the veggies
1

TBSP

olive oil

2

scallions

chopped, white and green ends separated

1

carrot

sliced thin

1

zucchini

chopped into quarters

1

red bell pepper

chopped into strips

1

clove

garlic

minced

1

TBSP

soy sauce
For the peanut sauce (optional)
2

TBSP

nut butter

I used peanut, sub nut butter of your choice

2

TBSP

soy sauce

1

lime

for juices

2

tsp

brown sugar

1/2

tsp

ground ginger

sub 1 inch gresh ginger, grated
Instructions
Make the marinade: Add all the marinade ingredients to a measuring glass. Stir and taste – adjust any flavors if necessary! Pour the marinade and chopped chicken into a bowl or zip-top bag and let it sit for at least 15 minutes, up to 2 hours.

For the rice: add the rice, water, coconut milk, and salt to a pot and stir once. Bring it to boil, then cover and turn the heat all the way down (but not off). Cook for 10 minutes, then turn off the heat and steam for 10 minutes.

Cook the chicken: Add 1 TBSP oil to a skillet (I used cast iron) over a medium flame. Let it heat up for a few minutes, then add the chicken to the pan. Make sure to space the chicken out a little and avoid getting the marinade in the pan (otherwise the chicken will just boil). Cook on each side for 5 minutes, then remove it from the pan and set aside.

Cook the veggies: To the same skillet, add a little more oil, followed by the chopped veggies, white ends of the scallions, garlic and soy sauce. You may need to cook the veggies in batches depending on the size of your pan. Cook over medium/high heat for about 7-10 minutes, stirring often, until the veggies are fork-tender.

Make the peanut sauce (optional): Add the peanut sauce ingredients to a measuring glass and whisk well with a fork. Add water to thin (I added about 3 TBSP) to your desired consistency. Taste and adjust flavors as necessary.

Assemble: Divide the rice, veggies and cooked chicken between three meal prep containers. Divide the sauce between three smaller containers or just keep it in one bigger container on the side to drizzle on before eating. Garnish with chopped green ends of the scallions.
DID YOU MAKE THIS RECIPE?
Please leave a comment below on the blog or share a photo with us and tag @workweeklunch! Can't wait to see what you made!