This spaghetti bolognese recipe is so close to my heart! Back when I started cooking, this type of recipe really intimidated me. Ground beef? Wine? Pasta? Sounds complicated! But it's not, I promise. Here's a quick snapshot of the process. The main elements in this recipe are onions, ground meat or "meat", wine (or broth), crushed tomatoes, and pasta — in that order.
Get more recipes like this in the Workweek Lunch Meal Prep Program with access to our meal planning tools, grocery list generator, and more. Start a free trial today!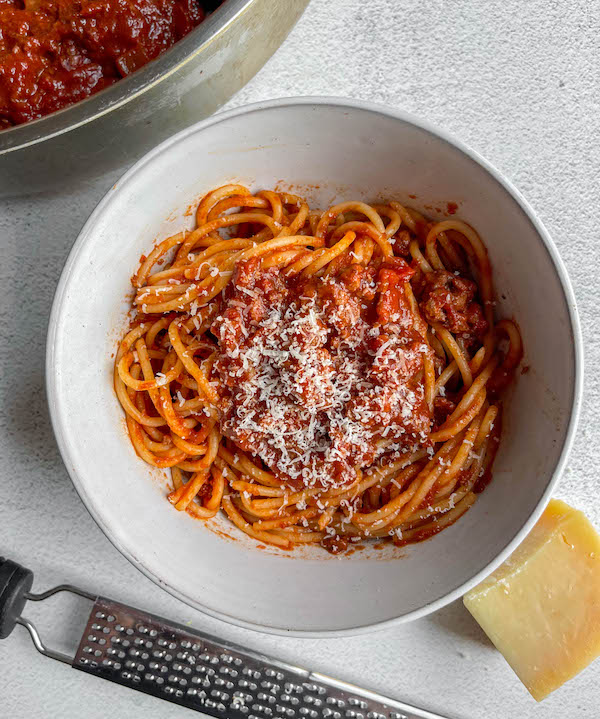 Ways you can customize this spaghetti bolognese
Swap ground beef for any ground meat of your choice (my next choice would be turkey)
Swap onions for shallots
Use broth instead of wine (but I highly recommend wine if you can use it! All the alcohol gets cooked out.)
Throw in some very finely chopped carrots and celery for more veggies if you want (I've done this in the past and it's great)
Use any type of pasta you want. Spaghetti makes the most sense, but you make the rules here!
Parmesan cheese is optional but highly recommended.
The only thing you can't really swap out is the crushed tomatoes as it's the base of the sauce!
Related: 5 Essential Freezer Meal Prep Tips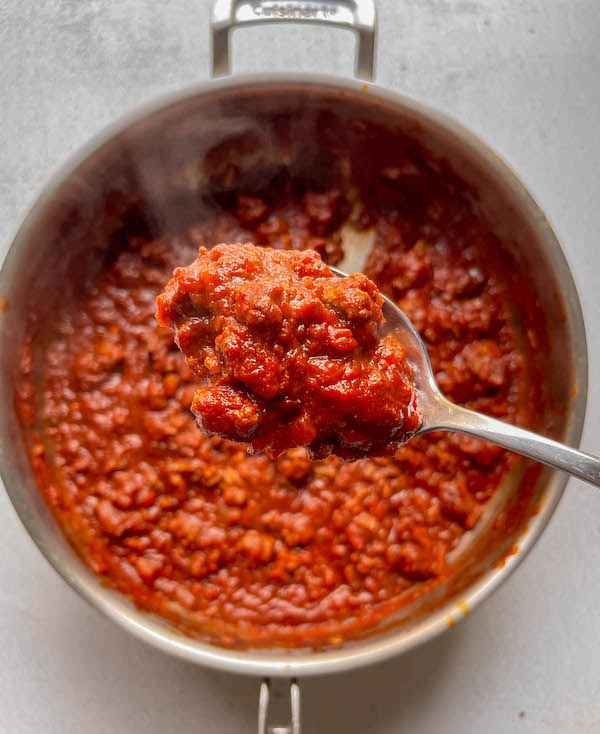 Let's talk about the pasta-to-sauce ratio:
This is really up to you. Though I will say this sauce is so delicious, you will want a lot on your pasta! Remember that extra sauce can be frozen if you like less sauce in your meals!
Related: 20 Meal Prep Salads That You'll Actually Enjoy Eating
Tip for browning meat so it's more flavorful:
Instead of adding a package of ground meat to the pan and breaking it up with a spoon as it cooks, try making very small "meatballs" (but it's just ground beef) and then adding them to the pan. What this does is gives the beef more surface area to caramelize and you'll get a much better color on your meat, rather than the grey-ish color of cooked ground meat.
I used my hands to form small meatballs then carefully placed them in the pan, rotated them to cook on each side, then broke them up after they browned. It was delicious!
What to serve with spaghetti bolognese
This dish is excellent on its own, but if you want to pair it with something, here's what I'd do:
Related: Weekly Meal Prep: 12 One-Pot Dinners Under 30 Minutes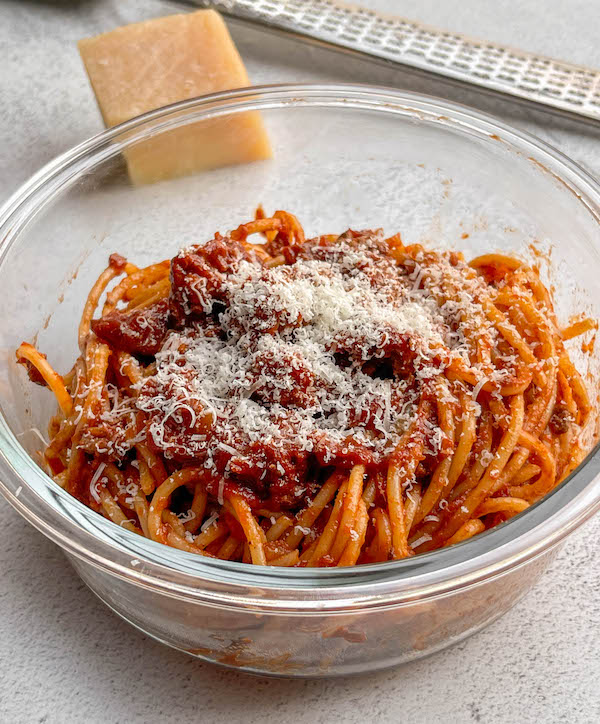 Storing this spaghetti bolognese:
This meal can last in the fridge for up to four days. It's freezer-friendly for up to 6 months (with pasta or without!). I recommend reheating it in the microwave or on the stove. Happy prepping!
Other pasta recipes to try out: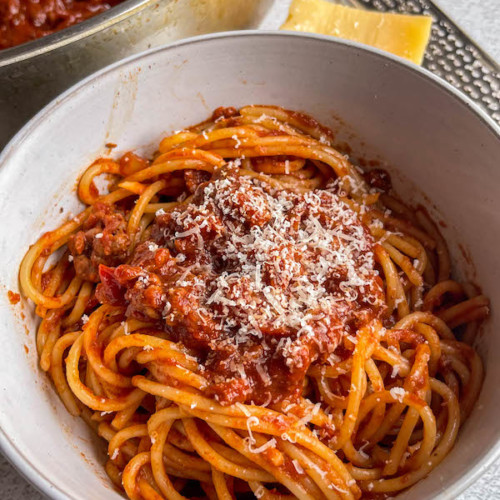 Classic Spaghetti Bolognese
Ingredients
1

TBSP

olive oil

2

clove

garlic

minced

1

onion

chopped

16

oz

ground beef

sub ground turkey

1/2

cup

red wine

sub broth of your choice or water

2

beef bouillon cubes

crushed

28

oz

can of crushed tomatoes

1

TBSP

granulated sugar

2

tsp

worcestershire sauce

2

bay leaves

1/2

tsp

dried thyme

salt and pepper to taste

8

oz

spaghetti

sub pasta of your choice

1

cup

parmesan cheese

grated, optional
Instructions
Heat up a large skillet for a few minutes over a medium flame, then add the olive oil and let it heat up for a minute or two. Add the onions with a pinch of salt and saute for 5 minutes, until fragrant, over medium heat. Stir in the garlic and cook for 3-4 minutes more.

Add the ground meat and use a wooden spoon to break it up. Cook the meat until it's brown and fully cooked through, about 7-8 minutes.

Pour in the red wine or broth/water and bring the mixture to a simmer. Scrape any brown bits off the bottom of the pan with a spatula and cook until the alcohol smell is gone (about 5 minutes).

Add the crushed bouillon cubes, crushed tomatoes, sugar, worcestershire sauce, bay leaves, thyme and salt and pepper to the pan. Stir well to combine and bring the mixture to a gentle bubble (not quite a boil). Turn the heat down to a simmer and cook for 20-30 minutes uncovered. If the sauce gets too thick, add a little more water.

Meanwhile, cook the pasta according to the package. Reserve 1/2 cup of pasta water if you remember! I just scoop it with a measuring cup or glass right after it's done cooking (before draining).

Add the pasta to the bolognese with the 1/2 cup of pasta water. Use tongs to toss the pasta in the sauce. If you don't like the sauce to pasta ratio (there will be a lot of sauce) you can freeze extra!!

Assemble: divide the spaghetti bolognese between four meal prep containers. Top with parmesan cheese (optional).
DID YOU MAKE THIS RECIPE?
Please leave a comment below on the blog or share a photo with us and tag @workweeklunch! Can't wait to see what you made!