Real talk: I wish I started learning how to reduce food waste years ago. It's not just because I cook so much, but really because it's way easier than I thought.
What sparked my passion for reducing food waste was learning how much wasting food impacts our environment. A few months ago, I stumbled on Save The Food's website, where I learned that over 40% of all food in America is wasted (not eaten and trashed). This blew my mind!
At that point, I already nailed down some steps to reduce food waste, like meal planning. But I knew I could get better — and I did with the help of the amazing free tools provided by Save The Food.
Today, I'm going to share five easy, realistic ways to reduce food waste that you can start doing this week. You don't need special equipment, it doesn't cost money and it takes very little time. We have no excuses!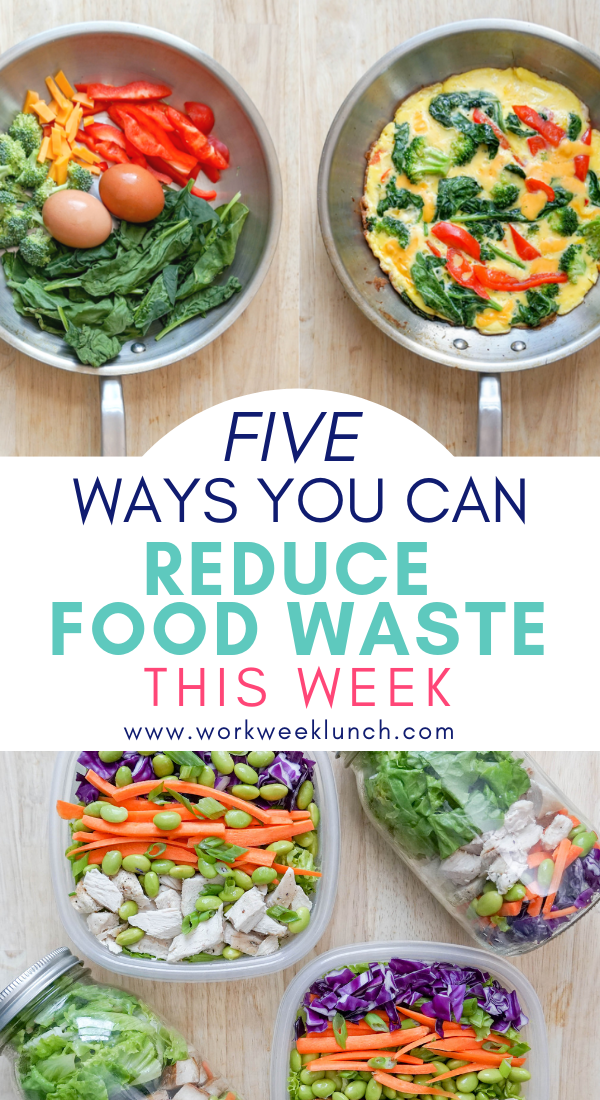 Let's dive in with my favorite method to reduce food waste:
Plan ahead
Have you ever come home from the grocery store with bags full of fresh food, then you completely forget to use most of it throughout the week? We've all seen what happens to spinach when we forget it's in the back of our fridge. Instead of ending up on our plates, forgotten food ends up in the trash. How can we avoid this? Planning! 
Planning takes a little bit of effort but has a huge impact on reducing food waste. Give every ingredient a job and you're more likely to use it up completely.
Need a free meal planning tool focused on reducing food waste? Get started today with with the customizable grid I use every week when planning meals. 
How Meal Prep Mate works
It's a digital tool to help you create your shopping list and plan your meals before now and the next grocery run – all without wasting a drop. You can choose a pre-made plan or create your own plan! Here's an example of a pre-made plan.
The Meal Prep Mate allows you to choose how many people you're cooking for, how many days and which meals you want to prep in advance to avoid wasting food. 
The pre-made plans come with full recipes and grocery lists, and if you build your own plan, the Meal Prep Mate guides you through choosing protein, produce and grains to build balanced meals.  
A tool like the Meal Prep Mate is helpful because sometimes we're not great at judging how much we really need to buy for meals prepared in our homes. The key word here is need. To reduce food waste, we have to practice only buying what we need. When we choose recipes ahead of time, we know exactly how much of any ingredient we'll absolutely need and can easily buy that exact amount. 
I can personally attest to the benefits of meal planning to help reduce food waste. I've been using a spreadsheet template to plan meals for four years. Now, I use up everything I buy at the store. Check out my step-by-step meal planning guide and spreadsheet template here.
Shop your pantry
Want to go on a fun treasure hunt? Take everything out of your pantry and see what you have. You'll be surprised by what you find hiding behind all your tea and spices! All of these ingredients are just sitting and waiting to be used up in your meals. This is an amazing way to reduce food waste because you don't have to buy MORE food. 
Not sure what to make with the food you already have? Google is your friend! Let's say you have a can of chickpeas and a can of corn in your pantry and you have no idea what to do with them. Google "chickpea corn recipes" and see what you find. I guarantee someone on the internet has already experimented with any and every combination of ingredients you can think of. 
Here's a head start on some easy pantry meal ideas:
Get Storage Savvy
Even if you plan ahead, sometimes food can spoil in the fridge before you intend to use it, which sucks! Just this week, I bought a bunch of spinach that I thought would be ok from Saturday until Thursday (I was so wrong) but it started to dry out. It wasn't ideal, but I still used it! Even a meal prep master like me makes mistakes, but I could definitely brush up on my food storage knowledge.
Luckily Save The Food has us covered. The STF Store It tool is an interactive guide where you can choose ingredients and read up on how long they last in the fridge, freezer and pantry AND how to store them. 
Now we have no excuses. If you're determined to cut down on food waste, I recommend bookmarking this on your phone so you can easily pull it up when putting groceries away. 
Did you know you could freeze eggplant? And that corn only lasts in the fridge for up to 3 days in the husk? Or that you're supposed to refrigerate sesame oil and nut butter? (oops). Well now you know, thanks to the Save The Food storage guide. 
Elongating the life of your food also helps you reduce food waste. If there's one thing you take from this post, even if you don't want to plan or shop your pantry, learn how to store the food you buy so it doesn't spoil before you get to use it! 
Try or create a new recipe with leftovers
This is probably my favorite reducing food waste tip. There is so MUCH you can do with random leftover cooked and raw ingredients! 
There are many amazing recipes in the STF recipe library. Each one focuses on using up whole ingredients and/or incorporating ingredients that you might normally toss, like zucchini stems, potato peels and the juices from canned beans (called aquafaba!).
Have whole ingredients that are past their prime? STF has delicious recipes for overripe fruits and veggies too. 
The STF recipe library has categories for vegan, vegetarian, dairy-free, gluten-free, desserts and "chef-inspired" recipes! 
My favorite thing to do with all leftover food is to make a frittata. At the end of the week, you can gather all your odds and ends of veggies and meals that didn't get finished up and throw it into a big egg bake or skillet frittata. 
If you're vegan, you can turn all your veggies into a massive rice or pasta dish. The most random meals are usually the most delicious! 
Think of your leftover ingredients like a free meal just waiting to be made in your fridge. 
Freeze, compost or donate?
When in doubt, check if you can freeze leftover ingredients and parts of meals. I'm sure someone else out there on the internet has already tried it (if you can't find this info on Save The Food's Storage Guide of course) and can let you know if something will freeze ok.
In some situations, you can share food with family, friends and neighbors or donate to shelters. I used to bring leftovers to work all the time and they would get eaten!
However, for shelters, it's going to be canned goods and pantry items mostly — ask your local shelter or food pantry what they will accept. Make sure you donate only unspoiled items that are still in good shape. 
Another last resort-ish option is composting. 
When food ends up in the trash, it doesn't decompose properly. This is pretty terrible for our environment because it releases methane, a very potent greenhouse gas.
Food waste is also the single largest component of solid waste in U.S. landfills. Once there, it decomposes and releases methane—a form of climate pollution that up to 86 times more potent than carbon dioxide.
If you can compost, that means the food will decompose properly and can be used to nourish turn back into soil. That's so much better for our planet! 
Want to look into composting? Do some digging online to see if there are compost pickups in your area or places to drop off food waste. Or if you have your own garden, check out backyard composting, it just takes a little time and space. 
At the end of the day, actually eating and using the food you buy is the best option.
Planning, shopping your pantry, storing and getting creative are the best ways to go to reduce as much food waste as possible. Having a resource like Save The Food gives us no excuse to play the "I don't know" card anymore when it comes to using up food scraps! 
Your action steps to reduce food waste:
Try planning meals next week. Treat it like an experiment and keep tweaking your plan until you find what works for you!
Take a peek at Save The Food's Store It tool while unpacking groceries to get the most out of your produce
Shop your pantry for forgotten ingredients you can use up before you buy more food
Test out repurposing leftovers into new meals before tossing them out
Try freezing, sharing and composting anything that doesn't make it onto your plate
Doable right? Thanks for reading and I hope you try some new ways to reduce food waste this week!