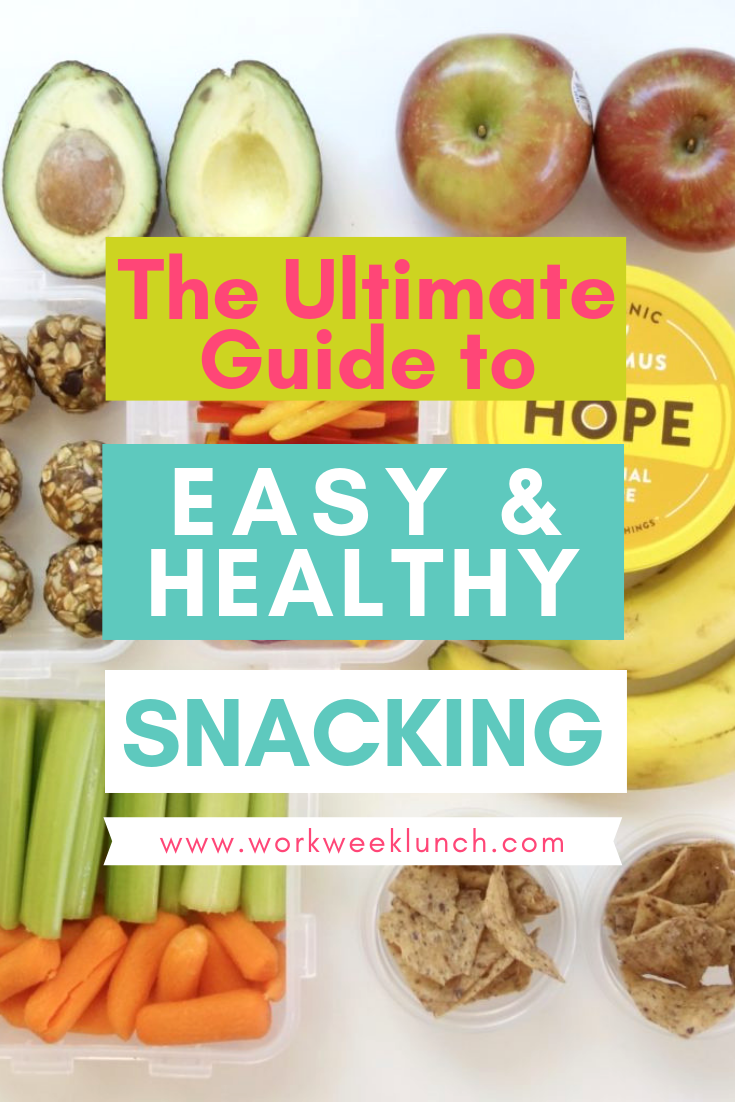 Prepping snacks ahead of time can help you make healthy snacking easy.
By planning snacks ahead, you're less likely to experience hunger/boredom pangs at 2 pm… and then go for a snack that turns into an entire meal at your desk or throws you into a crash.
I've been there. First I would start with something like a protein bar. Not satisfied, I'd go for Cheerios. Then I'd say "screw it" and take some candy from my boss' desk. None of it was really what I wanted because I wasn't bringing snacks to work.
Imagine your favorite snacks waiting for you in the fridge or on your desk the moment you want them!
Your snack strategy can help you feel more balanced throughout the day
Have you ever thought to yourself, "how am I still hungry? I just ate!"
It's NORMAL to need to eat every few hours as we spend energy even when we're sitting at our desks at work or in class. Even if you have a sedentary job, chances are you're using your brain a lot too. Your brain needs food! It's okay to eat between meals. Ideally, you're eating foods you WANT to enjoy, not only relying on the options available in your office, vending machines or convenience stores.
Being as thoughtful about your snacks as you are about your meal preps can help you maintain an even level of energy throughout the day.
Below is a full list of Workweek Lunch-approved snacks. Write down your favorite ideas and add them to your grocery list for your next grocery haul.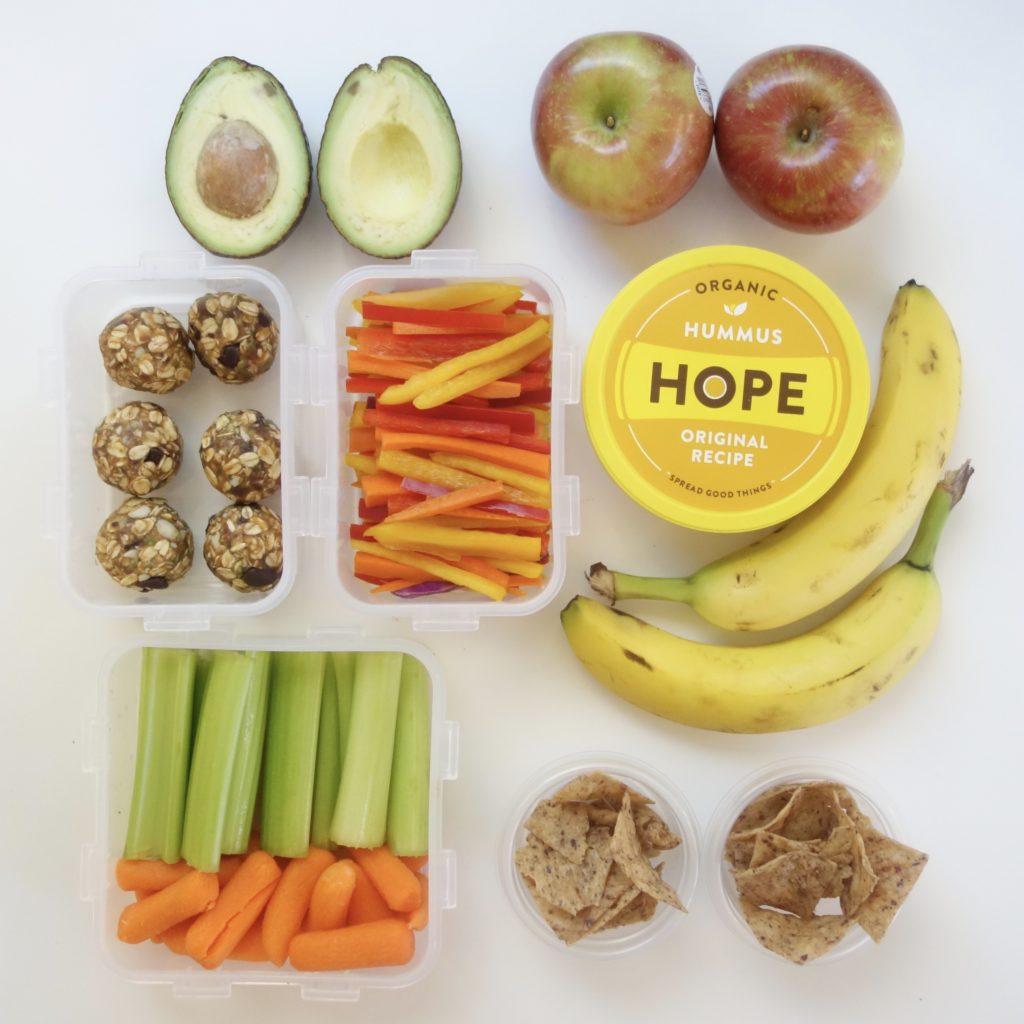 Easy-To-Grab whole foods
When comparing different snacks, nothing tops the nutritional value in whole foods like veggies, fruits, nuts and seeds. Just so we're on the same page when I say whole foods I mean that the food is not processed. It comes as is.
Grabbing an apple or banana to take to work is just as easy as grabbing a protein bar. I try to get in fruit and veggies with every snack I eat. Here are easy examples and ideas:
VEGGIES: Carrots, celery, bell peppers, lunchbox peppers, edamame
FRUIT: Apples, bananas, plums, peaches, oranges, grapefruit, mango, berries, papaya
NUTS & SEEDS: Almonds, cashews, peanuts, walnuts, pepitas, sunflower seeds
In the dairy/refrigerated section
If you're vegetarian or flexitarian, there are many awesome high proteins, clean and low-sugar options in the dairy section.
Pro tip: when buying yogurt always get the plain varieties. It's healthier to add some nuts, fresh fruit or a drop of honey than it is to eat the processed fruit in the flavored varieties.
Cheese sticks
Regular & Greek yogurt
Non-dairy yogurt
Cottage cheese
Hummus! (not dairy, but in the refrigerated section or you can make your own)

Pantry and packaged foods to keep in mind:
There's nothing wrong with grabbing these on the go! They're easy to carry and store well throughout the day and are a great supplement to healthy snacking.
PROTEIN BARS: Rx Bars, Go Macro bars, Larabars, Perfect Bar
JERKY: There are so many kinds to choose from these days, even vegan varieties made from coconut!
NUT BUTTERS: any kind you like. I love the individual packets of nut butter for on the go snacking if you can find them!
POPCORN: you can buy it, pop it in the microwave or make it yourself!
CHIPS: Chips don't do much protein-wise, but they're super satisfying! I love kettle chips.
COOKIES: For optimal snacking, I recommend making your own! It's cheaper and you can go nuts with the add-ins (pun not intended)
TRAIL MIX: Another thing you can easily make yourself with assorted nuts, dried fruit and chocolate or buy pre-made. Trader Joe's sells AMAZING and affordable varieties of trail mix.
DRINKS: Some drinks are pretty filling, like kombucha. Just remember that these don't count as solid food.
Nothing beats the snacks you make at home:
A little extra time spent on prep day to take care of snacks can help you save money and reduce food waste! Below I'm linking out to recipes on other bloggers sites for these snacks so you can recreate them at home on prep day!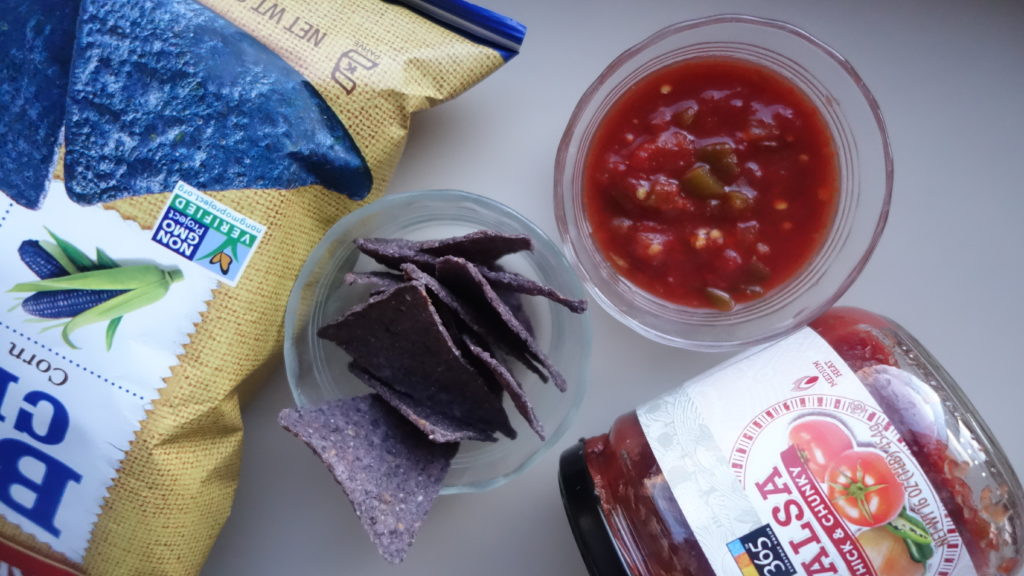 Healthy snacking is easy when you have quick options (and plan in advance).
Knowing what your options are is the key to healthy snacking. Most of the time, we get "bored" with our snacks, which leads to choices we don't feel happy about. Or we don't plan ahead, which also leads to getting hangry!
Personally, I need a pick-me-up at 2 pm at work. While I used to go for the cookies, a plain apple with some almonds is now something I look forward to.
Yes, adding snacks to your meal prep routine will make the process take longer. That's why I always go for whole fruit and veggies; there's simply nothing to do other than chop 'em up and put them in a bag or container. Done.
Want to start meal prepping snacks? Sign up below and immediately get my FREE meal prep starter kit, complete with a meal planning template, grocery lists and more.