If you told me a year ago that I would be writing about my favorite soft foods to eat after oral surgery, I would have laughed in your face. Oral surgery?! No way, it couldn't be me, the person who avoided going to the dentist my entire adult life. But after some serious tooth pain and finally getting control over my anxiety in the past year, I was able to overcome my fear and take care of my teeth. And I am PROUD of myself!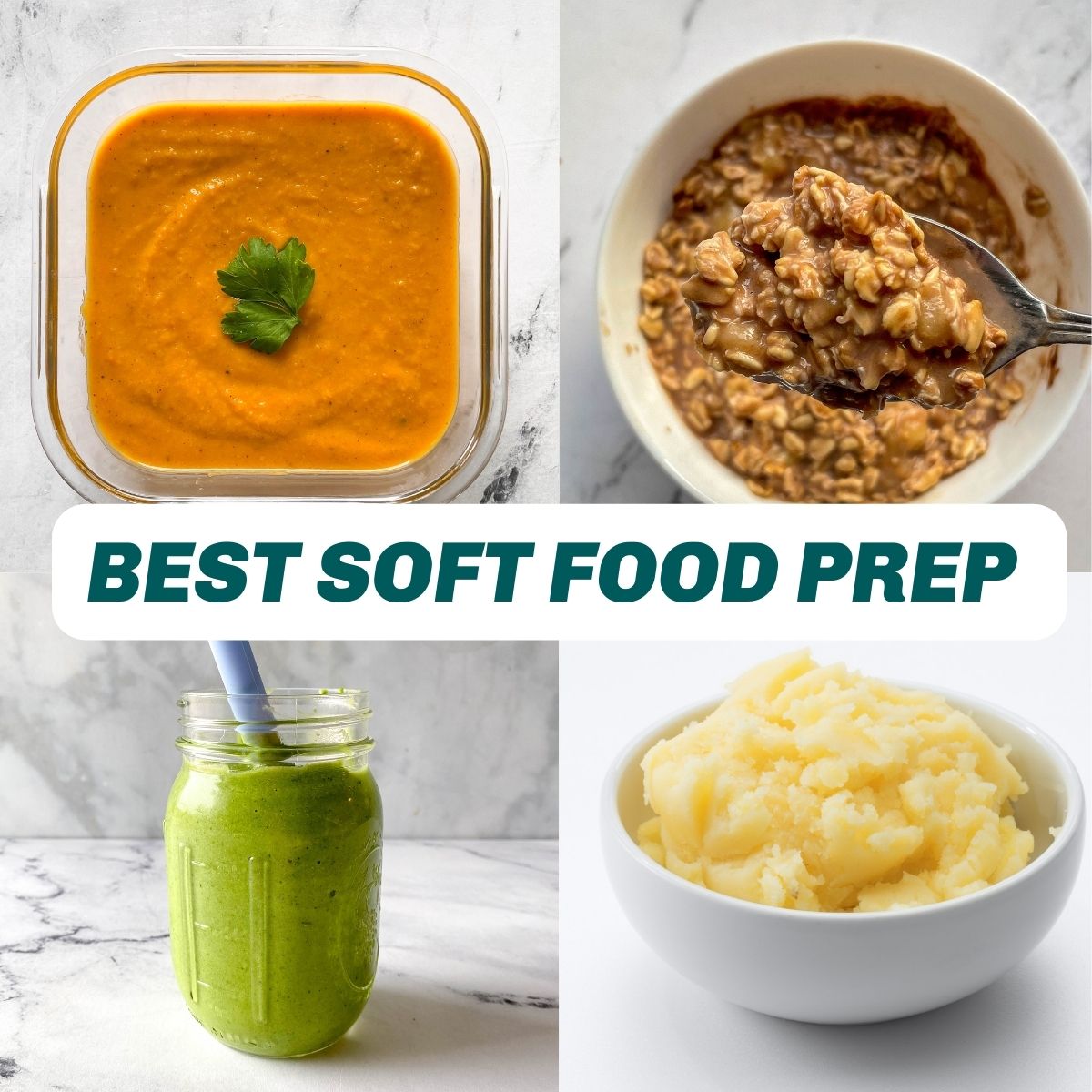 When the actual surgery date was approaching, I took comfort in planning out my meals for my recovery. Soft foods never sounded so good and I was excited about the healing process. Self-care can be going to the dentist and taking care of appointments you have been putting off for too long.
Whether you have a surgical procedure or an incredibly busy week on the horizon, planning your meals will make your life easier. Just ask the thousands of people that are a part of the Workweek Lunch Meal Prep Program who use our planning tools every week.
Now, let's get into the food!
What I stocked up on:
Protein Shakes: These might have been the best thing I had on hand because it was the first thing I could eat (drink) when I got home from my surgery. My favorite kind of protein shakes are these Orgain Vegan Protein Shakes, they are so delicious and a great way to get a good amount of protein in at once. 
Pudding: You can make your own pudding or buy some for easy-to-grab food for early recovery days. I might just keep some pistachio Petit Pot puddings in my fridge at all times now because they were so good. 
Applesauce: This was my go-to when I needed something quick and easy to eat but I didn't want something creamy. You can also easily make apple sauce from scratch. Make sure to do this before your procedure!
Yogurt: A very important staple because it provided me with protein and probiotics (which you WILL need if you are on painkillers, trust me). I even mixed some of the pistachio pudding with honey Greek yogurt which may have been one of the best things I ate all week. 
Peanut Butter: Sometimes I just needed a little salty snack, and a spoonful of creamy peanut butter came to my rescue. I also added this to my oatmeal or smoothies (without straws!) for extra flavor and protein. These single-serving peanut butter pouches are super convenient.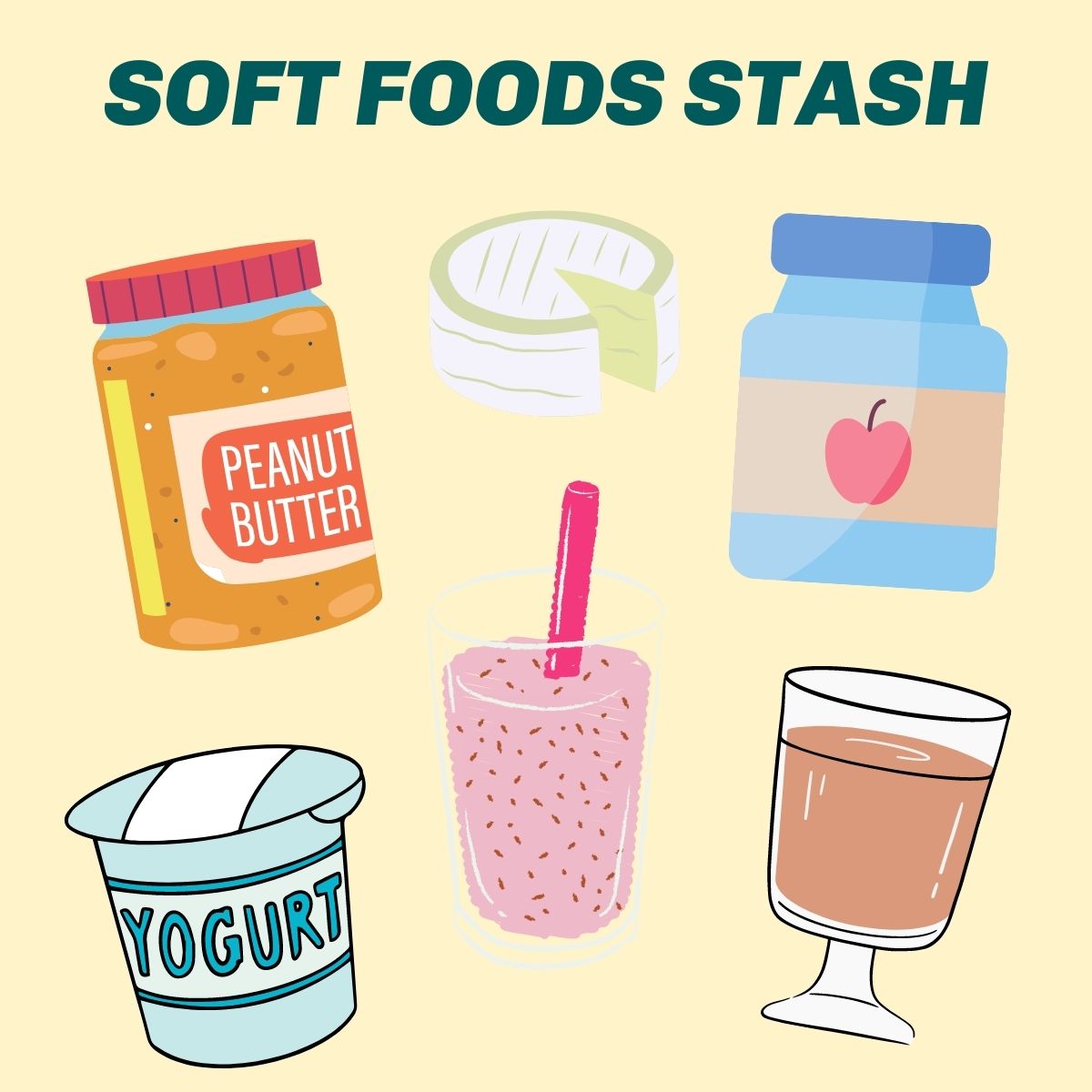 The food I prepped before oral surgery:
Blended soups: this vegan butternut squash soup was my main inspo for planning my soft foods! It has butternut squash, carrots, onion, and garlic, and I added white beans to make it more filling. reheated this by placing a cube or two in a saucepan with a little water to thin it out. Whether you choose this soup or your favorite blended soup, make sure to keep it more mild than normal. It's best to avoid spicy foods when healing to avoid irritating the incisions. 
Mashed potatoes: I had a lot of potatoes already on hand and love mashed potatoes year-round so this was another natural choice. I added some nutritional yeast to mine to make them a bit more nutritionally dense. Instant mashed potatoes would be a great swap and super easy to eat. When I reheated them I added more nutritional yeast and some shredded cheese and it was such a good meal. 
Oatmeal: I normally love to load up my meal prep overnight oats with chia seeds, nuts, fruit, and all kinds of fun toppings. This time I kept it SUPER simple with just the oats, milk, and mashed banana. I enjoyed warming my oats with either a spoonful of creamy pb or a scoop of protein powder. 
Green smoothies: Smoothies were another easy meal to eat/drink that I loaded up with all my favorite seedless fruits (banana, mango, peaches), a handful of spinach, and protein powder or peanut butter. You can really add anything to your smoothies that you enjoy, but this immune-boosting wellness smoothie would be a great jumping-off point.
Refried beans: Canned refried beans or easy homemade refried beans with some cheese on top was a very satisfying savory snack or meal with some mashed potatoes
What I ate a week after my oral surgery
These are what I would call "minimal chewing foods" that I was able to eat about a week after my dental surgery. These foods were solid, but not too hard on my teeth and healing gums. You can also chew with your front teeth to avoid irritation.
Our favorite Easy Mac and Cheese recipe – you could even add a soft veggie like mushrooms to this
Pasta Bakes – this butternut squash spinach lasagna is perfect. It's also freezer-friendly
Quick pasta – This 20-minute ground beef pasta checks all the boxes. If you don't like swiss chard, swap it out for spinach or kale.
More soup! – these are all of the best soup recipes you can meal prep ahead of time before your surgery and pop into the freezer.
Peanut Butter & Jelly Sandos – a no-fail classic
Egg or Tofu Scrambles – A perfect way to pack in veggies and super customizable. Our vegan tofu scramble is a great recipe to follow.
Avocado Toast! – Ease your way into a little crunch. It may be smart to toast your bread a tad less than normal.
I hope you found my soft foods to eat after oral surgery suggestions helpful! Everyone heals differently and you may need more or less time with soft foods than I did, but try to keep some variety in your diet so you don't get too bored. And as a general rule, make sure to talk to your doctor to get their recommendations and any requirements/restrictions they may have for you.
FAQs
What foods should I avoid after oral surgery?
Spicy, crunchy, chewy, and hard foods should all be avoided. Also liquids that are too hot, high in caffeine or alcoholic should not be consumed. And remember not to use a straw!
How long does it take to heal from oral surgery?
It depends on your procedure! It is best to talk to your doctor/dentist about this because everybody is different. I was able to eat "minimal chewing foods" about a week after my surgery.
How long will will these meal preps last in the fridge?
Most of these soft food meal preps will last around 3-4 days in the fridge and 3-6 months in the freezer.
More Minimal Chewing Recipes to Try
Breakfast & Snacks
Lunches & Dinners
What are your go-to soft foods to eat after oral surgery? Drop them in the comments below.
By the way, if you want access to meal prep recipes and meal planning tools, join the WWL Meal Prep Program! Every recipe in our library (over 600) can be made omnivore,vegetarian, vegan, gluten-free, and dairy-free and has been tested specifically for meal prep. Start a free trial of WWL and join thousands of satisfied meal preppers.