Antipasto pasta salad is always a go-to on a hot day! It's the perfect combination of briny, pickled goods, and fresh ingredients, and it can be a great minimal cooking or no-cook meal. Our version is mixed with delicious orzo, but you can use any short pasta of your choice. I hope you enjoy it!
Get more recipes like this in the Workweek Lunch Meal Prep Program with access to our meal planning tools, grocery list generator, and more. Start a free trial today!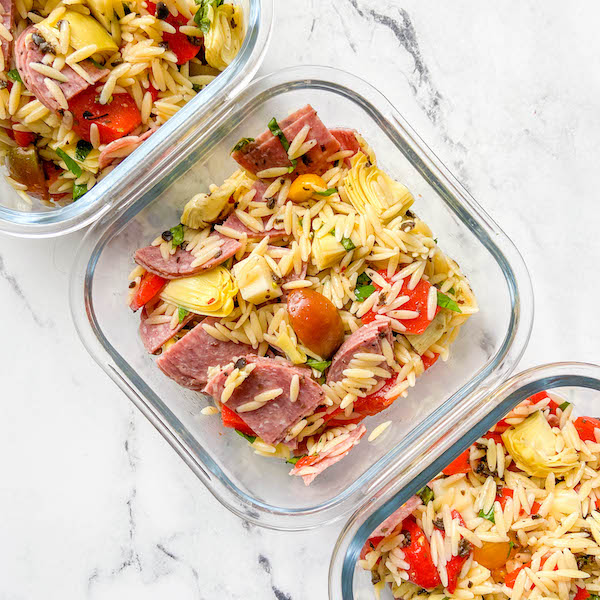 What is Antipasto :
Antipasto is typically the first course in an Italian meal. It can be made up of various jarred and pickled veggies, salty meats, and plenty of cheese! To make this more of a meal vs an appetizer, we are adding orzo!
There are so many different versions of antipasto since there are many diverse regions of Italy. Depending on the area, it is common to find different kinds of cheese, meats, pickled veggies and spreads in your antipasti. If you're looking for a vegetarian/ vegan version of this recipe, try this one out!
We also have a vegan version included in the WWL Meal Prep Program! All of our recipes can be made omnivore, vegetarian, vegan, dairy-free, and gluten-free.
Customize Your Antipasto Pasta Salad:
This version of antipasto pasta salad features several jarred and canned ingredients. If you cannot find some of the ingredients listed, here are some options that would be great in its place: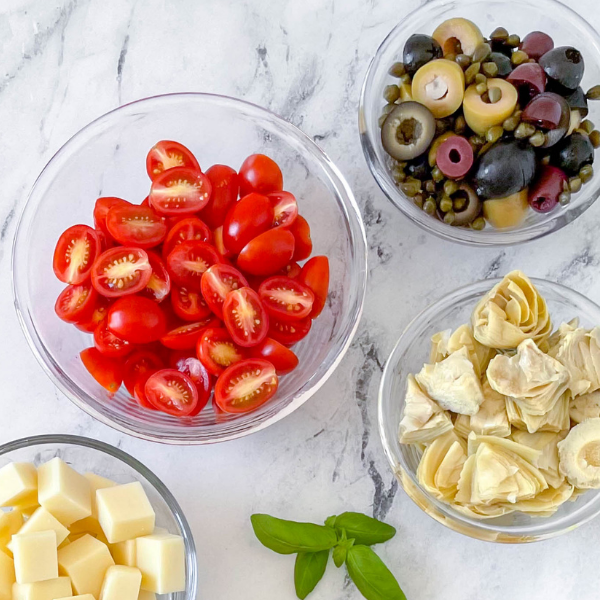 roasted red peppers – you can make your own or use chopped fresh bell pepper instead
artichoke hearts – if you can't find canned, look out for frozen artichoke hearts. Otherwise, asparagus or brussel sprouts would make for a great swap but will need some quick cooking.
olives – if you don't like olives, you could leave them out or add some chopped pickles instead.
chickpeas – use kidney or cannellini beans instead, or you can leave them out if you want and add your favorite chopped cured meats instead!
mozzarella – if you can't find hard mozzarella that's not shredded, you can use any hard cheese you like cubed or crumble in your favorite soft cheese. It's up to you! Hard, cubed cheese works best here with the dressing and wetness of the salad. Note that if you use a softer or crumbly cheese here it may disintegrate in the salad over the week! Vegan and dairy-free can use their favorite hard non-dairy cheese or cubed extra-firm tofu!
basil – use whatever herbs you have on hand or swap for 1 tablespoon of your favorite dried herbs
orzo – use your favorite grain or small pasta instead!
Adding kale is an optional step in this recipe!
About the antipasto pasta salad dressing:
We are making a super simple Italian dressing with some pantry ingredients, but feel free to swap with your favorite store-bought Italian dressing or vinegarette of your choice! Red wine or balsamic vinegar-based dressings will work best in this salad.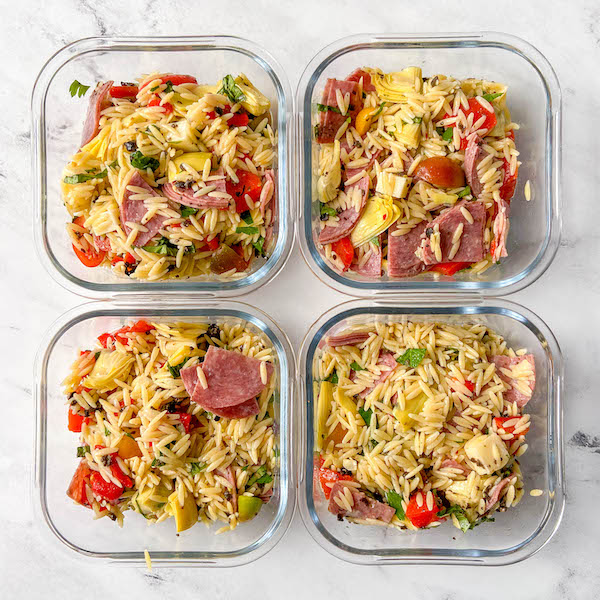 How to store this pasta salad:
This salad is good for up to 4 days in the fridge. This is not freezer-friendly. Enjoy this salad cold or at room temperature. Enjoy!
And don't forget to try out our other delicious no-reheat recipes!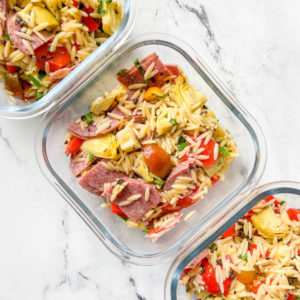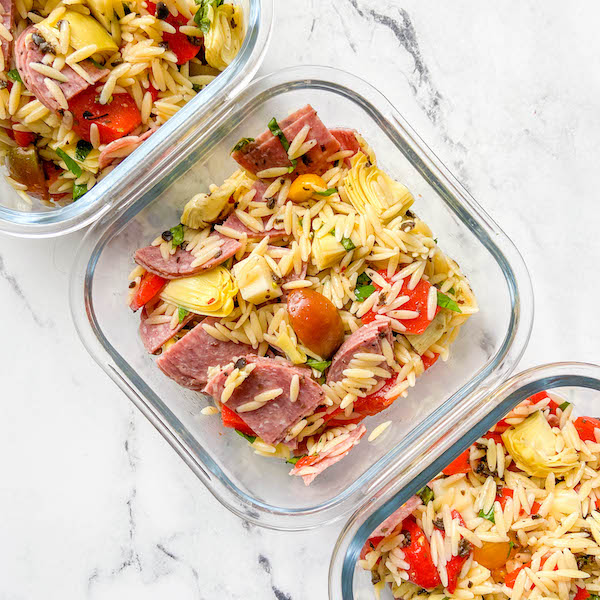 Meal Prep Friendly Antipasto Pasta Salad
Ingredients
For the dressing
1/4 cup olive oil extra virgin
1/4 cup red wine vinegar sub white wine or apple cider vinegar
1 tsp lemon juice
1/2 tsp garlic powder
1/4 tsp dried oregano
1/4 tsp basil dried
1/4 tsp red pepper flakes optional, skip if you don't like heat
salt and pepper to taste
For the pasta salad
1 cup orzo
12 oz roasted red peppers canned or jarred, drained and roughly chopped
14 oz can of artichoke hearts sub jarred, drained and roughly chopped
1 cup olives cut in half, your choice, pick a few different kinds if you like!
10 oz cherry tomatoes sub grape tomatoes, cut in half
15 oz canned chickpeas optional, sub cannellini or kidney beans, drained and rinsed
4 oz salami chopped, sub cured meat of your choice
1/4 cup capers optional
1 cup mozzarella cheese cubed, sub hard cheese of your choice
1/2 cup basil roughly chopped, sub parsley or fresh herbs of your choice
1 cup kale optional, roughly chopped
Instructions
Prepare the orzo. Bring a large pot of salted water to boil and cook the orzo according to the package instructions. When the orzo is done, drain it and run it under cold water to stop the cooking.

While the orzo cooks, prepare the dressing. Add the olive oil, red wine vinegar, lemon juice, garlic powder, dried herbs, red pepper flakes, and salt and pepper to a jar with a lid. Shake well to combine, then taste and adjust seasonings if needed. Store in the fridge until ready to use. Shake well before each use! If the oil hardens completely in the fridge, microwave for 10-15 seconds before use.

Prepare the salad ingredients. To a large bowl, add the cooked orzo, dressing, roasted red peppers, artichoke hearts, olives, tomatoes, chickpeas, salami, capers, mozzarella, basil, and kale (optional). Toss with tongs or two large spoons to combine all of the ingredients.

Separate the salad into your meal prep containers. Happy prepping!
DID YOU MAKE THIS RECIPE?
Please leave a comment below on the blog or share a photo with us and tag @workweeklunch! Can't wait to see what you made!