If you've never had a beef bibimbap bowl before, you need to make this recipe asap! This Korean bowl meal has a few different elements to it, but don't be intimidated by the steps. It is actually super easy to put together but you will feel like a master chef eating it throughout the week.
It is important to note that our version is not an authentic Korean beef bibimbap bowl! If you're looking for an authentic recipe, check out this version by the Woks of Life. Our meal prep take on bibimbap features quick pickled cucumbers, carrots, sauteed spinach, ground beef, and rice. An egg is optional if you eat them – just make sure to make it right before you enjoy this meal!
And if you are looking for the vegetarian version of this recipe, we have that too and it is equally as delicious.
Get more recipes like this in the Workweek Lunch Meal Prep Program with access to our meal planning tools, grocery list generator, and more. Start a free trial today!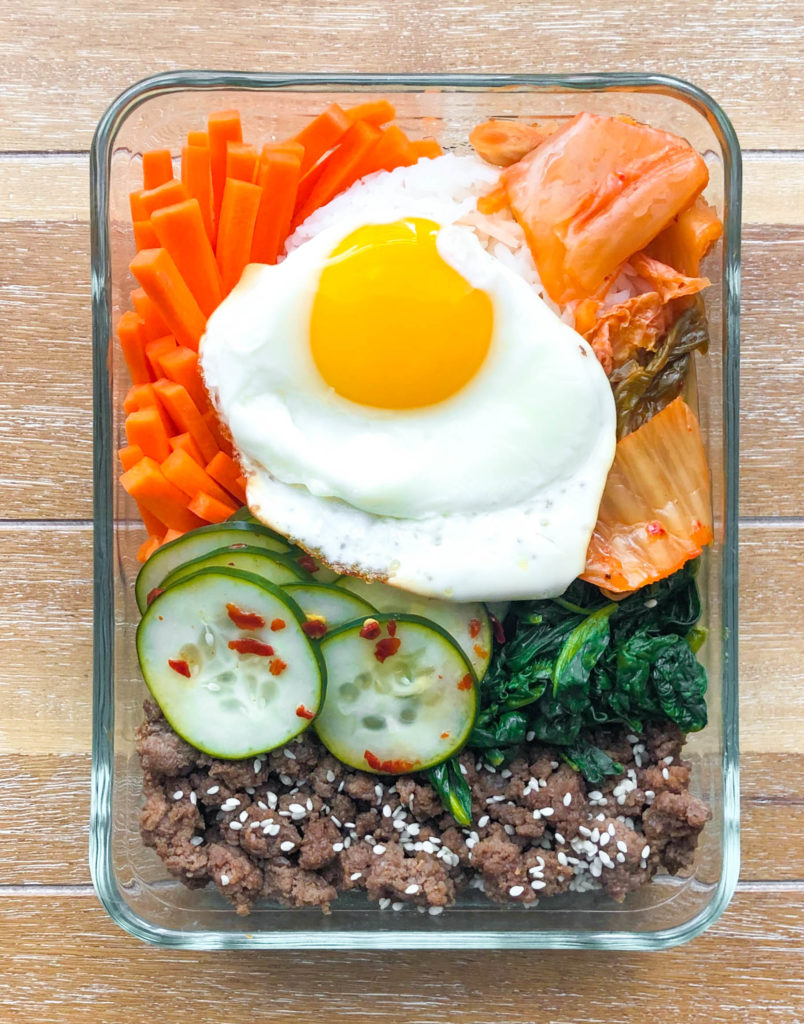 Here's how to make these beef bibimbap bowls your own:
Change up the protein: Any ground meat would work in this! I used beef but you can swap it for ground pork, turkey, or chicken. Meatballs, pork loin, chicken breast, and steak strips would work too – it doesn't have to be ground meat! If you want to make it vegetarian follow this recipe.
Change the base: Rice is typically used in these bowls, but noodles, quinoa, farro, or other short grains would work too. Or go another route and use a wrap or bread to actually make a sandwich!
Swap the veggies: If you're not a fan of pickled veggies, feel free to leave them raw! You can also add in additional veggies like scallions, edamame, shitake mushrooms, ginger, avocado, red cabbage, bell pepper, jalapeño, and zucchini noodles. Go crazy here, there are no rules!
Take it up a notch! If you love Korean flavors and want to grab gochujang, go for it and put a dollop in your bowl to add a delicious kick. Gochujang can be used in many different recipes and is a great "fridge door" item if you're into these flavors.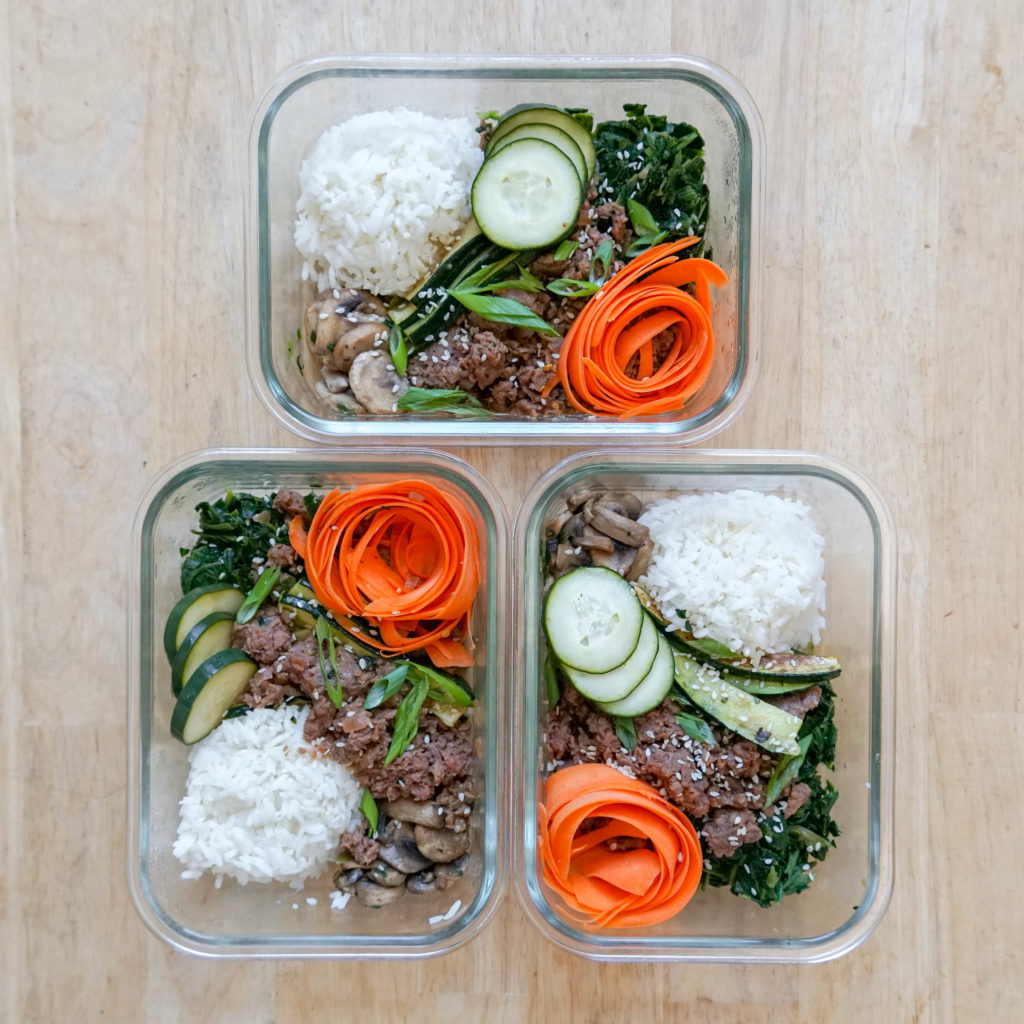 For the Egg
Cook the eggs fresh when you are ready to eat the bowl! Sunnyside up is ideal for this, but you can boil them as well! If you want tips on boiling eggs, check out this video where I test out a few different methods!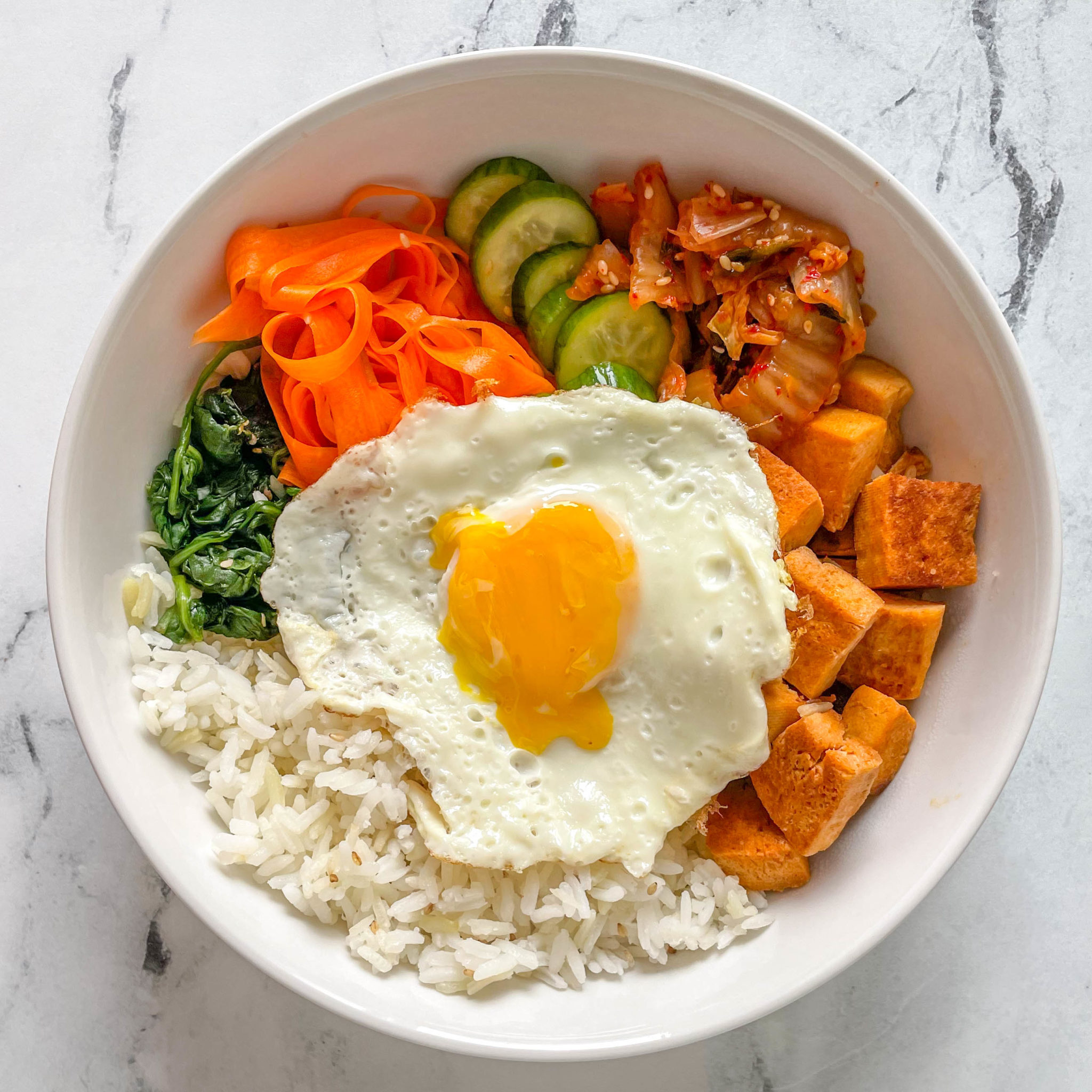 Reheating these beef bibimbap bowls:
This can be eaten at room temperature or warmed up. I dumped the toppings into a bowl, then reheated the base (rice and beef) in the microwave (can also work on the stove) and added the toppings back to the container, and topped it with the sriracha mayo before eating.
 I don't recommend reheating the whole bowl – just the base and the ground beef! To make reheating the base easier, keep them separate from the toppings.
This beef bibimbap bowl can last in the fridge for up to 4 days! It's not freezer-friendly. Happy prepping!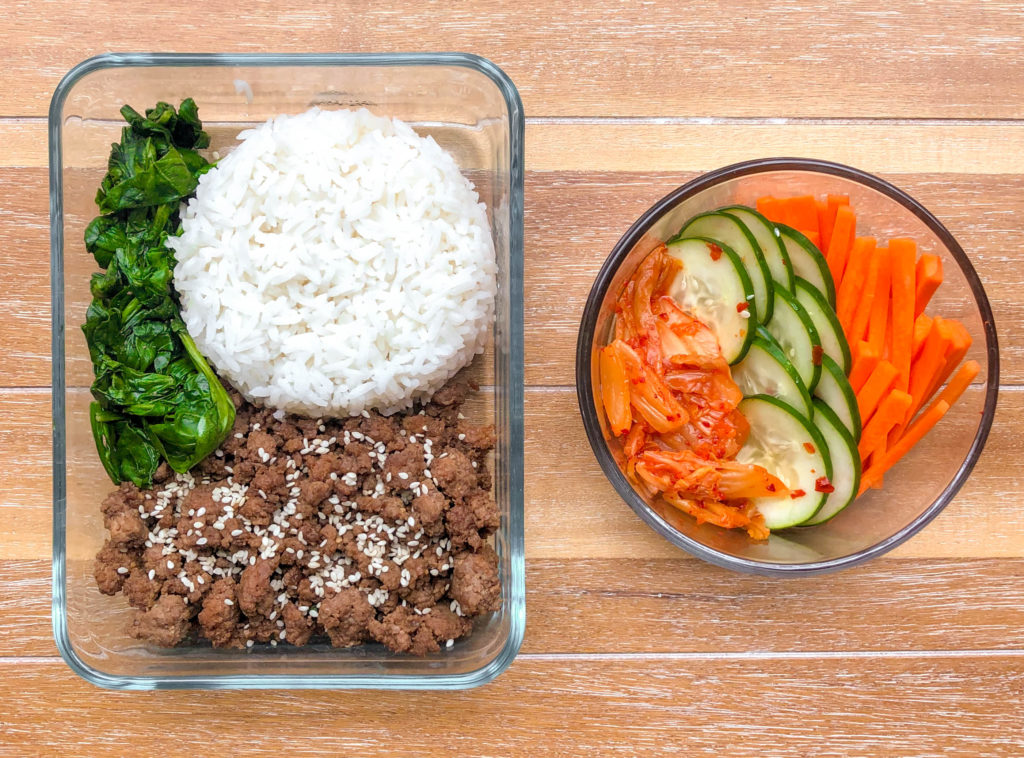 Other recipes to try out: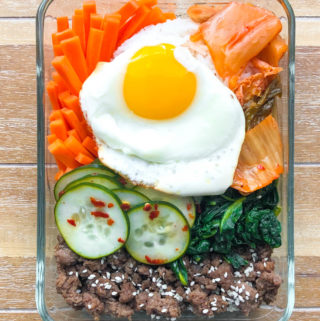 Easy Beef Bibimbap Bowls
Ingredients
For the base
3/4

cup

rice

any rice works

1.5

cup

water

1/4

tsp

salt

16

oz

ground beef

sub ground turkey

2

TBSP

sriracha

2

tsp

chili garlic sauce

skip if you don't like heat

1

TBSP

soy sauce

1

TBSP

brown sugar

1/2

tsp

fish sauce

sub lime juice

1/2

tsp

oyster sauce

sub hoisin sauce
For the toppings
2

carrot chopped into matchsticks or peeled into ribbons

1

cucumber sliced

1

TBSP

rice vinegar

2

tsp

granulated sugar

1/4

tsp

crushed red pepper

skip if you don't like heat

24

oz

spinach

sub kale or chard

1/2

tsp

sesame oil

2

tsp

sesame seeds

optional for garnish, add more as needed

3

egg

optional, to be cooked fresh with the meal

1

cup

kimchi optional

for garnish
Instructions
Cook the rice: Add the rice and water to a pot over high heat with a pinch of salt and bring it to a boil. Then cover and reduce heat and let it simmer for 10 minutes, then turn off the heat and let the rice steam. No peeking or stirring!

Cook the beef: Add 1 TBSP olive oil to a skillet over medium heat. Add the beef with a pinch of salt and cook, stirring often, for 8-10 minutes, until the beef is no longer pink. Drain the pan and add the sriracha, chili garlic sauce, soy sauce, brown sugar, fish sauce, and oyster sauce to the beef. Stir well and cook over medium heat for about 5 more minutes. Turn off the heat and set the beef aside.

Prepare the cucumber: toss the sliced cucumber with rice vinegar, sugar, and red pepper flakes with a pinch of salt. Set aside.

Prepare the spinach: heat up the same pan you used to cook the beef. Add the olive oil and spinach with a pinch of salt. Saute over medium-low heat until it has completely wilted, about 6-8 minutes. Covering the pan helps steam spinach nicely. Turn the heat off and add the sesame oil. Gently toss to coat the spinach. Set aside.

Assemble! Divide the rice and beef between three meal prep containers. Garnish with sesame seeds if using. In another container or in a few small containers, store the carrots, cucumber, spinach, and kimchi. I stored the spinach with the meat and rice because it was cooked and would taste good warm. When ready to eat, cook the egg to your preference (sunny side up is ideal! boiled works too) and add the other prepared toppings to your bowl.
DID YOU MAKE THIS RECIPE?
Please leave a comment below on the blog or share a photo with us and tag @workweeklunch! Can't wait to see what you made!