There is just something so insanely delicious about buffalo cauliflower and homemade yogurt ranch. Pair those two with a crunchy, colorful salad and you've got yourself a delicious lunch (or dinner)! Seriously, you'll be making this salad on repeat all week.
The main elements of this meal are buffalo cauliflower, greens (spinach), carrots, cucumber, red onion, and extras like dressing, tortilla chips/croutons, and maybe crispy chickpeas for a topping.
Get more recipes like this in the Workweek Lunch Meal Prep Program with access to our meal planning tools, grocery list generator, and more. Start a free trial today!
How to customize this buffalo cauliflower salad:
You can add easy salad veggies to this meal like:
celery
radishes
snap peas
corn
tomatoes
zoodles (chop them smaller so they're easier to enjoy in a salad)
cabbage
red cabbage
Related: 20 Meal Prep Salads That You'll Actually Enjoy Eating
Crunchy carbs
A crunchy carb (or straight-up piece of bread) is a good idea for this salad to tone the spiciness down. I was lucky enough to get a loaf of homemade bread from a friend to enjoy with this salad, but I would have used any of the following:
Tortilla chips
Potato chips (on the side probably, but you can totally add crushed potato chips on top)
Homemade croutons (simply chop bread, drizzle with olive oil, and bake in the oven at 375 F for 15 mins!)
Storebought croutons
Fresh bread
Crispy chickpeas (here's a really easy recipe for that! You can bake them while the cauliflower bakes)
Is it necessary? No, but it makes it tastier and more filling!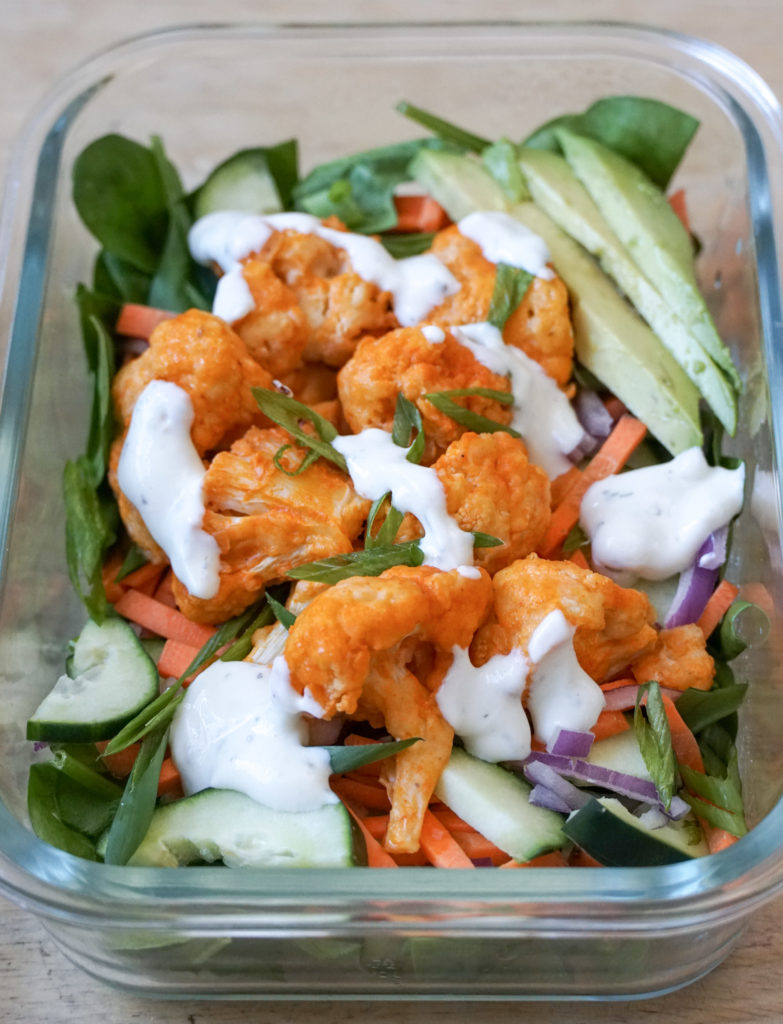 Add protein to this salad if you want!
I found this salad really filling on its own, but if you know you need more to round it out, here are some ideas!
Not into buffalo cauliflower?
Yup. We encourage customization so much that we'll even tell you how to make a buffalo cauliflower recipe WITHOUT cauliflower. You can actually swap the cauliflower for tofu or chicken. Use the same ingredients as written below!
For the chicken: Toss chicken pieces in the batter and lightly fry it in a pan with a neutral oil (like avocado or veg/canola oil). Then toss the pieces in the hot sauce and butter mixture and bake for a few minutes. It won't stay crispy in the salad, but it will be delicious.
For the tofu: use the same directions as the recipe below, just make sure to drain the tofu before cooking! These tips could really come in handy if you're in a household with someone who doesn't like cauliflower (but you love it) which is the EXACT situation I'm in with my partner! He isn't a fan, but I can still make us the same meal with a simple swap.
Dress it up! You can use any creamy dressing you like for this salad. If you already have a favorite store-bought ranch or Caesar salad dressing on hand, just use that!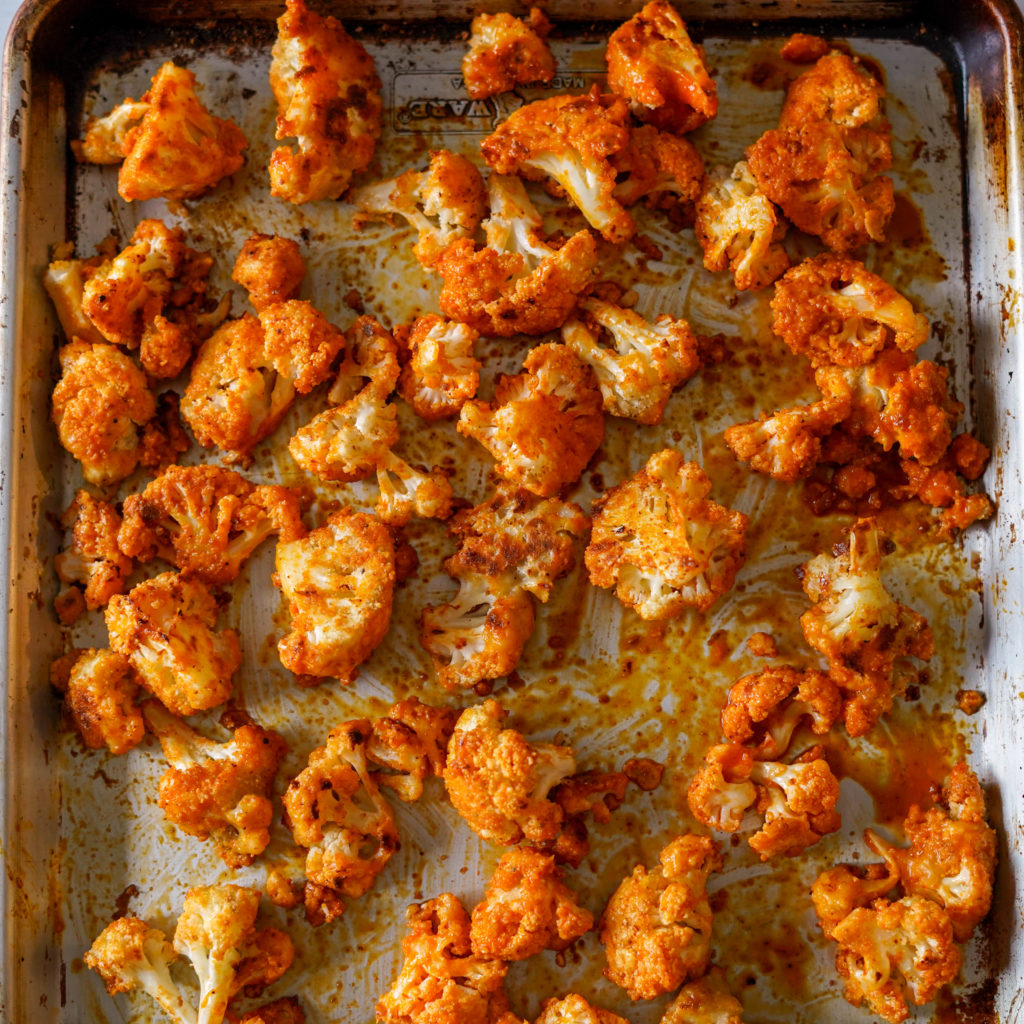 How to repurpose this buffalo cauliflower in case you get tired of it:
Sometimes I'm not in the mood for a salad. And that's ok. Here's how to turn it into something else:
Turn it into a sandwich! This would make a great grilled sandwich situation with a bit of cheddar cheese.
Turn it into a wrap! If you have tortillas or pita bread, this would be an excellent wrap option.
Quesadilla it! Just make sure to take out the cucumbers, which will not work in a quesadilla.
Buffalo pasta anyone? You can make pasta and maybe a simple cheese sauce and toss it all together. Again, you'll have to remove the cucumbers (which won't be good if heated).
When in doubt, make a pizza.
Related: 15 Meal Prep Sandwiches And Wraps Perfect For Work Lunches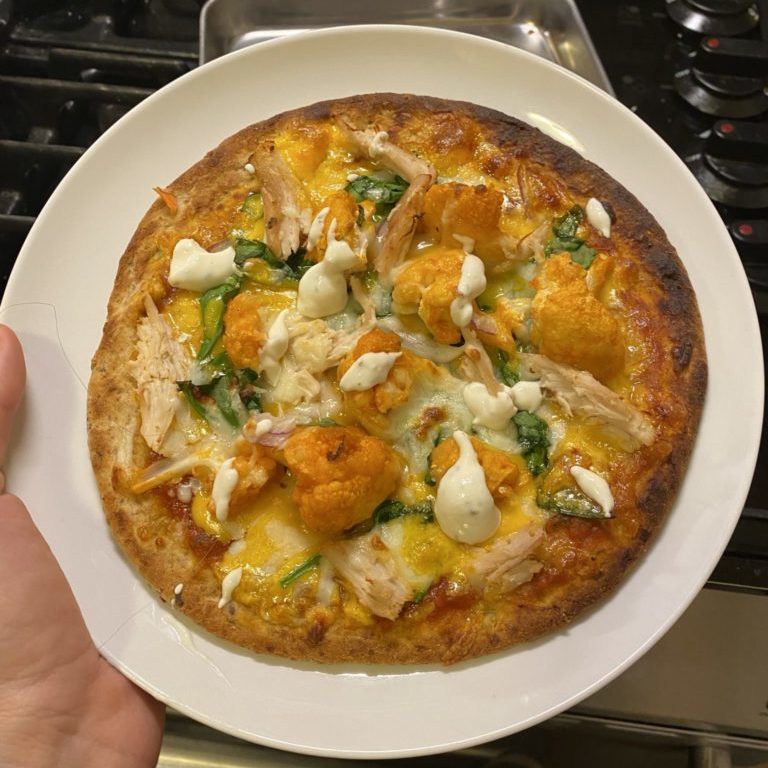 Storage notes:
This meal can last in the fridge for 3 days. It's not freezer friendly! You can make it last longer if you repurpose it with the ideas above! For meal prep, keep the dressing and croutons/chips/bread on the side until you eat it. Happy prepping!
Related: 18 Meal Prep Recipes For When You Have No Microwave or Fridge At Work
Other recipes you'll love: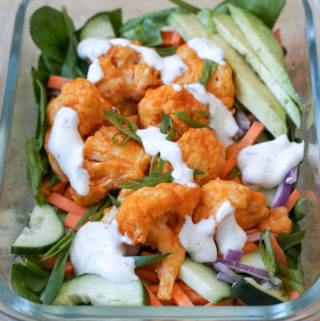 Meal Prep Buffalo Cauliflower Salads
Ingredients
For the cauliflower
parchment paper

or cooking spray

1/2

cup

milk of your choice

1/4

cup

water

3/4

cup

all-purpose flour

sub gluten free all purpose

1

tsp

onion powder

1

tsp

paprika

1/2

tsp

salt

1

head

cauliflower

chopped into florets

2

TBSP

butter

sub coconut oil

1/3

cup

hot sauce

sub sriracha
For the salad
5

cups

spinach

chopped

1

cucumber

chopped into half moons

1/2

red onion

chopped, sub red cabbage

3

carrot

chopped

3

green onion

chopped, white ends included
For the yogurt ranch
1

single serving yogurt of your choice

plain

1

TBSP

lemon juice

sub apple cider vinegar

1

tsp

dried dill

1

tsp

dried parsely

1

tsp

onion powder

t

tsp

garlic powder

1

TBSP

green onion

chopped small

salt and pepper

to taste
Instructions
Preheat your oven to 425 F and prepare a baking sheet with parchment paper or cooking spray. (NOTE: You bake the cauliflower two separate times!)

In a measuring glass, mix the milk, water, flour, onion powder, paprika and salt. Add the cauliflower to a bowl and pour the mixture on top. Toss well with a spoon or spatula. Using tongs, place the cauliflower on the baking sheet (Try to give the pieces as much room as possible). Bake for 20 minutes, no flipping necessary. Clean out the bowl and dry it, since you're going to use it again!

Meanwhile, add the butter and hot sauce to a small pot on the stove and stir to combine. You can also do this step in the microwave. Set aside.

While the cauliflower bakes, you can prepare your salad ingredients and dressing if using!

Remove the cauliflower from the sheet pan and add it to the big bowl you used earlier (make sure it's dry and clean!). Add the hot sauce and butter mixture and toss well to coat the cauliflower. Add it back to the baking sheet (using tongs) and bake for another 15 minutes.

Let the cauliflower cool completely before assembling the salads. Keep the dressing on the side until you're ready to eat!
DID YOU MAKE THIS RECIPE?
Please leave a comment below on the blog or share a photo with us and tag @workweeklunch! Can't wait to see what you made!