There are so many ways to enjoy this creamy pesto chicken salad! On toasted ciabatta bread is our favorite, but you can have it in a pita, on top of a salad, in a wrap, or by itself. These sandwiches taste best if you store your ingredients separately and assemble them the same day you eat them. No one likes soggy bread!
Get more recipes like this in the Workweek Lunch Meal Prep Program with access to our meal planning tools, grocery list generator, and more. Start a free trial today! We currently have seven different snack lunch box recipes in the program!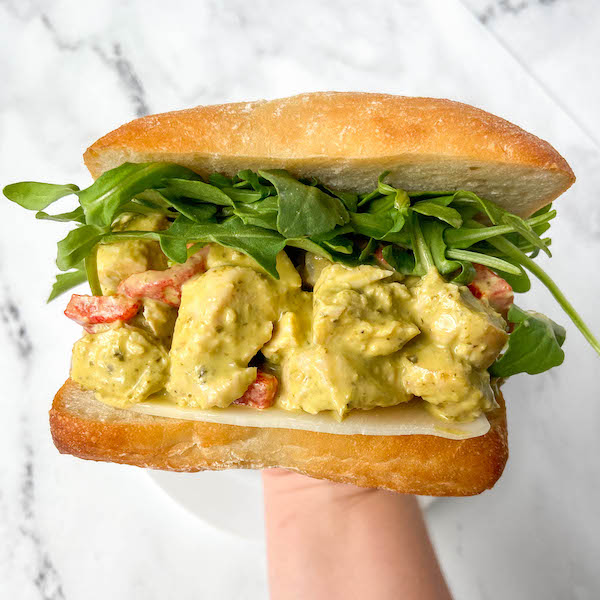 About this pesto chicken salad:
I used arugula but if you prefer iceberg lettuce, butter lettuce, spinach, or sprouts, use those instead. You need some sort of greens to protect your bread from moisture, so don't skip this ingredient!
I used jarred marinated roasted red peppers. You can use non-marinated roasted peppers, fresh chopped red bell peppers, sun-dried tomatoes, or even halved cherry tomatoes.
The cheese helps to create a moisture barrier between our filling and our bread. If you don't eat cheese, try swapping for hummus, avocado, butter, or mayo to maintain the moisture barrier.
We used chicken or tofu as the protein in this salad. You can try turkey breast, tempeh, or mashed white beans for a different option.
Related: 15 Meal Prep Sandwiches And Wraps Perfect For Work Lunches
Making your own pesto:
If you want to try your hand at making your own pesto, it's not as difficult as you may think! It can take as little as five minutes and you will be able to enjoy fresh pesto for the next week. This recipe by Damn Delicious is great. A reminder that traditional pesto is not vegan due to the parmesan cheese!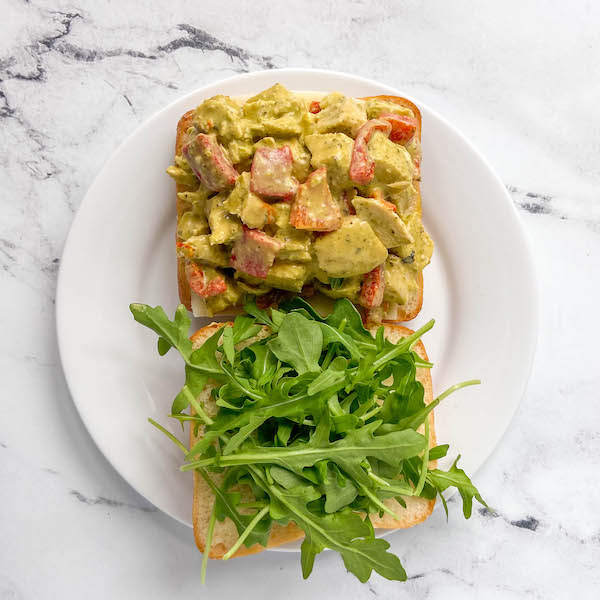 About the ciabatta bread
This recipe will hold up best if you use thick-sliced bread. If you don't have or don't love sandwich bread, this would make a great wrap or filling in a pita pocket! Ciabatta is great for prepping sandwiches because it tends to be thick and a little dry so it will hold up well against moisture. 
How many sandwiches does this pesto chicken salad recipe make?
This recipe makes three sandwiches because it is designed to be used as meal preps for the week! Of course, if you want to double this recipe, simply double the ingredients!. The pesto chicken salad filling will last 3-4 days in the fridge.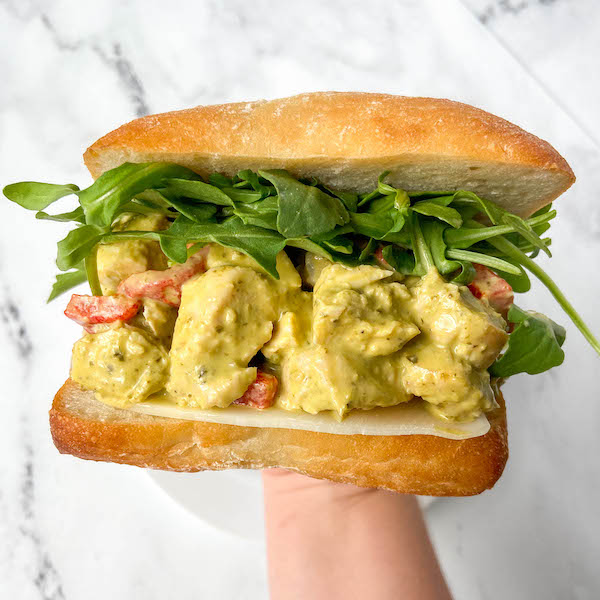 How to store these pesto chicken salad sandwiches:
This meal will last 3-4 days in the refrigerator, and it is not freezer-friendly! They are good cold or at room temperature.
These sandwiches will taste best if you store your ingredients separately and assemble them the same day you eat them. No need to reheat. Toast the bread if you want to! Happy Prepping!
Other recipes you'll love: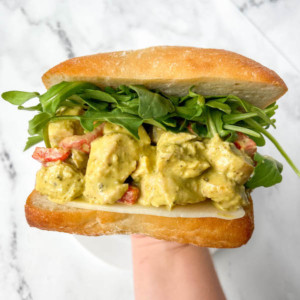 Ingredients
1

TBSP

olive oil

12

oz

chicken breast

salt and pepper to taste

1

cup

water

sub broth

1/2

cup

pesto

2

TBSP

mayo

greek yogurt, or sour cream

1/2

cup

jarred roasted red peppers

chopped

3

slices

of mozzarella

optional

3

ciabatta buns

or sliced ciabatta loaf

1

cup

arugula
Instructions
Heat the olive oil in a skillet with a tight-fitting lid over medium heat. While the oil heats, season the chicken with salt and pepper. Add the chicken to the skillet and cook for 5-7 minutes on one side until it is browned well. Flip the chicken, add the water, and cover with the lid. Let it cook for 8-10 minutes until fully cooked. Set the chicken aside to rest and discard the liquid in the pan. Once cooled chop or shred the chicken.

In a large bowl, combine the pesto, mayo, salt and pepper to taste, and the roasted red peppers. Stir until combined, then add the chicken and stir until fully coated.

Store ingredients separately OR assemble the sandwiches! To assemble, place a slice of cheese on the bottom of the sandwich, top with 1/3 of the pesto chicken salad, 1/3 cup of arugula, and the top slice of bread. Wrap it up and repeat two more times! Store the whole sandwich in parchment paper, beeswax wrap, plastic wrap, or aluminum foil. These hold up best if you assemble them right before eating. These can be eaten cold, room temp, or reheated in a microwave or oven. That's it!
DID YOU MAKE THIS RECIPE?
Please leave a comment below on the blog or share a photo with us and tag @workweeklunch! Can't wait to see what you made!