Fattoush salad is a Lebanese staple, and I first tried and learned how to make it in cooking classes a few years ago. It stuck with me since it's one of the most satisfying salads flavor-wise I've ever had.
What makes this a Fattoush salad is the bread. The authentic version of this salad uses fried Mediterranean bread, torn and tossed with seasonal vegetables. We're not frying the pita here, but the flavors are very on point! And the mint dressing is a new fave for me. I loved making these for lunch – I know they look light, but they're really satisfying (and you can always add an easy protein!).
Get more recipes like this in the Workweek Lunch Meal Prep Program with access to our meal planning tools, grocery list generator, and more. Start a free trial today!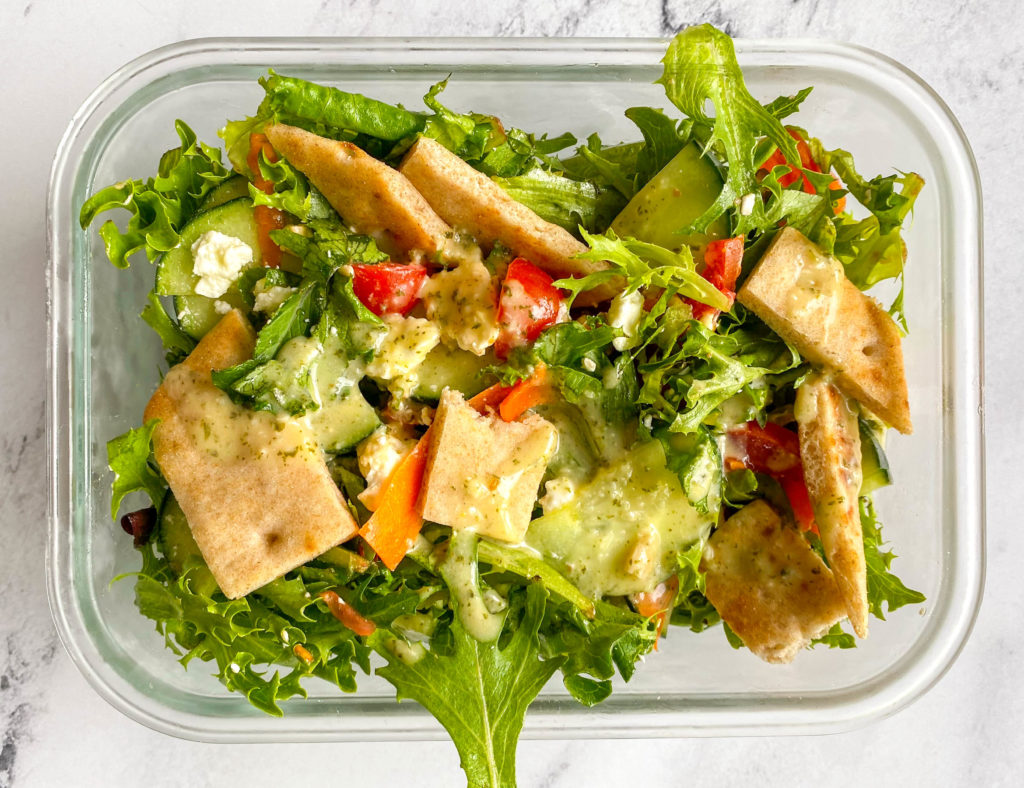 Fattoush Salad Overview:
Here we're using some common salad ingredients like greens (I used mixed greens), tomatoes, cucumber, radishes, and red onion. If you have any other crunchy veggie favorites like bell peppers and carrots – go for it! We're also using sumac, a spice made from berries with a tangy, lemony flavor. You can find it in the spice section of your store, usually. If not, we'll add lemon juice instead. The dressing is made of mint, mustard, olive oil, garlic, and honey. But if you're not a mint fan or can't find it, we have options! And you can use any pita or flatbread that you can find for this salad. Note that I threw feta in my salad for some of the recipe tests – but that's not what would be used in an authentic version of this meal!
How to customize this salad
Keep all the ingredients separate if you're worried about sogginess and assemble salads as needed. I like to pre-assemble them in containers just to make life easier. Whatever you do, don't mix it all up and add the dressing if you intend to eat it the next day.
Feel free to add protein to this salad! Simple grilled chicken or chickpeas would be my first choice, but really anything could work. Canned tuna would be great. So would falafel – check out an easy homemade falafel recipe here.
I used mixed greens in this, but you could also stick to baby kale, spinach, or arugula.
Red onion is delicious in this salad but can be overpowering. I love the color, so adding red cabbage instead might be a good idea if you can't eat onions or are more sensitive to the strong taste.
You have pita bread on the side with this, however adding a bed of grains (think quinoa, farro, or couscous) would be an easy option to make this even more filling!
Another way to make this more filling is by using the entire salad as a filling for a wrap with hummus!
If you're not a fan of mint dressing
If you don't want to use the dressing in the recipe, try out these:
Classic Tahini Sauce
Tahini Mustard Lemon Sauce -if you want to make the salad a little zestier
Greek Yogurt "ranch" dressing
Tzatziki Sauce
Other recipes you'll love if you enjoy this fattoush salad: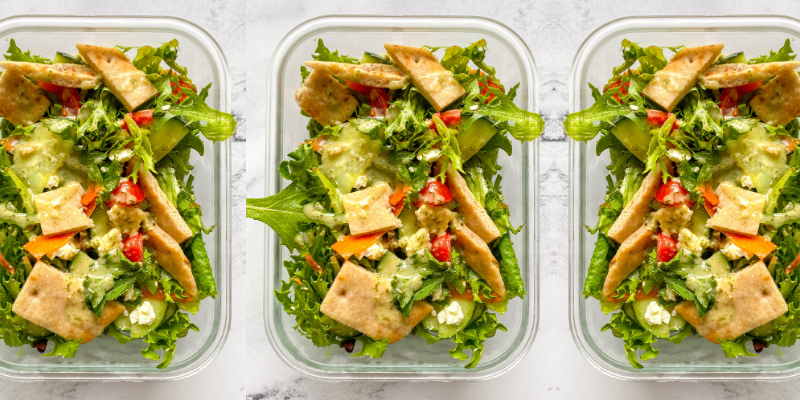 Storage & Reheating Notes
This salad lasts in the fridge for up to 4 days. It's not freezer friendly. You don't have to reheat it! It tastes great cold or at room temp. As mentioned above, keep all the ingredients separate if you're worried about sogginess and assemble salads as needed! Happy prepping!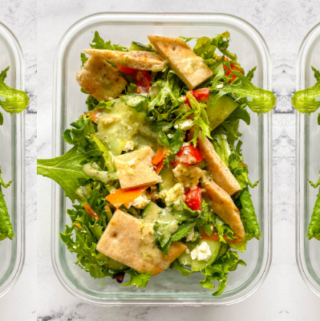 Fattoush Salads With Mint Dressing
Ingredients
For the salad
16

oz

mixed greens

mixed, baby kale, baby spinach etc

2

roma tomato

sliced

1

cucumber

sliced

1/2

red onion

sliced thin

4

radishes

sliced

1

cup

parsley

chopped

3

scallions

white and green ends chopped

1-1/2

tsp

sumac

kept on the side

3

pitas with the pocket

kept whole until you toast it, then chop it up!
For the dressing
1/4

cup

olive oil

1

lemon

for 1/4 cup lemon juice

1/4

cup

mint leaves

roughly chopped

1

clove

garlic

roughly chopped

1

TBSP

agave, maple syrup or honey

2

tsp

dijon mustard

salt and pepper to taste
Instructions
Salad assembly: For this salad, it's ideal to keep ingredients separate to avoid sogginess. That could mean placing each chopped ingredient in separate jars or containers or using a divided container to store ingredients without them mixing. This is for the greens, tomato, cucumber, onion and radishes. The parsley and scallions can be kept in the same container.

Make the dressing: add all of the dressing ingredients to a food processor or blender. Blend/process well, taste and add more salt if desired. Store the dressing in its own container.

Before eating: toast the pita bread in the toaster, on the stove or in the oven and tear/chop it up. Add greens, cucumber, radish, red onion, tomato, scallions, parsley, the toasted pita and about 1/2 tsp sumac to your salad and mix. Top with the dressing (you may need to give it a shake) and any proteins if using. Enjoy!
DID YOU MAKE THIS RECIPE?
Please leave a comment below on the blog or share a photo with us and tag @workweeklunch! Can't wait to see what you made!