I don't know about you, but sometimes I get bored of sheet pan meals. Other times, I crave the simplicity of just throwing things onto a pan and walking away. The great news is, this sheet pan sausage and veggies meal is the furthest thing from boring with a spicy zingy hot honey mustard sauce. AND it's only 10 ingredients, including your pantry staples like oil, salt, and pepper! This is the perfect meal for a quick weeknight dinner or an easy hands-free meal prep that will keep you full and satisfied all week long.
Get more recipes like this in the Workweek Lunch Meal Prep Program with access to our meal planning tools, grocery list generator, and more. Start a free trial today!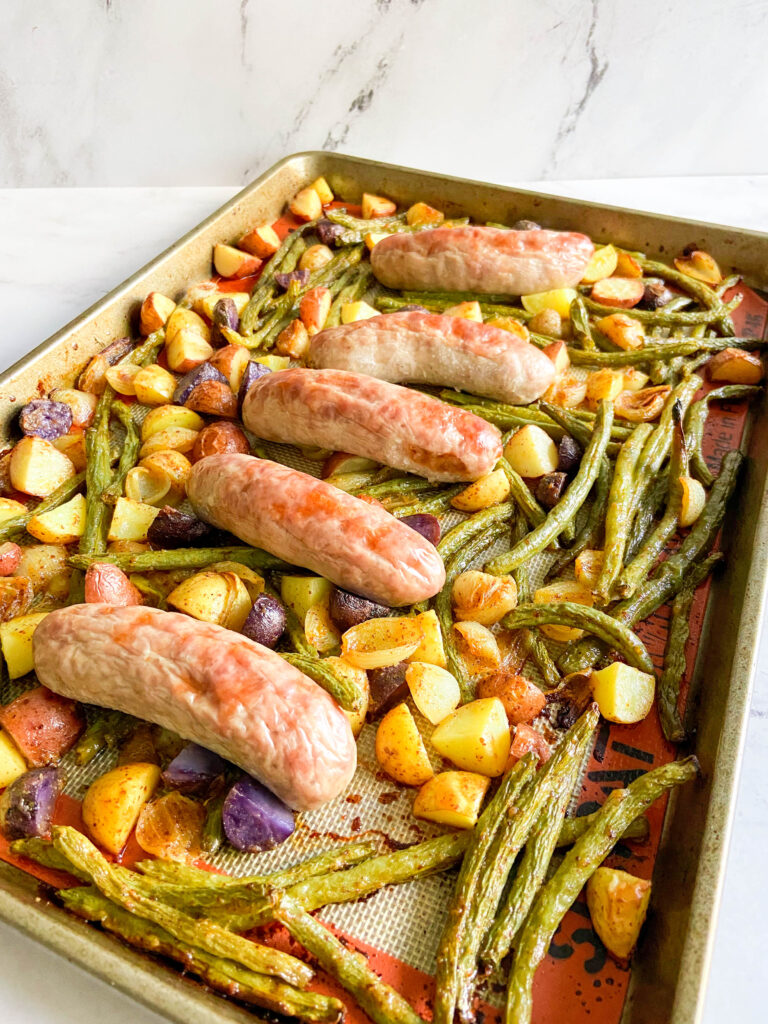 Ways to customize this sheet pan sausage and veggies meal:
I used raw sausage links, but you can definitely use precooked varieties like kielbasa and andouille. You can cut those into rounds and toss them onto the pan for the last 10-15 minutes of baking to warm the sausages up as they are already fully cooked.
Swap out the sausage: use chicken thighs or breasts, salmon (cook for the last 12-15 minutes), pressed tofu, or chickpeas.
Switch up the veggies: instead of pearl onions, try leeks or the onion of your choice. Broccoli, cauliflower, Brussels sprouts, cabbage, and beets would all be delicious in this meal.
Swap out the carb (or add another carb!). I like how easy it is to just roast potatoes on the sheet pan, but you can swap for sweet potatoes OR make rice, quinoa, or couscous on the side. You can also toss everything into a pita pocket and drizzle with your favorite sauce if you want to switch it IP.
Change the sauce. The best thing about this sauce is you can adjust the flavors to your liking. If you want it on the sweeter side, add more honey. Do you like heat? More cayenne. Taste it before you commit!
If hot honey mustard isn't your thing at all, a balsamic sauce or maple glaze would also be delicious here.
Related: Weekly Meal Prep: 12 One-Pot Dinners Under 30 Minutes
What temperature should a sheet pan meal be?
Ultimately it depends on what kind of protein you're cooking, but typically a sheet pan meal will range from 400-425 degrees Fahrenheit if you are cooking meat and roasting vegetables. For this meal since we are cooking raw sausage, the oven is set to 400 degrees Fahrenheit (200 C).
A meat thermometer is the best thing to have on hand when cooking meat. That way you always know that your protein is properly cooked through without needing to cut into it!
Related: How Long Do Meals Last: A Quick Cheat Sheet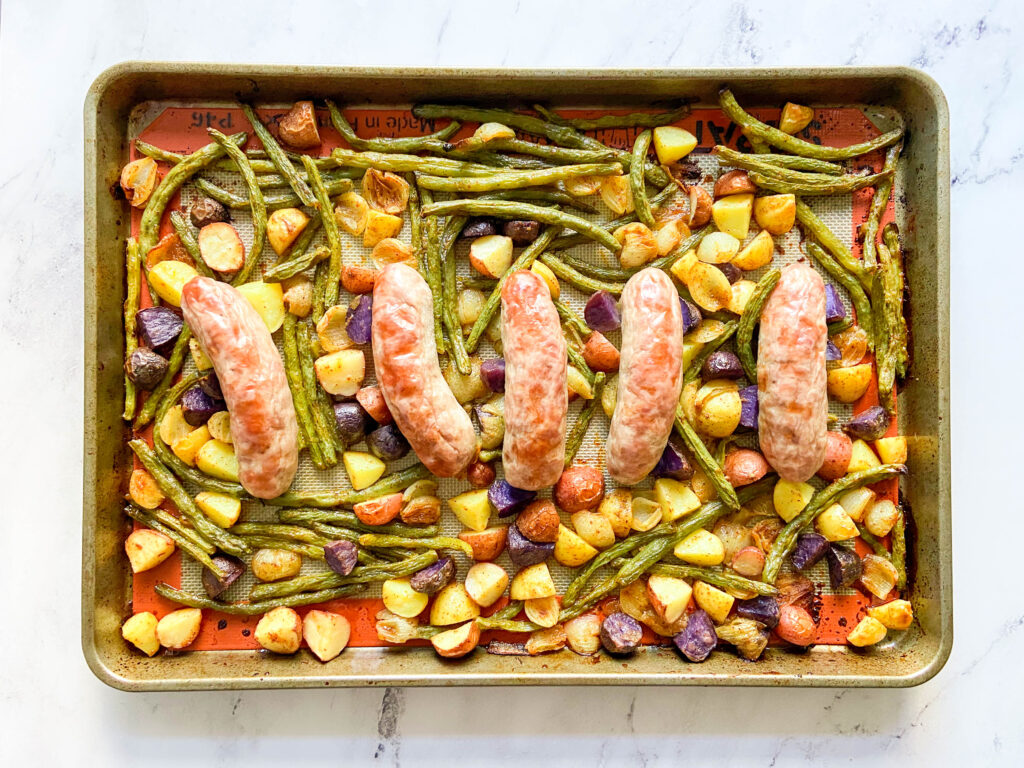 Do you cover sheet pan meals with foil?
No, you don't need to cover this sheet pan sausage and veggies meal with foil! I would recommend spraying the sheet pan with cooking spray, lining it with foil, or laying down a reusable silicon baking mat before adding the ingredients so they don't stick. But no foil is necessary on top.
Related: 25 Delicious Meal Prep Recipes With Ground Beef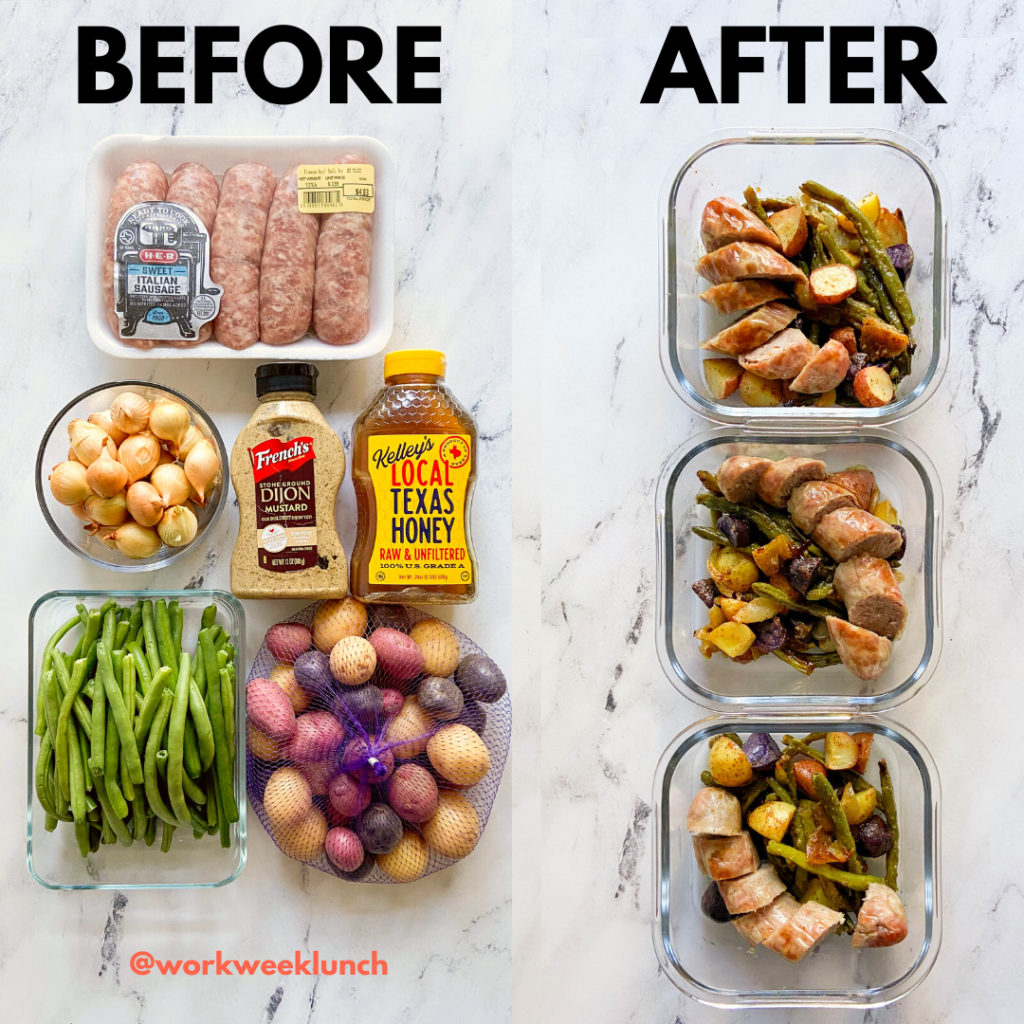 How to store and reheat this healthy sheet pan sausage meal:
This sheet pan meal can last in the fridge for up to 4 days. It's not freezer friendly. I recommend reheating it in the microwave or on the stove. Happy prepping!
Related: Meal Prep Containers 101
Other recipes to try out:
Easy Sheet Pan Shrimp With Pineapple
Lemon Garlic Orzo & Broccoli Skillet With Sausage
Sausage, Sweet Potato, Kale And Hummus Wrap
By the way, if you want access to easy meal prep recipes, join the WWL Meal Prep Program! Every recipe in our library (over 600) can be made vegetarian, vegan, omnivore, gluten-free, and dairy-free and have been tested specifically for meal prep.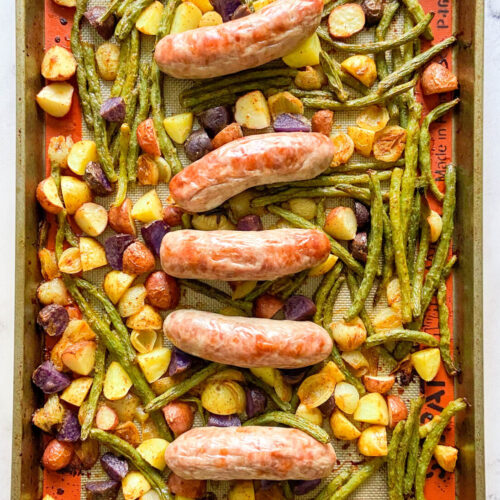 Easy Sheet Pan Sausage and Veggies
Ingredients
cooking spray

2

TBSP

olive oil

2

TBSP

honey

sub agave or maple syrup

2

TBSP

dijon mustard

1

tsp

paprika

1/4

tsp

cayenne

adjust to suit your heat preference

salt and pepper

to taste

12

oz

baby potatoes

halved or quartered so that they are similar in size

12

oz

green beans

ends trimmed

8

oz

pearl onions

halved

3

sausage links of your choice

I used sweet Italian sausage
Instructions
Preheat the oven to 400 F (200 C). Prepare a sheet pan with cooking spray, foil, or silicone baking mat and set aside.

In a large mixing bowl, combine the olive oil, honey, dijon mustard, paprika, cayenne (if using), and salt and pepper. Mix until fully combined and taste the mixture. Add more honey, cayenne, salt, etc. to suit your taste preference.

Add the potatoes, green beans and onions to the bowl with the sauce. Mix well until the veggies are evenly coated in sauce. Arrange the veggies in an even layer on the prepared baking sheet.

Add the sausage links. You can put the sausage right on top of the veggies–the fat/oil from the sausage will flavor the veggies. My sausage package came with 5 links, so I went ahead and baked all 5. See recipe notes about using fully cooked sausages.

Bake for 30-35 min until the potatoes are fork tender and the sausage is browned and fully cooked (internal temperature 160 F/71 C).

Let everything cool fully before dividing between three meal prep containers. That's it!
DID YOU MAKE THIS RECIPE?
Please leave a comment below on the blog or share a photo with us and tag @workweeklunch! Can't wait to see what you made!