This meal prep recipe featuring BBQ tempeh is dedicated to my favorite BBQ takeout/fast-casual place: Mighty Quinn's BBQ. It's one of those places where you build your plate (like Chipotle) with all your favorite BBQ sides and it's so good.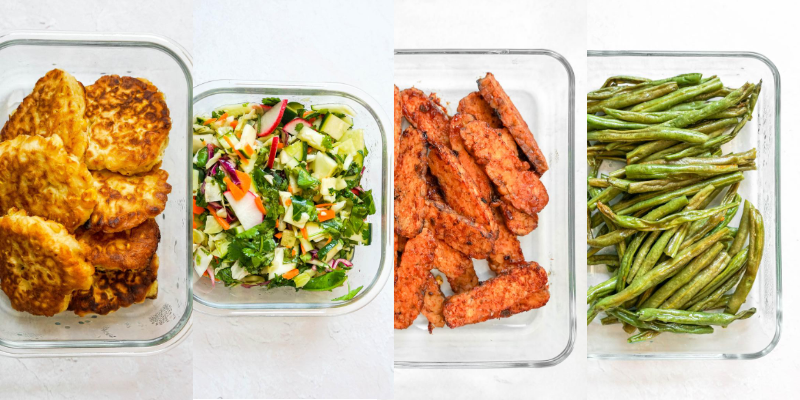 I'll be honest, it took me a LONG time in the kitchen to make everything in the photo below. It was a ton of work, but so worth it.
So in this meal prep recipe, you'll find the abbreviated version featuring corn fritters (SO GOOD), mayo-less crunchy slaw, BBQ tempeh, and roasted green beans. That's like the bare minimum of this vegetarian BBQ buffet, but you can of course do more!
Get more recipes like this in the Workweek Lunch Meal Prep Program with access to our meal planning tools, grocery list generator and more. Start a free trial today!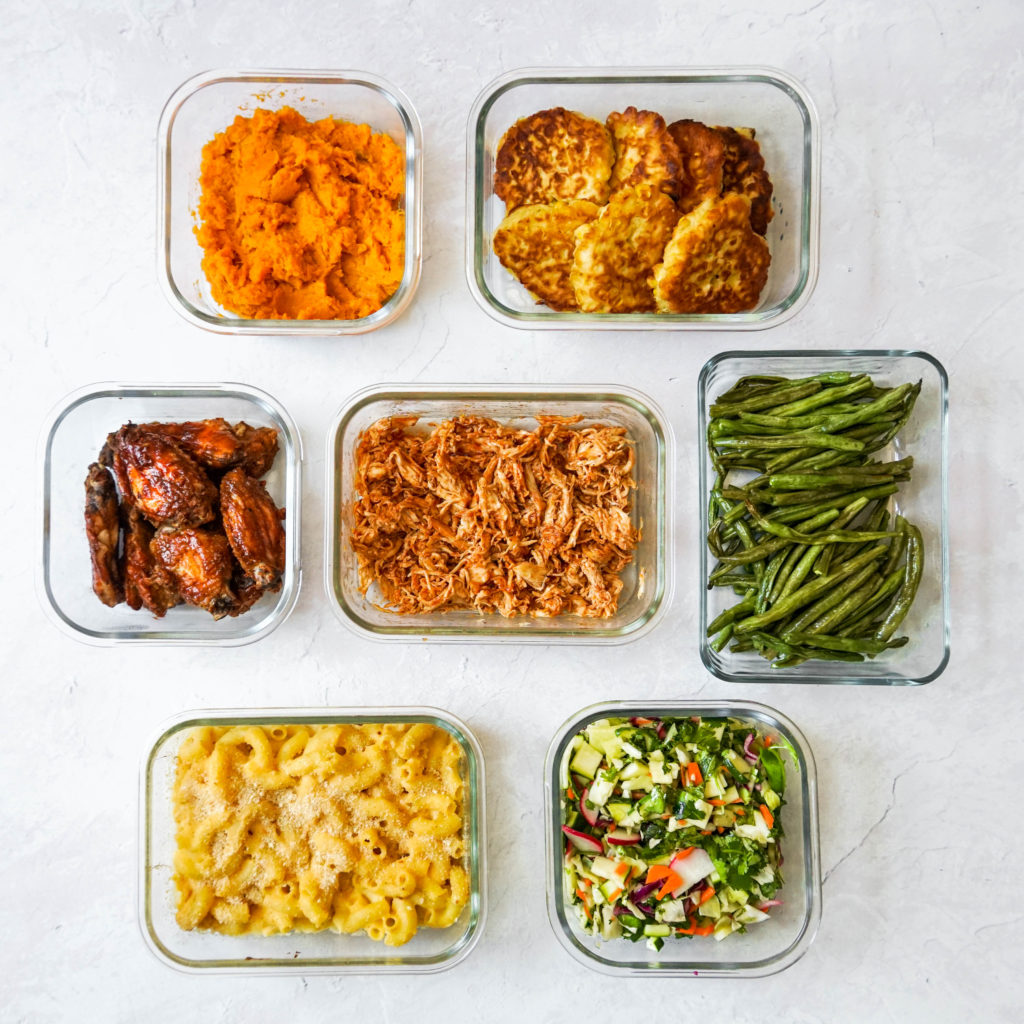 BBQ Tempeh & Sides: Recipe Overview
In this recipe, we're putting together a BBQ tempeh, crunchy slaw, roasted green beans, and corn fritters. None of these elements takes a ton of work, but since there are four of them, it will feel like a good amount of cooking. I promise it's worth it!
What to know about tempeh
You can find tempeh in the refrigerated section of the grocery store near the tofu! I recommend grabbing tempeh that's not flavored for this recipe (usually labeled "original"). It generally comes in 8 oz packages.
Tempeh is made of fermented soybeans and is a great vegan protein option for those who can eat soy. It has a slightly nutty and sometimes bitter flavor. Some folks parboil tempeh before cooking it to get rid of the bitter flavor, but I've never really had an issue or had to take that step! Using a sauce with lots of flavor like barbecue sauce usually does the trick. Don't be intimidated by tempeh! It's one of the easiest proteins to cook.
Things you can add that you normally find on BBQ plates:
Not sure what a buffet meal prep is?
A buffet meal prep means that you keep the ingredients separate and build plates with them as you go. The pros of prepping this way are that you get more variety and the food feels a bit fresher. The cons are that you have more dishes to deal with and sometimes the portions can be off. Try it out! See if you like it.
Related: 70+ Best Camping Meals (Easy and Affordable!)
For the BBQ Tempeh
If you don't like tempeh, tofu or seitan could also work in this!
You can also try BBQ jackfruit if you have access to it!
You can use any barbeque sauce for this tempeh, or make your own sauce!
I recommend cooking tempeh in a non-stick pan for best results. I love to use a grill pan for BBQ tempeh.
For the Corn Fritters
Use a GF all-purpose flour blend if needed
Heavy cream works the best, but you can use any milk of your choice. Use dairy-free milk if needed.
Fresh, frozen, or canned corn will all work here (you will need two cobbs if using fresh)
You can add scallions, bell peppers or jalapenos to the fritters.
For the Green Beans:
If you don't like green beans, there are a lot of green veggies you can use here! Here are a few I would recommend:
broccoli or cauliflower
broccolini if you can find any (I never can)
collard greens
asparagus
brussels sprouts
For the Crunchy Slaw
If you want to make your own slaw instead of using a mix, here are some veggies that you may want to include:
green cabbage
shredded carrots
purple cabbage
radishes
red onion
cucumber
If you want a creamier dressing with mayo, try this one from love and lemons!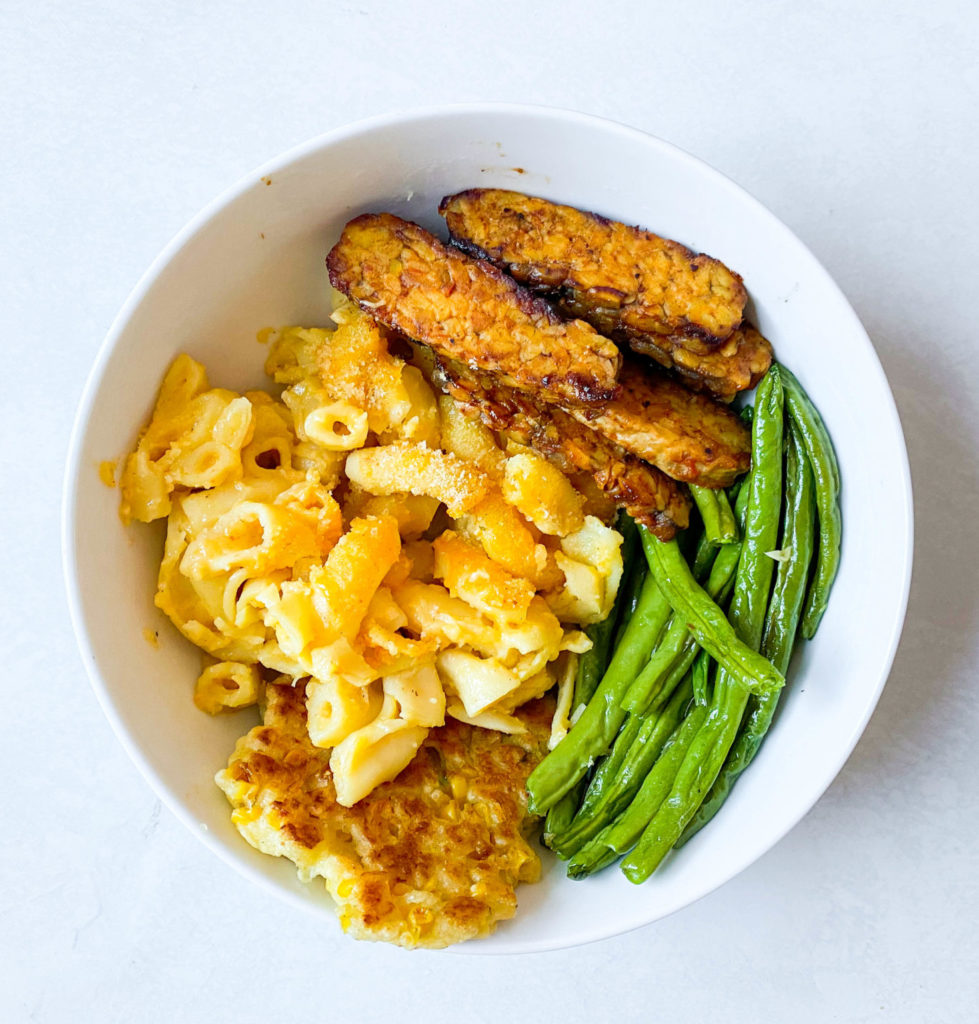 Storage & reheating notes:
This vegetarian BBQ buffet meal prep will last in the fridge for up to four days. I recommend reheating everything except the slaw in the microwave or on the stove. Keep the slaw cold or at room temp!
Corn fritters are freezer friendly for up to 3 months.
Happy prepping!
And don't forget to try our other delicious vegetarian recipes!
Vegetarian BBQ Buffet Meal Prep: Tempeh, Roasted Veggies, Corn Fritters & Slaw
Ingredients
BBQ Tempeh
8

oz

tempeh

sliced

salt and pepper to taste

2/3

cup

BBQ sauce

1

TBSP

olive oil
Corn Fritters
1/2

cup

all-purpose flour

sub GF all-purpose flour

1/4

cup

cornmeal

if you don't have it, sub flour

1/2

tsp

baking powder

1/4

tsp

salt

2

tsp

granulated sugar

1/2

cup

milk of your choice

plus more as needed

2

cup

corn

fresh, frozen or canned (2 corn cobbs)

1/3

cup

vegetable oil

for frying
roasted green beans
16

oz

green beans

ends trimmed, sub green veggie of your choice

1

TBSP

olive oil

salt and pepper to taste

3

clove

garlic

minced or grated
Crunchy Slaw
1

bag of coleslaw mix

1

TBSP

olive oil

extra virgin is best

2

tsp

apple cider vinegar

2

tsp

agave, maple syrup or honey

1/4

tsp

salt

plus more to taste, add pepper if desired

1

clove

garlic

minced or grated
Instructions
Preheat your oven to 400 F

Prepare the green beans: Add the green beans, olive oil, salt, pepper and garlic to a sheet pan. Toss with a wooden spoon or your hands to coat the green beans and spread them out a bit on the pan. Bake for 15-20 minutes. The green beans should be bright in color and slightly wrinkly when finished. If they're still too hard, flip them and bake for another 5 minutes or to your preference.

Prepare the tempeh: in a bowl, toss the sliced tempeh and BBQ sauce. Heat up a skillet (nonstick, cast iron or stainless steel) for a minute or two, then add the oil and let that heat up for another minute. Add the tempeh (you may need to do it in batches) to the pan. Avoid getting a lot of sauce in the pan, otherwise, it won't be crispy! Cook on each side for 3-4 minutes. The edges of the tempeh should look crispy and the strips should be darker in color. Set aside when finished cooking.

Make the corn fritter batter: Add the flour, cornmeal, baking powder, salt and sugar to a bowl and mix. To the same bowl, add the milk and fold in the corn. Here, you can add chopped scallions, red bell peppers or any other veggies you want!

Cook the corn fritters: LIne a plate with paper towels. Heat up a nonstick skillet over a medium flame for 1-2 minutes, then add the vegetable oil and let that heat up for 2-3 minutes. It needs to be hot! Using a 1/4 cup measuring cup or standard ice cream scooper, add the batter to the pan. I was able to fit 3 in a 10″ skillet at once. Cook on each side for 2-3 minutes (they cook fast!). Set aside on the plate lined with paper towels and keep cooking until you're out of batter!

Make the slaw: pour out the entire cole slaw bag in a bowl. In a separate smaller bowl or measuring glass, add the olive oil, apple cider vinegar, liquid sweetener, salt, pepper if using and garlic. If you like a little kick, add a pinch of cayenne or chipotle powder. Mix well and taste it – adjust flavors as necessary. Add the dressing to the bowl of slaw and toss.

Assemble! To make this a buffet prep, keep all the ingredients in separate containers. You can also pre-portion the meals (like we normally do) in containers as you wish! This should yield 3-4 meals depending on how much you like to eat.
DID YOU MAKE THIS RECIPE?
Please leave a comment below on the blog or share a photo with us and tag @workweeklunch! Can't wait to see what you made!