This tuna salad sandwich recipe is easy, comforting, and incredibly delicious. It will only take about 15 minutes to prepare and is perfect for picnics, road trips, or any no-reheat meal occasion. To keep this meal fresh, it's best to store the filling in the fridge and assemble the sandwich the day you plan to eat it. Now let's get into it!
Get more recipes like this in the Workweek Lunch Meal Prep Program with access to our meal planning tools, grocery list generator, and more. Start a free trial today!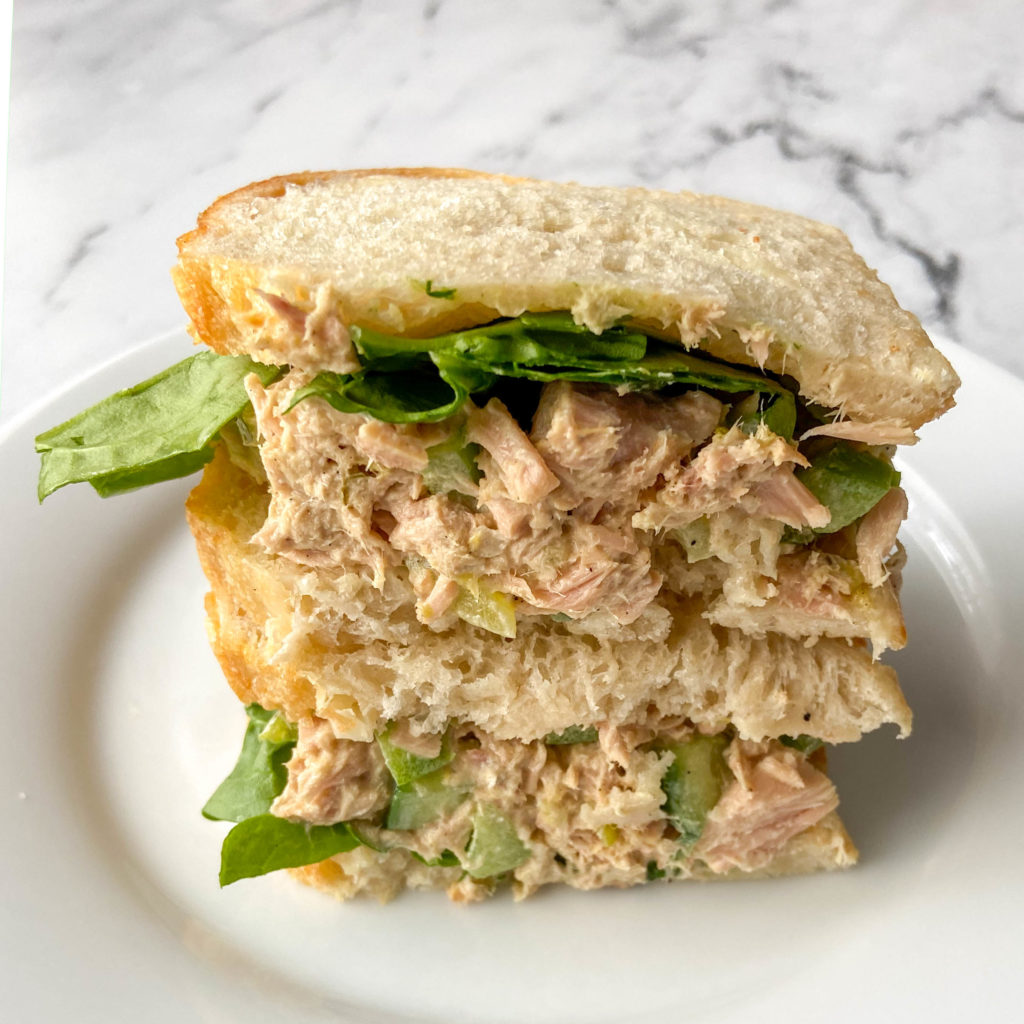 How to change this tuna salad sandwich recipe:
Instead of using bread and making this a sandwich, you could put this in a wrap, pita pocket, or lavash. You could also eat it as an open-faced sandwich.
Sub cucumber for celery if you don't have it on hand or do not like it
You can also use chopped pickle spears instead of pickle relish
Any leafy green will work if you don't want to use spinach! Use what you have/ what you enjoy!
Not a fan of mayo? Tahini or mashed avocado mixed with lemon or lime juice can also work. It will change the flavor profile, but still be delicious!
Related: Cold Lunch Ideas: Meal Prep Recipes When You Don't Have A Microwave
Let's talk about the tuna:
Canned or pouch tuna both work in this recipe, but cans tend to be bigger so you need to buy fewer.
I like to buy solid tuna packed in olive oil, but chunk tuna and tuna packed in water work perfectly too. This is definitely my favorite canned tuna! Trader Joe's and Whole Foods both have good quality tuna packed in olive oil.
You can definitely use flavored tuna if you have a favorite, and canned chicken works perfectly if you aren't a tuna person.
Related: Picnic Food: No-Reheat Meals for a Perfect Picnic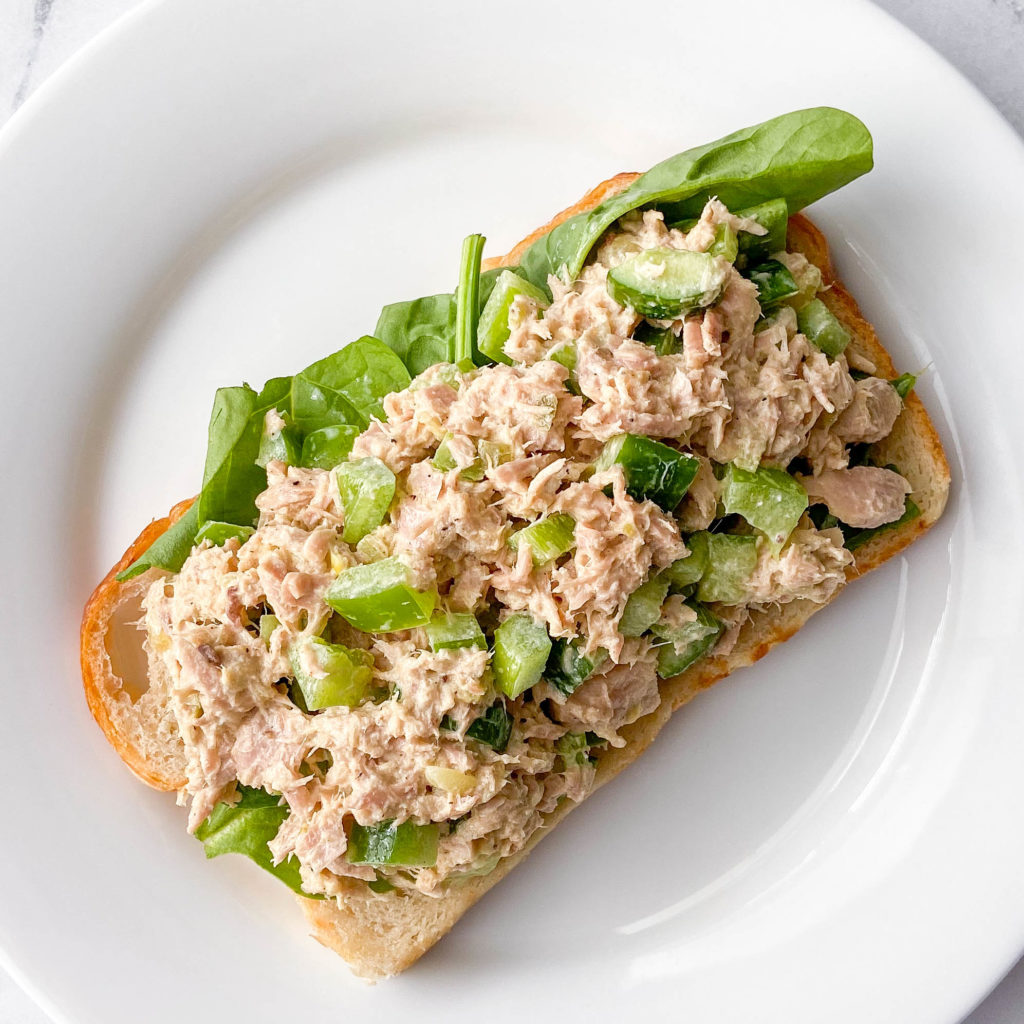 How many sandwiches does this recipe make?
This recipe makes three sandwiches because it is designed to be used as meal preps for the week! Of course, if you want to double this recipe, simply double the ingredients!. The tuna filling will last 3-4 days in the fridge.
Related: 70+ Best Camping Meals (Easy and Affordable!)
Can you make tuna salad without mayo?
Yes! You can easily swap out mayo for plain Greek yogurt to get a similar result. You can also try using an olive oil-based dressing like in this recipe.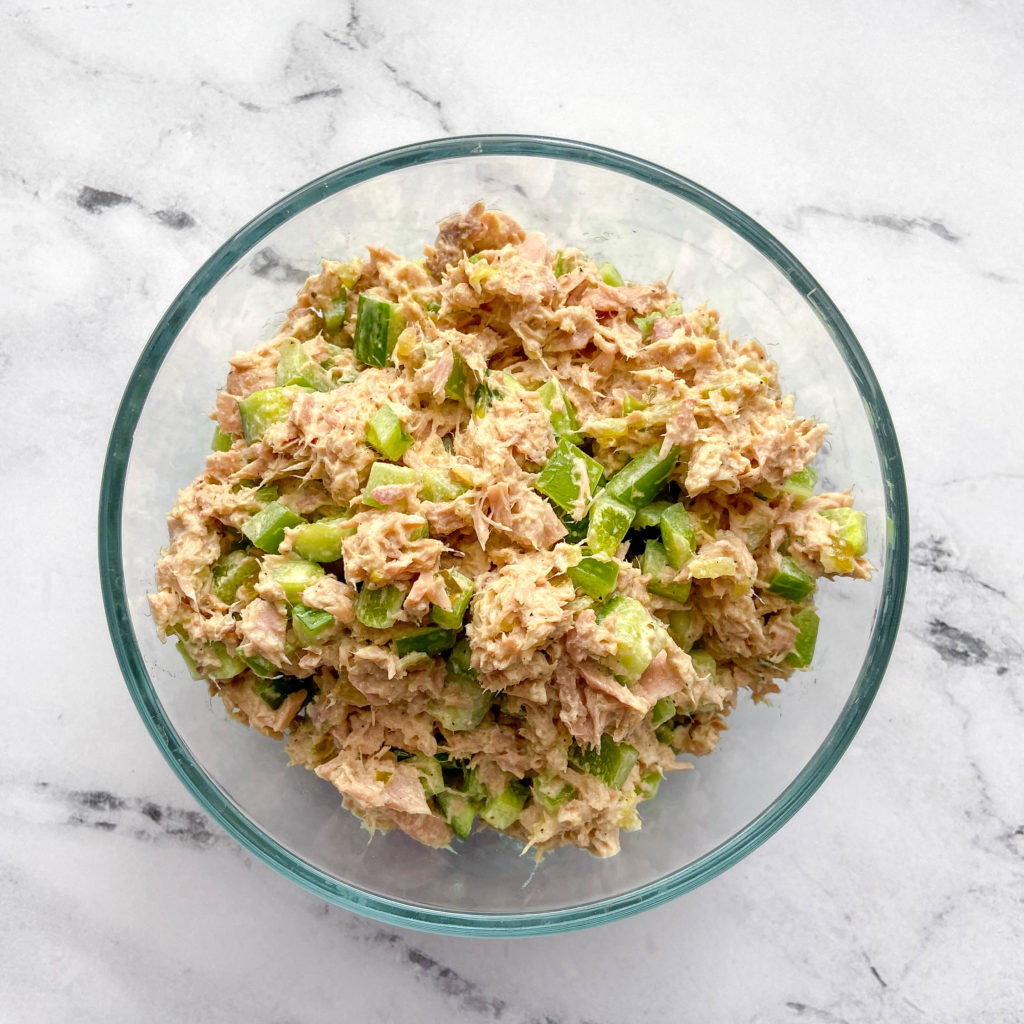 How to store this tuna salad sandwich:
As mentioned above, this meal will taste the best when the tuna filling is stored in the fridge and the sandwiches are assembled the day you plan to eat them! The filling will last in the refrigerator for 3-4 days and is not freezer-friendly.
Toast your bread before assembling if you prefer. Happy prepping!
Related: 25 Easy Meal Prep Lunches For Beginner Home Cooks
Other delicious recipes to check out: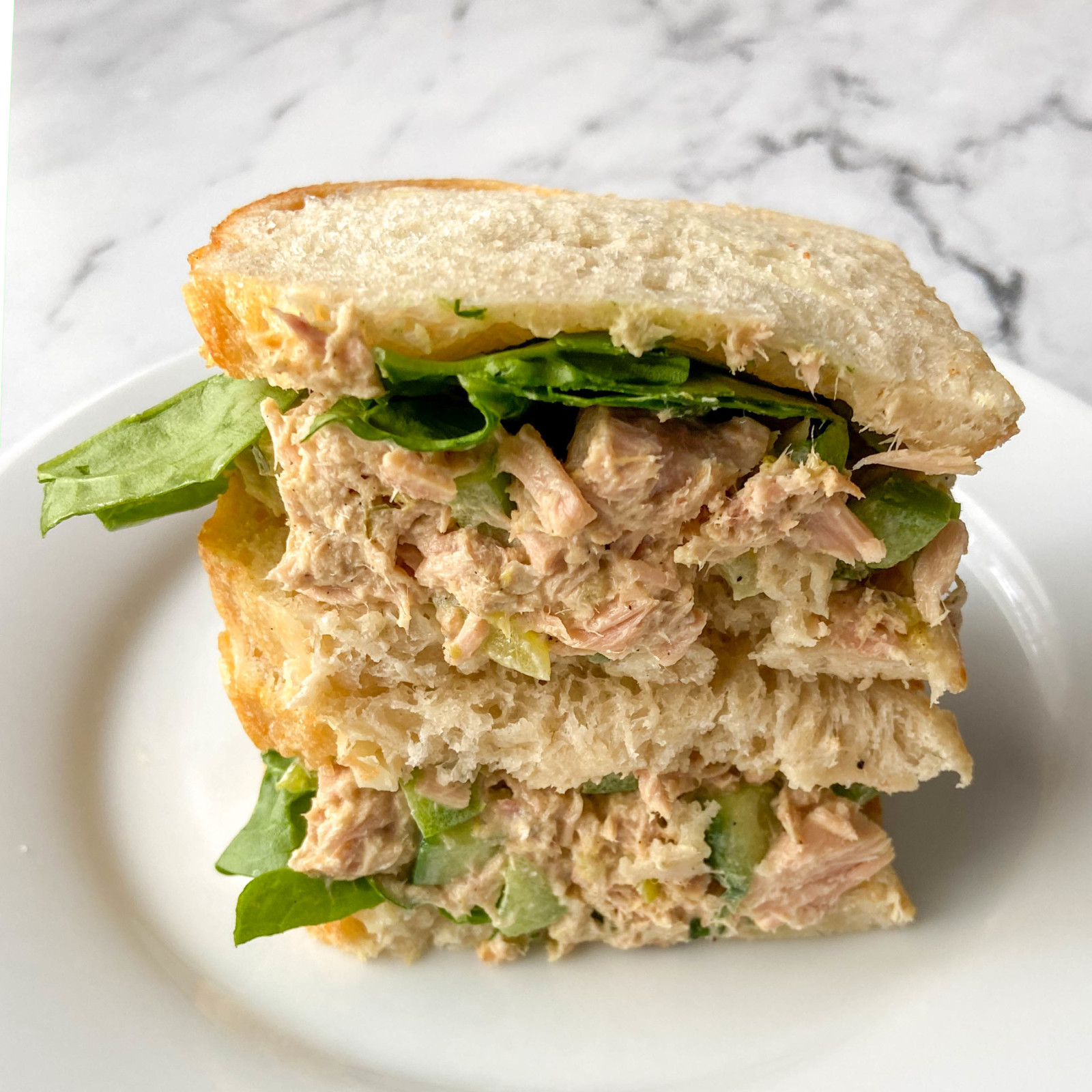 Meal Prep Tuna Salad Sandwiches
Ingredients
10

oz

canned tuna

drained

1/4

cup

mayo

1/2

tsp

pepper

1/2

tsp

onion powder

1/2

tsp

garlic powder

1/2

tsp

celery seed

optional

1

stalk celery

chopped small, sub cucumber (deseeded)

1

green bell pepper

chopped small

2

tbsp

pickle relish

sub 1-2 chopped pickle spears

salt and pepper

4

oz

spinach

sub fresh greens of your choice

6

slices

bread of your choice
Instructions
Flake the tuna into a large mixing bowl. Add the mayo and stir until combined.

Add the pepper, onion powder, garlic powder, and celery seed and mix well with a fork to combine until all the seasonings are well incorporated. Add the chopped celery, bell pepper, and relish and mix again to combine. Taste the mixture and add salt and pepper if needed, and any extra seasonings to your liking.

To assemble the sandwiches before eating: spread about 1/3 of the tuna mixture onto one slice of bread. On the other slice, spread with more mayo if desired, I like to keep mine dry. Top with greens of your choice and enjoy!
DID YOU MAKE THIS RECIPE?
Please leave a comment below on the blog or share a photo with us and tag @workweeklunch! Can't wait to see what you made!