Real talk: it's hard for me to get excited about a salad… until I tasted this crunchy spinach apple salad. Is it revolutionary? No. I don't try to reinvent the wheel here. The only thing I aim to do is make lunch enjoyable, more enjoyable than something you'd buy at your favorite takeout spot. This salad recipe fits that bill perfectly. It's crunchy, flavorful, and most importantly, filling! 
Want to make this meal? This recipe is stoppable via Jupiter! Click here to fill your cart with groceries and have them delivered to you asap.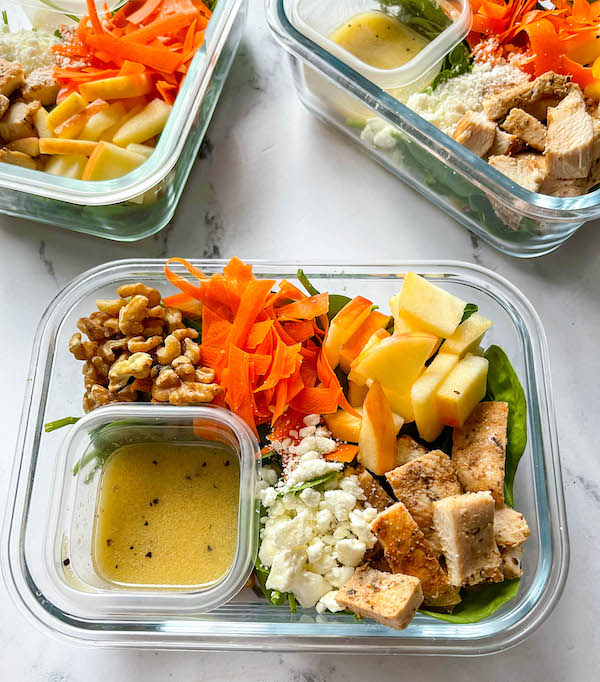 The core elements of this spinach apple salad are very basic ingredients:
Carrots
Chicken or chickpeas
Spinach
Apple
Feta
Pepitas or any nuts/seeds you have on hand
Related: 20 Meal Prep Salads That You'll Actually Enjoy Eating
Of course, you can customize this as much as you want! Here are some ideas.
Swap carrots for raw zoodles or beet noodles!
You can switch out the chicken grilled shrimp or canned tuna.
You can use chickpeas or any other legume, cubed tofu or tempeh cooked in the same method as the recipe is written.
Not into spinach? Use kale, arugula, or another green mix instead.
Swap the apple for pear, sliced grapes, or strawberries (or leave fruit out).
Don't want to use feta? You can skip cheese entirely or use gorgonzola, blue cheese crumbles, or goat cheese.
Can't find/use pepitas? Sunflower seeds, walnuts, sliced almonds, and chopped cashews would all work.
You have the opportunity to really make this salad your own, so do it! That being said, the recipe as written is so good that I can't wait to make it again and I hope you try it.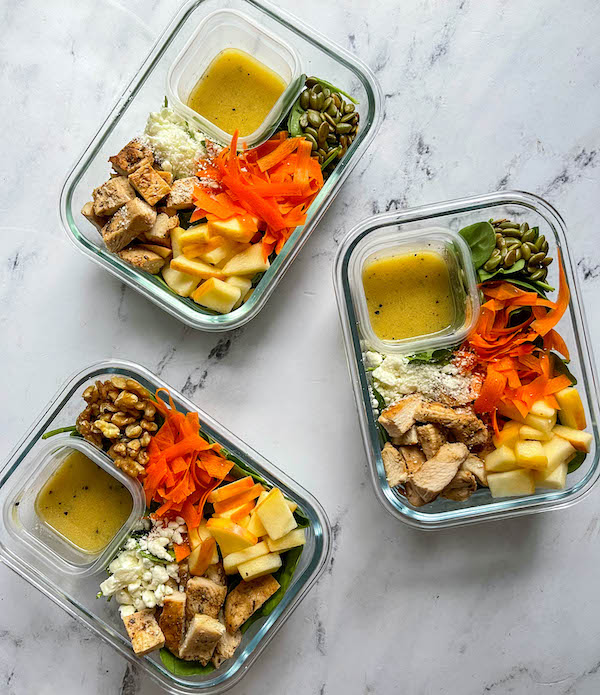 Let's talk about the dressing:
Here, we're using basic mustard, lemon, and brown sugar dressing. It's tangy, sweet, and light — a perfect match for this crunchy salad. Of course, you can use whatever dressing you like and don't have to make your own! Add about 2 tablespoons and you're good to go.
Related: 15 Meal Prep Sandwiches And Wraps Perfect For Work Lunches
How to arrange a mason jar salad:
When I updated this recipe, I used regular meal prep containers, but I had originally used mason jars! If you want to make this a mason jar salad, here's how:
Note that these salads fit in a 32 oz jar. Let's start from the bottom!
Add the dressing. Putting it at the bottom of the jar keeps it away from the greens so they don't get soggy.
Add "hard" vegetables. In this case, carrots would be our hard veggie because they won't get soggy from the dressing.
Add the protein, which is chicken in this case.
Add the greens. Now, you can really pack them in there because of your strong foundation of hard veggies and protein.
Add soft veggies and fruits. This would be where cucumbers and tomatoes go if we were using them. In this case, it's apples.
Add the toppings. I'm using feta cheese and pepitas!
The trick is keeping the jar upright until you eat it to avoid dressing going where it shouldn't go. Before eating the salad, you can give the jar a good shake to toss everything in the dressing, then dump it onto your plate and enjoy! So easy.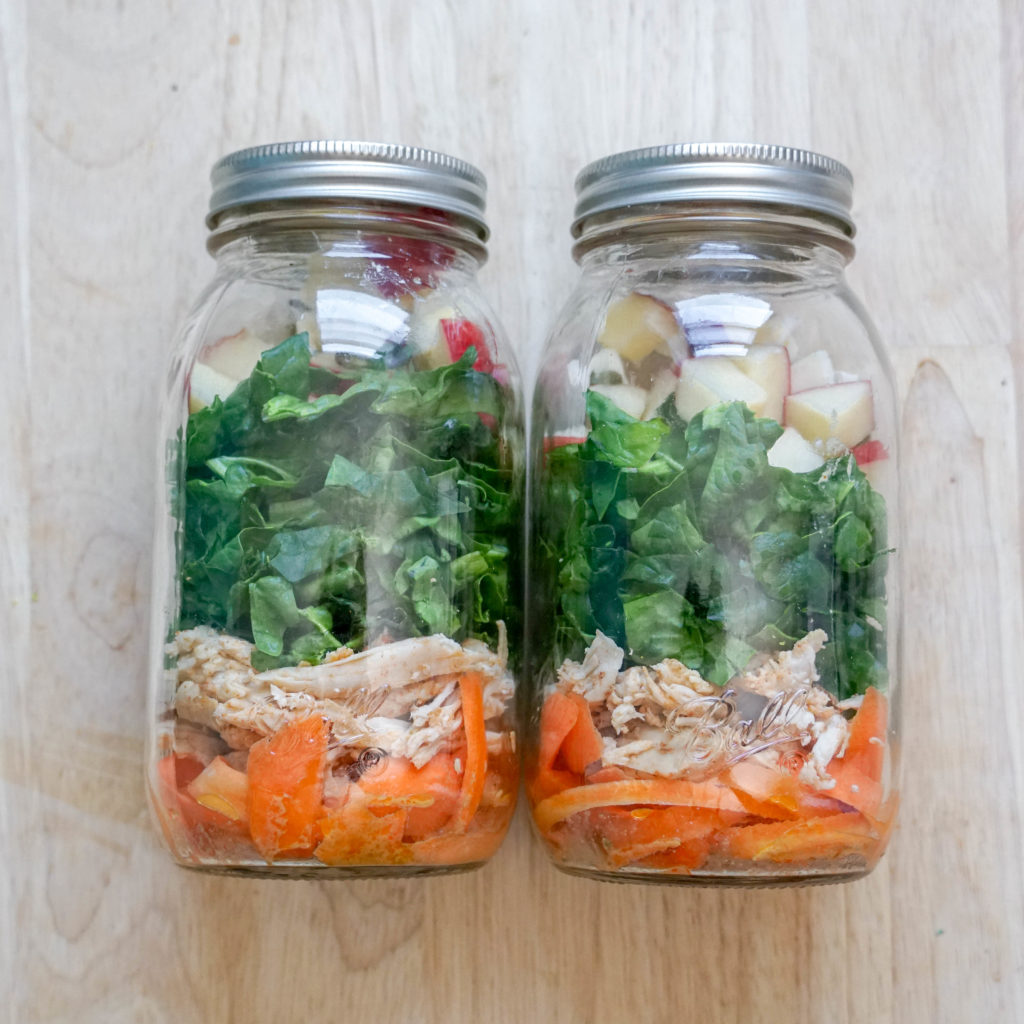 How to double or add more volume to this salad:
This spinach apple salad is plenty filling, but an easy way to add more volume would be 1/4 cup of quinoa per container. This was actually going to be in the original recipe, but it was fine without it! You could also add zoodles, cucumbers or even pasta to make this more filling. Another option is eating it with a side of bread or inside a pita pocket or wrap! To double this recipe, simply double the ingredients and get yourself some more jars or meal prep containers.
How to store this spinach apple salad:
This salad lasts in the fridge for up to 4 days. It's not freezer friendly and it doesn't need to be reheated! Happy prepping!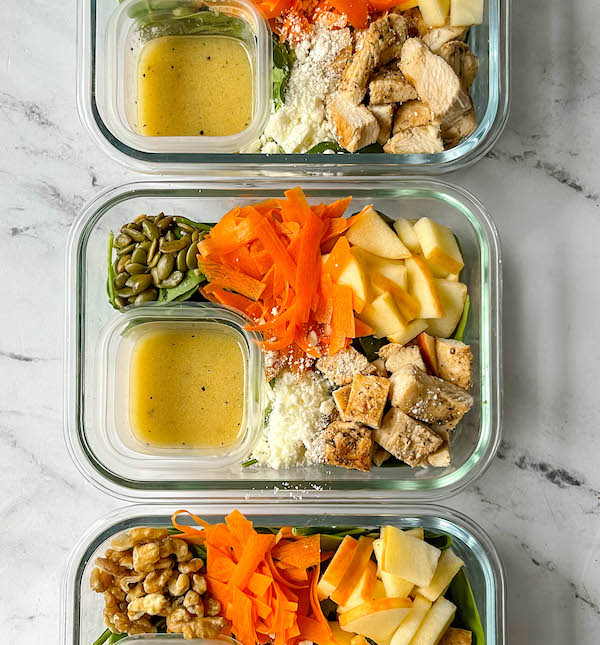 Other salad recipes you'll love:
Quinoa, Kale, And Butternut Squash Salad
Fattoush Salad With Mint Dressing
Meal Prep Strawberry Salad With Chicken
Mandarin Orange Salad With Salmon And Sesame Dressing
Chicken Waldorf Salad With Quinoa (No Mayo!)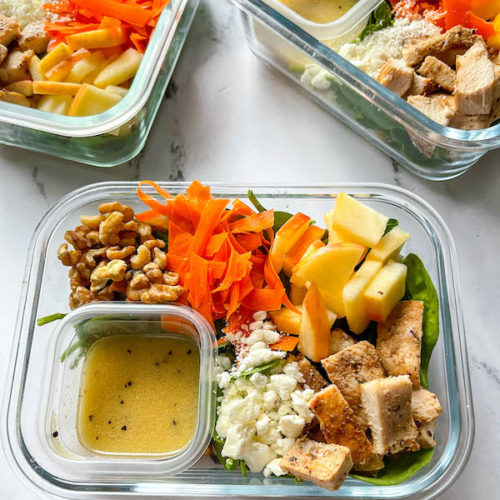 Crunchy Chicken, Spinach, Apple & Carrot Salads & Homemade Dressing
Ingredients
1 1/2

teaspoon

paprika

1 1/2

teaspoon

oregano

1 1/2

teaspoon

onion powder

salt and pepper to taste

1

tablespoon

olive oil

16

oz

chicken breast

6

cups

spinach

chopped

1

medium

apple

chopped into chunks

1/2

lemon

for juices

2

medium

carrots

peeled into strips

3/4

cup

pepitas

optional

3/4

cup

feta cheese

optional
mustard dressing
2

tablespoons

olive oil

2

TBSP

soy sauce

1

tablespoon

dijon mustard

3

teaspoons

brown sugar

1/2

lemon
Instructions
Preheat the oven to 375 F (190 C).

Mix the paprika, oregano, onion powder, salt and pepper in a small bowl. Place the chicken breast to a baking dish on a sheet pan. Drizzle both sides with olive oil. Sprinkle half of the spice mixture on the chicken breast and rub it in gently with your fingers or the back of a spoon, then flip it over and repeat on the other side. Bake uncovered for 20-30 minutes, depending on how thick the chicken breast is. No need to flip it halfway.

Prepare the vegetables for the salad while the chicken bakes and set aside.

Then prepare the dressing: in a measuring cup, add the olive oil, soy sauce, mustard lemon juice an brown sugar. Whisk with a fork and taste it, then adjust the flavors as needed (I added a little more mustard and brown sugar). If you're NOT using mason jars, transfer the dressing to a small meal prep container or small individual dressing containers for storage.

When the chicken is done, allow it to cool for 10-15 minutes. Then shred it with two forks OR chop it into small bite size pieces. Totally up to you!

IF USING MASON JARS! Here's how to assemble: divide the mustard dressing between the mason jars first. Then add the sliced carrot, followed by a layer of chicken. Then add the spinach, followed by apples, pepitas and feta cheese if using.

IF USING REGULAR CONTAINERS! Here's how to assemble: Add the spinach to the bottom of the container, followed by the carrots, chicken, apple, peptias an feta cheese if using wherever they fit in your containers. Only add dressing right before eating!
DID YOU MAKE THIS RECIPE?
Please leave a comment below on the blog or share a photo with us and tag @workweeklunch! Can't wait to see what you made!